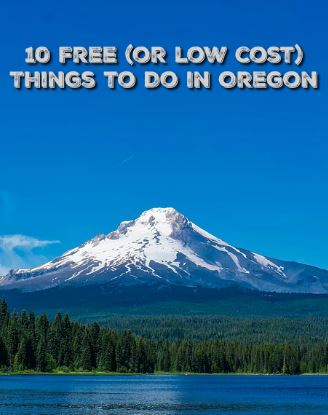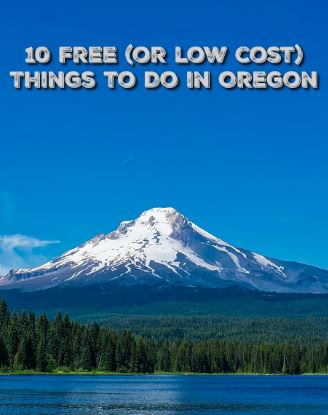 I love Oregon, don't you? Yeah, the rain gets old, but it makes for some really great landscapes. One of my favorite things about Oregon is how many things there are to do here, many of which are free or very low cost. My family and I are outdoor enthusiasts who enjoy hiking and time on the water, both of which are pretty cheap activities. We don't stop there though, we love experiencing all of the activities that Oregon has to offer. Whether you're visiting Independence or taking a day trip from Portland, there's always something new to do in Oregon!
If you live in Oregon, or if you are planning to visit soon, check out this list of 10 free (or low cost) things to do in Oregon and find yourself something great to do this spring break or summer vacation.
The Beach. I have lived in Oregon my entire life (save for a couple of years I lived in Texas when I was young), and I just recently learned that in many other states you have to pay to go to the beach?! Is this true? I have never in my life paid to go to the ocean, I've never even paid for parking to go on to the beach. If you live in Oregon and haven't visited the beach, I implore you to do so at the first opportunity. We have some of the most beautiful beaches in the world here. Bring a sweatshirt though! It can get windy on these beaches.
Silver Creek Falls.

For just a nominal parking fee, you can check out some of Oregon's most beautiful waterfalls. You can complete the 7+ mile hike and view all 10 waterfalls, or you can walk among the shorter, easier trails and view just some of them. Plus, at the main park, there are plenty of picnic tables available and a great family-friendly swimming hole. This is one of my favorite places in Oregon to visit.

Salem's Riverfront Carousel. The Riverfront Carousel in Salem is a non-profit attraction. It is also very unique to Oregon in that all of the characters on the carousel were handcrafted and made with the theme of symbols important to Oregon. Additionally, all of the carousel animals have been sponsored by people and companies that are local to the area. The carousel costs just $1.50 per ride.
Mt. Hood. Yeah, it is going to cost money to ski or snowboard at Mt. Hood, but you can take a drive to visit and see some amazing views of this beautiful mountain for just the cost of fuel.
Water play. Kayaking, canoeing, and paddleboarding are all wildly popular activities in Oregon. If you already have the equipment, these activities are super cheap and Oregon is full of awesome lakes (this one is our favorite) that you can park at for free and spend your day on the water.
Jamison Square. Jamison Square is a park in the Pearl District that is located in the middle of high rise condominiums. There is a fun tiered fountain that runs non-stop that is a blast for the kids to play in, plus there are tables available for picnics or just to relax for us grown-ups.
First Thursdays of Portland. If you are in the Portland area, First Thursdays of Portland is a great event to attend if you enjoying visiting local artists and vendors. At this event you will find booths featuring artwork, food, wine and beer tastings and more. The vendors charge, of course, but you can see a lot of local flair for free just by walking around. This event happens monthly, on the first Thursday.
Oregon Zoo. On the second Tuesday of each month, the Oregon Zoo offers discount days. On these discount days, it costs just $5 for admission to the zoo. If you have never been before, the Oregon Zoo is amazing. On our recent visit with a family member from out of town, they commented on how beautiful our zoo is compared to other zoos throughout the country.
Brewery and distillery tours. Okay, so this one isn't exactly child-friendly, but this is a fun way to spend a date night or day out with your spouse or friends. Oregon is a treasure trove of breweries, distilleries and wineries and most tours are free.
Tillamook Cheese Factory. Tillamook Cheese is well known throughout the country for being among the best cheese and you can actually watch it being made! The Tillamook Cheese Factory opens their doors for free tours where you can watch cheese and ice cream being made. They also offers lots of free samples of their cheese varieties. In 2018 they opened a newly redesigned visitor's center too, so be sure and check it out!
What are your favorite things to do in Oregon when you are on a budget?
Don't miss these posts!!
PIN IT FOR LATER! 🙂