Have you ever had peach iced tea? Until recently, I had only ever had store bought peach iced tea, and quite frankly, I was never a fan. I really do love all kinds of tea, but I think it had something to do with the sweetener or something, I just didn't like the bottles of it that you can buy. I love peaches though, so since we love iced tea around here (have you seen our Blackberry Iced Tea or Strawberry Iced Tea Recipes yet), I decided to make some peach iced tea at home and boy oh boy does it taste better than store bought!
My daughter loves Peach Iced Tea (yes, even store bought), so I thought even if I didn't like it she was bound too, but luckily this one was a big hit with the family. I might go so far as to say it's better than the ever-favorite blackberry iced tea that my family loves so much and I am so excited to share it with you!
I know I have mentioned this before, but I live in Oregon and lately, although it's not quite here yet, summer has hit in full force, so the produce is starting to ripen! I am so ready for the warm air and all of the fresh fruits and veggies of the season. I have a farm stand about 2 miles away from my house that I love going to during the summer!
Another of my favorite things about summer is all of the sweet tea that I will be making! Are you a tea drinker? If you love a good iced tea recipe, especially one with fruit in it, you are going to love this Refreshing Peach Iced Tea!
If you are ready to cool down with a refreshing, low-calorie summertime drink, this is the one!
HOW TO MAKE REFRESHING PEACH ICED TEA
We live on about an acre and my husband and I are thinking about planting a peach tree here! The conversation had me with peaches on the mind a lot lately so I bought a couple of fresh peaches and a bag of frozen peaches, thinking that they would be perfect for smoothies.
I made a couple delicious smoothies with the frozen ones, but then I decided to make this yummy tea and boy am I glad I did!
My kids were busy playing basketball in the backyard (we have a hoop set up for them back there) and I decided it was time to get the tea party started! Here is what I did to make this delicious and refreshing beverage: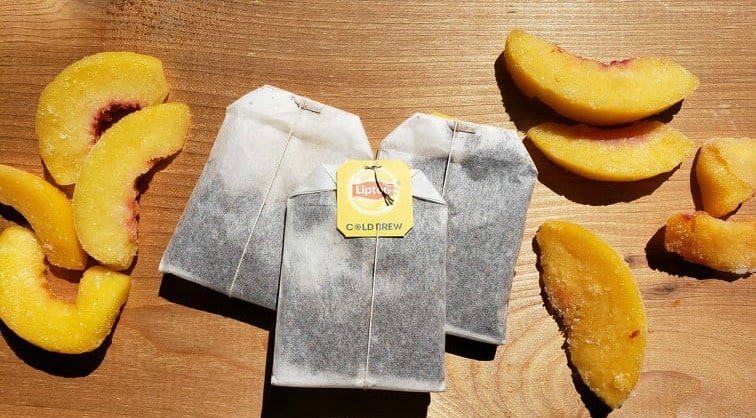 First, I combined 2 cups of fresh or frozen peaches with 3/4 cup sugar. Combine together and either mash or puree in a food processor. I'm gonna be honest with you here, I didn't want to go through the hassle of getting out the food processor and then cleaning it later (lazy, much?), so I simply cut up the peaches into pieces and then mashed them a little with our fruit masher.
Combine the fruit/sugar mixture with one cup water. Cook over low heat until boiling to create the syrup.
Strain the fruit from syrup mixture (or leave it in if you like peach pieces in your drink).
Mix the fruit syrup with 1 gallon of unsweetened Ice Tea (still feeling lazy, I used Cold Brew Lipton Tea this time, but I also really like it with the Lipton Green Tea)
Serve over ice, garnish if desired and enjoy!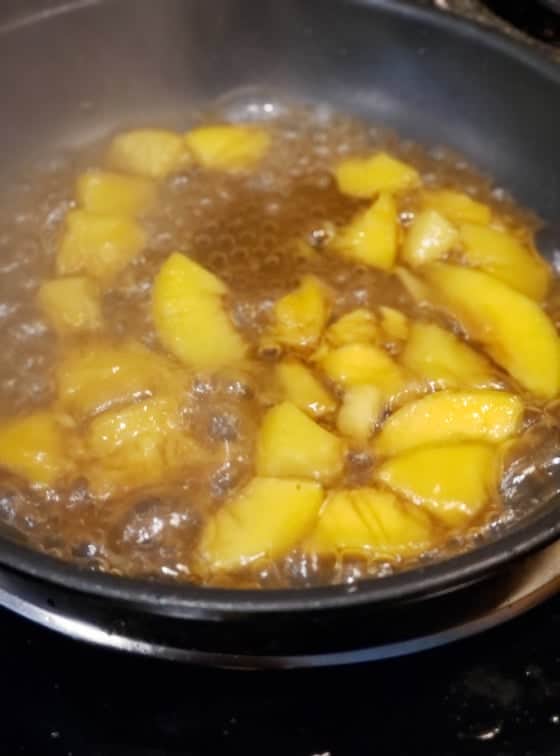 You guys, this tea was a hit in my house! It was simply delicious! No extra sweetener needed!
If you decide to make it, be sure and come back and let us know how it was!