I love eggs but holy moly, does anyone have anything other than eggs while doing low carb and Keto? I searched and searched and finally found some low carb breakfast recipes that aren't eggs. Whew! Now I know what I need to work on next: more breakfasts without eggs. Got it! Until then, I'm sharing the recipes I found from around the web.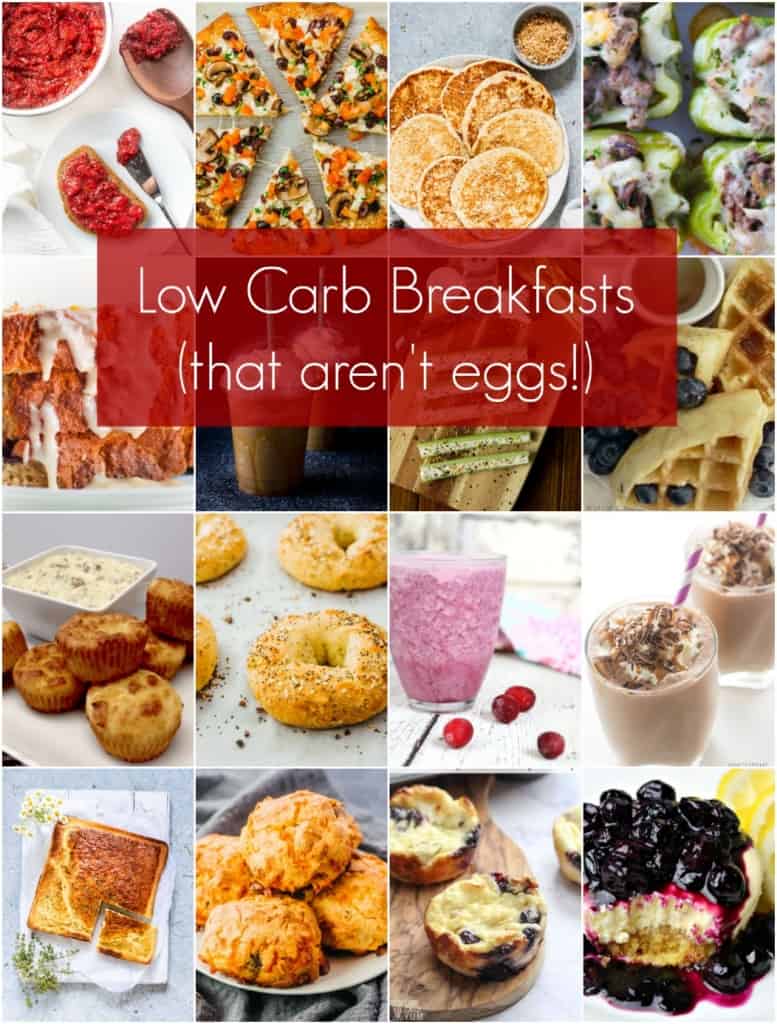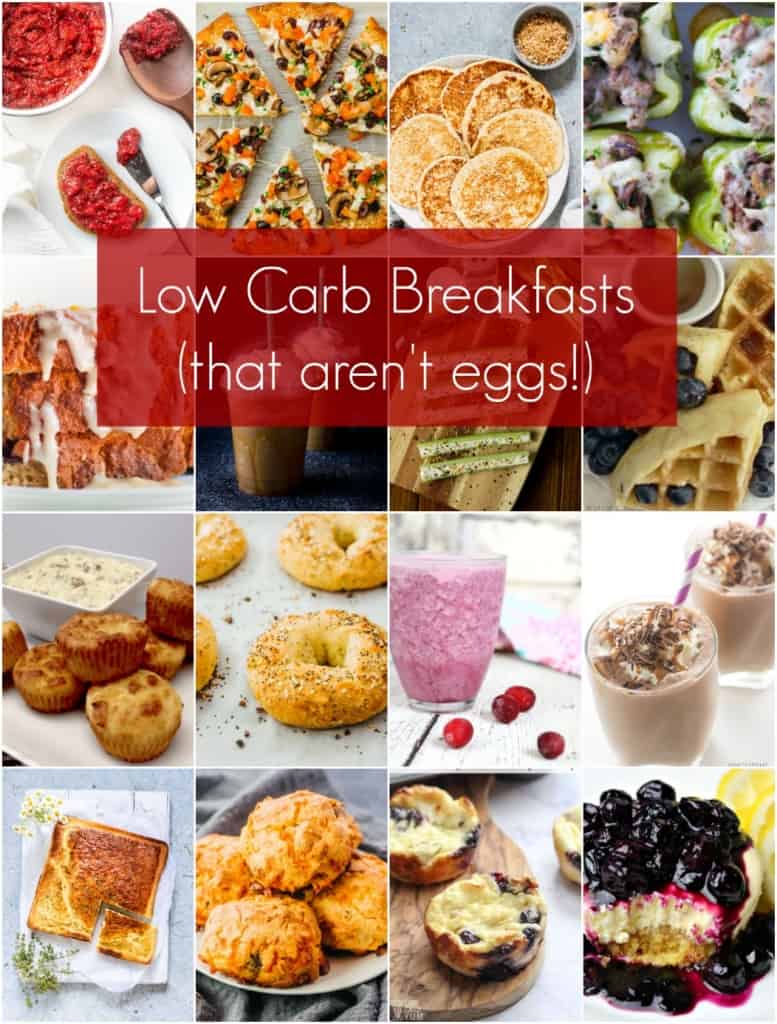 31 Low Carb Breakfasts (That Aren't Eggs!)
Technically, most of these low carb recipes are also Keto-friendly. In order to make the low carb breakfast list, the recipes had to be delicious, fairly simple/easy, and 15g carbs or less. I do low carb so sometimes the carb count is a little higher than those of you who do Keto, but everything is proportional! If you have a breakfast higher in carbs, eat fewer carbs throughout the rest of the day.
I contribute my success with my low carb lifestyle to planning. Use this low carb meal plan to get you started.
Quick Low Carb Breakfast Ideas
Most of these low carb breakfast recipes take about 30 minutes (or less) to make. I'm fully aware some of these recipes aren't complete breakfasts. The jam, for example, can't just be eaten out of the jar – well, I guess it could be, but it's not going to keep you full for very long. 😉 Use these recipes to create your perfect low carb breakfast feast!
1. Baked Almond Flour Pancakes – 6g carbs
2. Keto Salted Caramel Frappuccino – 2g carbs
3. Low Carb French Toast Casserole – 6g carbs
4. Blueberry Cream Cheese Muffins – 2g carbs
5. Easy Low Carb Biscuits – 5.5g carb
6. Homemade Blueberry Bread – 4g carbs
7. White Cheddar Sausage Biscuits – 3.5g carb
8. 10 Minute Cinnamon Sugar Donuts – 7g carbs
9. Keto Cinnamon Toast Crunch – 4g carbs
10. Keto Avocado Toast – 14g carbs (This one has an egg but OMG YUM!)
11. Stuffed Artichokes – 11g carbs
12. Low Carb Biscuits and Gravy – 9g carbs
13. Peanut Butter Berry Breakfast Loaf – 5g carbs
14. Pumpkin Cream Cheese Muffins – 3g carbs
15. Coconut Flour Banana Bread – 3g carbs


16. Everything Bagel Celery – 2g carbs
17. Perfect Keto Pancakes – 3g carbs
18. Cinnamon Roll Waffles – 9g carbs
19. Chocolate Peanut Butter Smoothie – 10g carbs
20. Fresh Cranberry Smoothie – 8g carbs
21. Maple Chicken Breakfast Sausage – .5g carbs
22. Philly Cheese Steak Peppers – 6g carbs
23. Lemon Blueberry Cheesecake Bites – 6g carbs
24. Healthy Banana Muffins – 10g carbs
25. Keto Pizza – 8g carbs
26. Chocolate Zucchini Muffins – 9g carbs
27. Pizza Bagels – 5g carbs
28. Strawberry Chia Seed Jam – 5g carbs (to serve with the biscuits from above!)
29. Low Carb Coconut Granola – 13g carbs
30. Baked Hashbrown Casserole – 8g carbs
31. Keto Bagel Recipe – 10g carbs
Low Carb Recipes
While you're here, don't miss my delicious pot roast recipe! It's naturally low carb and the perfect dinner whether you're low carb or Keto! I also have some low carb recipes for beginners.
PIN IT FOR LATER! 🙂