Refreshing low carb blackberry iced tea is made with just 3 ingredients! This low carb blackberry iced tea is so easy to make and perfect for any summer dinner!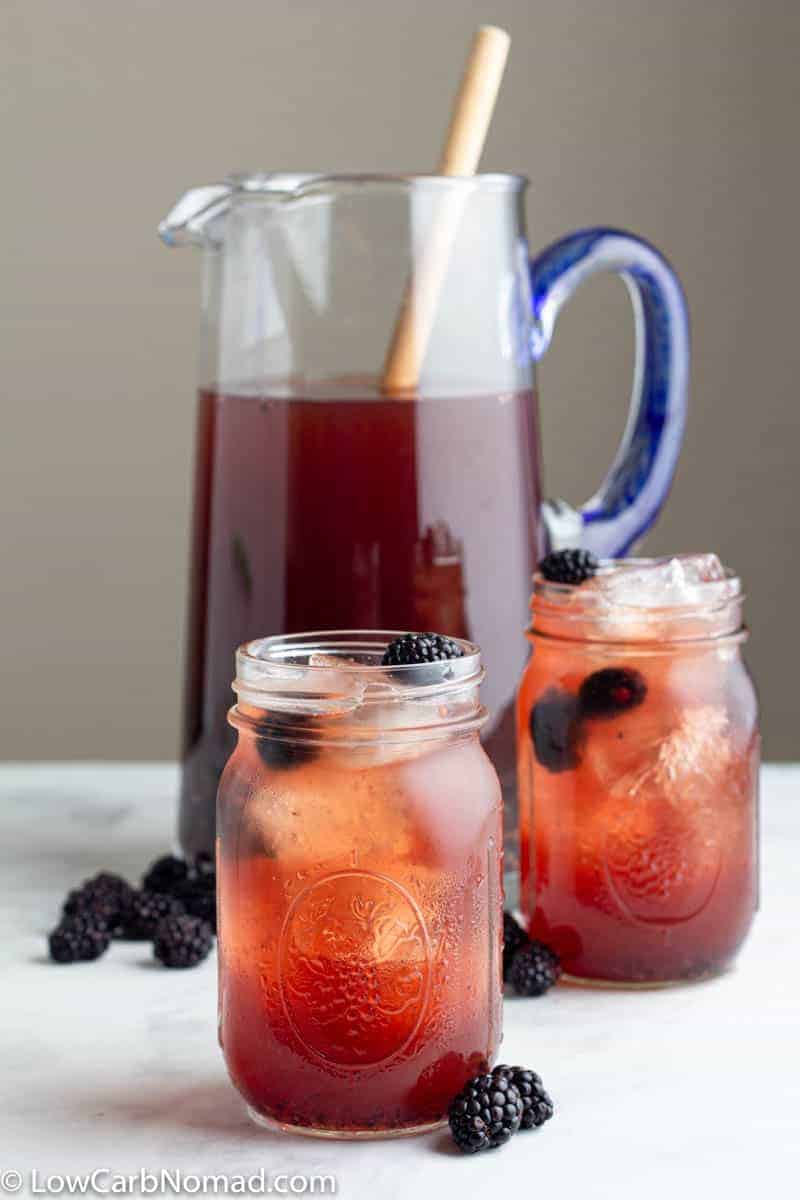 Refreshing, Low-Calorie Blackberry Iced Tea
Have you ever had blackberry iced tea? I love all kinds of tea, but this one is definitely one of my favorites! I am excited to share with you!
Spring will soon arrive, which means Summer will be arriving before long! Or, maybe it's just that I am tired of the grey skies and cold days and I am just sitting here dreaming of summertime. And because I am so desperate for Summer these days, I feel like anytime is the perfect time to get started on your sweet tea drinking. If you want to add a new, fruity version of sweet tea to your repertoire, check out our favorite tea recipe!
Do you want to cool down with a refreshing, low-calorie summertime drink? Check out these other amazing low carb drink recipes!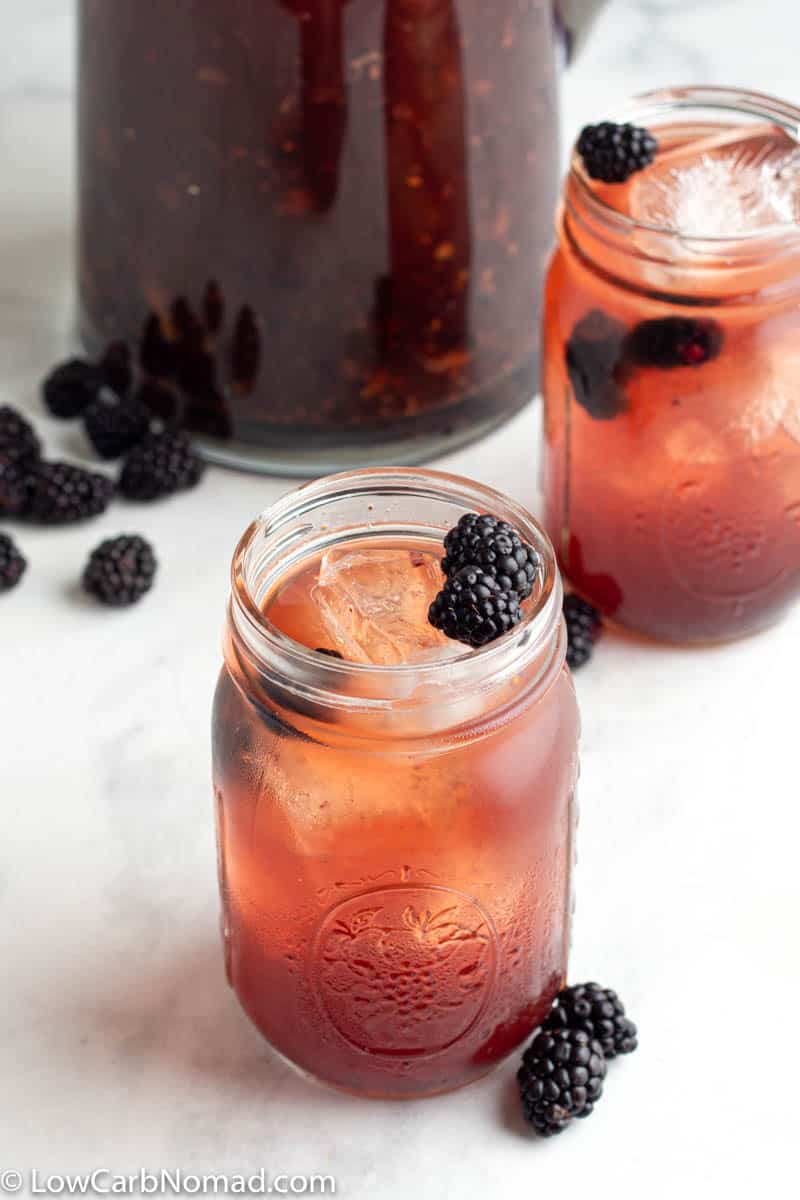 HOW TO MAKE REFRESHING BLACKBERRY ICED TEA
There is just something about Iced Tea in a mason jar that makes me smile and think about my time visiting the South. 🙂 We have this tea on hand often during the Summer months, but I ALWAYS serve either this or this Strawberry Iced Tea during our Summertime BBQs and it's always a hit!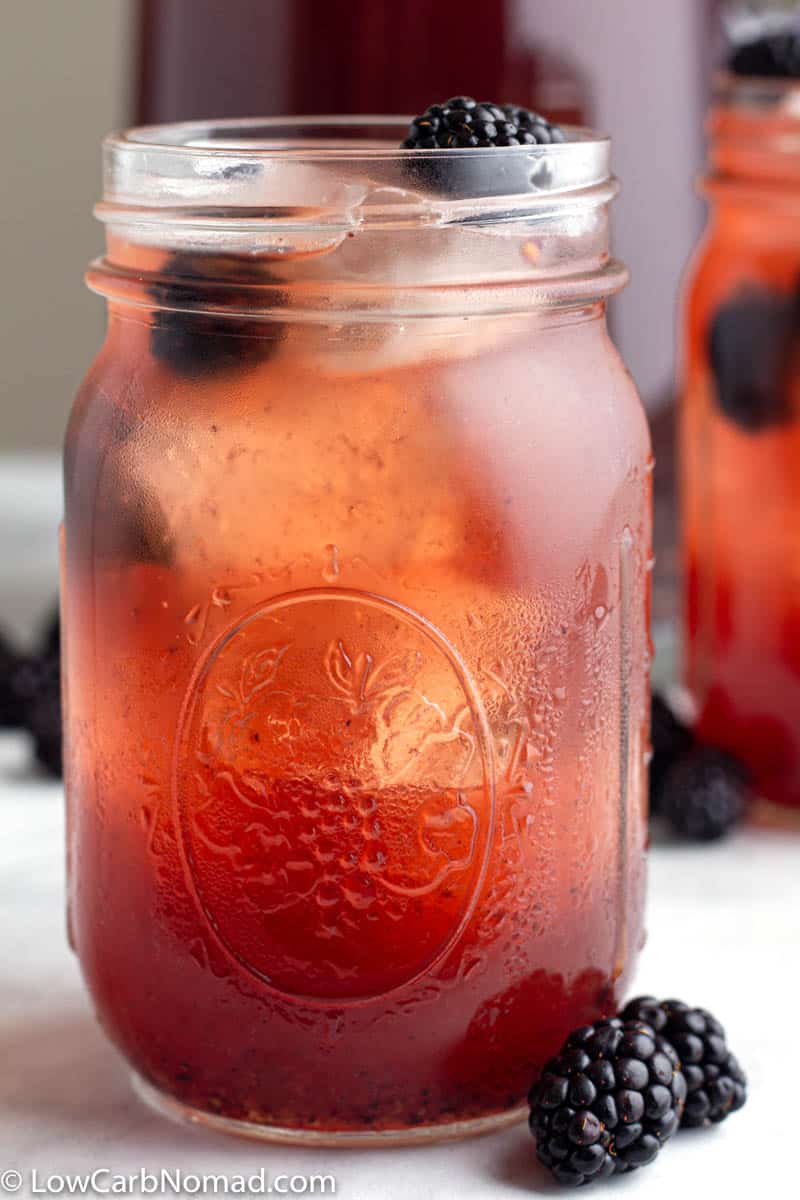 For full transparency, I don't like super sweet drinks, so you may think this needs more sugar. For me this is perfect as is because it's sweet and fruity and simply tastes like summertime.
I am really working on my health and fitness right now too so this is perfect for enjoying a delightful beverage without a bunch of empty calories. I have spent a lot of time in the south though and I know how people love their sweet iced tea. So, feel free to add as much sugar as you wish! It's all about personal taste! 🙂
Are Blackberries Low Carb?
Blackberries only have 14 grams of carbs per cup, compared to 51 grams for bananas. Strawberries only have 12 grams, while a cup of apples has 15 grams of carbs. If you're wanting to make your iced tea with less carbs, you can use less blackberries or you can keep the whole fruits out of your drink, but this makes a gallon of tea, so a cup would be less than 1 carb… totally worth it!
Benefits of Blackberries
Did you know blackberries can help you lose weight?
Naturally sweet strawberries, blueberries, raspberries and blackberries are packed with pectin, a type of soluble fiber that promotes a feeling of fullness. … Other berries including blueberries, blackberries and raspberries are also a fresh and healthy addition to a weight-loss diet plan. — Driscoll's
Along with weight loss, you will notice your skin looking and feeling better, too!
Berries taste great — and they're also good for your skin. Packed with antioxidants, berries can protect your skin from the damaging effects of the sun. Raspberries, too, can protect your skin from the sun and skin cancer, thanks to their antioxidants and vitamin C.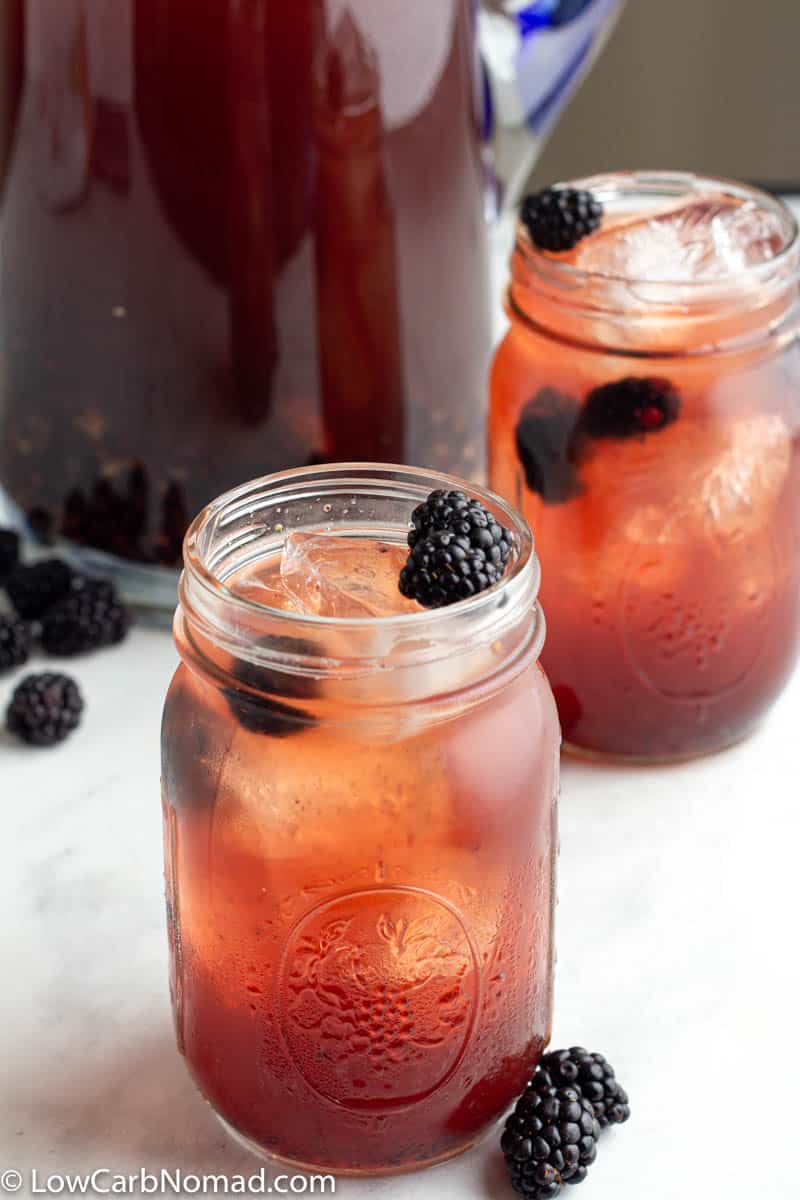 One cup of blackberries has 30 milligrams of Vitamin C – that's half the daily recommended value! Vitamin C has tons of benefits, as I'm sure you know. Vitamin C is important for your connective tissue, blood vessels, wound healing, and absorbing iron. When I was researching my thyroid cancer, I saw many studies that suggest Vitamin C helps reduce the risk of cancer. More studies are needed, but Vitamin C acts as an antioxidant to reduce oxidative stress in the body that can lead to cancer. Not saying it's going to cure cancer by any means, but as a cancer survivor, I do what I can to avoid ingredients known to help cancer grow, and I load up on those known to help stop cancer growth. (This is why we don't do soy!)
Blackberries also help keep us regular! If you're constipated, make some blackberry iced tea or a smoothie with blackberries and apples, and you'll notice your tummy moving along quite nicely. I've dealt with chronic constipation since I was a young child, so I've tried everything. Fruit drinks and smoothies help move things along, just make sure you drink enough water as well. If you eat a lot of fiber and don't drink water, you can become MORE constipated!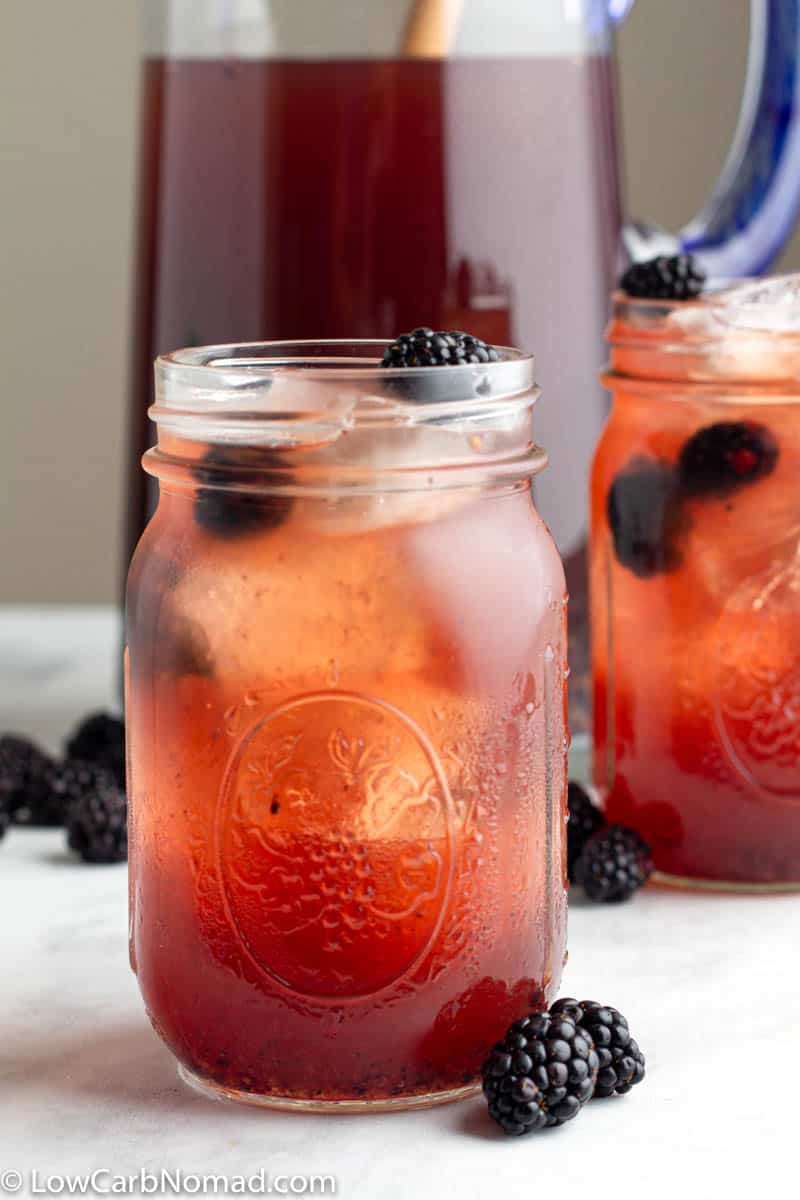 Blackberry Iced Tea Ingredients
2 cups fresh blackberries
3/4 sugar substitute – I use swerve or monkfruit, if you are not low carb then you can use white granulated sugar.
1 gallon unsweetened Ice Tea
How to Make Blackberry Iced Tea
Brew 1 gallon of your favorite unsweetened iced tea.
Combine fresh blackberries and sugar substitute in a bowl or food processor.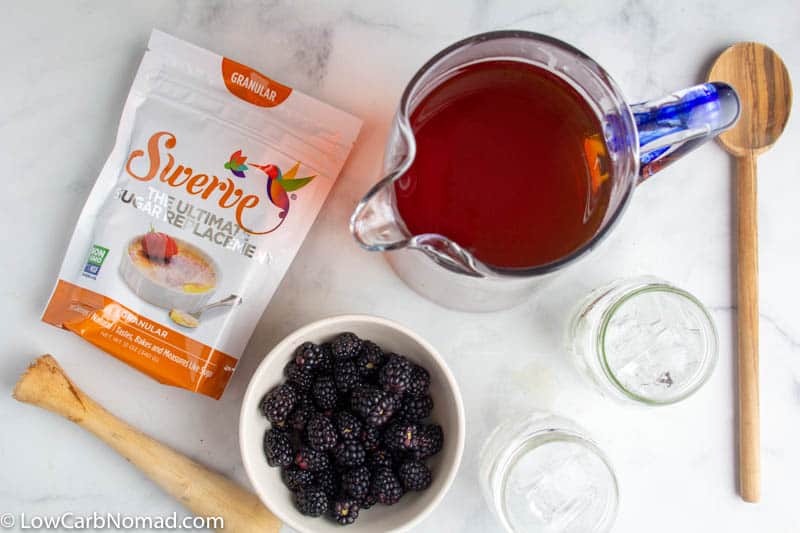 Combine together in a bowl with a masher or puree in the food processor.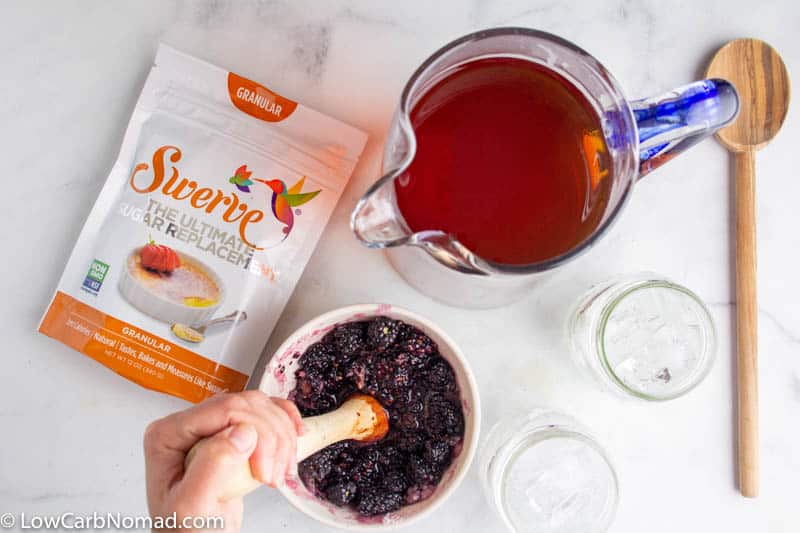 In a large pitcher add the unsweetened iced tea and the blackberry mixture.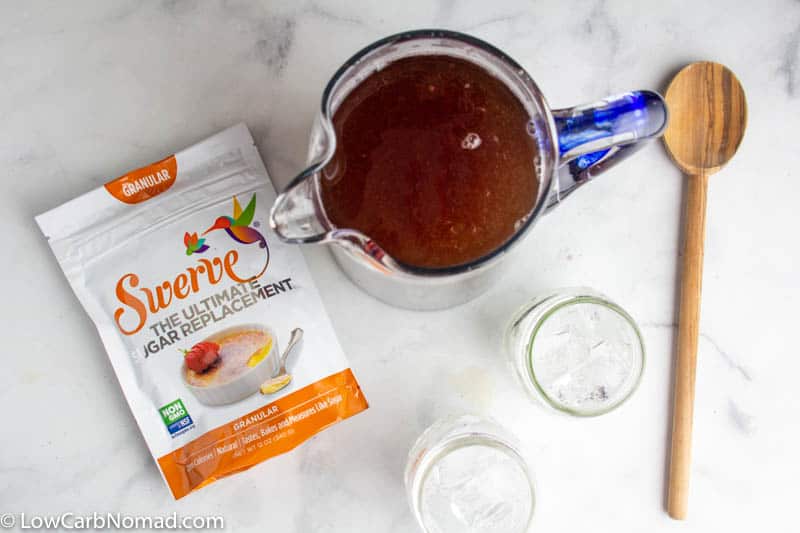 Serve over Ice.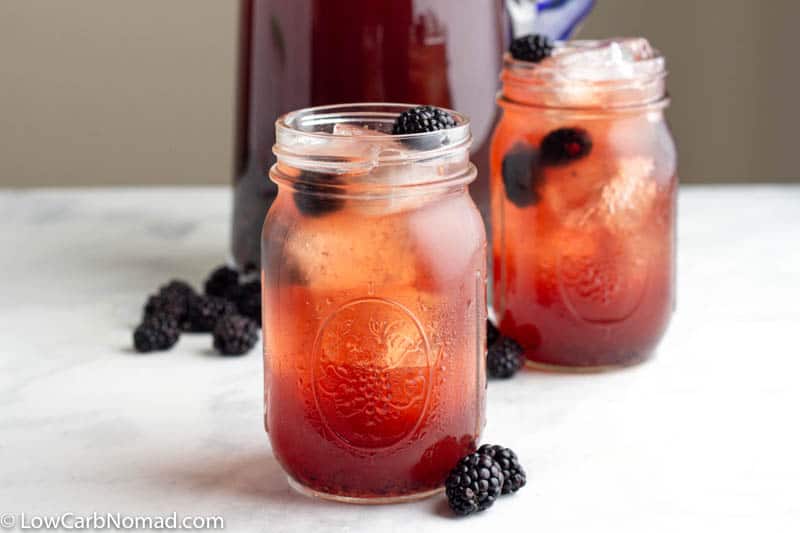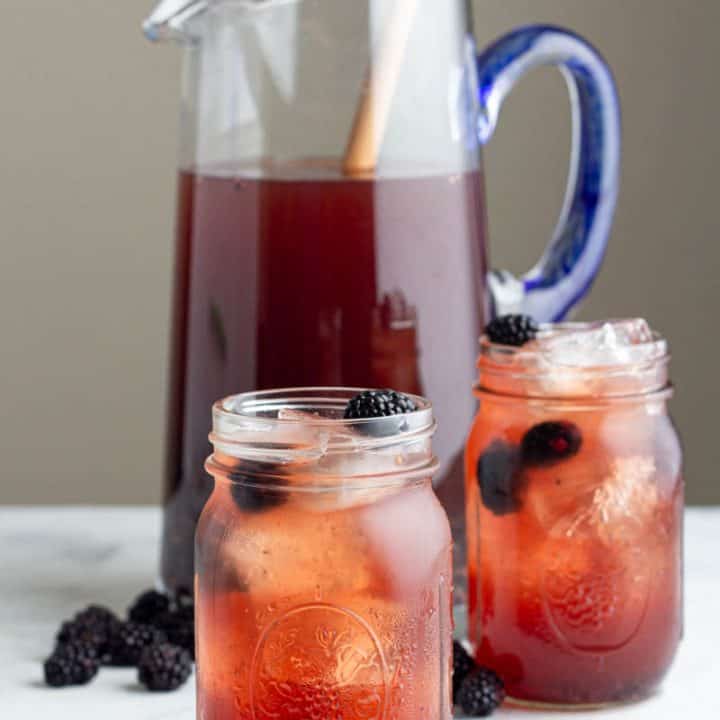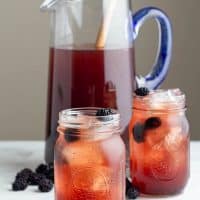 Blackberry Iced Tea
Refreshing low carb blackberry iced tea is made with just 3 ingredients! This low carb blackberry iced tea is so easy to make and perfect for any summer dinner!
Print
Pin
Rate
Ingredients
2

cups

fresh blackberries

3/4

cup

sugar substitute

I use monkfruit

1

gallon

of unsweetened Ice Tea
Instructions
Combine 2 cups of fresh blackberries and 3/4 cup Sugar substitute.

Combine together and either mash or puree in a food processor. We prefer to taste the fruit pieces in our drink so I simply mash ours with our fruit masher.

Mix with 1 gallon of unsweetened Ice Tea (I used Lipton Tea this time, but I also really like it with the Lipton Green Tea)

Serve over ice, garnish if desired and enjoy!
Nutrition
Serving:
1
grams
|
Calories:
15
kcal
|
Carbohydrates:
3
g
|
Protein:
1
g
|
Fat:
1
g
|
Saturated Fat:
1
g
|
Sodium:
1
mg
|
Fiber:
2
g
|
Sugar:
2
g
blackberry, blackberry iced tea, iced tea