I've always been attracted to the supernatural, even as a kid. My dad took me to haunted houses when I was way younger than would be allowed these days. Some of my best memories are from haunted houses and ghost tours. Putting together the Ultimate Oregon Ghost Tour seemed like perfect timing with fall coming up soon!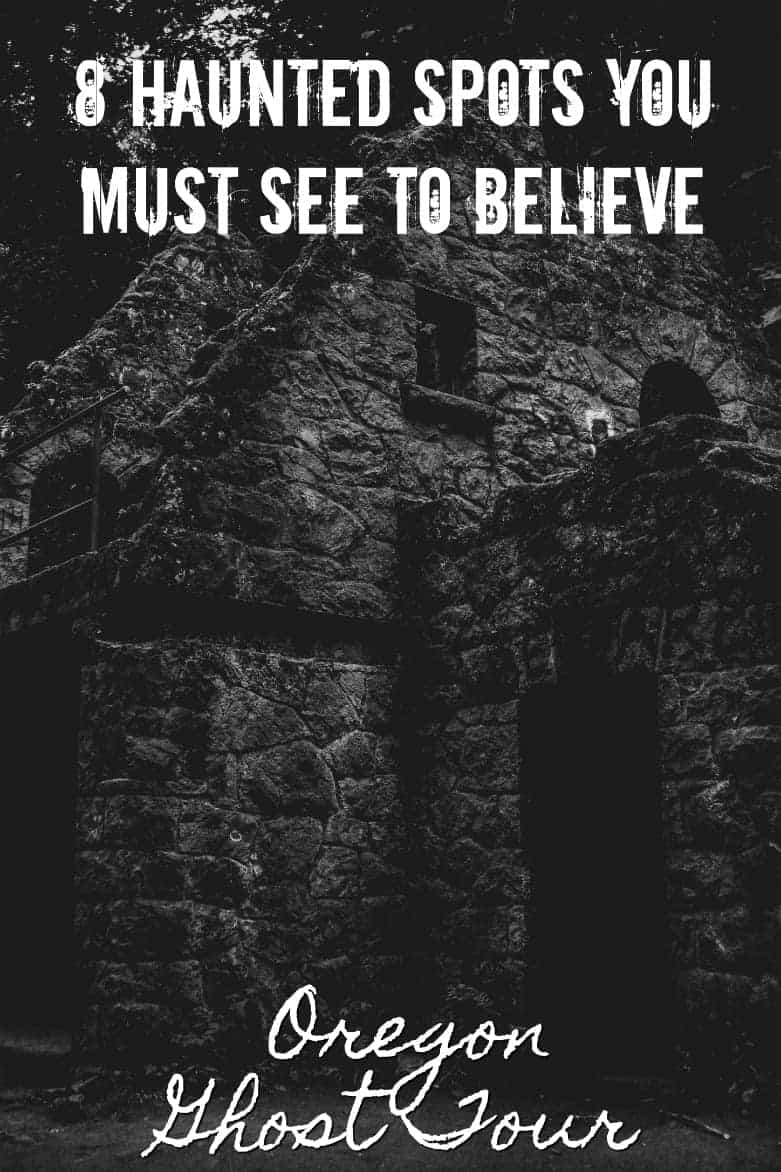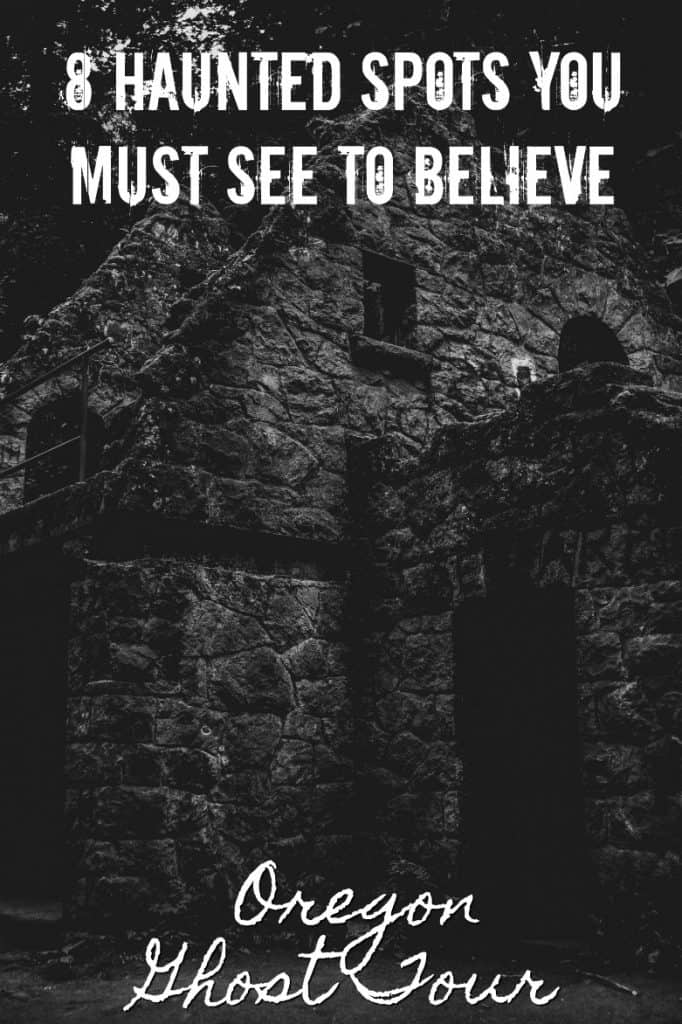 Ultimate Oregon Ghost Tour
Whether you're into taking pictures in cemeteries or hunting for ghosts in the woods, Oregon has something for everyone (even guided ghost tours!). There's a complete list of tons of haunted ghost towns in Oregon on Wikipedia if you're interested in digging!
The Witch's Castle
Kicking off this haunted Oregon list is The Witch's Castle. Obviously, the name alone tells us it's a must see for anyone who loves spooky spots. Known as one of the most haunted places in Oregon, The Witch's Castle has lots of history. In the 1850s, it was purchased as a sanctuary for the Balch family. However, the Balch daughter, Anna, fell in love with the "help" and her father ended up killing him! Rather than take responsibility for it, he claimed he did so because his wife put a spell on him (typical man LOL). Danford Balch was hanged for his crime and happened to be the first legal hanging in Oregon. Anna is said to haunt the building to this day. It's been reported that ghostly figures have been seen fighting at night. Is it Anna's lover and her father? Are you brave enough to find out?


Shanghai Tunnels
Probably one of the most famously haunted places on this list, the Shanghai Tunnels are one of the most haunted places in the country! Built 100+ years ago, leading from Chinatown to the Willamette River, the Shanghai Tunnels were originally created for bars and restaurants to get their supplies coming in from the water. Connected to the basements of these businesses, the tunnels were quite convenient. However, all good things seem to be tainted eventually. A trap door system was created and drugs and/or alcohol were used to subdue victims to enslave. Women were used for prostitution and men to work on the ship's crew. During the height of Shanghaiing, nearly two thousand people were taken.
Since this time, several people have reported strange, unusual phenomenon that seems to directly connect to the fact that there are actually spirits that reside in the complex system of tunnels, secret passages, and hidden trap doors.
This awesome guided walking tour will teach you about the history of the Shanghai Tunnels. You must have a guide to explore the tunnels. Many people have reported hearing strange sounds, moaning, screaming, and crying coming from the tunnels.
Oregon State Hospital
While most hospitals for the insane are known for being haunted, Oregon State Hospital gives me the heebie jeebies and just feels, I don't know, extra haunted. Originally opened in the 1800s, Oregon State Hospital has never had a great reputation. Questionable medical practices combined with abuse of patients tainted the hospital's rep from early on. Underneath the hospital, there are tunnels that are rumored to have been used to conduct experiments on patients. Many visitors have reported they hear patients calling for help even to this day. I don't know, I think I may skip this one on my ghost tour of Oregon!
Oregon Vortex
A house built on the vortex is sunken into the ground at a diagonal angle, but when you walk inside you'll see you're standing upright. There are so many ghost stories about the Vortex, you've gotta experience it yourself! Way back when, Native Americans avoided the area now known as the Vortex, because they believed evil spirits roamed here. Even their horses would refuse to enter!
Independence
A 15-year-old girl named Lenora fell in love with a soldier who left to fight in World War I. He died that same week. Heartbroken, Lenora threw herself through a glass skylight into what is now Mangiare Italian Restaurant. Lenora's ghost is often seen wandering around town.
Lafayette Cemetery
Accused of witchcraft and hanged for her "crimes" back in the 1800s, a woman cursed the town of Lafayette prior to her death. She said the town would burn to the ground three times. The town has burned down twice, are you holding your breath for the third? Spooky! The witchy woman's ghost has been seen roaming the Lafayette Cemetery; some have reported hearing her scream. Think it's all just a dream? The cemetery has been closed to the public due to all of the experiences folks have had with this woman's ghost! I'll steer clear.
Oregon Caves Chateau
Built in 1932, Oregon Caves Chateau is one of those places you can just tell is haunted when you visit. A young bride named Elizabeth wanders the hallways on the sixth floor during the day, and continues through the hotel at night. On her wedding night, Elizabeth found her groom in a compromising position with one of the chambermaids, so she jumped out the window of Room 301 to her death.
Haunted Pittock Mansion
A gorgeous 16,000 square foot French Renaissance-style chateau, the Pittock Mansion was built in the early 1900s for London-born publisher Henry Pittock and his wife, Georgiana. The couple died in 1918 and 1919, though the family lived there for several decades after. The house was turned into a museum later on in the 1960s by the City of Portland. It's said that the Pittocks still hang out at the mansion on a regular basis – moving furniture around!
Other Cool Sites
I love scouring sites from around the web to find even more interesting stories. Here are some of my favorites:
PIN IT FOR LATER! 🙂