Making a perfect grilled steak is easy once you know what you are doing. This Grilled Steak with Rosemary Garlic Butter combines the perfect grilled steak with homemade Garlic Rosemary butter. Juicy grilled steak, seasoned and topped with homemade rosemary butter is perfect for grilling!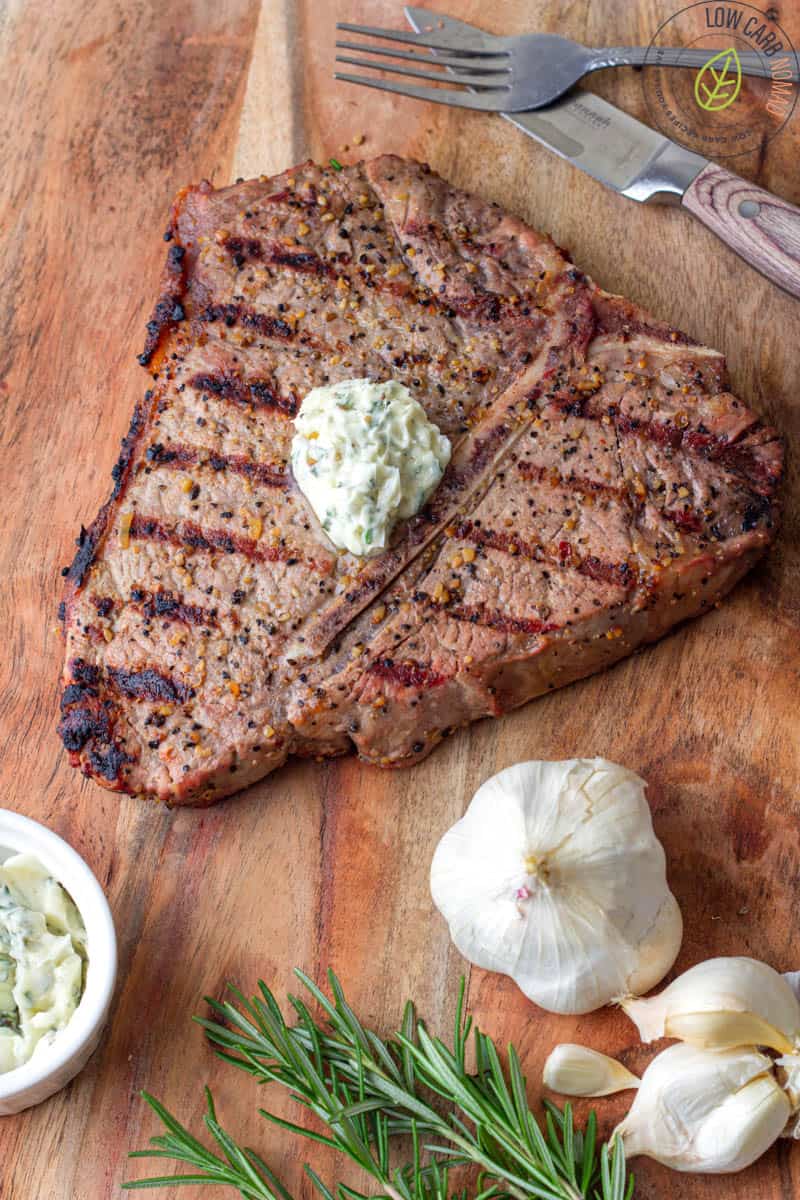 Grilled Steak with Rosemary Garlic Butter
Summer is here and we are grilling. Ok. so we don't stop grilling even when the weather gets cold. But I can still be excited that summer is here and I don't have to stand outside in the cold grilling like I do during the summer.
Our favorite thing to grill is steaks. We are steak lovers in this house and I do not think anyone in my house would complain if I said we were going to have steak for dinner every single night.
One of the best things about this Grilled Steak with Rosemary Garlic Butter recipe is that it is super simple to make and while grilled steak is amazing on its own, adding the fresh made garlic rosemary butter gives it even more amazing flavor.
Low Carb Grilling Recipes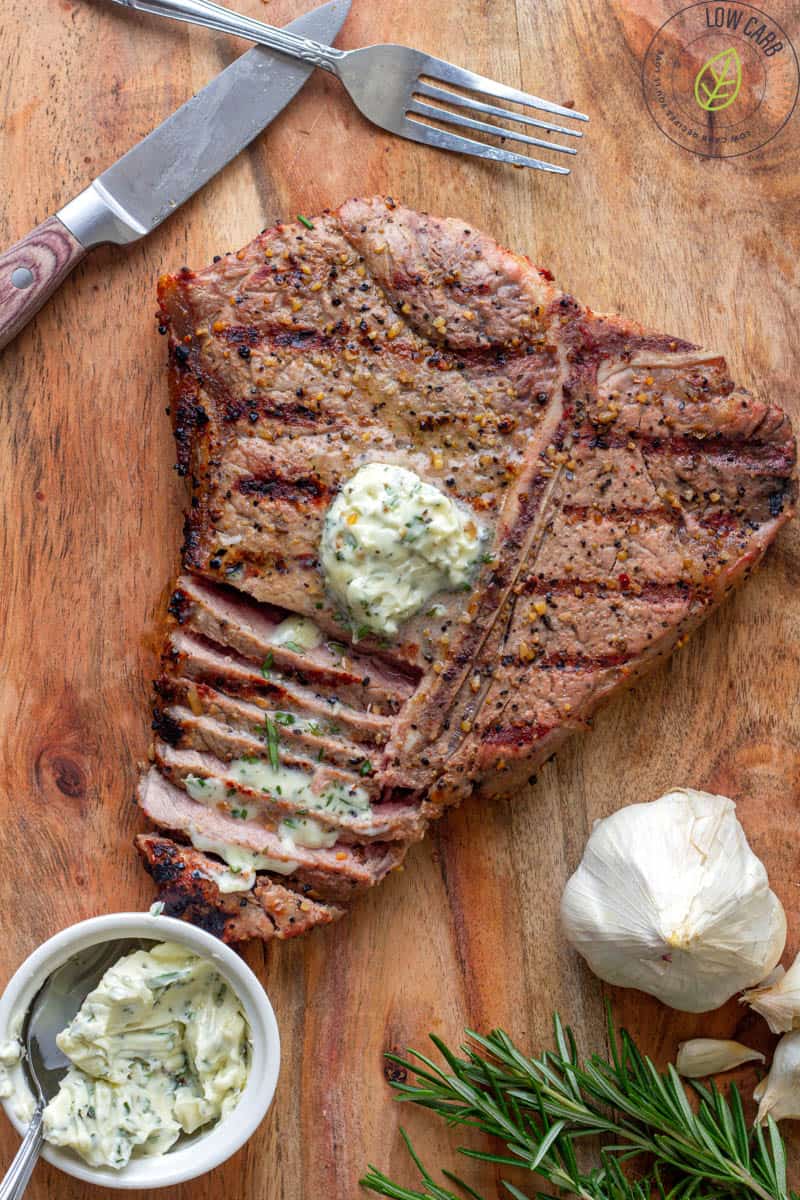 Best Steak for Grilling
Steak is one of my favorite things to grill because there are so many choices that are perfect for the grill. When you are making a steak on the grill with rosemary butter you will want a good steak! The best steaks for grilling are:
T-Bone steak
Porterhouse Steak
Ribeye, Filet Mignon
New York Strip Steak
Tips for Grilling the Best Steak
Only Flip the meat once. When you are grilling steak you do not want to keep flipping it. Place it on the grill for the first half of the cook time and then flip over to the other side for the remainder of the cook time.
Bring the steak to room temperature. You want to take your raw steak out of the fridge 30-45 minutes before you are going to cook it and bring it to room temperature.
Dry the meat. Before seasoning your steak pat them dry if needed with a paper towel. You want your steak dry before putting the seasoning on it so you get a nice crust on the outside.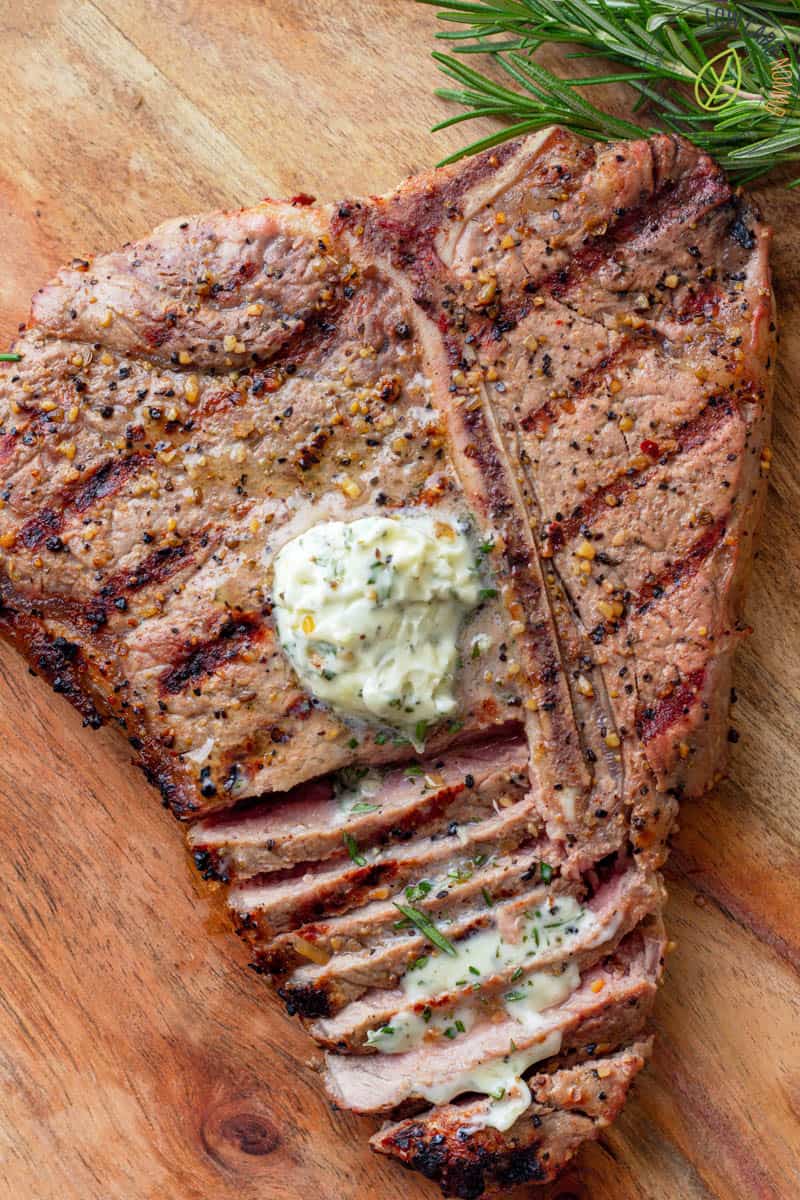 What to Serve with Grilled Steak
The side dishes that go with steak are endless. Seriously I can not think of anything that doesn't go well with a steak. Salads, veggies, literally the list is endless. Check out these low carb side dish recipes to make this a complete meal!
How long do you cook steak on the grill?
We are a house of rare steak lovers but I know that not everyone enjoys their steak that way. No matter what way you like your steak cooked it starts the same.
Cook the first side of steak for 4 to 5 minutes until the steak is golden brown and slightly charred on that side. Then flip the steak over and continue cooking for the time frame needed for your desired doneness.
Rare steak cook the steak other side for 3 minutes.
Medium rare the steak other side for 5 minutes.
For a Medium cooked steak cook the other side for 7 minutes.
Medium well steak cook other side for 8-10 minutes.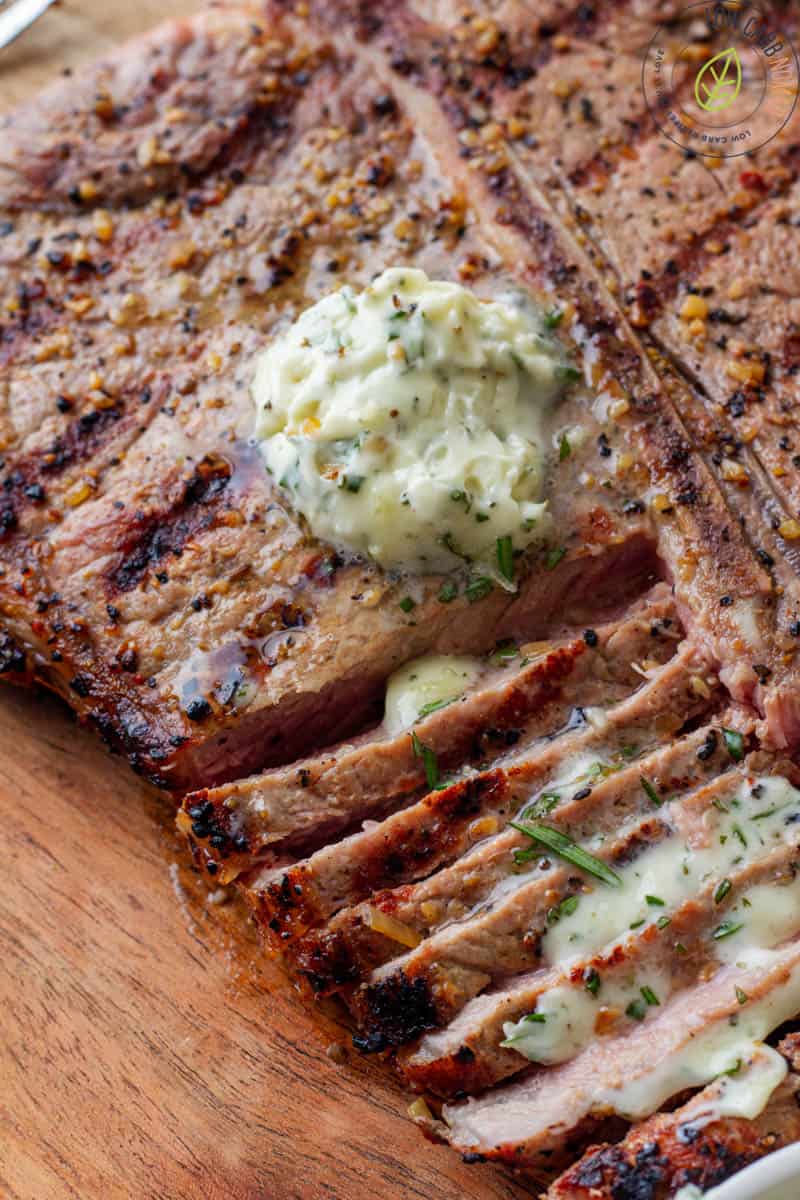 Garlic Rosemary Butter Compound Ingredients
Butter – store bought or homemade.
Dried Rosemary
Fresh Garlic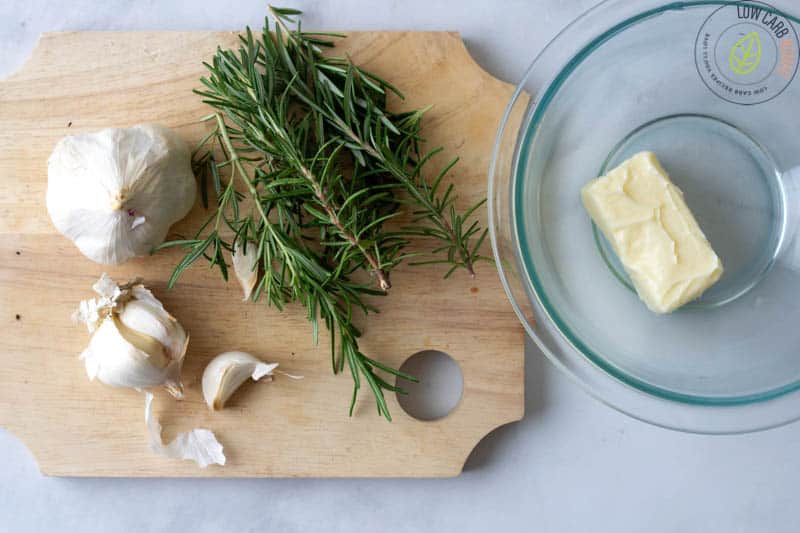 How to Make Garlic Rosemary Butter Compound
When you are making compound butter you can use either store bought butter or you can make homemade butter and then make the compound butter.
Butter compound is literally mixing things with butter and flavoring the butter. Lots of times people shaped butter compound into a log shape, in our house we are not that fancy and we just put it into a smaller bowl when we are done making it.
To make the garlic rosemary butter compound, all you will do is add the butter garlic and rosemary to a bowl and mix it together.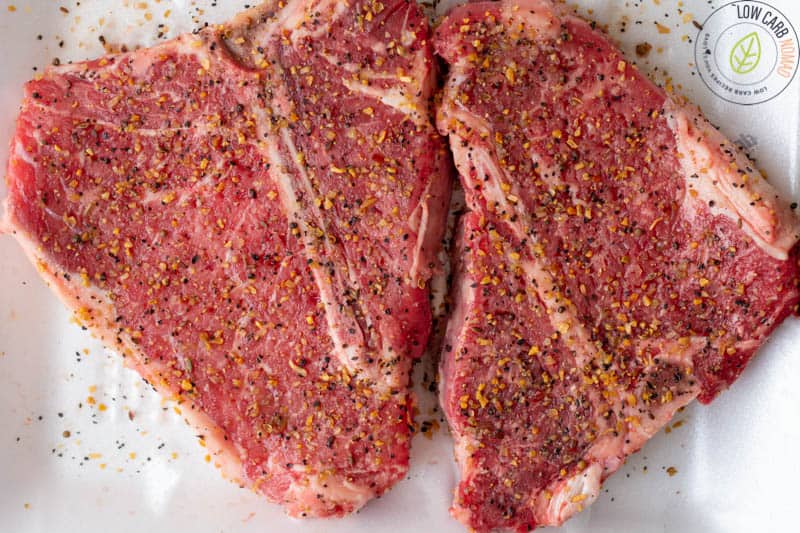 Grilled Steak Ingredients
Steak of your choice
olive oil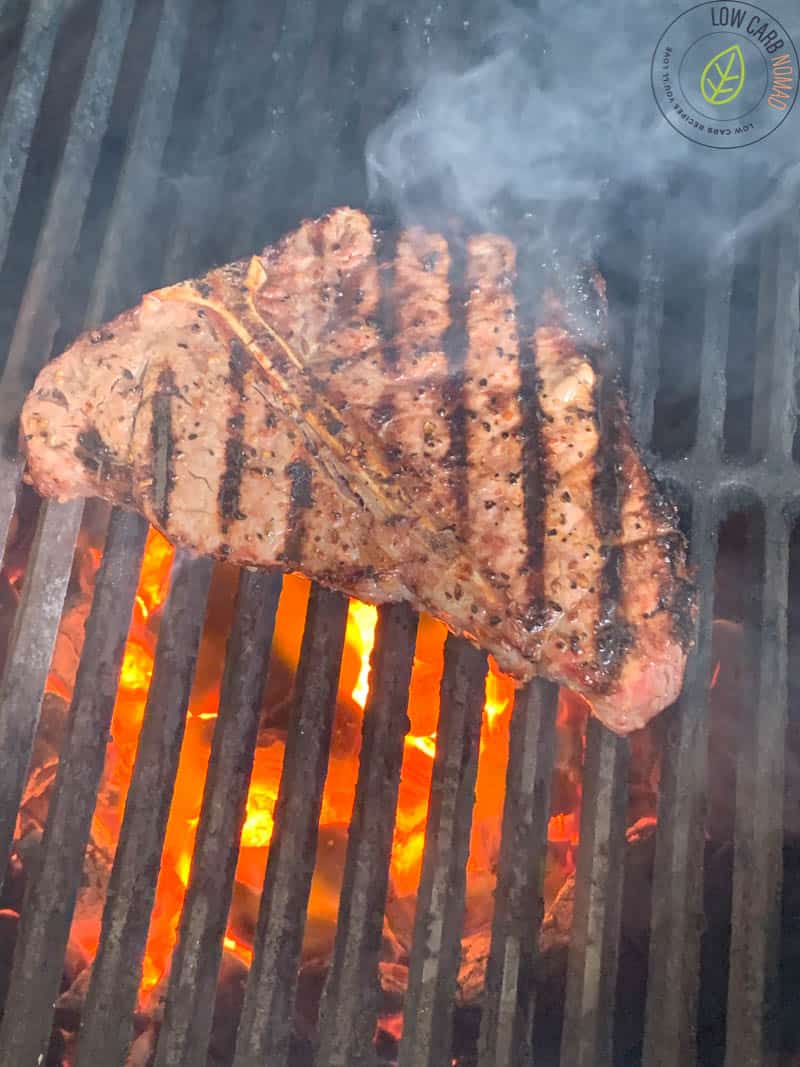 How to Grill Steaks
Let steaks come to room temperature.
Grill steaks to desired doneness.
Remove steaks from the grill.
Top grilled steaks with garlic rosemary butter.
Serve with desired sides.
Easy Steak Recipes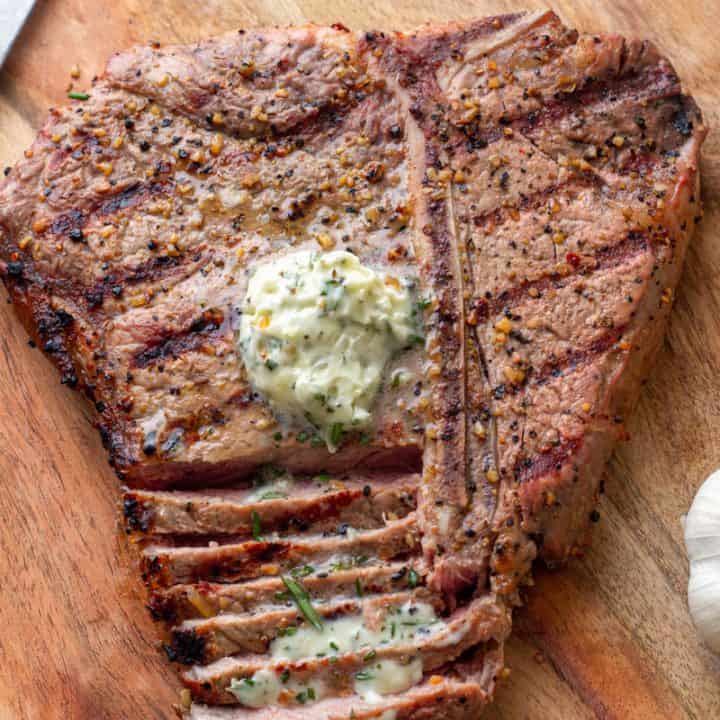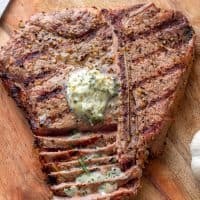 Ingredients
1.5

pounds

steak of your choice

1

tablespoon

olive oil

1

tablespoon

Montreal steak seasoning

3

tablespoons

butter

softened

1

clove

garlic

minced

2

tablespoons

rosemary
Instructions
Let raw steaks come to room temperate for 45 minutes.

Preheat your grill. Drizzle the steaks with olive oil and sprinkle with the steak seasoning.

Grill the steak for your desired doneness.

Remove the steaks from the grill and let them rest for 5 minutes.

While the steak is resting make your compound butter.

Add the butter, garlic, and rosemary to a small bowl and mix well together.

Plate the steak and top with butter compound.
Nutrition
Calories:
696
kcal
|
Carbohydrates:
1
g
|
Protein:
46
g
|
Fat:
55
g
Garlic Rosemary Butter, rosemary butter, rosemary butter steak, Steak with Butter compound, steak with rosemary butter