Have you ever been to the Painted Hills in Oregon? We have now been there twice. The first time though, it was about 100 degrees outside and we really couldn't spend too much time outside enjoying the view. The second time though, wow. This past weekend, we got the chance to visit the Painted Hills when the weather was just right. 60 degrees and sunny!
We have had a very stressful couple of weeks and my hubby decided that the family needed a break from it all. He told us to pack our bags because we were headed to Central Oregon (my favorite place!) for the weekend. Some of our very best friends live in Prineville and they graciously invited us to stay with them for our trip, which was awesome! We love to spend time visiting with them and since we planned to do a little tourist-ing while we were there we didn't have to worry about invading their space too much. What was that tourist-ing we were planning? Well, our second trip to Painted Hills, of course! Painted Hills is about 1 hour and 12 minutes east of Prineville, so it was a bit of a drive, but well worth it since we were already that close!
Where is it?
For those that don't know, Painted Hills, is part of the John Day Fossil Beds National Monument which is located in Wheeler County, Oregon. Wheeler county is one the least populated county in Oregon and as such there is lots of wide open spaces, the John Day Fossil Beds National Monument included. There are over 3000 acres included in this monument and the Painted Hills are listed as one of the Seven Wonders of Oregon. Painted Hills got its name from the many layers of colorful rock which corresponds to different geographical eras in which they were created.
Here is a breakdown by color:
Black – This is lignite that was once vegetative matter
Grey – Mudstone, Shale & Siltstone
Red – Laterite Soil (formed by floodplain deposits)
Painted Hills are a very important geological area due to the abundance of fossil remains of camels, horses, and rhinoceroses.
Another important note is that Painted Hills was considered the premier location to witness the 2017 Eclipse as it featured over two full minutes of totality.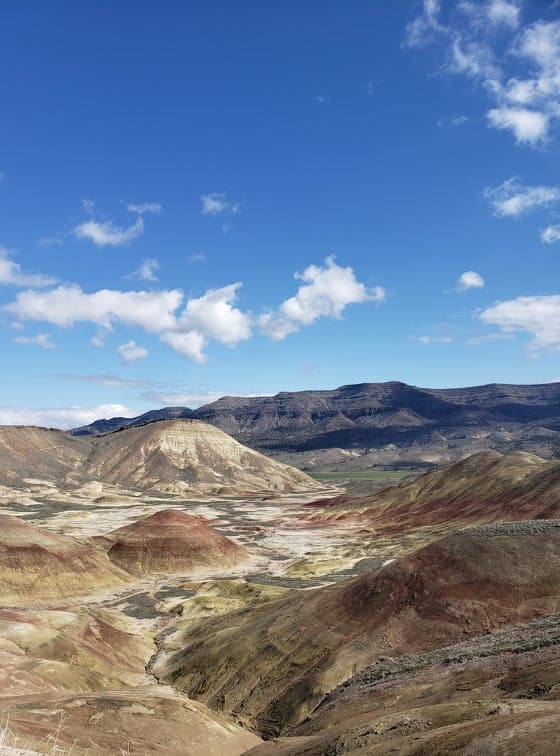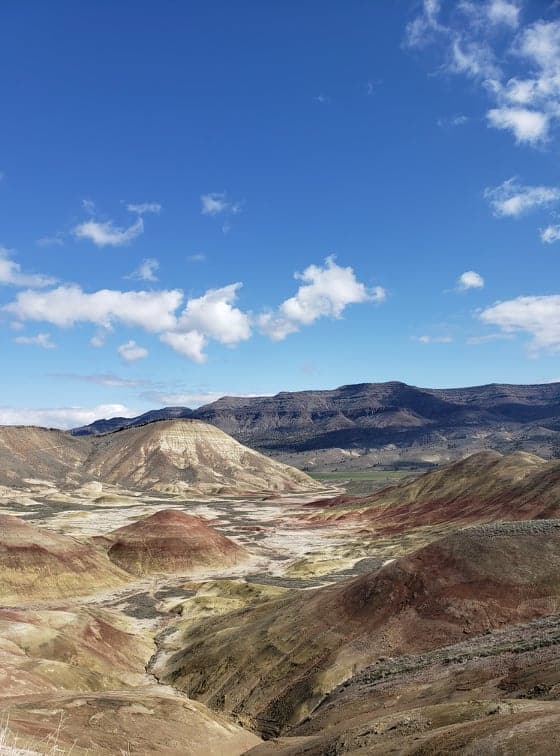 While There
To get to the main viewpoint for Painted Hills you must walk up a one half mile trail that features several benches along the way. This photo shows what you will see from this viewpoint. You are highly encouraged to not veer off of the trail due to the sensitive soil within the monument.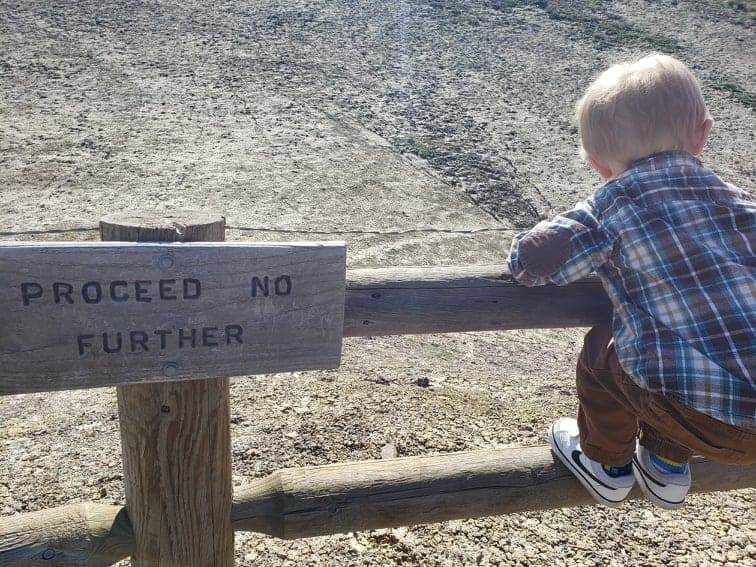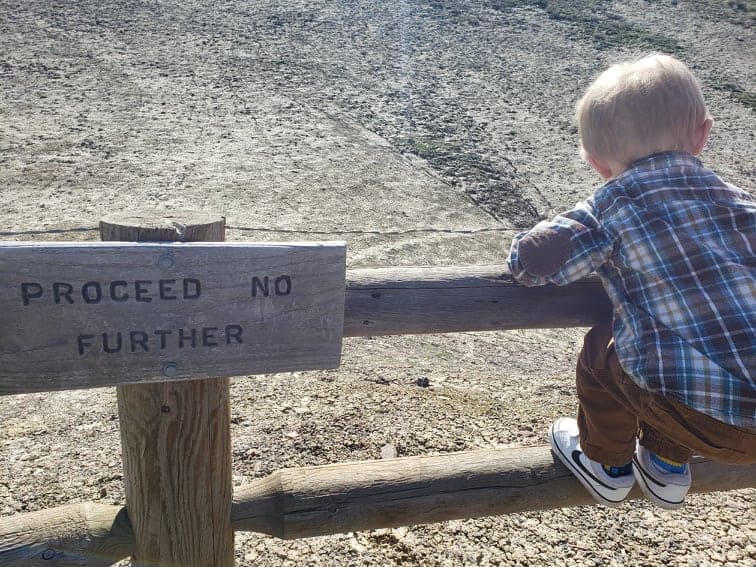 There are several other trails there at the monument. Sadly, we have only done the 1/2 mile hike to the viewpoint. I mentioned earlier how hot it was the first time we visited and this time I had completely forgotten to bring the stroller for our toddler. We had to carry him the last 1/4 mile on the 1 mile round trip hike and I didn't think he could handle any more walking. That being said, I will definitely return again soon to try out the other hiking trails!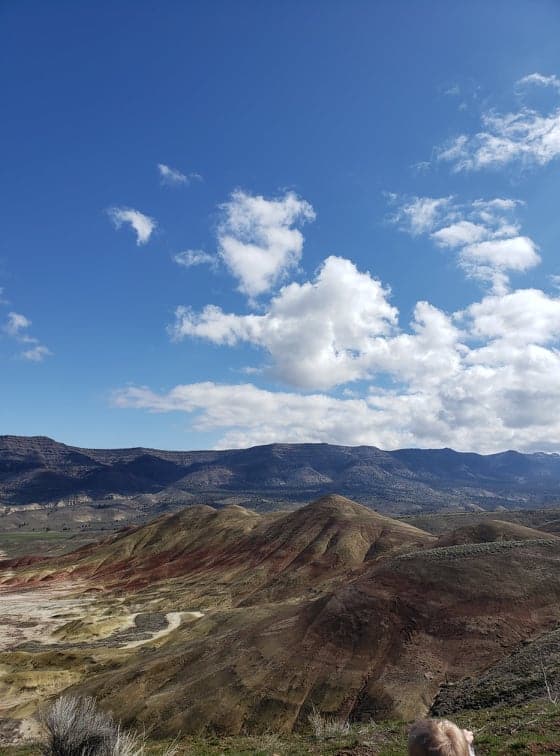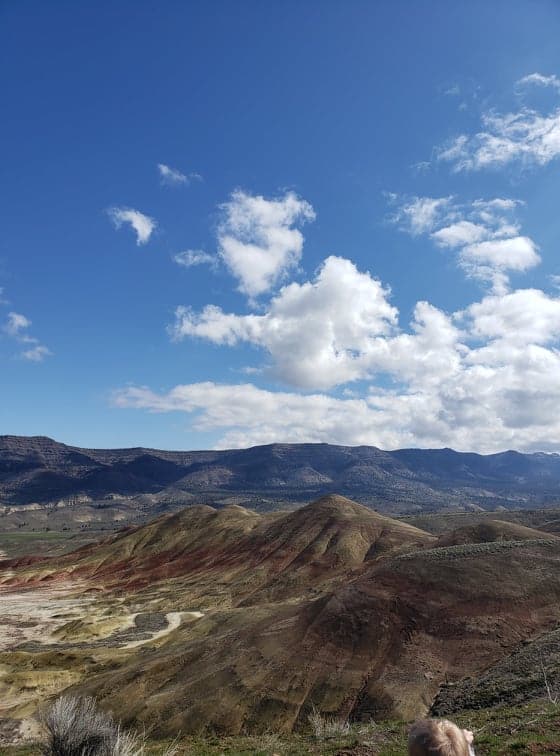 You guys! I literally cannot describe the beauty that is Painted Hills. I have been to the Grand Canyon before and I truly believe that the views here rival that of the Grand Canyon. The colors are like no other that you have seen before and when surrounded by the magnificent backdrop of a beautiful blue sky, you will be amazed at what nature can do.If you are in Oregon or you are planning a trip here soon, I highly suggest you take a long road trip and head on out to Wheeler County to check out Painted Hills. The drive is beautiful and the destination is well, well worth it!
I want to take a moment here to notate that none of the photos that I am posting here have been edited at all (other than to add text to a couple of them). This is actually how the Painted Hills looks. Isn't the coloring just amazing?