I was quite nervous to mix cheese and eggs and attempt a low carb dessert at first, but these strawberry shortcake chaffles came out better than expected. I mean honestly, when you're making a low carb version of anything sweet, it can be hit or miss… these were a hit!
Strawberry Shortcake Chaffle Bowls
Are you in my "I Love Chaffles" group yet? There are several chaffle recipes shared daily! If you're new to low carb living, chaffles will be especially helpful for you. Another tip for newbies is to meal plan! Download my free low carb meal plan here.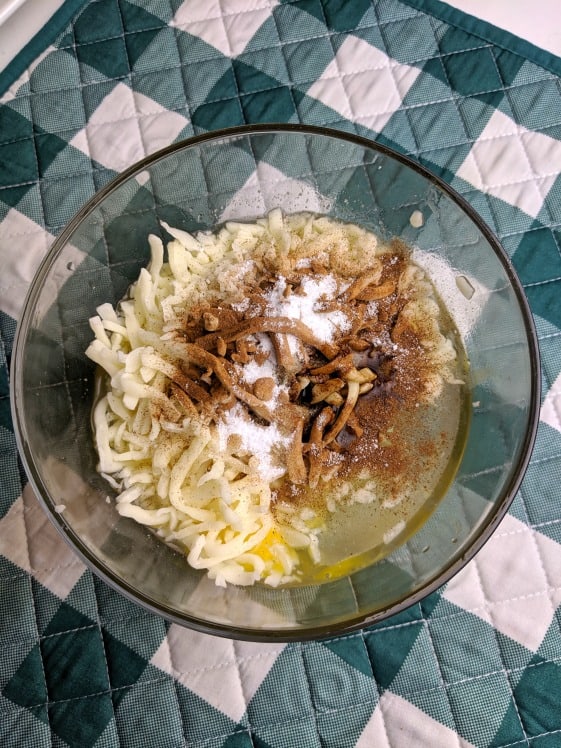 Pssst… A few days ago, I made Chaffle taco bowls and they were delicious!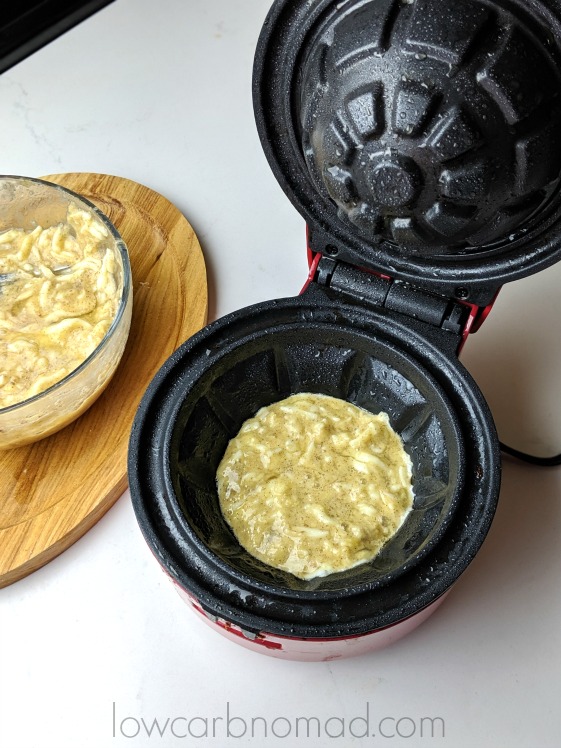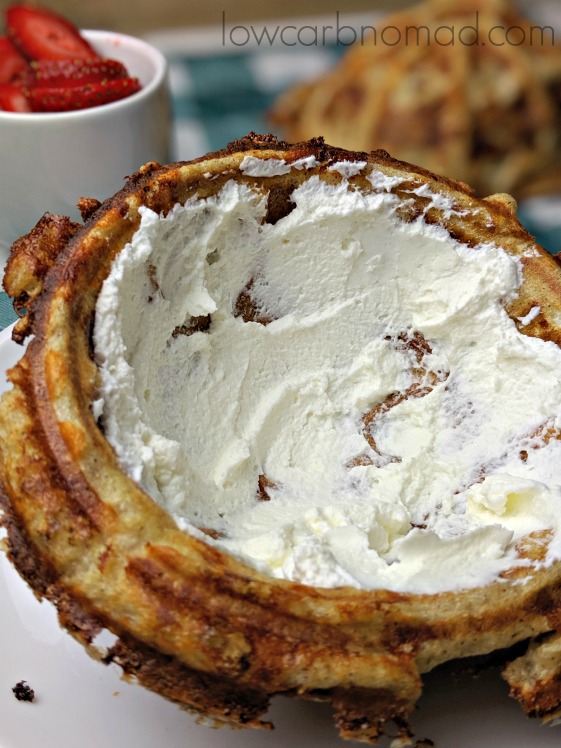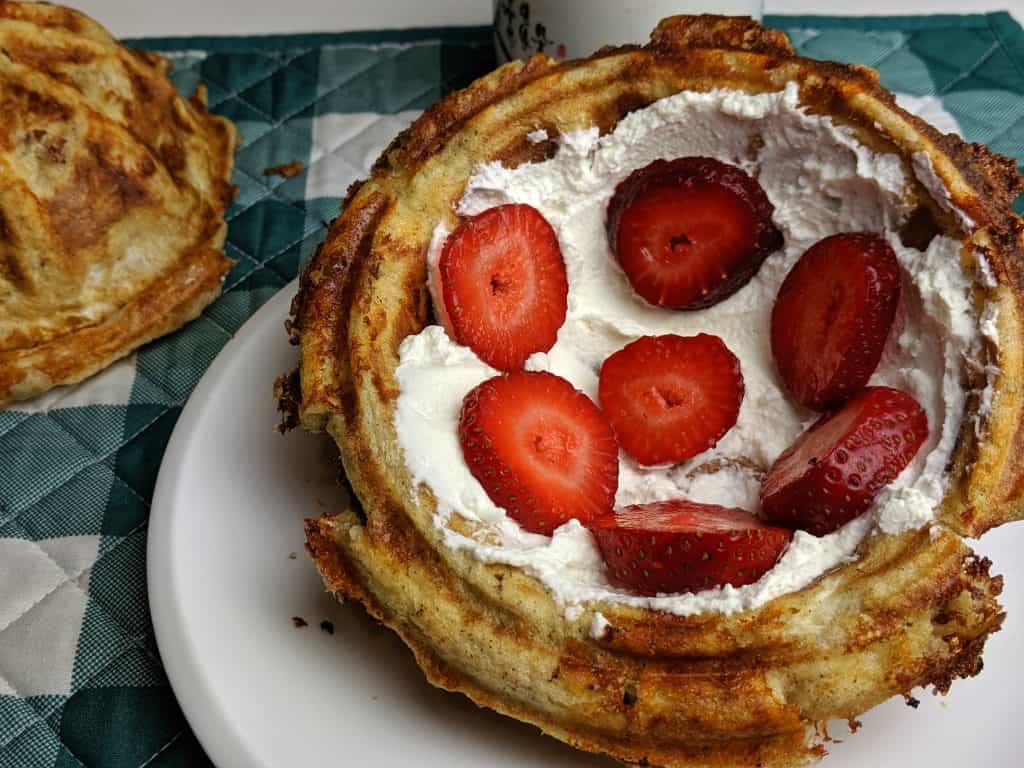 How to Make Chaffle Bowls
I ordered this mini waffle bowl maker because the mini waffle maker was sold out. It was cheap so I figured what the heck. Thankfully, it worked out beautifully! The Chaffles held their shape well. I think the key is making sure they cook long enough. If your Chaffle isn't crispy, it may fall apart.
What are Chaffles?
Chaffles are a low carb alternative to bread, waffles, and tortillas. You can make them taste like anything! I love to make homemade whipped cream (it's low carb!), so I knew a strawberry shortcake Chaffle bowl would taste amazzzzing.
How Many Carbs are in Chaffles?
Eggs have .6g carbs, with even less for egg whites, so I estimated this recipe at 4 carbs for the eggs.
Part-skim mozzarella cheese has 5g carbs per cup, so that's 10 carbs for the cheese.
Almond flour is 6 (net) carbs for 1/2 cup.

For 6 Chaffle bowls, that would be about 3g carbs each.

Compare this to 15g carbs for a flour tortilla and 30g carbs for a Belgian waffle, and you can see why Chaffles are seriously popular.
How To Make Chaffles Taste Less Eggy
It required quite a bit of trial and error for me to get my chaffles to NOT taste like scrambled eggs with cheese. Adding in the almond flour, baking powder, and cinnamon helps tremendously.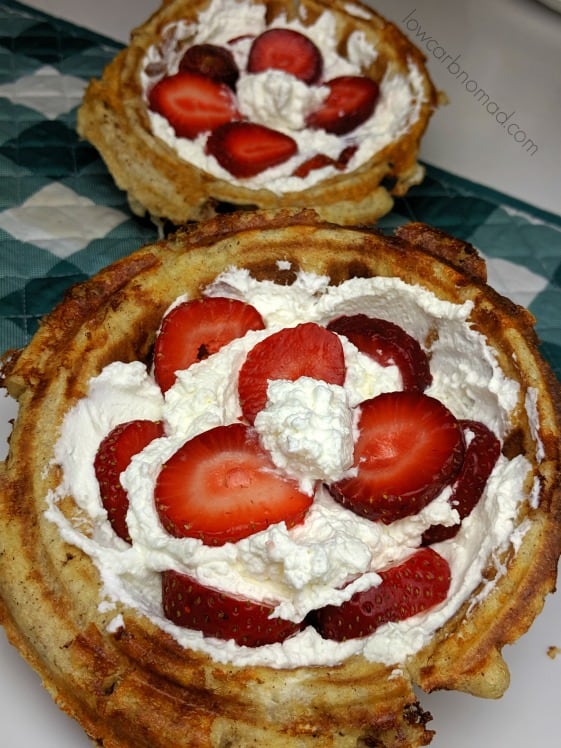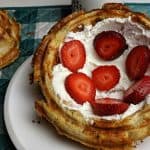 Strawberry Shortcake Chaffle Bowls
Print Recipe
Pin Recipe
Ingredients
2

cups

mozzarella cheese

2 

eggs

4 

egg whites

1/2

cup 

almond flour

teaspoon

stevia

teaspoon

baking powder

teaspoon

cinnamon

optional
Instructions
Preheat waffle bowl maker.

Combine all ingredients in a bowl and stir until all cheese is coated.

Spray waffle bowl maker with pan spray.

Add a few tablespoons of the mix to the waffle bowl maker, close, and cook for 3-5 minutes.

Fill with whipped cream and strawberries. Sprinkle with cinnamon (optional).
Nutrition
Serving:
1
g
|
Calories:
306
kcal
|
Carbohydrates:
6
g
|
Protein:
20
g
|
Fat:
23
g
|
Saturated Fat:
7
g
|
Cholesterol:
101
mg
|
Sodium:
346
mg
|
Potassium:
97
mg
|
Fiber:
3
g
|
Sugar:
2
g
|
Vitamin A:
398
IU
|
Calcium:
286
mg
|
Iron:
1
mg