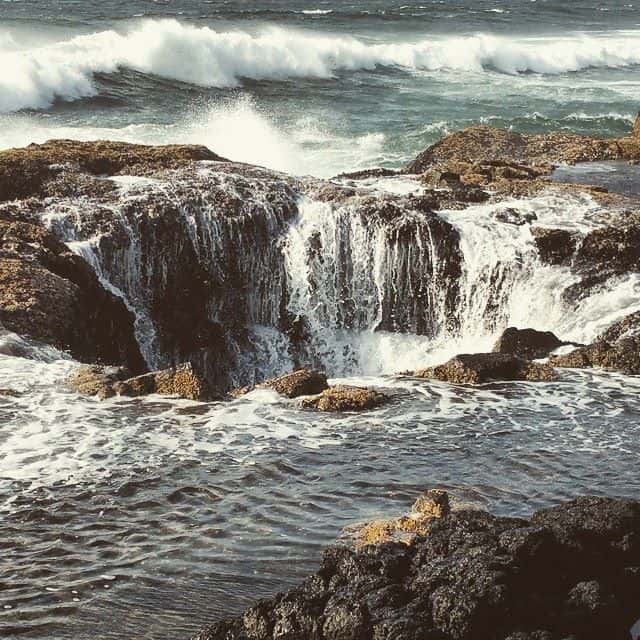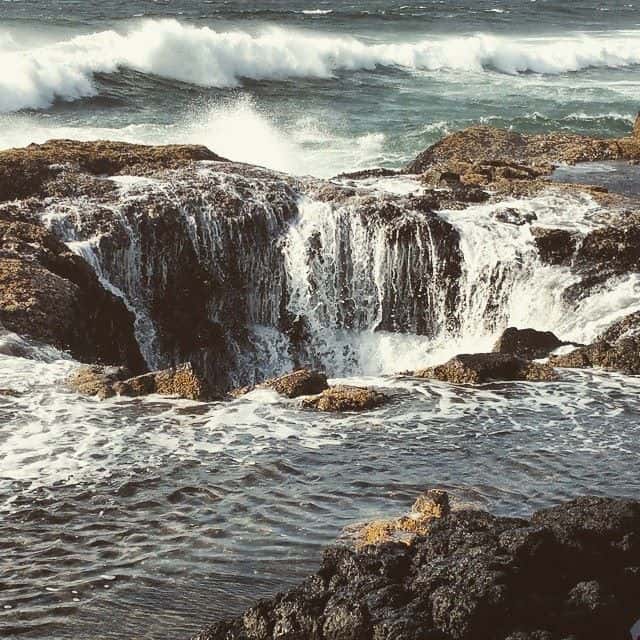 Have you ever heard of Thor's Well? Well, my friends, you are just about to be introduced to one of Oregon's most unique tourist attractions.
THOR'S WELL
On on the edge of the Pacific Ocean, near the beautiful town of Yachats, Oregon, you will find Thor's Well. A wondrous sinkhole that is busy swallowing up the ocean water that comes near it. Many who have visited this natural wonder say that it looks bottomless and it does look like it must be, but it is not. It is however, a very beautifully dangerous place to visit. As a mother, I recommend not letting your little ones visit Thor's Well, and keeping a very close eye on your bigger kids, while not letting them get too close.
Thor's Well, or as you may have heard it called, a "gaping sinkhole," the "drainpipe of the Pacific" or even the "gate to hell." Is actually a hole in the rock near the ocean, that many historians believe started out as a sea cave that was continuously dug out by the force of the waves. These waves eventually collapsed the roof of the cave, creating the 20 (approximate) foot deep hole that the ocean washes through forcefully over the rocks and into the hole.
For all of you adventurous sorts, the best time to visit Thor's Well is roughly an hour before high tide so that you can witness the transformation of the water-less hole turned, angry Thor's Well. While the site is actually at its most spectacular self during high tide, I highly advise not visiting at it's peak, due to the danger. With raging waters and violent waves of the Pacific Northwest, those standing on the rocks are at high risk of being swept out to see by strong waves. Yes, there are plenty of photographers and nature lovers that chance this risk, but to me it is simply not worth it.
We have visited Thor's Well 4 times over the last couple of years and we only go down on the rocks when it is lower tide, but still have been able to catch a great photo or two.
Where to go – It's pretty easy to drive right by Thor's Well, so you need to be on the lookout for it. There are two places to park in order to see Thor's well. It is located right on Hwy 101, and you can drive just south of the Cape Perpetua Visitor's Center and park on the west side of the hwy. If that parking lot is full (it is quite small), you can find the Cape Perpetua Scenic Area with camping and a day use area on the East side of the hwy. If you park in this area (we always do), there will be a small hike to get down to the viewpoint.
I really do highly suggest that everyone make a trip here at some point in their lives, it is hands-down on of the coolest things in nature that I have ever seen. I just beg that you be very conscious of your safety and the safety of your children. Don't be so busy chasing the perfect shot that you put yourself at risk.
If you make your way there, be sure to let me know! I want to hear what you think!
PIN IT FOR LATER! 🙂