A couple of years ago, on a whim, we bought 2 of these Intex Explorer K2 Kayaks. We had recently been camping at Loon Lake and had rented a little boat to float on the water in and oh my goodness, was it fun! We decided that while we had a blast, we weren't quite ready to be "boat people," but I had been working as a coupon blogger VA at the time and I knew that people were buying these Kayaks off of Amazon like crazy. We had never done any kayaking in Oregon (or anywhere for that matter), but we figured that this was the best way to start! Yes, they are 2-person kayaks, but the weight limit on them is quite generous so we figured each parent would take a big kid and the toddler would ride in one of the kayaks with us. It has been a blast you guys and I'm not kidding when I say that kayaking is our new favorite family activity!
Heading to the lake? Check out these tips for visiting the beach with a baby.
When we head out to go kayaking, we typically go to Olalla Reservoir. Olalla Lake is near the town of Toledo in Oregon and only about an hour's drive from us. Plus, there are no motorized boats allowed at Olalla Reservoir, which is something that I loved since we were kayaking newbies and now that we have more experience under our belts, I still love it because it's just so peaceful. We have been kayaking at several other places, but Olalla Reservoir continues to be my favorite.
Olalla Resevoir is actually owned by a private timber company here in Oregon, but they allow it to remain open for recreation purposes. It is surrounded by forests and very, very peaceful. You see lots of fisherman as well as swimmers, kayakers, paddle boaders and more. There is a nice little grassy beach area where people can sunbath and hang out with their families and they even have some really nice BBQ pits for having a nice cookout with your family and friends. There is also a boat launch area for you to launch your non-motorized boat. We typically carry our kayaks down this launch area and head out from here.
(They do have outhouses, but no running water or regular bathrooms, so be sure and bring water and some cleaning or baby wipes for cleaning up)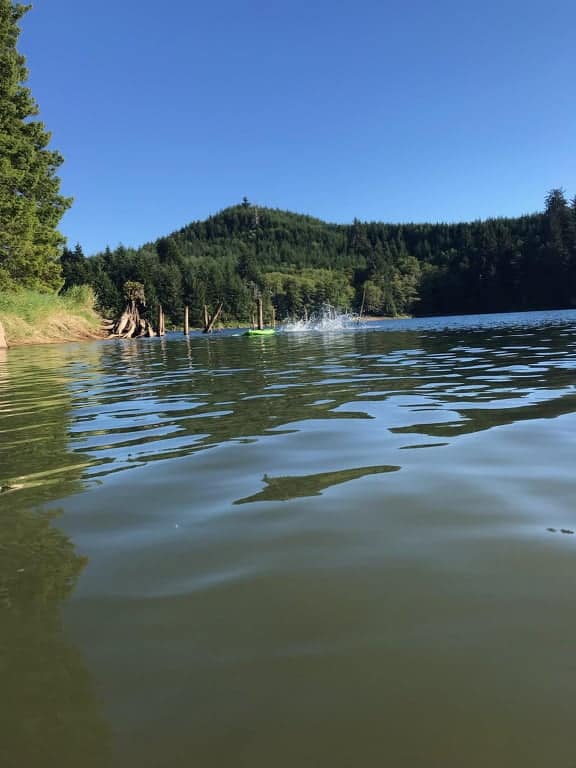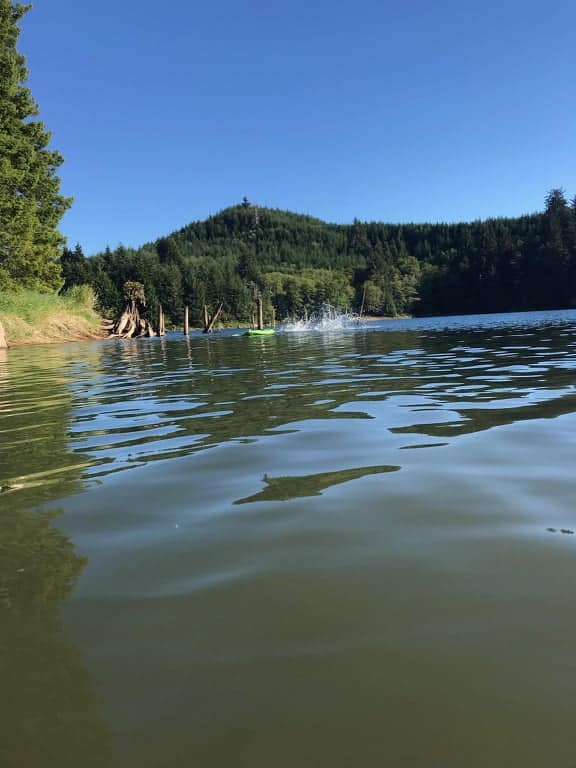 We typically put our kayaks in the water at the main beach and then row over to the other side of the lake to one of the little private beach areas and we get out and have our picnics and swim around for a bit. Here is a lovely photo of the view from one of the cute little beaches that we are able to kayak to. (Yes, that is me falling off of the paddle board, but hey..it's the only photo of the area that I could find).
Kayaking as a family has given us a great new reason to spend time together. It's a fun way to cool off in the summer, and it's great exercise for everyone without really feeling like exercise. This is especially important for my 11 year old as he doesn't exactly love to go hiking or do any other strenuous activities with us. He does, however, love being out on the water kayaking.
My husband and I are both strong swimmers and my big kids are decent swimmers, but we always make sure to have our life vests on the entire time we are on the water. I have no interest in putting anyone's life in danger just so we don't have to wear them. This is a non-negotiable for me and my kids know this. We just made sure to get comfortable life vests for everyone in the family so there will be no complaining.
Have you ever kayaked before? If you are looking for a great place to go kayaking in Oregon, this is a great place to do it!