So, for the first time ever, my husband and I went on a vacation. To clarify, we live in Oregon near the beach so we have taken lots of beach trips, camping trips, etc., but I am talking about a real vacation with just the two of us, out of state. We have been married for over 20 years and we finally decided that enough was enough and it was time. So, with another couple, we booked a Vegas vacation. A budget-friendly one at that! I always thought that a vacation like this would cost us thousands of dollars, but let me tell you my friends, we took the entire 5 day trip for just under $1500! Plus, I made some really costly errors that could have saved over $100.
We have actually already scheduled and booked Vegas vacation #2 and this one looks to be even cheaper!
Here are my favorite tips and tricks for how to book a budget-friendly Vegas vacation:
Use a travel site
I have found significant savings by using travel sites such as Expedia, Travelocity, Orbitz, etc. Use the package feature to save money by grouping your flights and hotels together.
Book 90 days out
I have been researching and testing it out for a while and it is true that to save the most money, you should book 90 days out. I have found savings of nearly 50% when I book at the 90-day mark. See my screenshot example below of Travelocity deals. I decided to stick with the Luxor for each trip, which is a great hotel and casino. The lower price is 90 days out, while the higher price is 114 days out. This price is per person and as you can see it is a $150 difference between the two dates! That means $300 in savings per couple!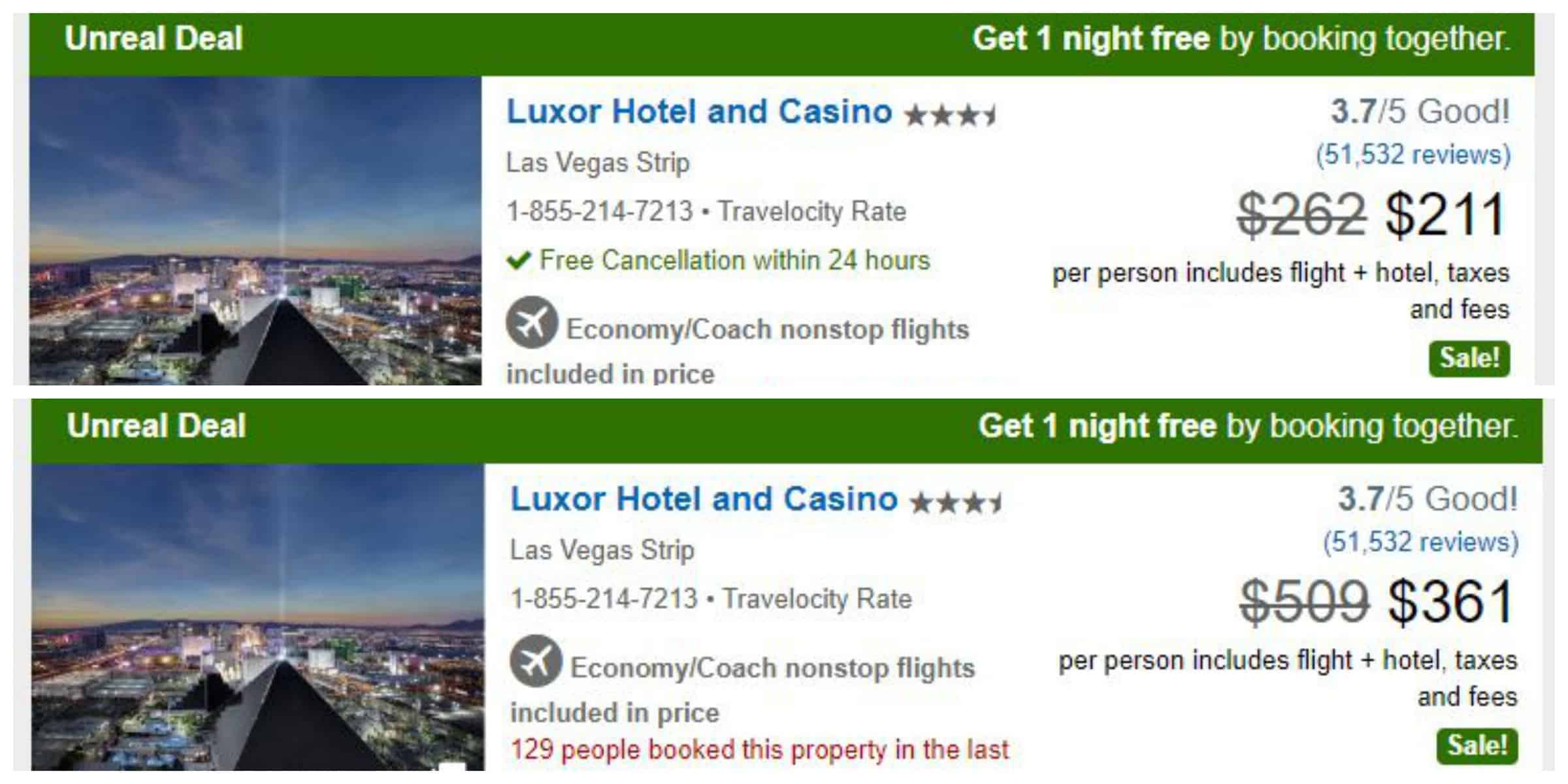 Fly out on Wednesday
Wednesday flights seem to be almost always less expensive than flights on any other day of the week, so do what you can to be sure that your vacation starts on a Wednesday.
Use the tram
There are 3 trams in Vegas, all of which are free. These trams allow you to travel throughout the strip to various casinos. The trams run every 5-10 minutes, which means you never have to wait long. We used the tram quite a few times during our stay and loved it. Not only was it free, but it was convenient. Plus, we met lots of fun people while on it, including an adorable Australian couple who had just gotten married and were enjoying all of the free drinks. Here are the tram options:
Bellagio Hotel/City Center/Monte Carlo Hotel tram connects the center and South Strip. This tram runs every ten minutes from 8 a.m. to 4 a.m.
Mirage Hotel/Treasure Island Hotel tram runs every 10 minutes from 9:00 a.m. to 1:00 a.m. (til 3 a.m. Fri & Sat) in the Center Strip.
Excalibur Hotel/Luxor Hotel/Mandalay Bay Hotel tram runs every 5 minutes from 7:00 a.m. to 2:00 a.m. (til 3:00 a.m. Fri to Sun) from stations in front of these hotels.
Buy a bus pass
If you are planning on staying on the strip throughout your visit but you want to travel beyond the casinos that the tram goes to, you can buy a 3-day full access bus pass for $20. This will get you anywhere you need to go!
Use Uber or Lyft
If you are traveling somewhere beyond the strip, you may want to give Uber or Lyft a try. Skip the taxi though, because they are spendy! We took an Uber from Mandalay Bay to Fremont street and it cost us like $11. Super cheap and we rode in a sweet car which was very comfortable for us all. Plus, if you are new to Uber, you can get a credit toward your first ride. Our friends were Uber pros, but we had never used it before, so I signed up while there and got our ride to the airport for free.
Check out Groupon
Groupon is a great way to save money throughout the country, and Vegas is no exception. We used Groupon to save on a couple of restaurant deals to cut down on our food costs while we were there.
Don't forget your incidentals
Okay, this is what I was telling you about. I completely forgot our bathroom bag at home. So we went with no toothbrushes, no toothpaste, and no razors or shaving cream. We simply cannot go 5 days without those things so I had to buy them in Vegas. I don't know if you realize this or not, but this type of stuff in Vegas is not cheap. For 2 toothbrushes, 1 tiny toothpaste, 2 single blade razors and a tiny can of shaving cream we spent over $50, I'm not even kidding about this. I was so angry with myself. Also, I had bought a cheap luggage set at Walmart that broke on our flight over so we had to pay $40 on a new suitcase while there (I shopped at the 3-story Ross Dress for Less for this), but had I just had a better suitcase this wouldn't have happened. I have since bought a nice, sturdy set for our next trip. These little mistakes cost me nearly $100!
Buy Snacks and Drinks at Convenience Stores or Drugstores
One thing I learned from vacationing in Las Vegas is that the drinks there are not cheap. If you plan to drink while there, consider going to the drug store (there are several Walgreens stores on the strip) and buying any drinks or snacks that you may want while there. Many drinks cost over $20 each so I assure you, you will save money doing it this way. You can also shop at the discount liquor store that is on the South end of the strip. I didn't go in there, but I hear that the deals are pretty good.
Don't Gamble
Okay, we went to Vegas knowing that we are just not gamblers, so this probably helped us with our budget, but for the 4 of us, we spent exactly $1 gambling the entire time in Vegas. It was me and it was only so I could say that "I gambled in Vegas" silly, right? But hey…I did it. To each their own, we just don't like to give our money away, so not gambling was a huge way that we were able to save money. There is so much to do in Vegas besides gambling.
Well, my friends, these are some of the ways that I have found to save money on a Vegas vacation! How about you? Have you taken a trip to Las Vegas before? Did you spend a lot? What ways did you find to save?