Need keto Energy Drinks? Trying to stay on your low carb diet while staying energized? Energy drinks are great for giving you a boost in the morning or keeping you going throughout the day. Finding energy drinks that are low carb or sugar-free can be difficult, but this list of Keto-friendly energy drinks will give you the energy boost you need without all the added sugars and carbohydrates.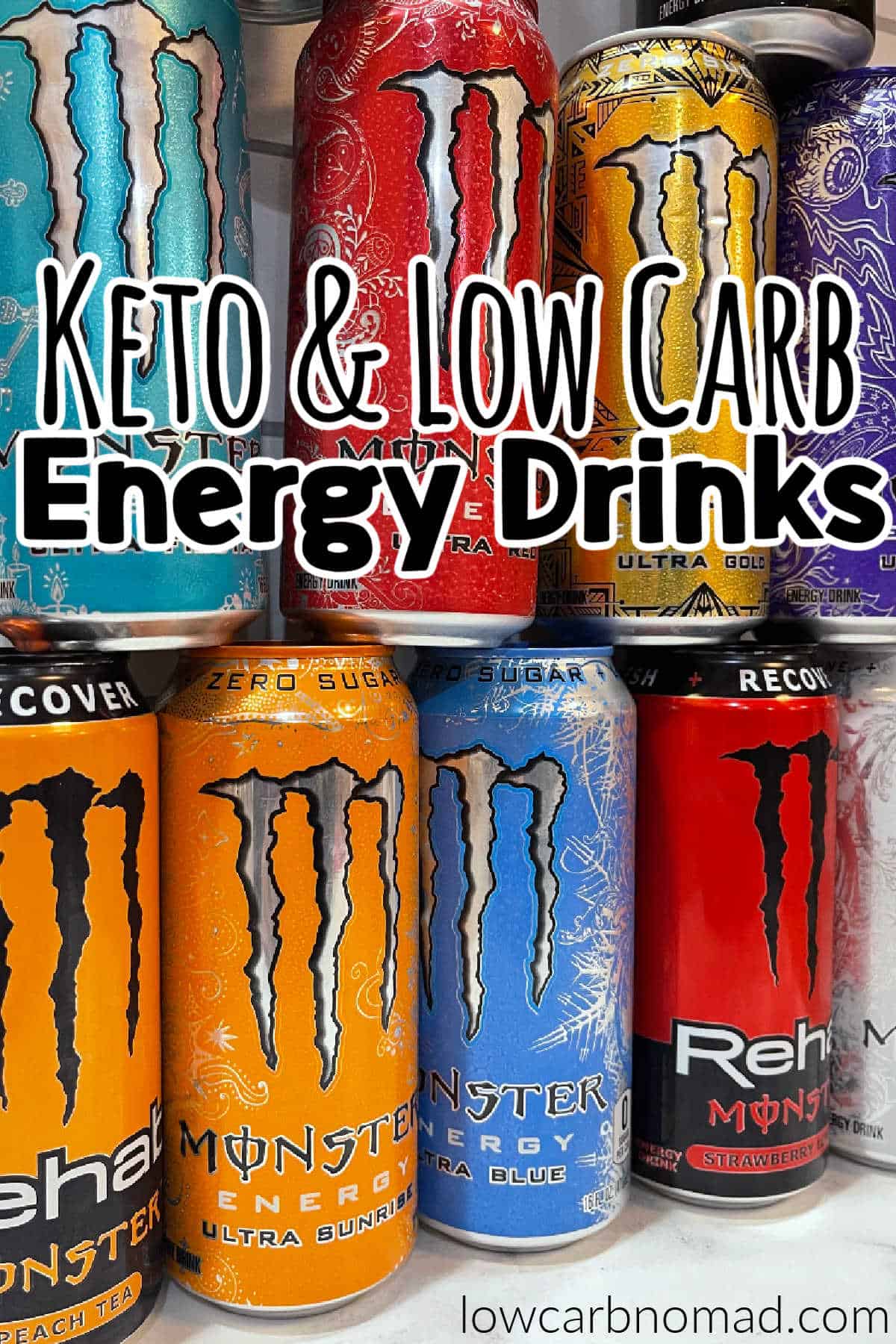 Low Carb and Keto Energy Drinks
Being a mom with 4 kids, you can probably already figure out that my days are super busy and filled with activities and traveling. Managing 4 kids involve teachings school, taking them to practices and practically living at the barn, working around our busy schedule, and everything that it takes running the house. Plus, we are traveling whenever possible.
I am on the go almost all day, every day. Since my days are always packed with things to do, I need to keep my energy up. I have lived on coffee for as long as I can remember. But, as much as it has helped me get through a lot of tough days, to drink it the way I like it, it contains a lot of carbs. As much as the energy boost is nice, the carbs add up quick, especially when you drink as much coffee as I do. I have taken the steps to get healthier and have even started on a Keto diet myself. Now I skip the coffee and grab my energy drink. For far less carbs, I can get the energy boost I need to get through my day.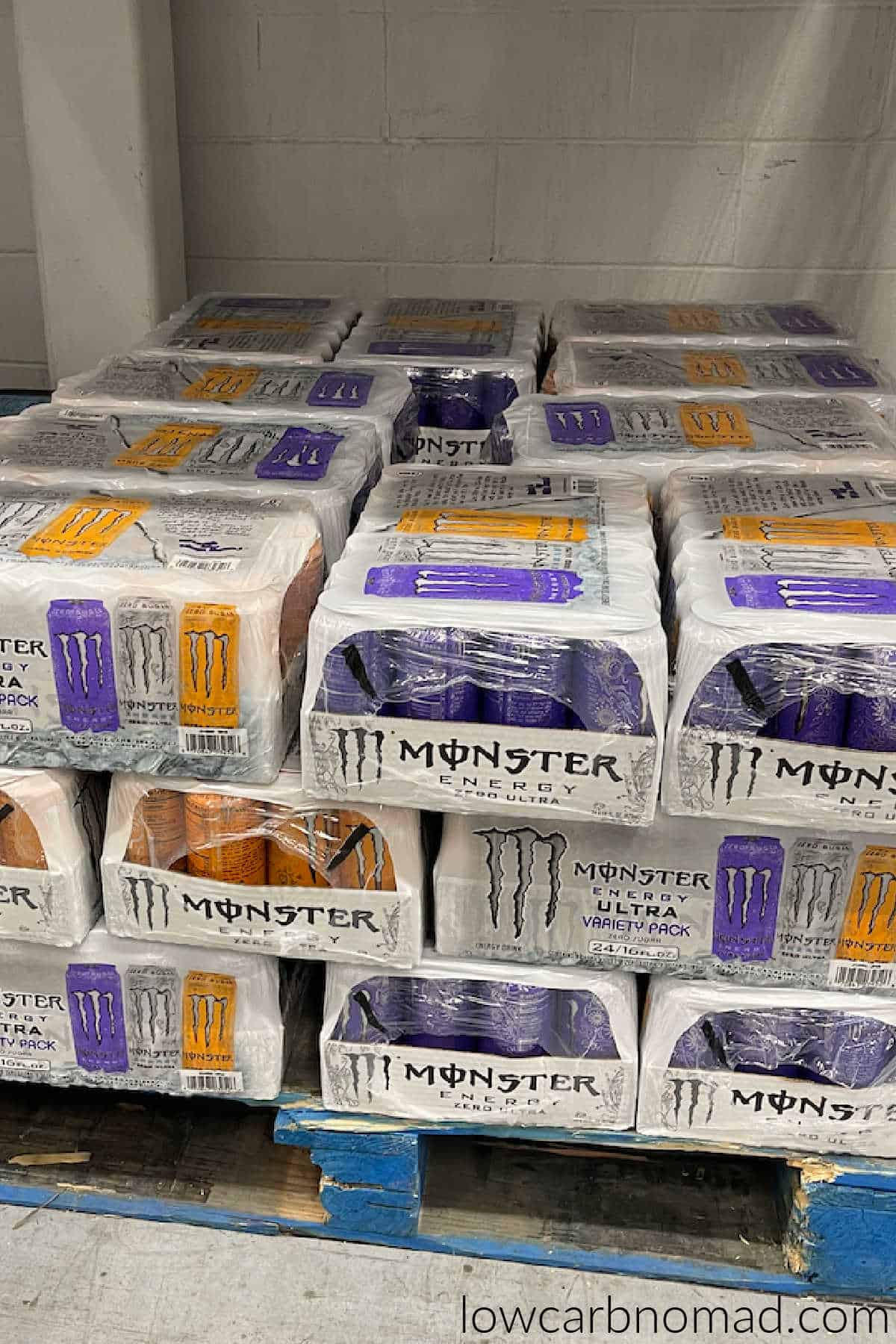 Cheapest Way to Buy Energy Drinks
Let's start off by talking about convenience stores and corner stores. This is the most likely option for people to buy energy drinks because of the convenience of course. However, even though this provides you with a quick and easy way to grab your energy drinks, it bumps up the price by A LOT. The starting price of most energy drinks can start at about $3.50 for the smallest can. A large can of Monster, Redbull, and other energy drinks can range between $4 to even $6. Other drinks like vitamin water or Powerade will cost you about $3 to $4 when buying singles.
Bigger stores such as Walmart, Aldi's, Costco, Bj's, and more can actually give you better prices for more. The starting prices for energy drinks like Monster, Rebull, and other energy drinks as singles can range between $1.50-$2 at most bigger brand stores. When buying in bulk, you can get a 12 to 24 pack of energy drinks for around $30-$40 at places like BJ's, sam's club, or Costco.
Types of Energy Drinks
There are 2 types of energy drinks that most people think of when they are talking energy drinks. There are Energy shots and energy drinks. There are also water enhancements.
Keto Energy Shots
The energy shots are about 2 to 2.5 ounces. These are little bottles meant to be drank all at once, similar to a shot of alcohol. The most popular energy shot is 5 hour energy.
Keto Energy Drinks
Energy drinks are usually between 16 to 20 ounces of liquid. These are larger cans and most people drink then slowly over the course of an hour or more.
There are 2 types of keto friendly energy drinks we will be talking about. Keto energy drinks which are typically 16 ounces – 20 ounces of liquid. There are also keto energy shots which is a smaller container are 2 to 2.5 ounces of liquid.
Water Enhancements
These are things that you are adding to your water. The small containers are found in the grocery store with the other drink mixes. These drink mixes have added caffeine but do not have the other things that typical energy drinks have. They tend to have electrolytes as well.
How Much Caffeine is in an Energy Drink
No matter if you are using a shot or a drink, you are looking for that boost from the caffeine. There are usually other things in these drinks that give the boost. Each of these drinks usually have anywhere from 70 mgs to 300 mgs of caffeine depending on the brand.
To give you a comparison, a typical cup of coffee has 100 mgs of caffeine where a 12 ounce soda has 35 mgs. The experts say to keep your daily caffeine to under 400 mgs.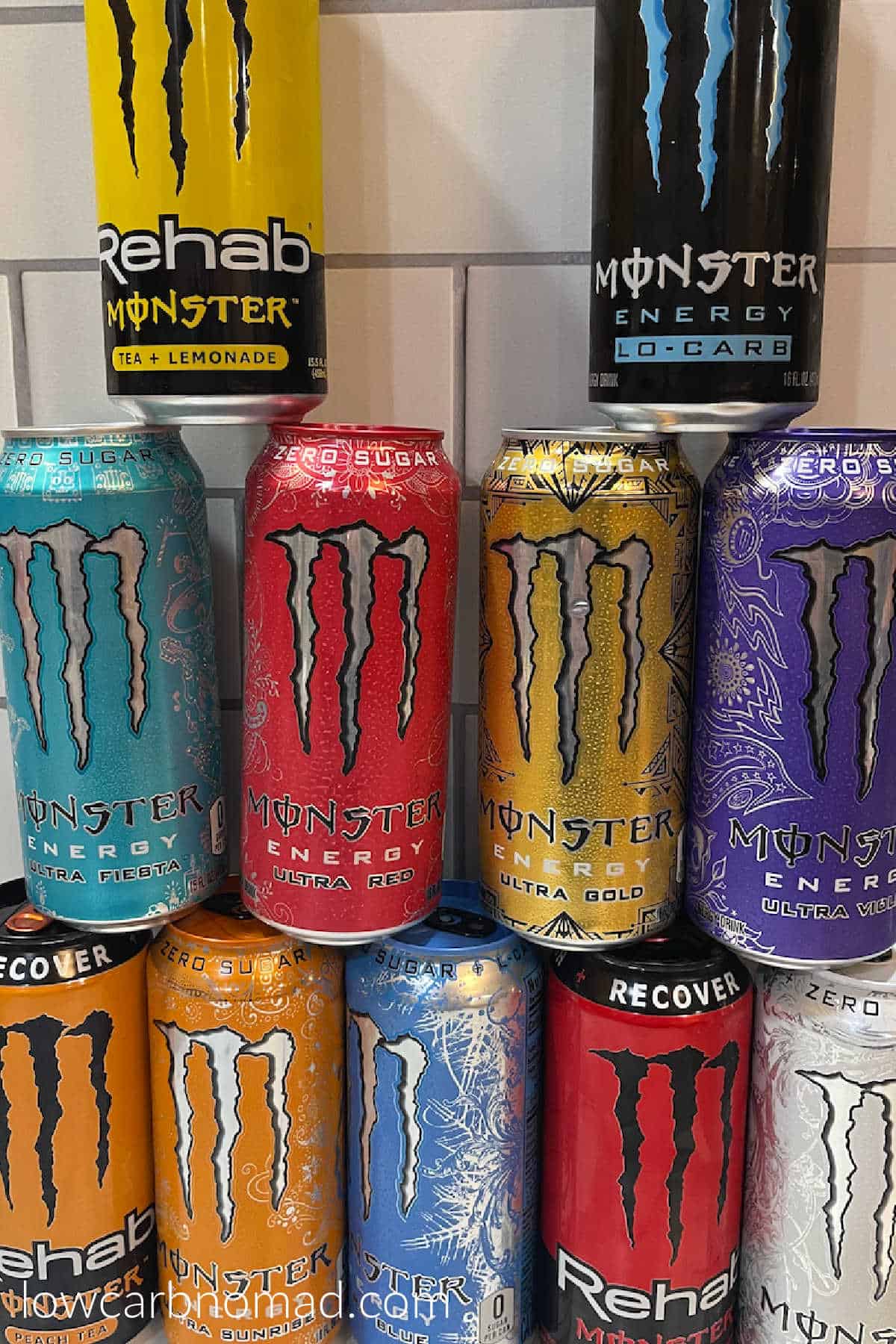 What Make an Energy Drink Low Carb or Keto Friendly
The biggest thing to look for is the amount of sugar that is in the drink. A lot of drinks have added sugar because that is another thing that can give you energy. When you want a low carb or keto friendly drink, you need to make sure it doesn't have the sugar.
List of Keto Energy Drinks
Want to know what drinks you can grab when you are looking for you pick me up. Try these Low carb energy drinks to help you get through your busy day.
Red Bull Sugar Free
Red Bull is one of the best known energy drinks. It has been "giving you wings" for years. Now there is a keto friendly version that is sugar free. So you can get your energy fix while staying on track.
There are several flavors in the sugar free line, including the recently added coconut edition. There is 80 mgs of caffeine in the 8.4 ounce can and it contains about 2 carbs.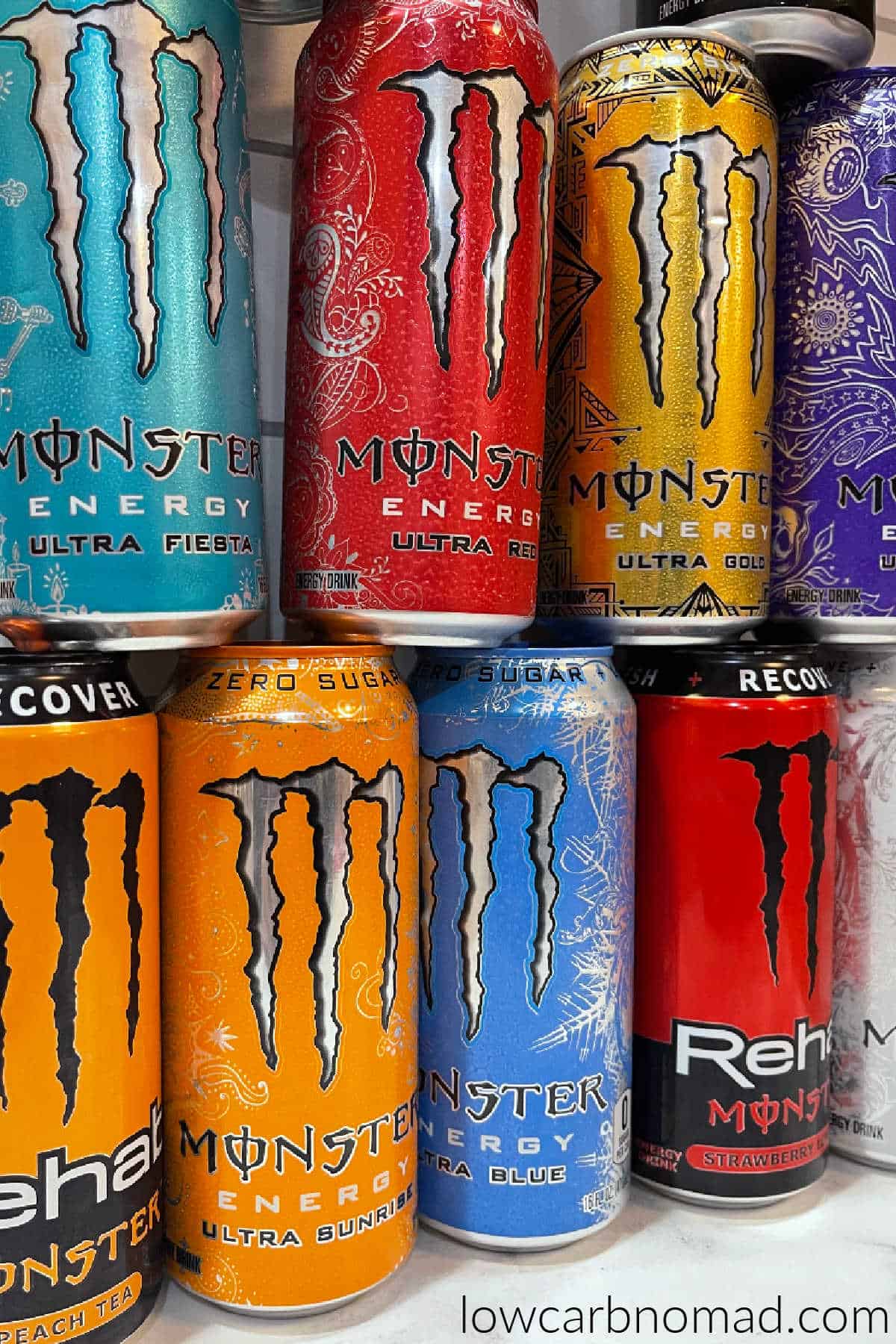 Sugar Free Monster Energy Drink
Monster is the other well known energy drink. Most people think of this or Red Bull when they think of energy drinks. The original Monster is full of sugar so you need to make sure you are getting the sugar free version to stay on track. Look for Sugar Free Monster Energy Ultra. There are currently 11 flavors available in the sugar free line so it should be easy to find a flavor you enjoy.
The drinks are 16 ounces and have 150 mg of caffeine per can. The carbs vary depending on the flavor, so be sure to check the can for the amount in the flavor you are choosing. Just because it is zero sugar doesn't mean it is zero carbs.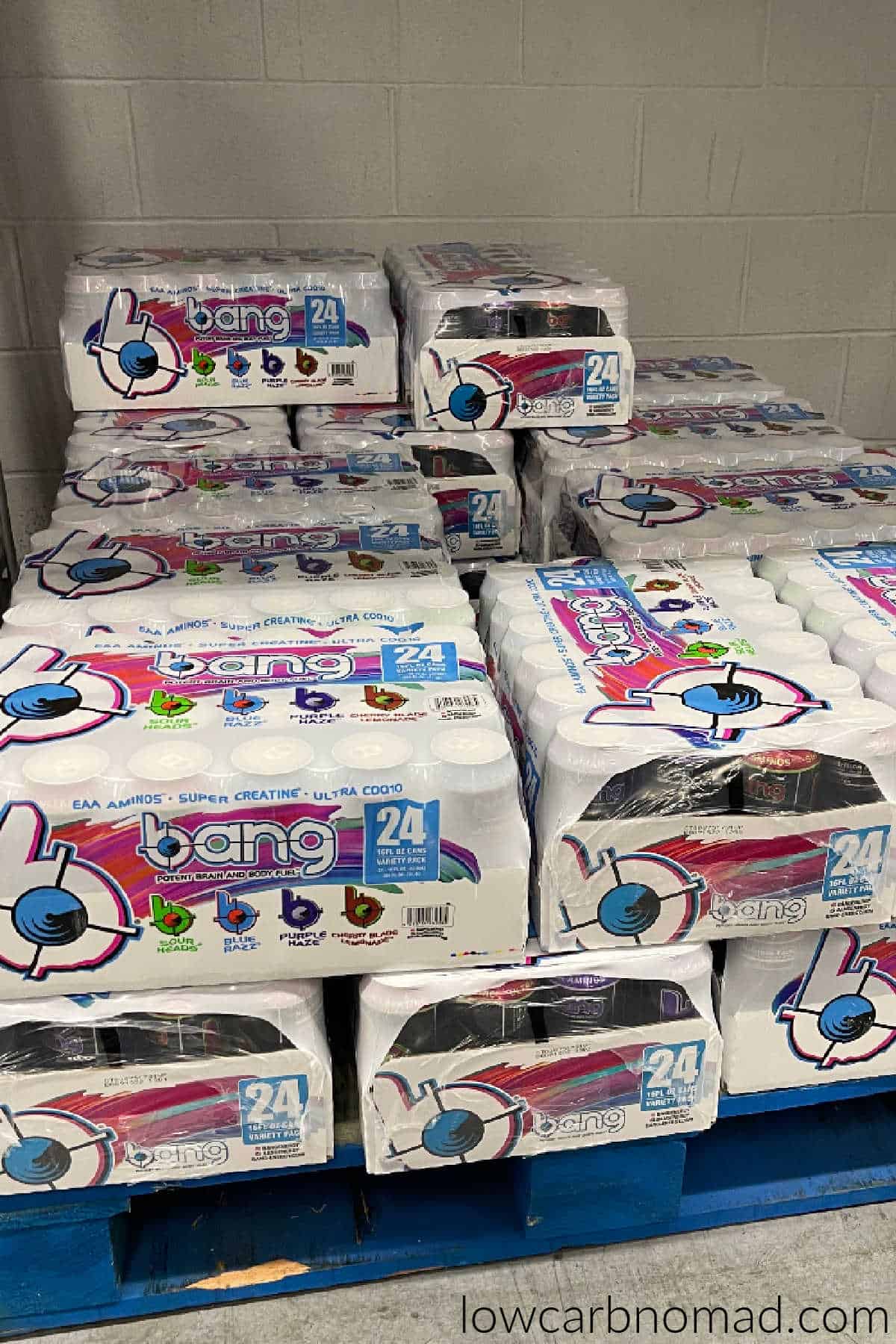 Bang Energy Drink
Bang is one of the newer drinks in the energy game. It comes in a full size drink, rather than a shot. It has a lot of flavors, which helps make it easier to find on that you like. This drink is low in carbs (sero actually) and high in caffeine, at about 300 mgs per can.
More Low Carb Options
Those 3 drinks are the ones that you will typically find at the stores near you. There are other options as well. If you are ordering online and are stocking up, you can use some of these other drink options.
Optimum Nutrition Drink
Optimum Nutrition has several flavors to choose from. Each can has about 100 mgs of caffeine as well as 5g of essential amino acids as well as electrolytes, to help with muscle recovery after working out. There is no sugar in Optimum Nutrition. It comes in at 1 net carb and only 5 calories per serving.
Reign Energy Drinks
Reign Energy Drinks have several low carb options. When choosing, make sure you are checking the label in order to get the low carb options. This energy drink has 300 mg of caffeine. It also has electrolytes to keep the body fueled. The drink comes in at 3 net carbs.