Looking for a healthy snack that satisfies your cravings? Keto Baked Pepperoni Chips are the perfect option! Pepperoni is low in carbs and bake up to perfection. Skip the unhealthy potato chips and enjoy this great keto snack instead.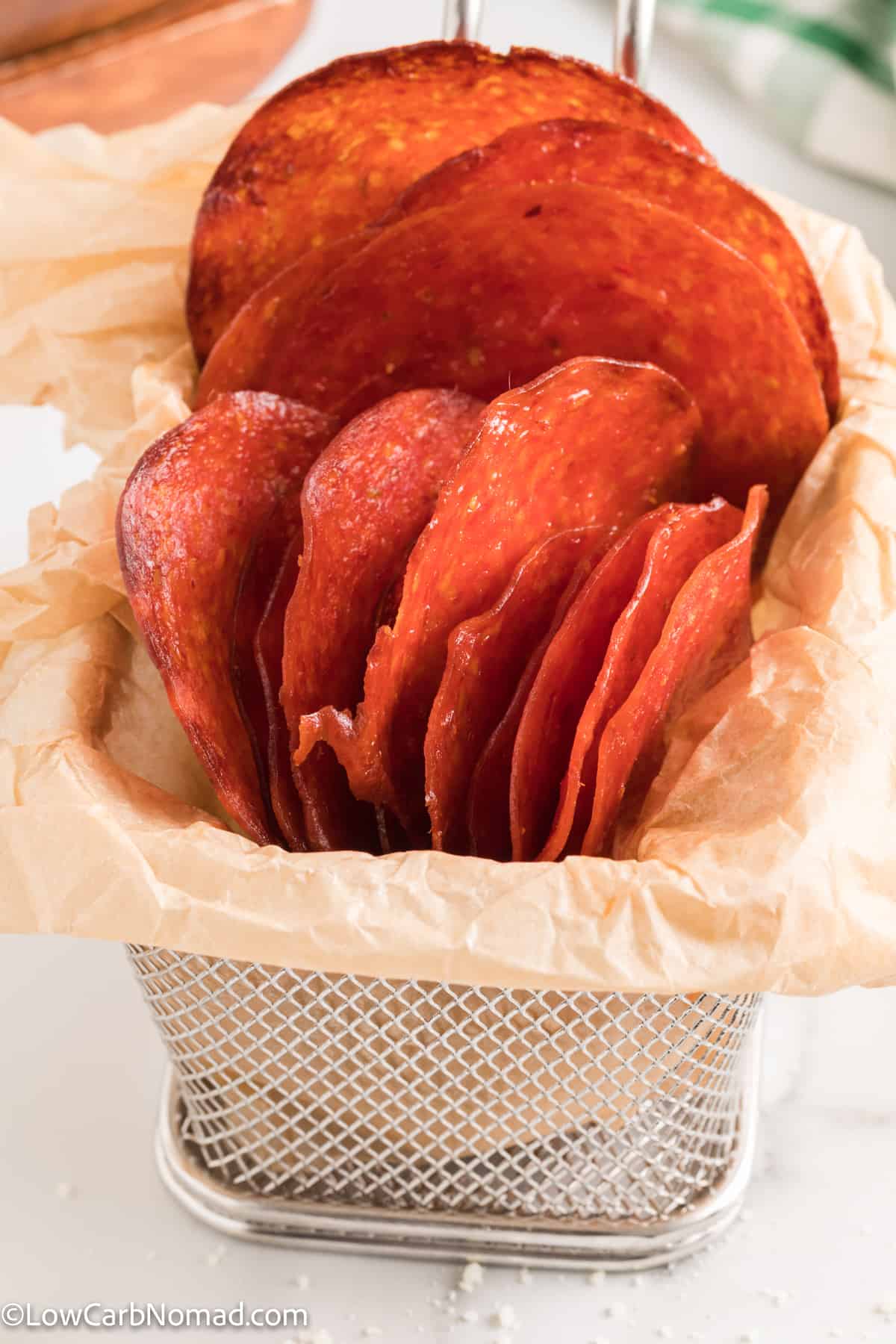 Keto Baked Pepperoni Chips
Keto Baked Pepperoni Chips are the perfect snack when you are craving something crunchy and savory. They're low in carbs, high in protein, and absolutely delicious. Plus, they're perfect for on-the-go snacking – just pop them in your bag and go. To be honest they are one of my favorite keto snacks and they are so tasty that even my non keto family members enjoy them too.
You won't believe how crispy these chips are. They have the crispiness of a chip but that bursting savory flavor. With less than 2 grams of net carbs per serving, you can indulge without feeling guilty when eating this tasty keto friendly snacks recipe.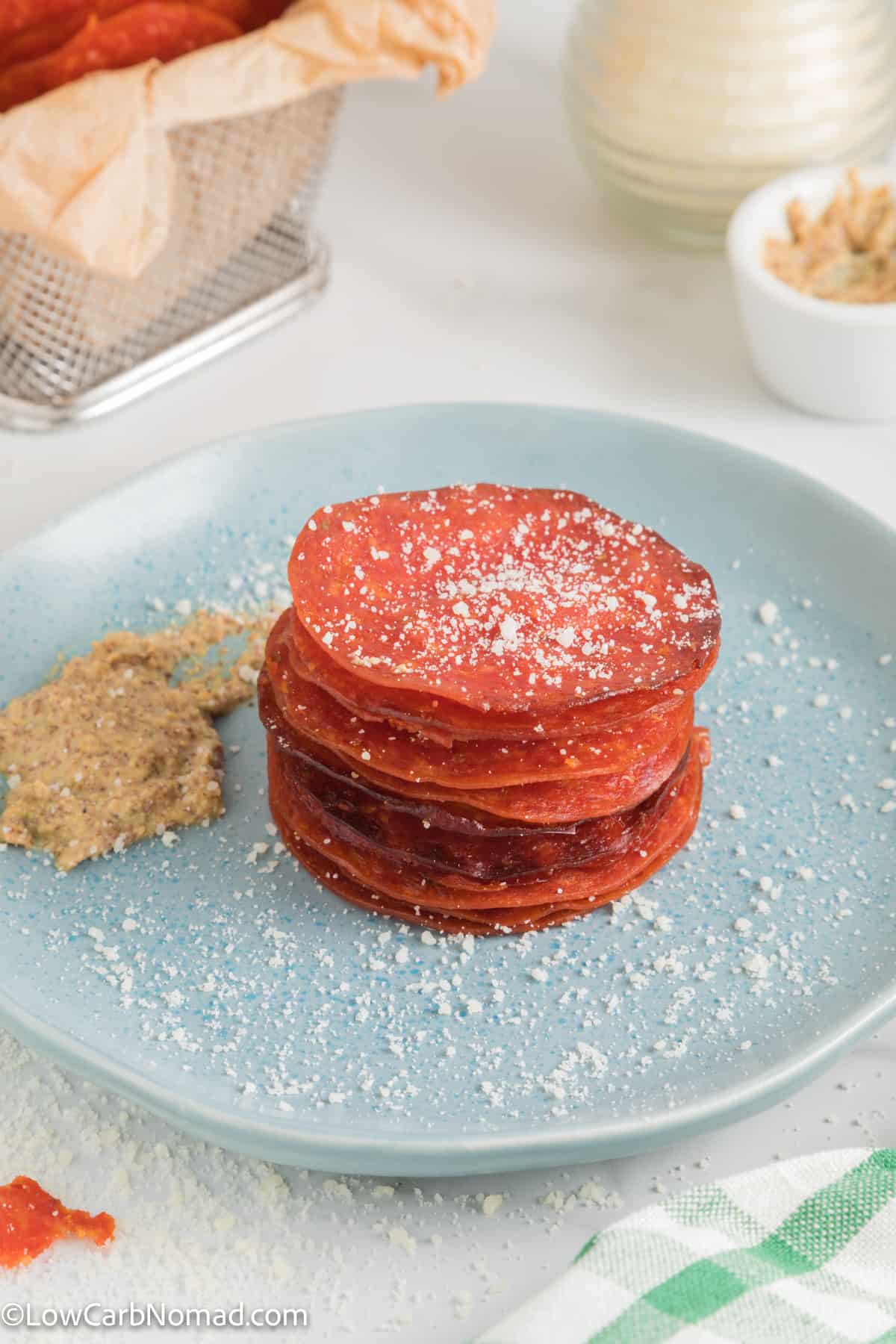 I love crispy and crunchy snacks. They are my weakness and before going low carb I would grab a bag of chips, pretzels or crackers. Those are all a no go on keto so i needed to find the perfect keto snack to give me the same crunch that i love. Of course, I love cheese chips, jalapeno cheese chips and avocado cheese chips but I wanted to change things up. I came up with this easy to make pepperoni chips recipe.
I love to grab a slice of pepperoni with a piece of cheese on top as a snack and so i thought i would come up with a way to make chips out of the pepperoni i love. With just a couple minutes in the oven, i have a zero carbs snack that is perfect to enjoy on its own or use like a cracker and top with a slice of cheese.
I like to make a big batch of these crispy pepperoni chips so i have them on hand to enjoy when ever I want a snack. These pepperoni crisps are the perfect on the go snack and this easy recipe takes just a few minutes to make.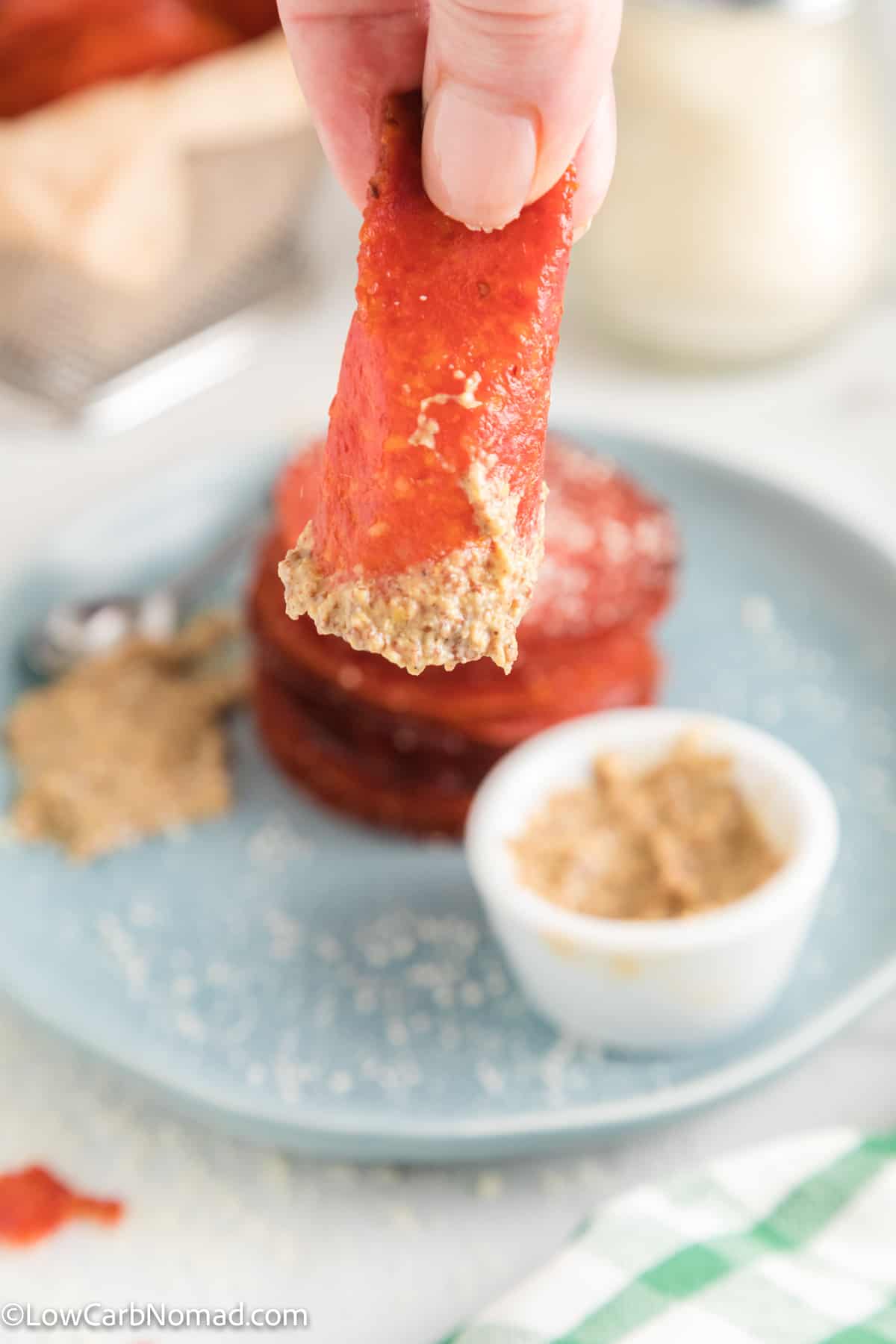 What Are Pepperoni Chips?
These are small crispy chips that are made from pepperoni. The pepperoni chips are baked in the oven until they are crispy like potato chips. Because these chips are made from pepperoni, they are low carb and perfect for a low carb diet and the keto diet. These pepperoni chips can be eaten like a potato chip or cracker. It can be eaten plain or dipped into dips like queso, veggie dip or ranch dressing.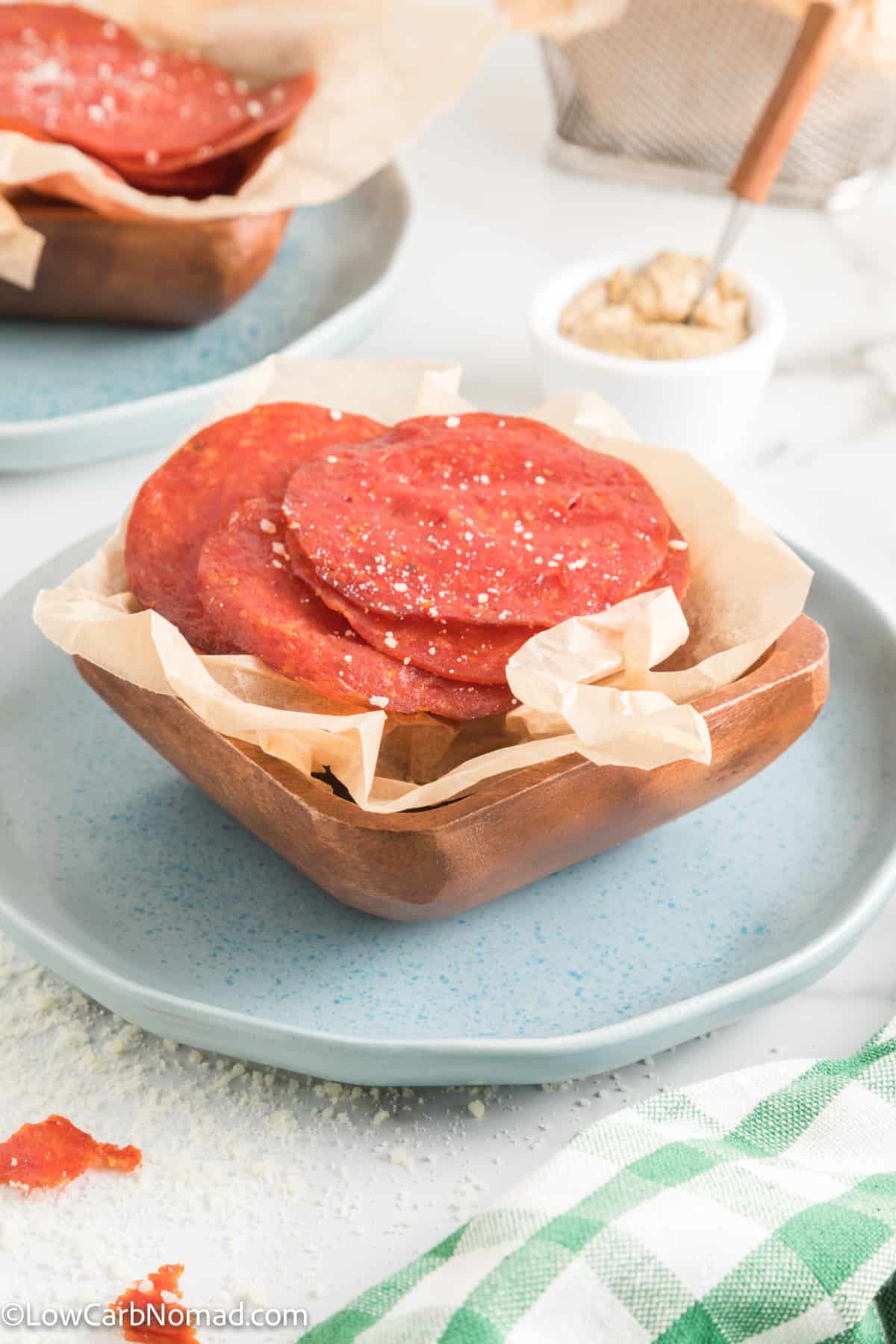 How Do You Store Pepperoni Chips?
Baked pepperoni chips should be stored in an air-tight container. Since you have baked these chips, you do not need to keep them in the refrigerator.
They will last for up to a week at room temperature but they will be best if eaten fresh or within the first 2 days. This is when they will be their crispness.
Can They Be Frozen
Yes, baked pepperoni chips can be frozen. Place them in a freezer friendly bag and they will last for up to 3 months. When you are ready to eat them, let them thaw at room temperature or heat them up in the oven for a few minutes.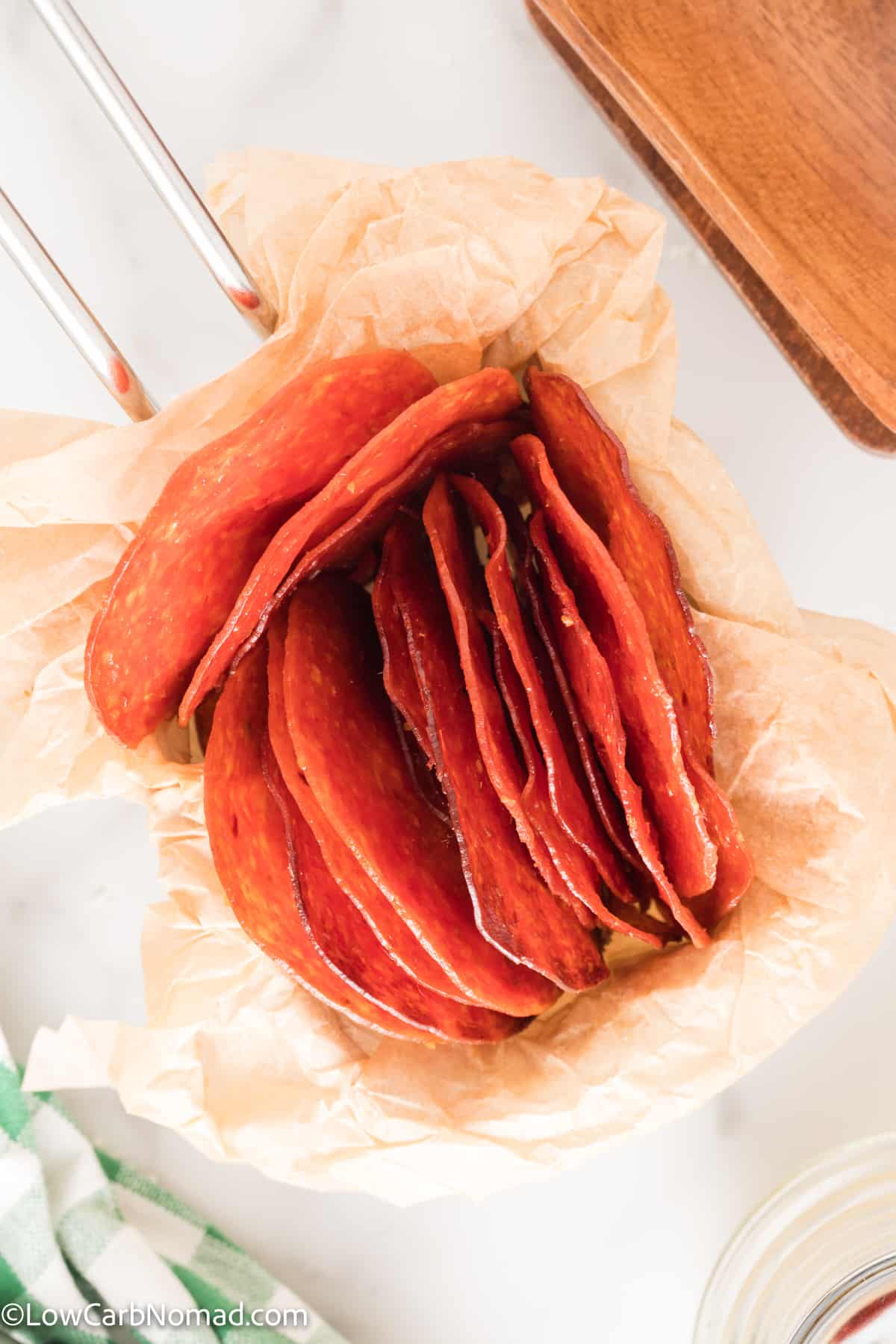 Variations
You might think that there is one way to make these pepperoni chips but you can change things up when you are making this tasty keto snack.
First, you can use a different type of pepperoni. If you want a spicier chip, then you could use hot pepperoni. Or, if you want a sweeter flavor, then you could use sweet Italian sausage.
Second, you can add different seasonings to the chips before baking them. You could add garlic powder, onion powder, or Italian seasoning.
Third, you can change up the dipping sauce. Instead of using ranch, you could use BBQ sauce, ketchup, or even chocolate dip.
Another ideas is if you want to make these chips more like nachos, then you could add shredded cheese on top before baking them.
Lastly, you could also make these into bite-sized chips by cutting the pepperoni into smaller pieces before baking them.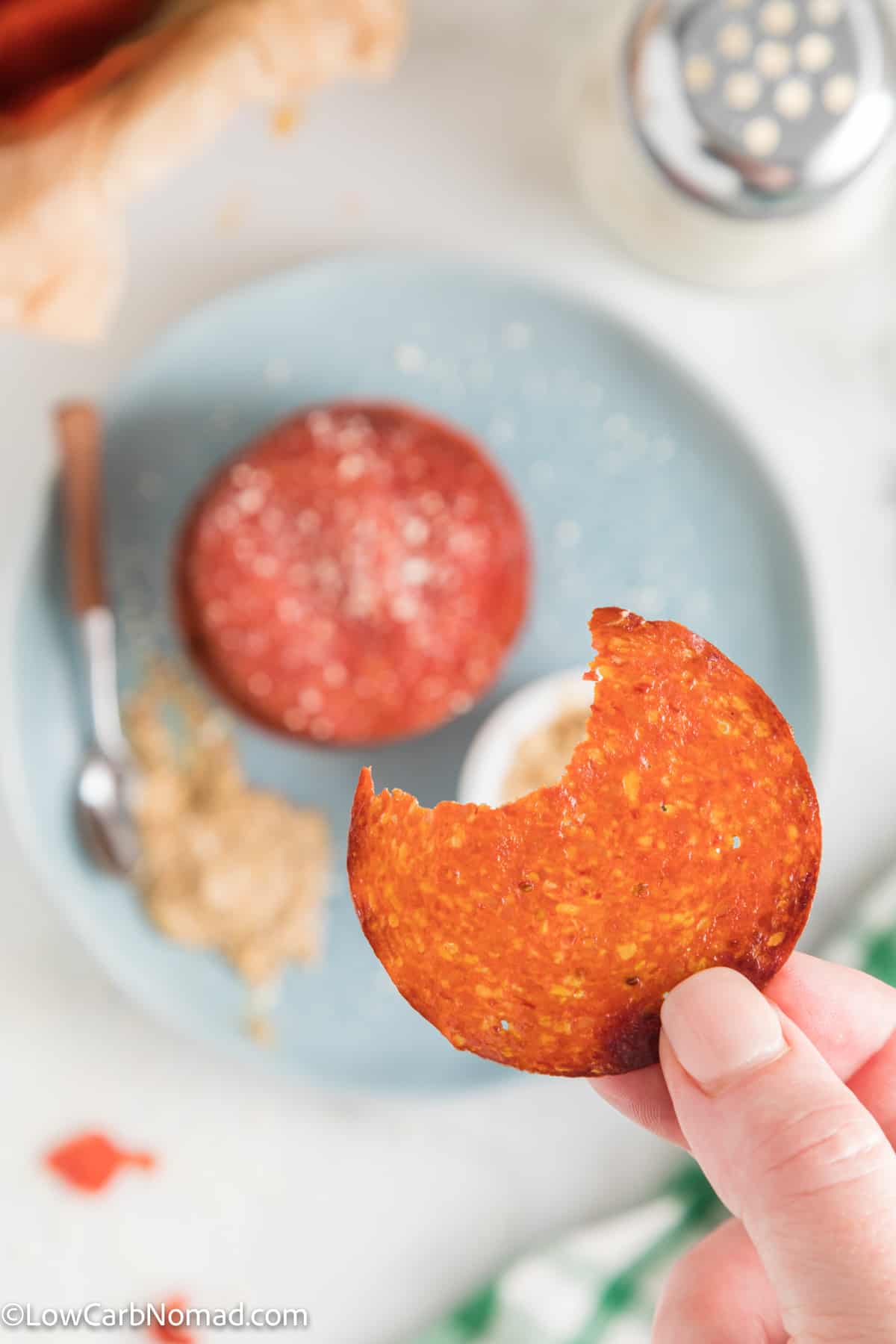 Tips and Tricks to Make The Best Keto Baked Pepperoni Chips
For the easiest clean up, place a piece of parchment paper on the baking sheet.
Do not overcrowd the baking sheet. You want the pepperoni chips to be in a single layer so that they bake evenly.
If you want extra crunchy chips, then bake them for a few minutes longer. Just keep an eye on them so they don't burn.
If using a log of pepperoni, for an easy way to cut the pepperoni, use a pizza cutter.
Use pre-sliced pepperoni.
How to serve Pepperoni Chips
I like to eat these on their own, but if you want a dipping sauce ranch dressing is a perfect dipping sauce. Fry sauce made with mayo and sugar free ketchup is also a great dipping sauce. You can also make Cheddar Bacon Ranch Dip, Sriracha Dip, or French Onion Dip.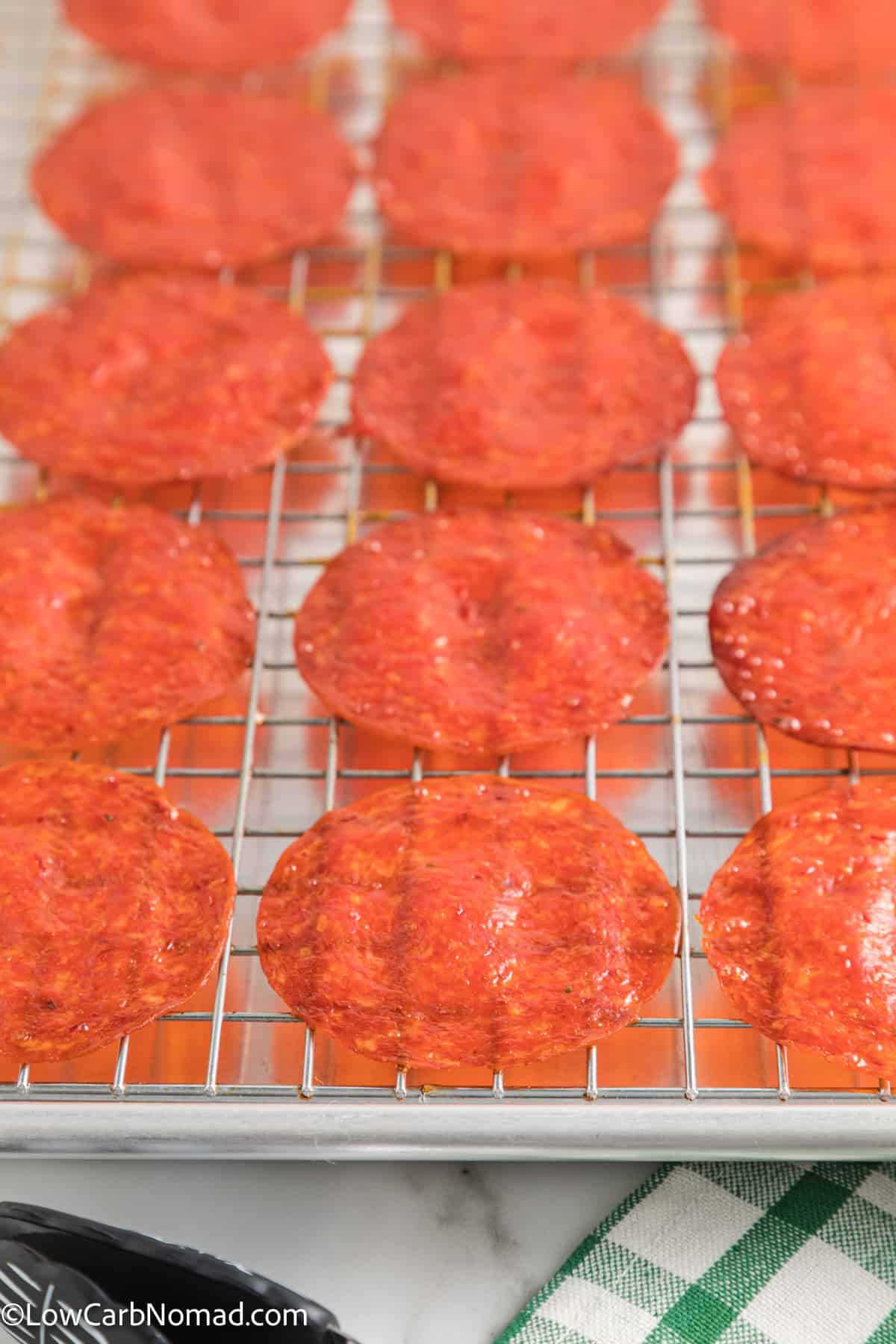 Is Pepperoni Keto?
Yes, most cured meats are acceptable to eat when on the keto diet. You can use any type of pepperoni you'd like in this recipe, I just suggest that you watch for the sugars and make sure there are no added sugars. Some brands of pepperoni have more carbs then others, so if you are wanting the lowest amount of carbs possible be sure to read the nutrition information on the back of the package of the brand that you buy.
What is the best Pepperoni to eat on keto?
There are many brands of pepperoni but you want to make sure you are using a keto friendly pepperoni to make this low-carb snack. You want to make sure there is no added sugar to keep the carbs as low as possible.
I like using Natural Choice uncured pepperoni, Natural Choice uncured turkey pepperoni, or Hormel Pepperoni when making this quick snack recipe as I like the flavor and they have low or no carbs at all.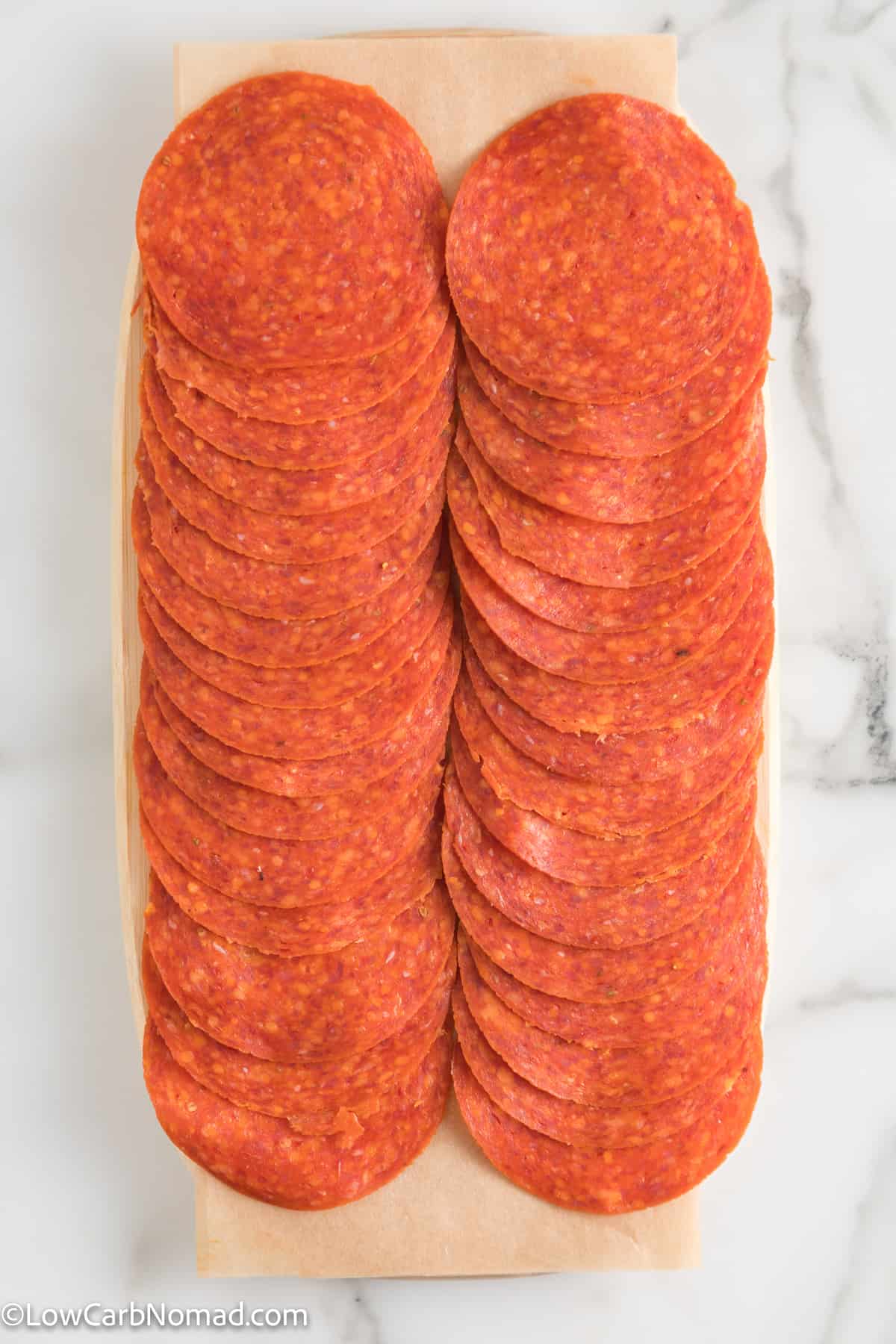 Keto Pepperoni Chips Recipe Ingredients
5 ounces pepperoni slices.
Seasonings if using them.
How to make Keto Baked Pepperoni Chips
Lay a cookie rack on a baking sheet.
Place the pepperoni slices on the rack in a single layer.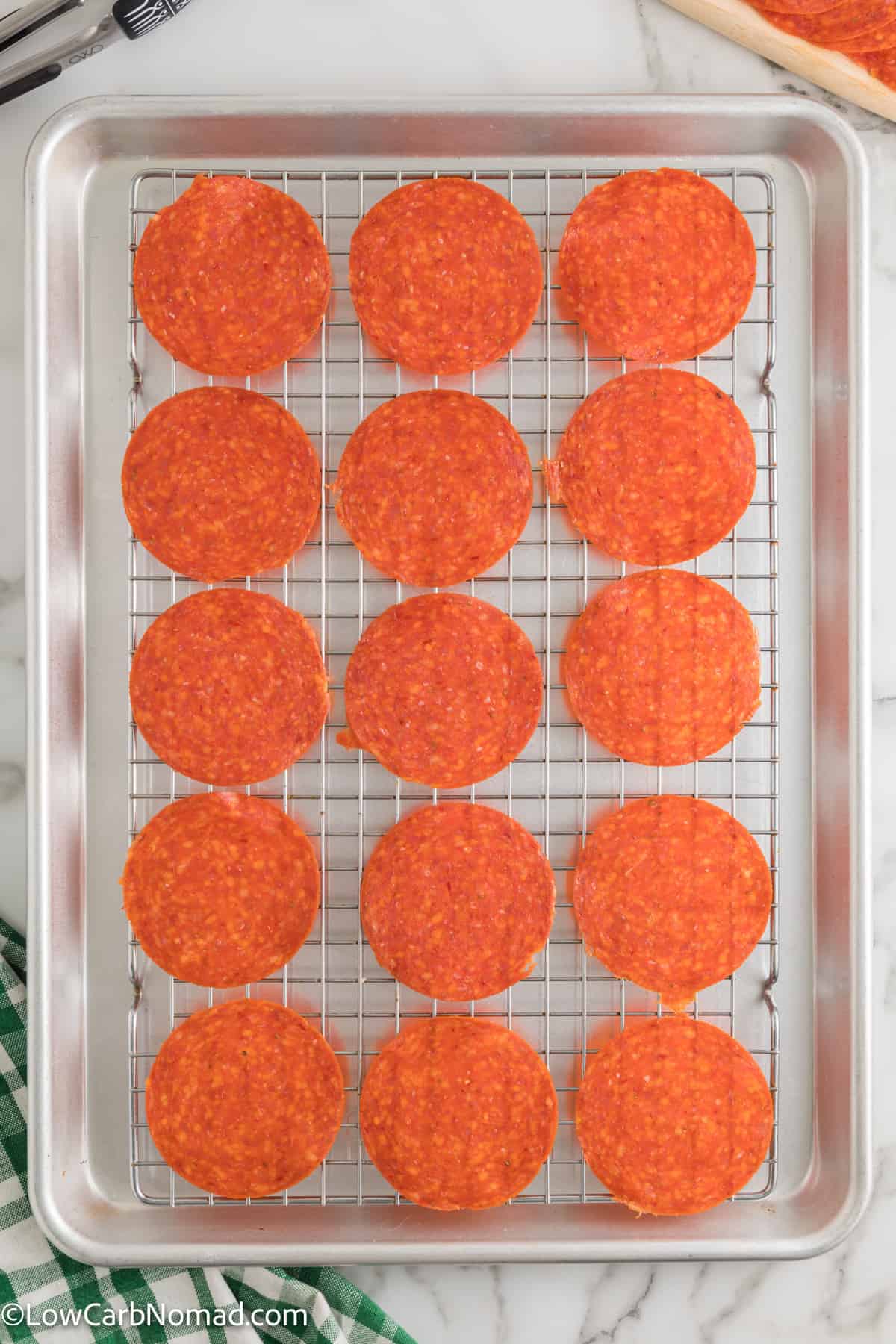 Sprinkle seasonings on top of sliced pepperoni if adding them.
Bake at 400 for 5 minutes.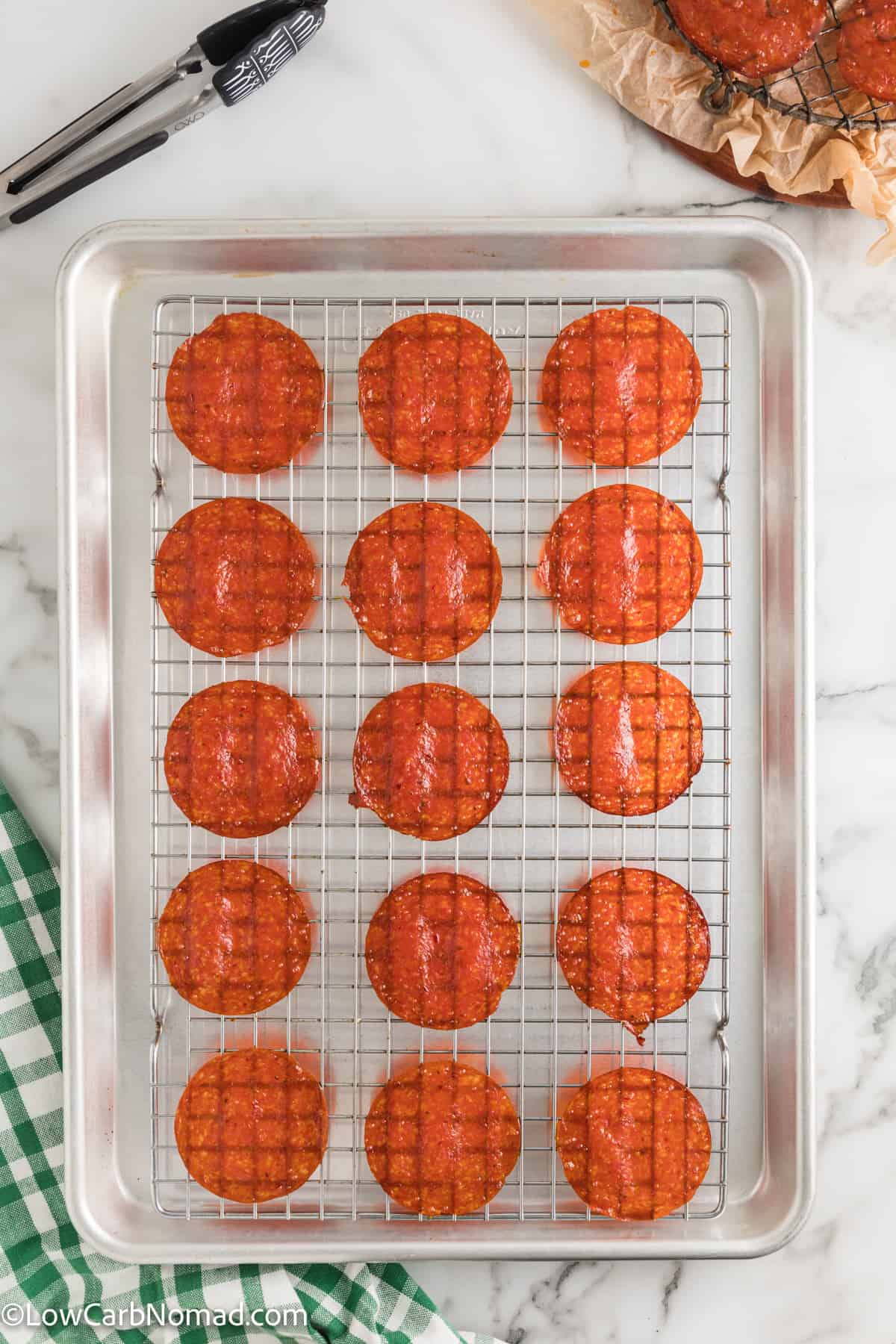 Allow to cool and then store or enjoy right away.
Low Carb Snacks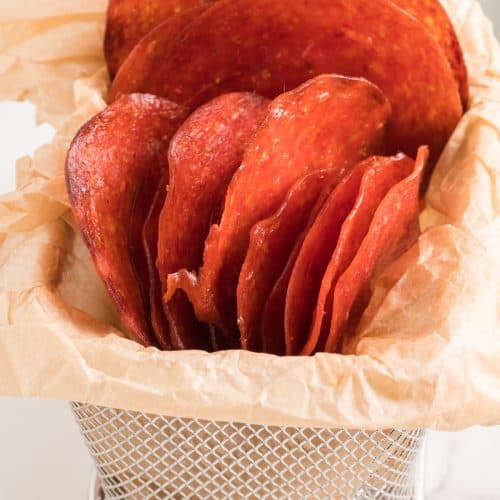 Keto Baked Pepperoni Chips
Looking for a healthy snack that satisfies your cravings? Keto Baked Pepperoni Chips are the perfect option! Pepperoni is low in carbs and bake up to perfection. Skip the unhealthy potato chips and enjoy this treat instead.
Print
Pin
Rate
Ingredients
5

ounces

pepperoni slices
Instructions
Lay a cookie rack on a baking sheet

Place the pepperoni slices on the rack in a single layer

Bake at 400 for 5 minutes
Nutrition
Calories:
179
kcal
|
Carbohydrates:
0.4
g
|
Protein:
7
g
|
Fat:
16
g
|
Saturated Fat:
6
g
|
Polyunsaturated Fat:
2
g
|
Monounsaturated Fat:
7
g
|
Trans Fat:
1
g
|
Cholesterol:
34
mg
|
Sodium:
560
mg
|
Potassium:
97
mg
|
Calcium:
7
mg
|
Iron:
0.5
mg