Pizza stuffed chicken or as my kids call it, pizza chicken is the perfect low carb dinner that is great for the whole family. Serve baked pizza chicken with a salad and dinner is done!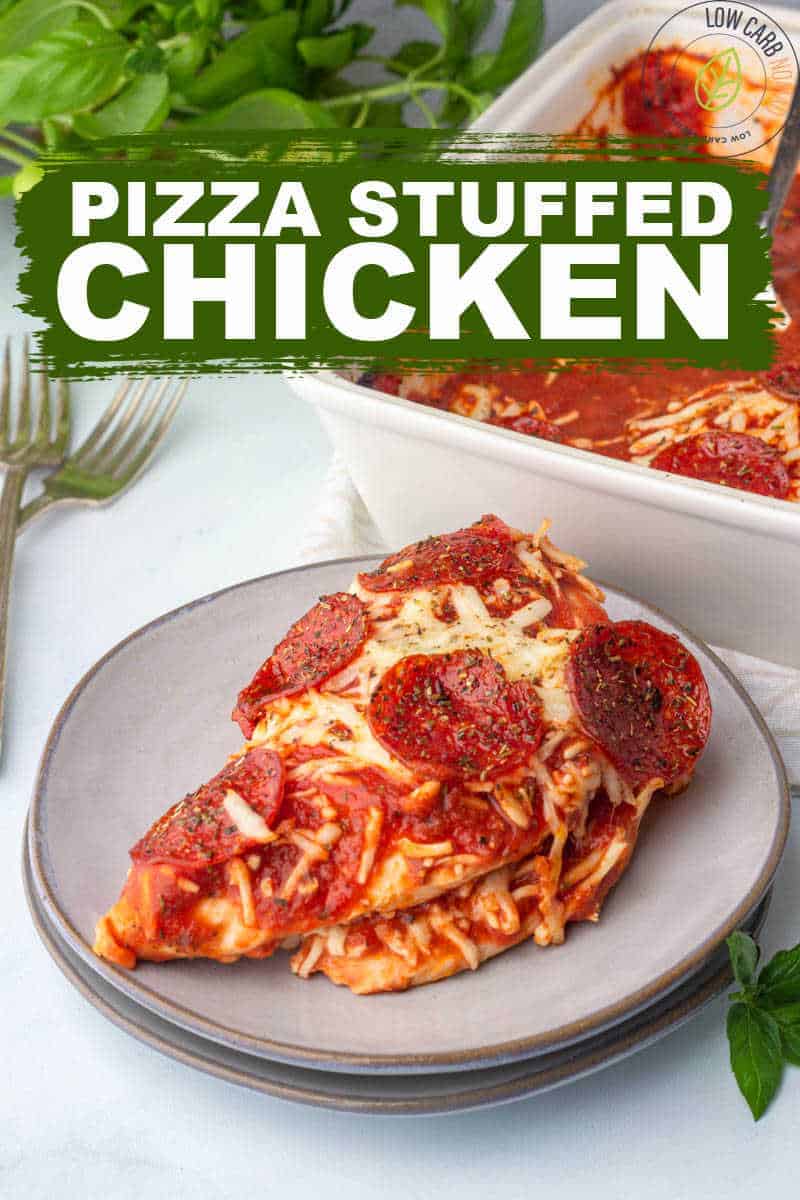 Baked Pizza Stuffed Chicken
The first time I made this stuffed chicken breast recipe for dinner the kids loved it, even though I told them it was pizza stuffed chicken they now only refer to it as pizza chicken. That is fine by me, because everyone loved it, everyone cleared their plates and the best part is I only needed one pan and then I baked it in the oven.
The great thing about this easy low carb baked chicken recipe is that not only is it keto friendly, it is family friendly. No need to make a meal for you and then something else for the rest of the house. This easy baked chicken recipe has all the basis covered!
Stuffed Chicken Breast Recipes
We love stuffing chicken breasts and making tasty stuffed chicken breast recipes! Thankfully there are so many combinations to make, that dinner never gets boring! Check out some of our favs!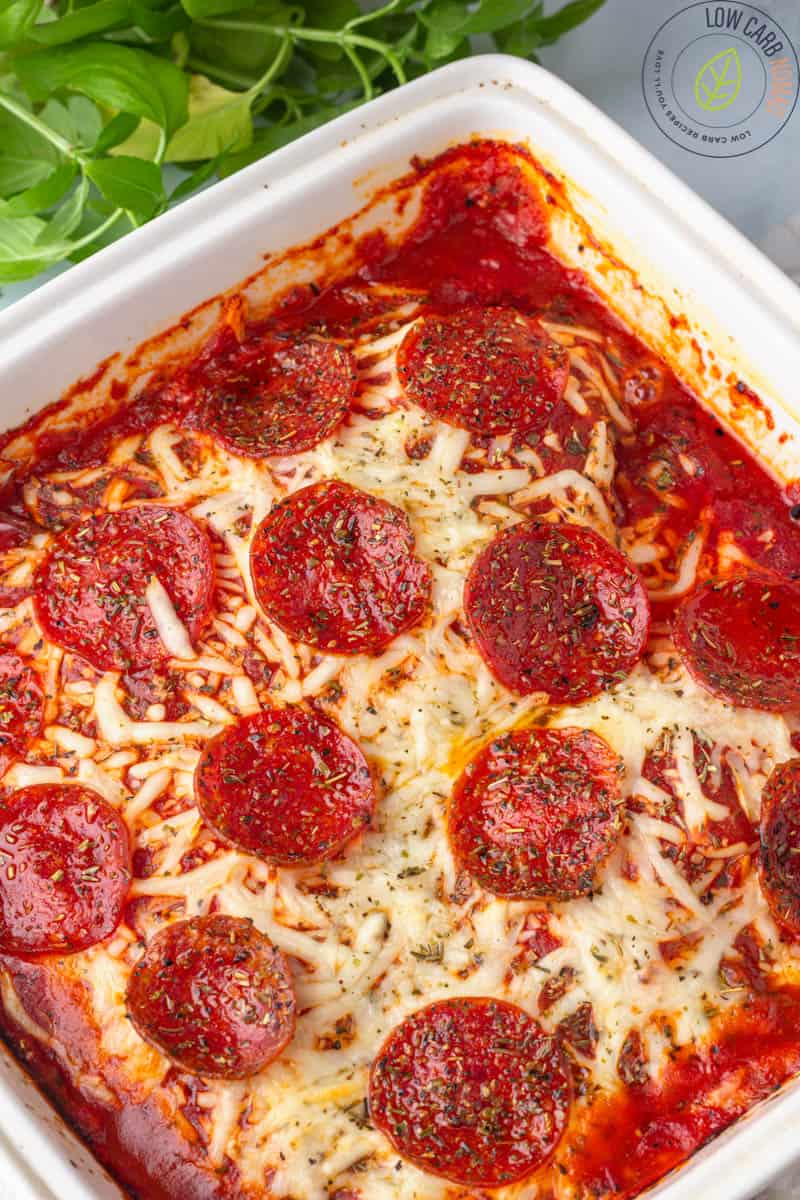 What to Serve with Baked Pizza stuffed chicken
While this pepperoni pizza chicken was baking, I made a salad then a veggie and dinner was done. Easy peasy! The perfect weeknight dinner for when things are crazy busy.
You can also serve this over pasta for those in your house who eat it, over zoodles to keep it low carb or by itself.
My perfect meal when making this keto baked chicken recipe is serving it with a Low Carb Caesar salad.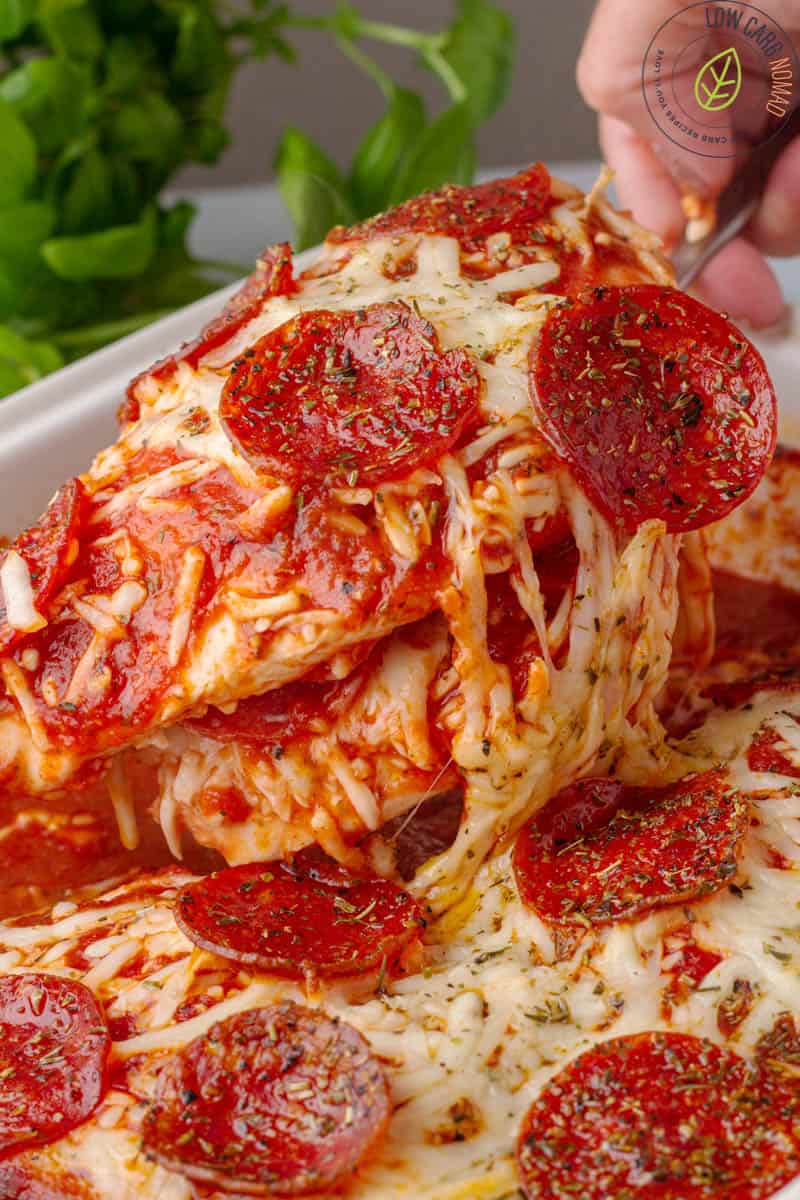 Variations of this recipe
Change up the meat. If you are not a fan of pepperoni you can totally use Italian sausage, just cook it in a pan, slice it and use it instead of the pepperoni.
Add veggies. In the mood for more veggies? Add some spinach, diced tomatoes, sliced onions, or green bell peppers. You can even make some zucchini noodles instead of a side veggie and serve this pizza baked chicken on top of them.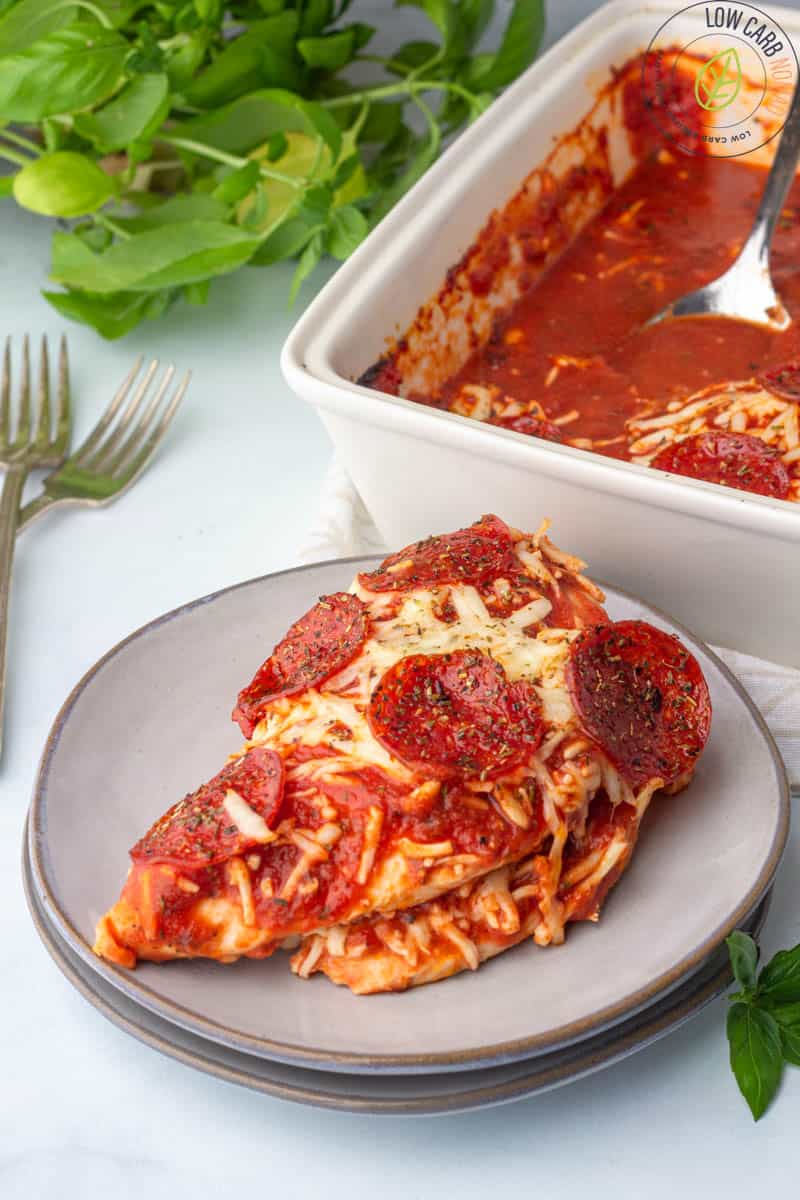 What Low Carb Sauce is Best for Pizza Stuffed Chicken?
I personally prefer to use a low carb marinara sauce when making this recipe. You can use your favorite sauce, or try out one of the low carb marinara sauces that we enjoy using. You can also use homemade marinara sauce if you want to. I like to make and freeze homemade marinara sauce so I have it on hand when I want to use it.
Pizza Stuffed Chicken Ingredients
chicken breast
Tomato Sauce
garlic cloves
pepperoni slices
mozzarella cheese
Italian seasoning
salt
pepper
How to Make Pizza Stuffed Chicken
Spread sauce on the baking dish. Butterfly the chicken breast.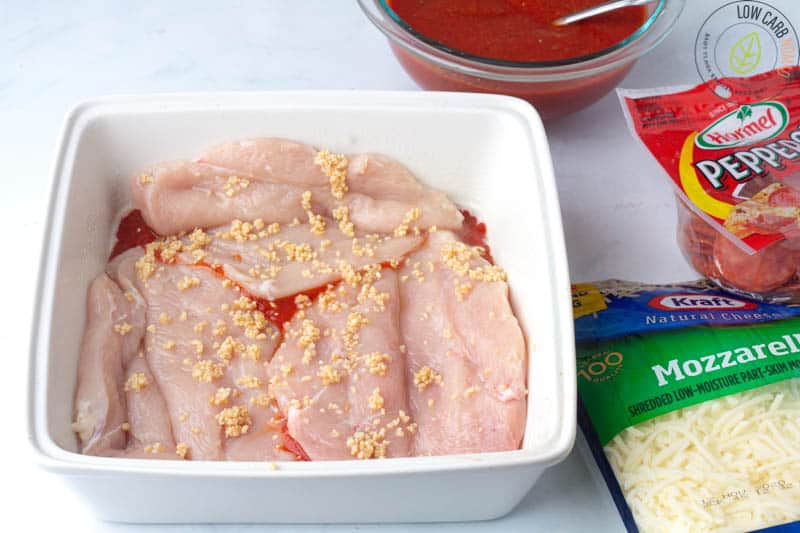 Stuff the chicken breasts with mozzarella cheese and pepperoni.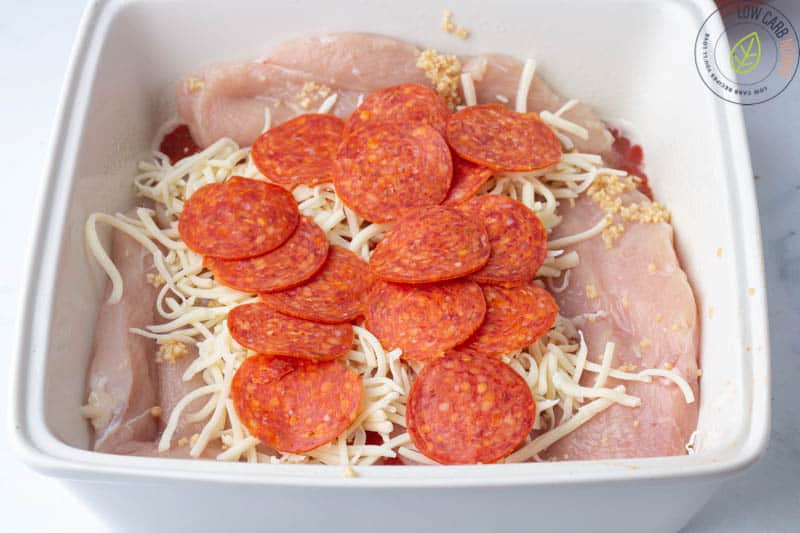 Top chicken breasts with tomato sauce, more mozzarella cheese, Italian seasoning, salt and pepper.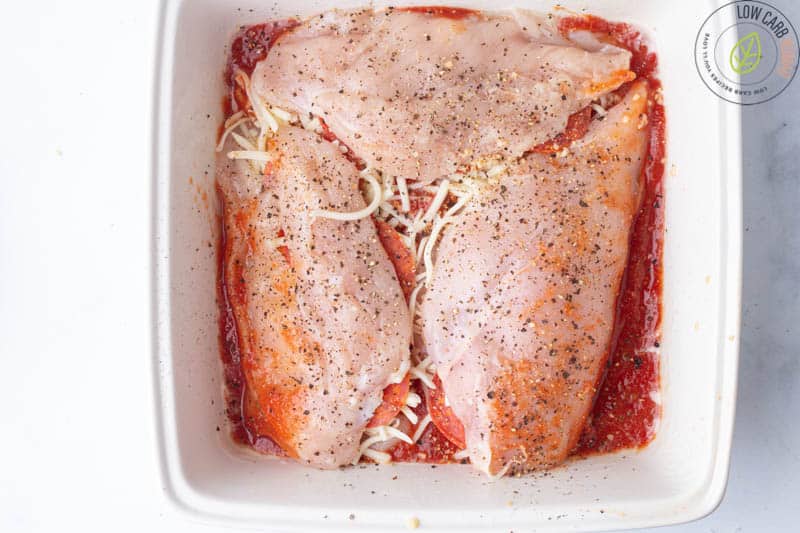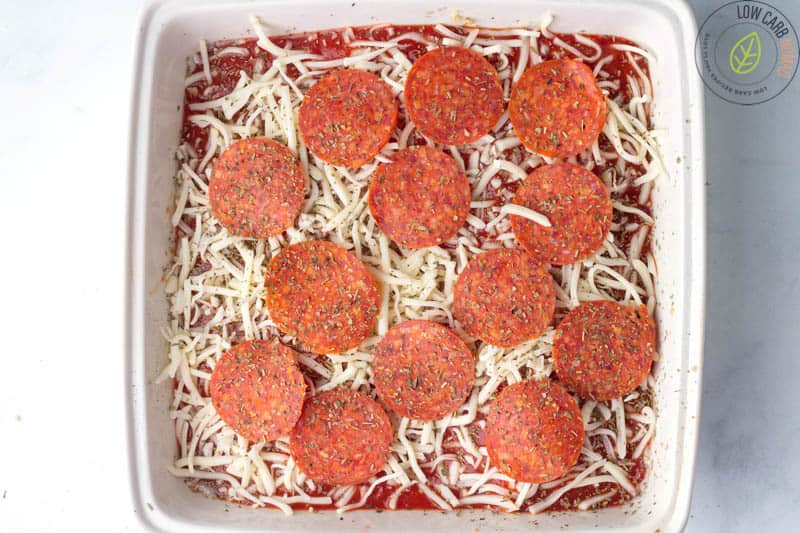 Bake in the oven.
Easy Low Carb Chicken Dinner Recipes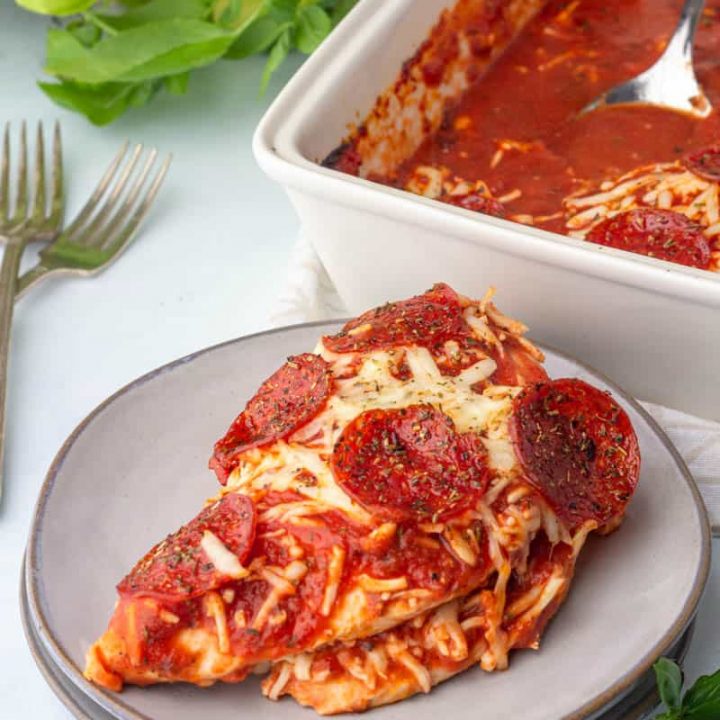 Baked Pizza Stuffed Chicken
Pizza stuffed chicken or as my kids call it, pizza chicken is the perfect low carb dinner that is great for the whole family. Serve with a salad and dinner is done! 
Ingredients
3 pounds chicken breast
2 1/2 cups tomato sauce
2 garlic cloves, minced
24 pepperoni slices
1 1/4 cup mozzarella cheese
1 teaspoon Italian seasoning
salt to taste
pepper to taste
Instructions
Preheat the oven to 400ºF.
Place a few tablespoons of tomato sauce into a 9x9 oven-safe pan.
Butterfly the chicken breast. Place the chicken into the pan and open them up.
Place five pepperoni into each chicken breast, top each breast with 1/4 cup of mozzarella cheese then close the chicken.
Top chicken with the tomato sauce then the cheese. Sprinkle the top with the Italian seasoning, salt, and pepper.
Bake for 20-25 minutes until the chicken reaches 165ºF.
Nutrition Information:
Yield:

6
Serving Size:

1
Amount Per Serving:
Calories:

308
Total Fat:

16g
Trans Fat:

0g
Carbohydrates:

5g
Fiber:

0g
Sugar:

3g
Protein:

38g