If you love pizza and are low carb and keto, don't worry you do not have to miss out! This Keto crustless pizza is the perfect low carb pizza! This low carb crustless pizza can easily be customized with your favorite pizza toppings!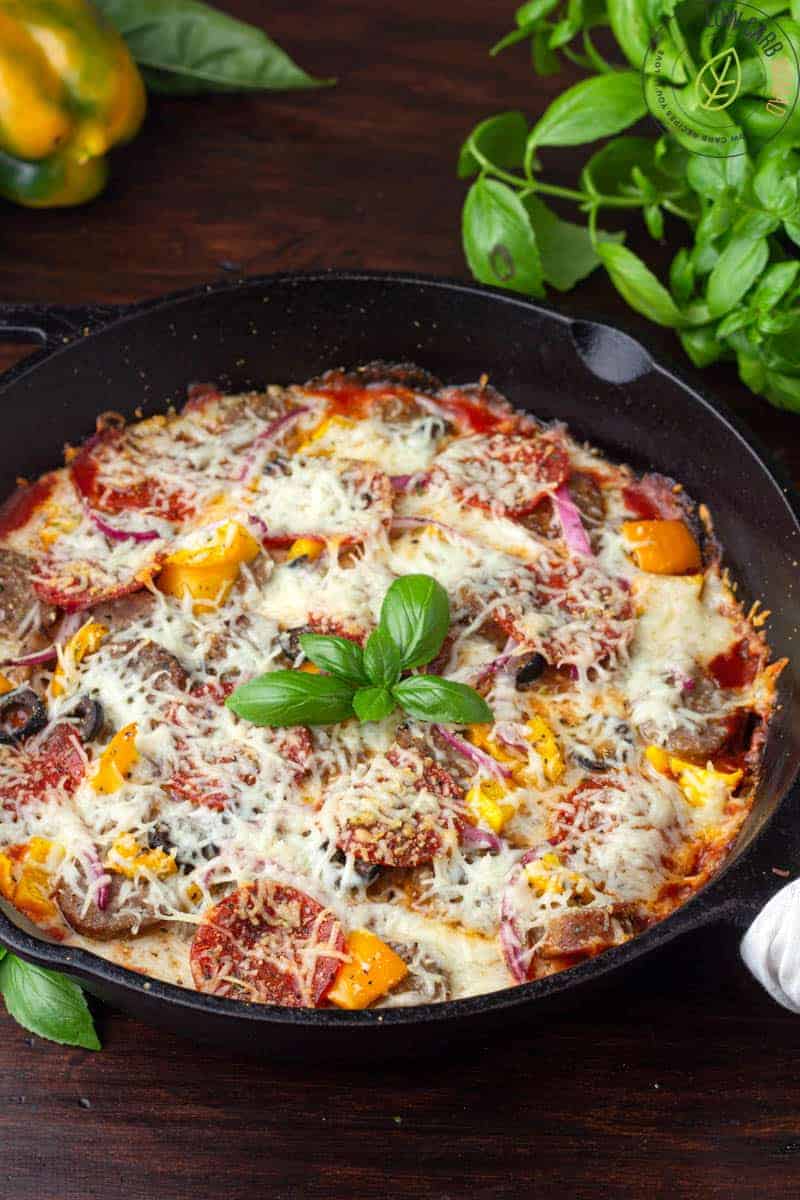 Easy Keto Crustless Pizza
We love pizza in our house. It has been our go to meal for a very long time because of how easy it is to make or grab on our way home on a busy night. I am pretty sure my family would be ok if I told them we were eating nothing but pizza for dinner from now on.
Normally when we make homemade pizza or get take out pizza I skip eating the crust and just eat the toppings off. I do make a keto pizza crust on the days that I have extra time but lately things have been super busy and I just don't feel like spending the time to make the low carb pizza crust or Cauliflower Pizza crust.
A few local pizza places were making crustless pizzas that were the toppings and sauce all baked with out the pizza crust. I loved the idea, but also know that some places use sauce that has sugar in it. While I have had it that way I know it is better for me to use a low carb sauce and make it home. Plus I don't have to leave the house at all, which unless we are already out we skip take out because all take out places are 15-20 minutes each way from our house so it is easier and quicker to just make food at home.
This homemade crustless keto pizza is the perfect low carb easy dinner recipe! I can make it and have dinner on the table in about 20 minutes!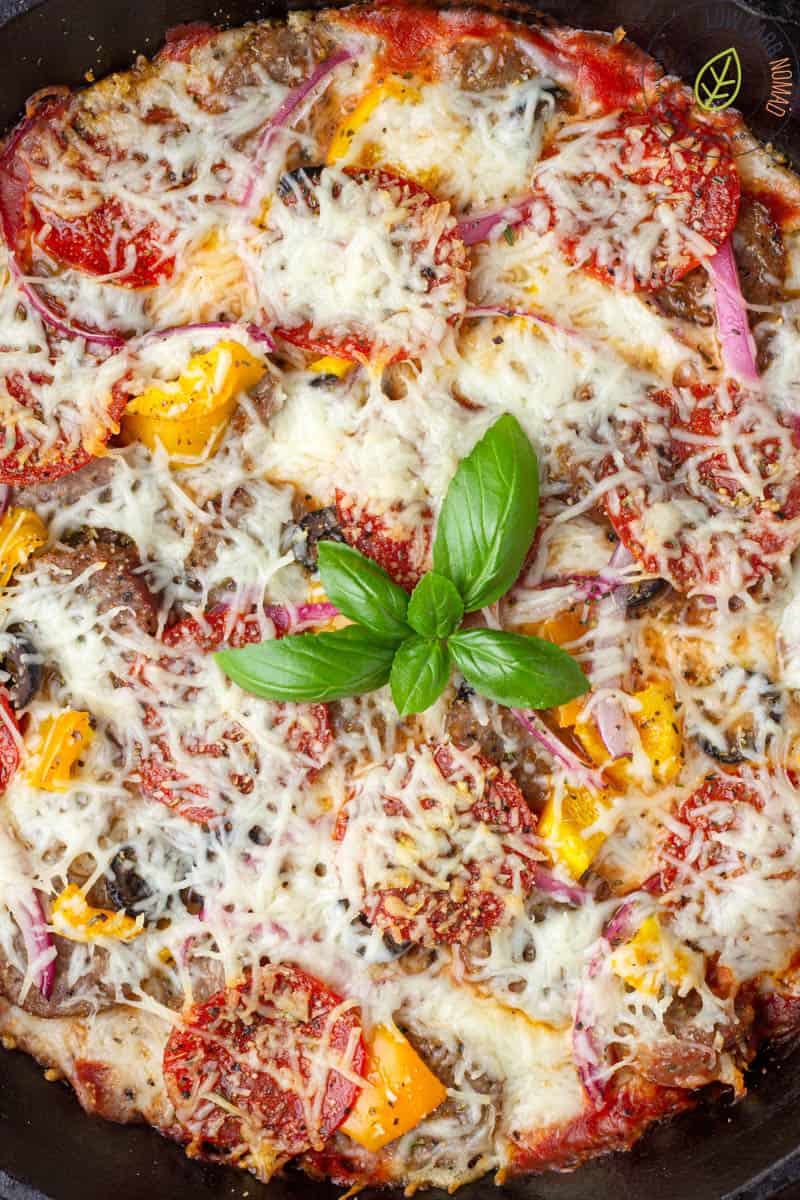 Can you eat Pizza toppings on Keto?
When you order a pizza from a local pizza place or chain pizza place most of the times as long as the toppings you are eating are keto friendly then you are ok with the exception of the sauce that probably is not a low carb sauce and could have sugar in it.
What is Crustless Pizza?
Crustless pizza is exactly what it sounds like. All the good pizza toppings with out the crust. It is a quick and easy to make alternative to regular pizza. It is super easy to customize a keto crustless pizza with the pizza toppings you love the most.
Is Crustless Pizza Keto?
As long as you are using keto friendly toppings and a low carb sauce crustless pizza is totally keto!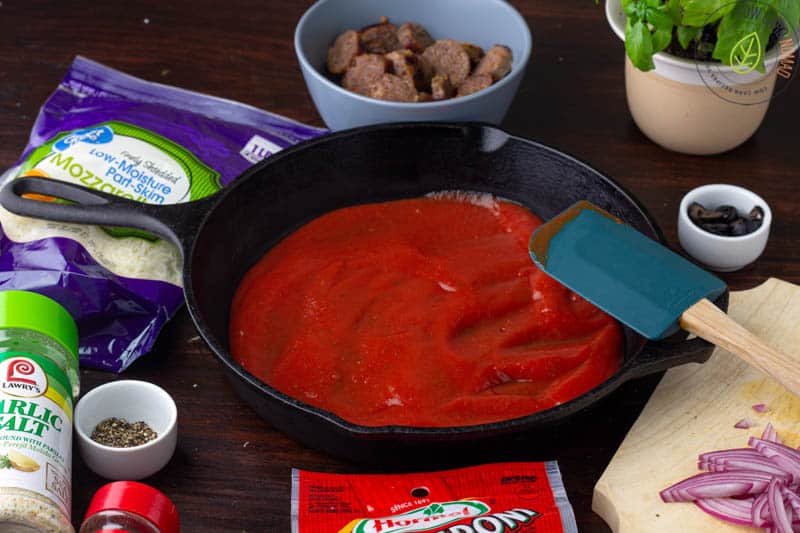 What Keto Friendly Pizza Sauce should I use?
I like a saucy pizza, so you can cut down on the amount of sauce that you use when you are making this easy crustless pizza recipe and that will also cut down on the carbs as well. No matter how much sauce you are using you are going to want to use a low carb sauce. Look for a sauce that is sugar-free, or no sugar added.
I personally prefer to use a low carb marinara sauce when making this recipe. You can use your favorite sauce, or try out one of the low carb marinara sauces that we enjoy using. You can also use homemade marinara sauce if you want to. I like to make and freeze homemade marinara sauce so I have it on hand when I want to use it.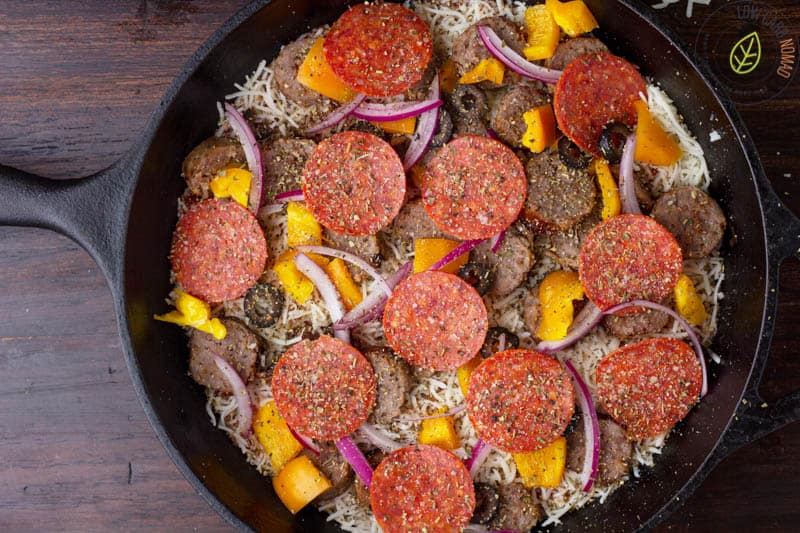 Low Carb Pizza Toppings
When making crustless pizza I tend to stick to onions, olives, bell pepper, sausage and pepperoni as my toppings but there are lots of other low carb pizza toppings you can use when making crustless keto pizza.
bacon
bell peppers – green bell pepper have less carbs then red and yellow.
ham
sausage
onions
pepperoni
mushrooms
spinach
Turkey Pepperoni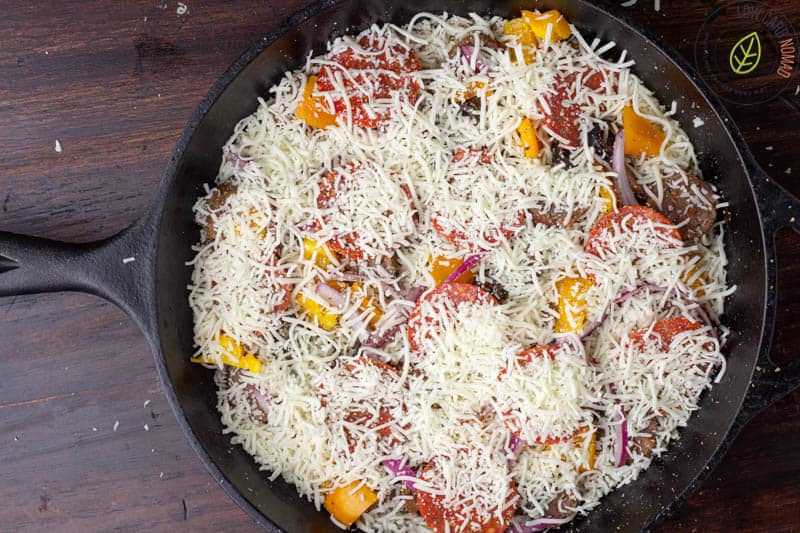 How to Bake Low Carb Crustless Pizza
After you have assembled your crustless pizza all you have to do is bake it in the oven. You can use a cast iron pan or a regular baking dish. If you want everyone to be able to customize their own crustless pizzas use small baking dishes, like these ramekins.
How to Eat Crustless Pizza
You can eat crustless pizza with a fork, however my favorite way to do so is by dipping raw bell peppers in and scooping it. Yes eating more bell peppers does ad more carbs, but I am ok with that since it is a veggie.
What to Serve with Crustless Pizza
You can serve crustless pizza all on its own, but we like to make a fresh salad, like the low carb Caesar salad to go along with it.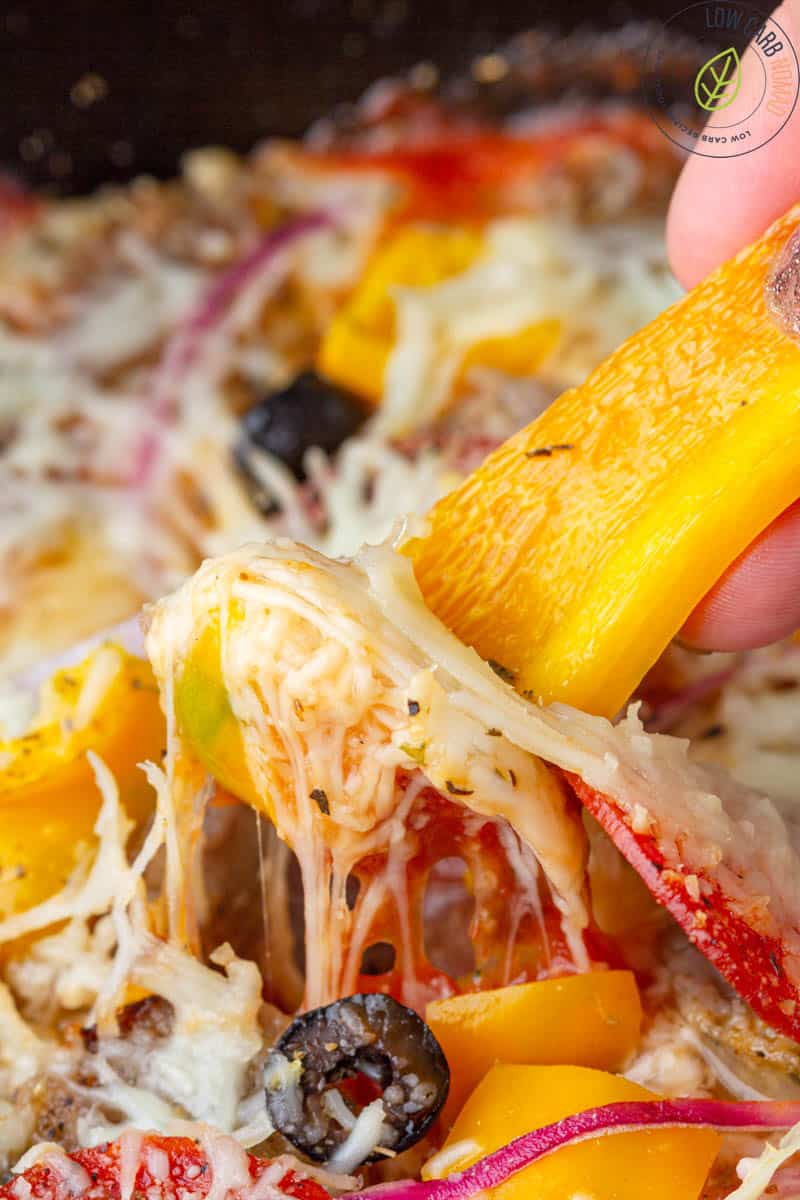 How to Reheat Low Carb Crustless pizza
This low carb pizza is easy to reheat. You can reheat in the microwave, in the oven or in a skillet on the stove.
How many Carbs in Crustless Pizza?
This crustless pizza recipe has 4g net carbs for the way that it is made in the recipe card. However you can lower the carbs by using less sauce, or less veggies toppings.
Low Carb Pizza Recipes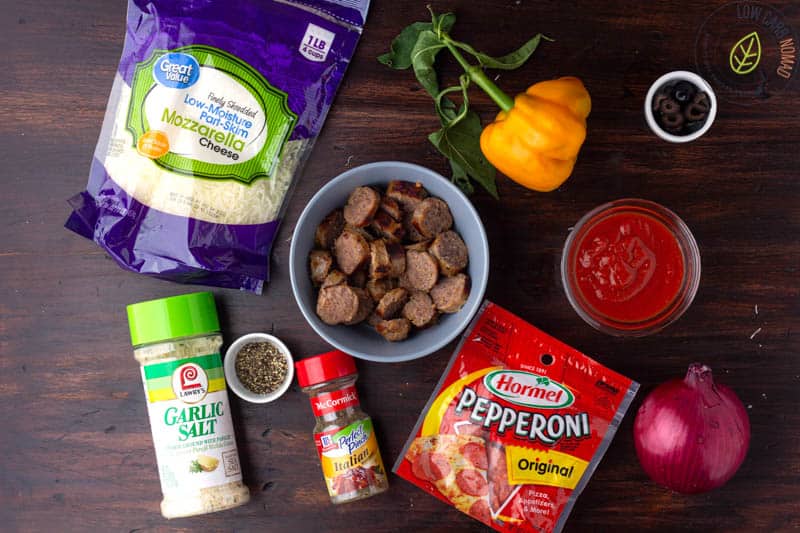 Keto Crustless Pizza Ingredients
Tomato Sauce. Use a low carb sauce mentioned above.
Shredded mozzarella cheese. Best to shred yourself since shredded cheese has stuff added so it doesn't stick together.
Italian sausage links. – I use Primo Brand.
Pepperoni slices
Bell pepper. Green, red or yellow will work, but green bell peppers have less carbs then the others.
black olives
red onion. You can also use white onion if that is what you have on hand.
Italian seasoning
Black pepper
salt
How to Make Keto Crustless Pizza
It is super easy to make low carb crustless pizza. Preheat the oven, layer sauce then cheese, toppings and more cheese. Then just bake in the oven!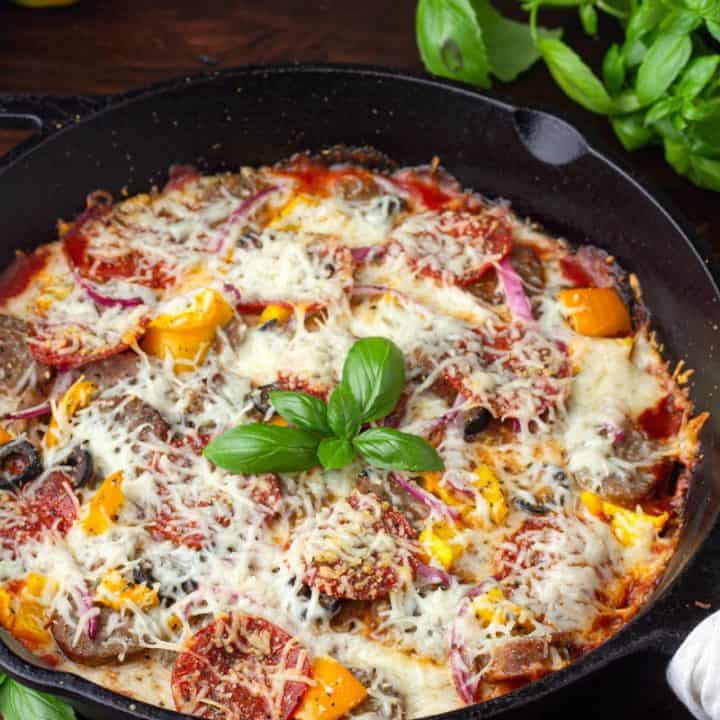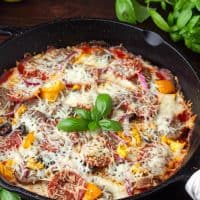 Keto Crustless Pizza
If you love pizza and are low carb and keto, don't worry you do not have to miss out! This Keto crustless pizza is the perfect low carb pizza! This low carb crustless pizza can easily be customized with your favorite pizza toppings!
Print
Pin
Rate
Ingredients
1

cup

tomato sauce

1 1/2

cup

mozzarella cheese

2

Primo Italian sausage links

15

pepperoni slices

1/4

cup

bell pepper sliced

5

black olives sliced

1/4

cup

red onion sliced

1/4

teaspoon

Italian seasoning

1/4

teaspoon

pepper

1/4

teaspoon

salt
Instructions
Preheat the oven to 400ºF.

Cook your sausage over medium heat until cooked through and browned, slice the sausage and set it aside.

Heat the pizza sauce in the microwave for 30 to 45 seconds until warm. Spread the sauce at the bottom of an oven-safe pan.

Sprinkle 1 cup of the cheese over the sauce then top it with the sausage, pepperoni, peppers, olives, onion, Italian seasoning, pepper, and salt.

Top with the remainder of the cheese.

Bake on the top rack for 5-10 minutes until the cheese is melted and bubbly.
Nutrition
Serving:
1
g
|
Calories:
322
kcal
|
Carbohydrates:
6
g
|
Protein:
19
g
|
Fat:
41
g
|
Fiber:
2
g
|
Sugar:
4
g
Easy Keto Dinner Recipes