This low carb chicken salad is the perfect dish to enjoy while you stay on your healthy eating plan. Keto chicken salad is packed with flavor and nutrients, and it will leave you feeling satisfied without all of the carbs that usually come along with a lunch meal.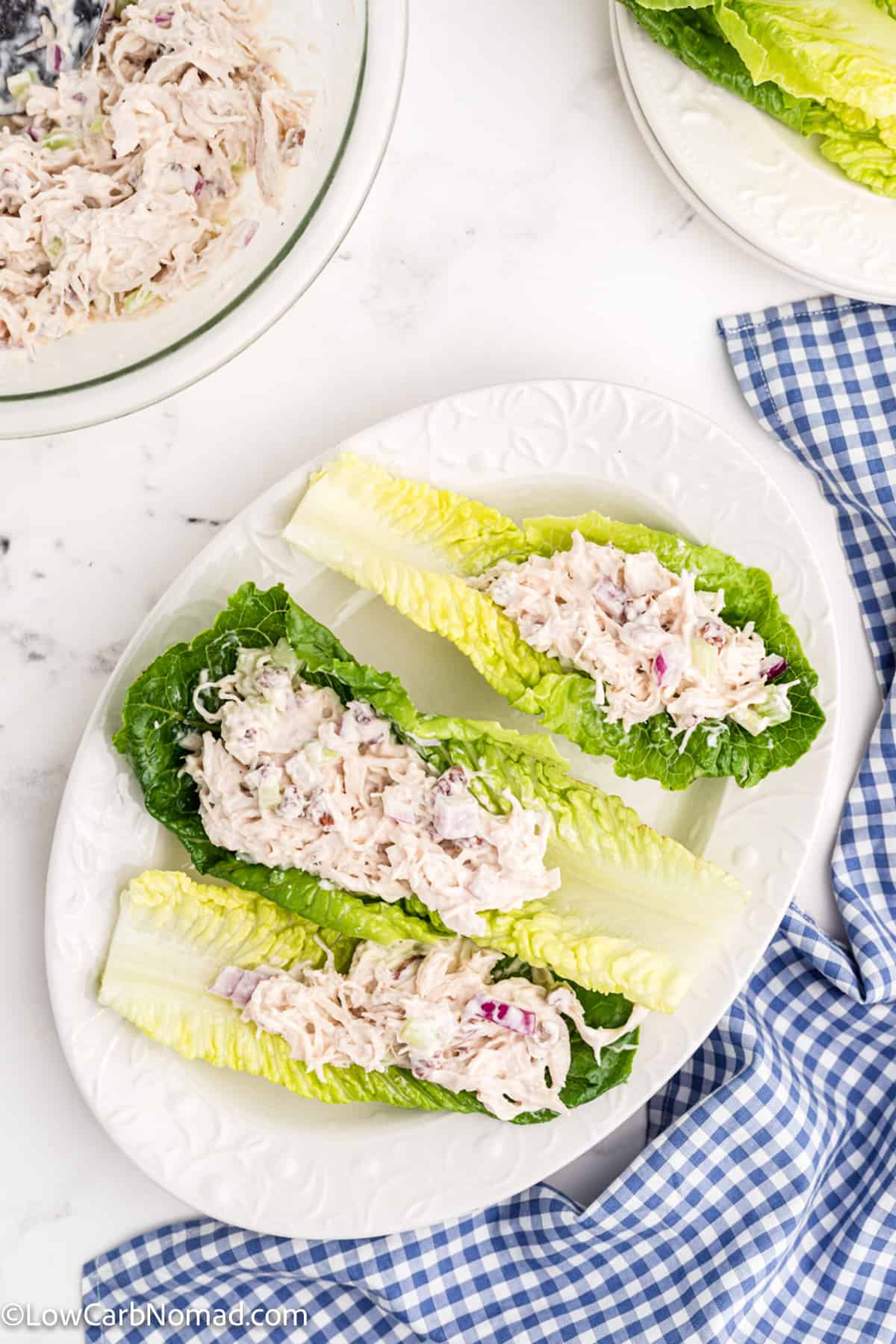 Keto Chicken Salad
If you are looking for a tasty lunch recipe then you are going to love this easy chicken salad recipe. If you already have chicken made (leftovers work great!) then you can have this keto chicken salad done in about 5 minutes.
The best part about this recipe is that it can be customized to suit any palate. You can add in whatever vegetables or toppings you like, so there are no limits!
Depending on my mood, or what ingredients I have on hand sometimes I like to change things up with this easy recipe. If I have cucumbers or green bell peppers on hand, I will chop them up and toss them in it. It makes this low carb chicken salad even more delicious.
Chicken salad is healthy, versatile, and delicious! If you're looking for an easy recipe to make for lunches, this is the perfect recipe to make. I hope you enjoy our keto chicken salad recipe as much as we do!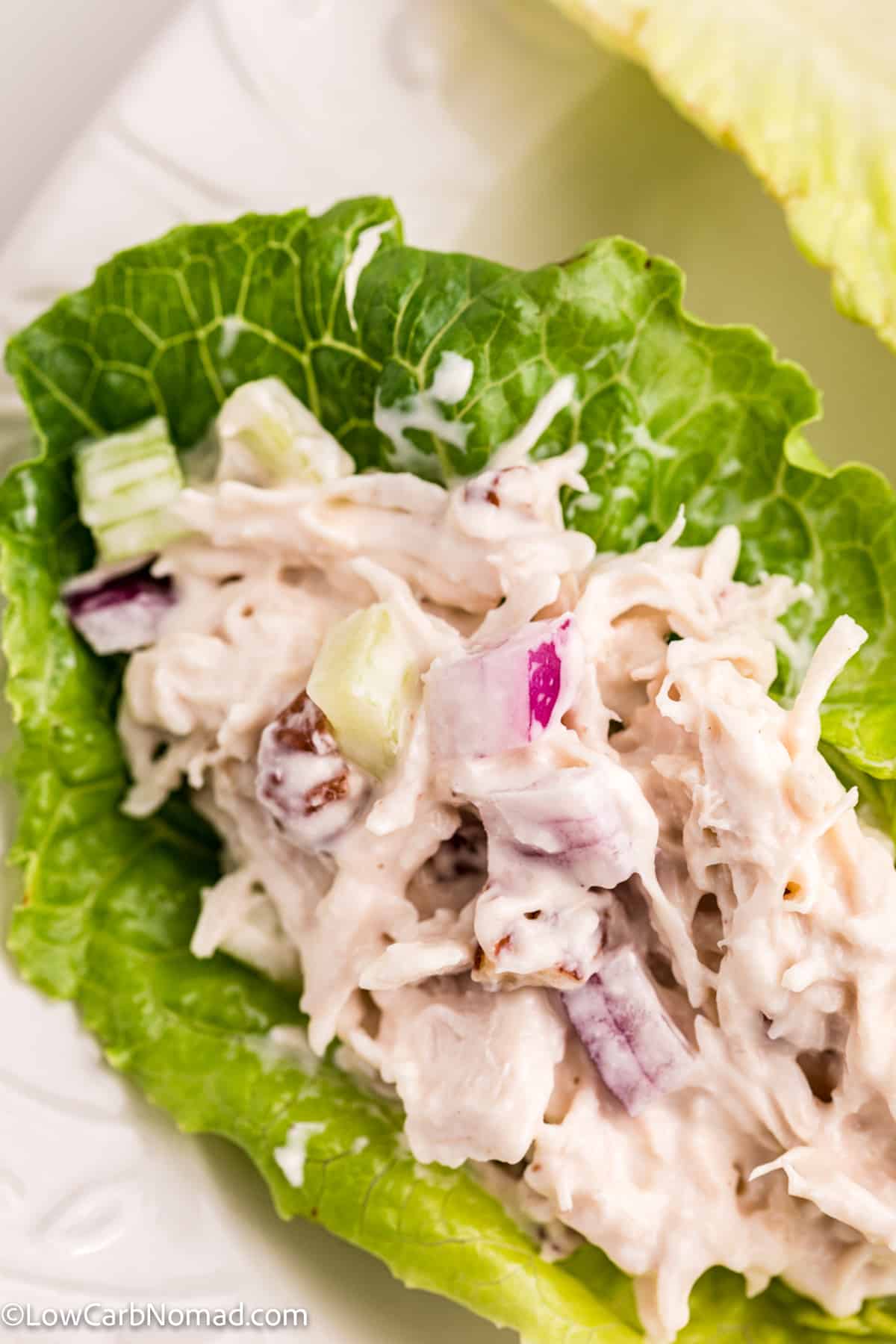 Why You'll Love This Keto Chicken Salad Recipe
Packed with Protein
Can easily be customized to make to your own tastes.
Easy to find ingredients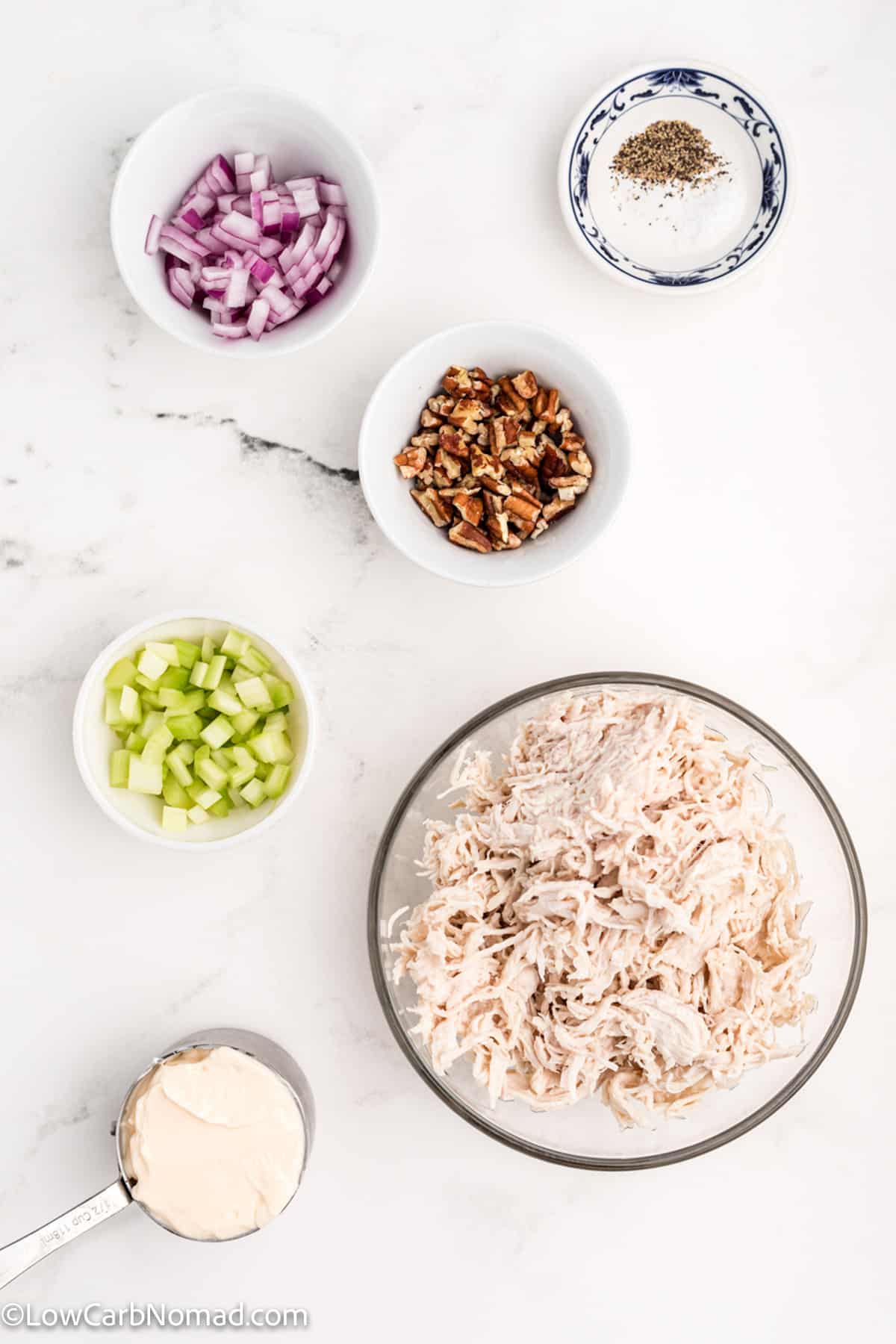 Equipment Needed To Make Chicken Salad
Pan or Grill for cooking chicken
Knife
Ingredients For Your Low Carb Chicken Salad
2 Cups Cooked chicken
½ cup mayo
¼ cup red onion
¼ cup thin sliced celery
¼ cup chopped pecans
Salt and pepper to taste
How To Make A Low Carb Chicken Salad
Step 1- Cook the Chicken
Cook chicken by your preferred method. You can bake, boil, or grill the chicken.
This recipe calls for 2 cups of cooked chicken, there are a few different ways to cook the chicken.
Use a Rotisserie chicken. If you want things easier you can grab a cooked rotisserie chicken at the store or cook one at home.
Boil chicken. Just add raw chicken breasts to a pot and cover with 3 cups of chicken broth or water whichever you prefer. Heat on medium high heat and bring to a boil. Once boiling turn heat to low and cover pot with a lid and let simmer for 10 minutes.
Bake chicken. Spray a baking sheet with non stick spray place the chicken breast on the baking sheet and drizzle with olive oil. Then bake for 35-45 minutes until the chicken is fully cooked.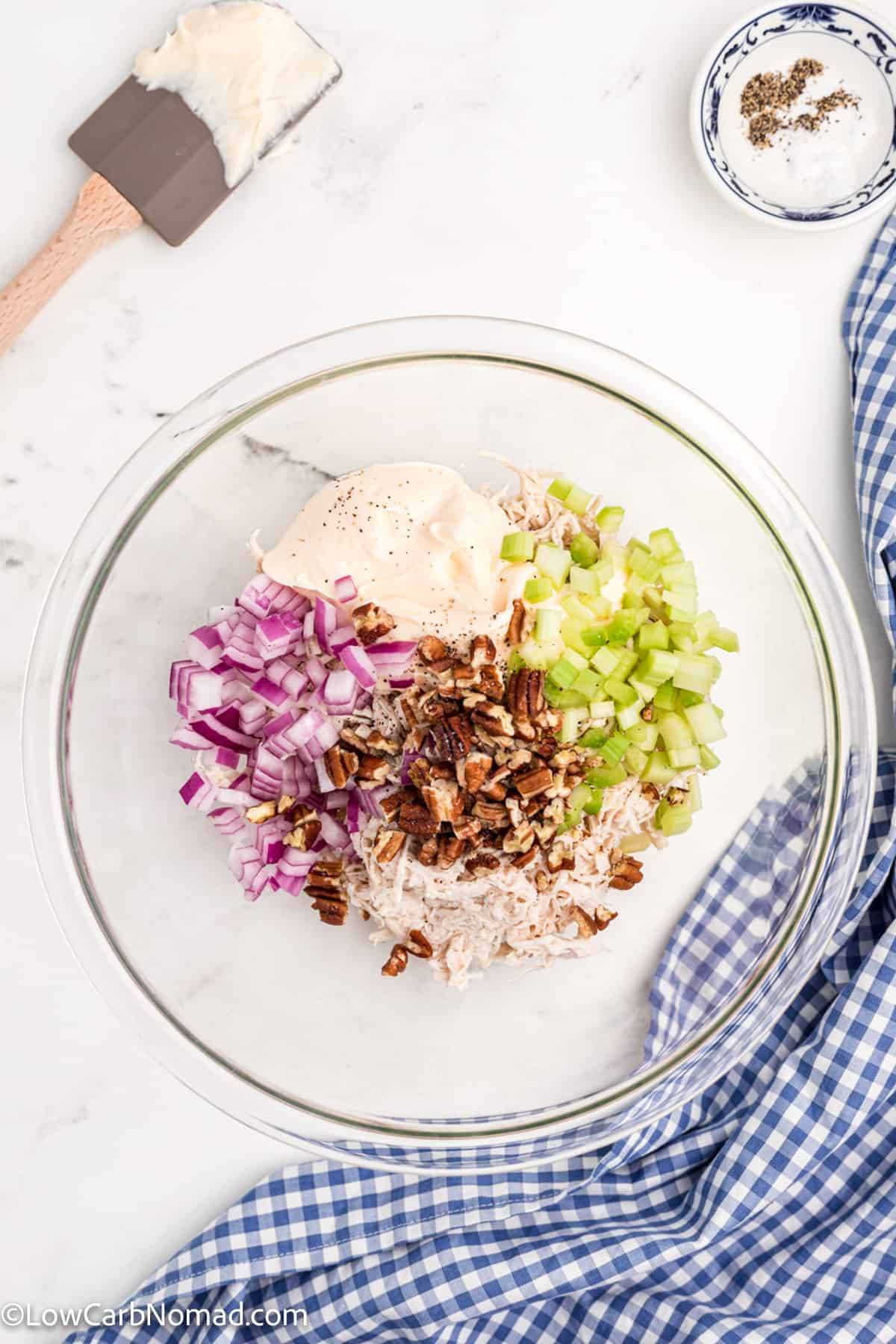 Step 2- Cut the Veggies
Wash and dice the celery. Then, finely dice the red onion
Next, chop the pecans. I find it easiest to use my little food processor.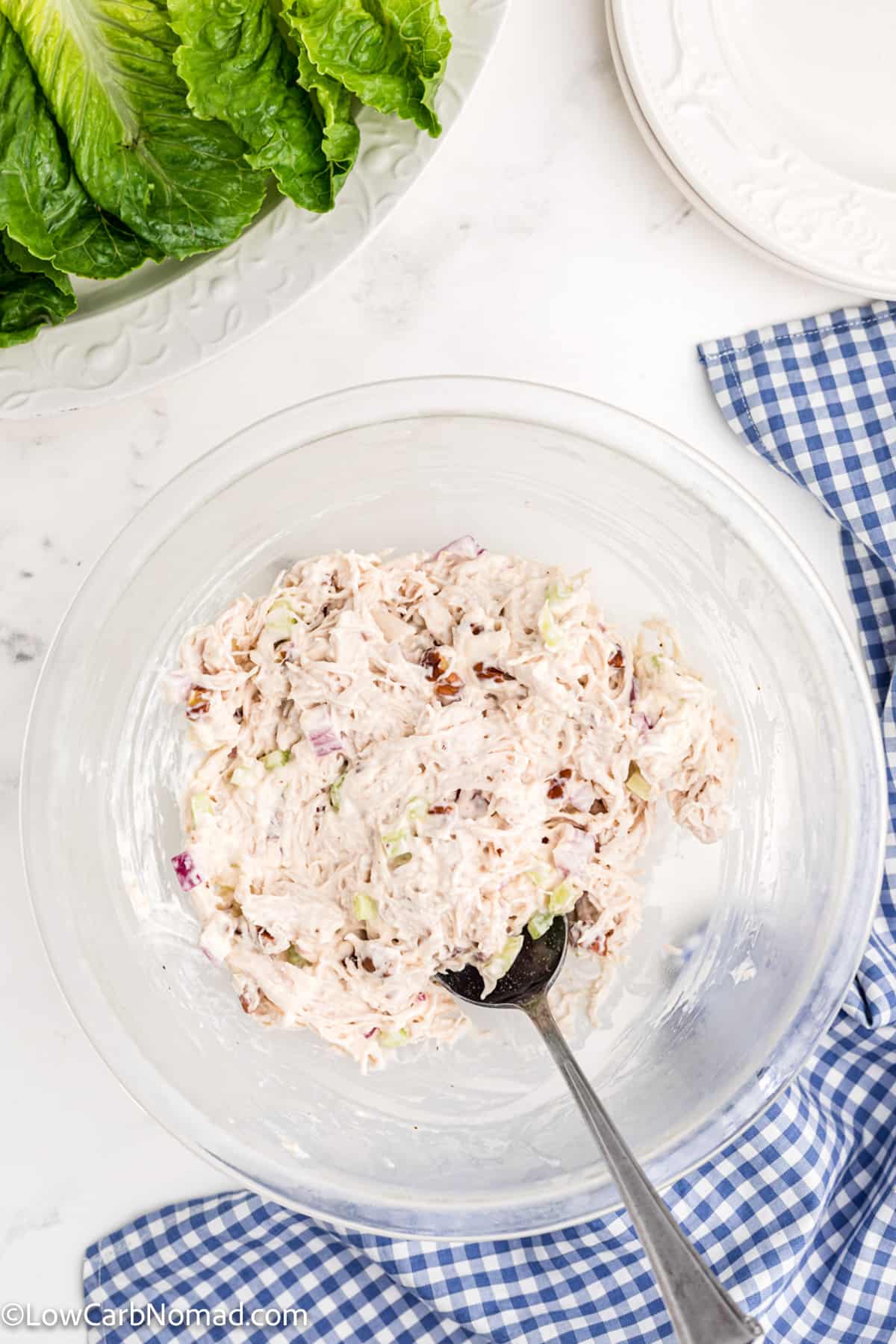 Step 3- Make the Salad
In a bowl add the chopped veggies, shredded chicken and mayo and mix well.
Add salt and pepper as desired
Serve on lettuce wraps.
What to Serve/Pair with Your Keto Chicken Salad
This chicken salad can easily be served by itself with some veggies, but you can also serve this with some sides like Easy Air Fryer Broccoli or Easy Broccoli Slaw Recipe. You can also serve Low Carb Keto Coleslaw.
Finish this keto chicken salad dinner with any of these 28 Must Try Low Carb Chocolate Dessert Recipes. Of course, you can also make Sugar Free Candied Pecans Recipe.
if you enjoy a cocktail every now and then, you can enjoy this chicken salad recipe with Low Carb Keto Mojito or Low Carb Peach Bourbon Drink.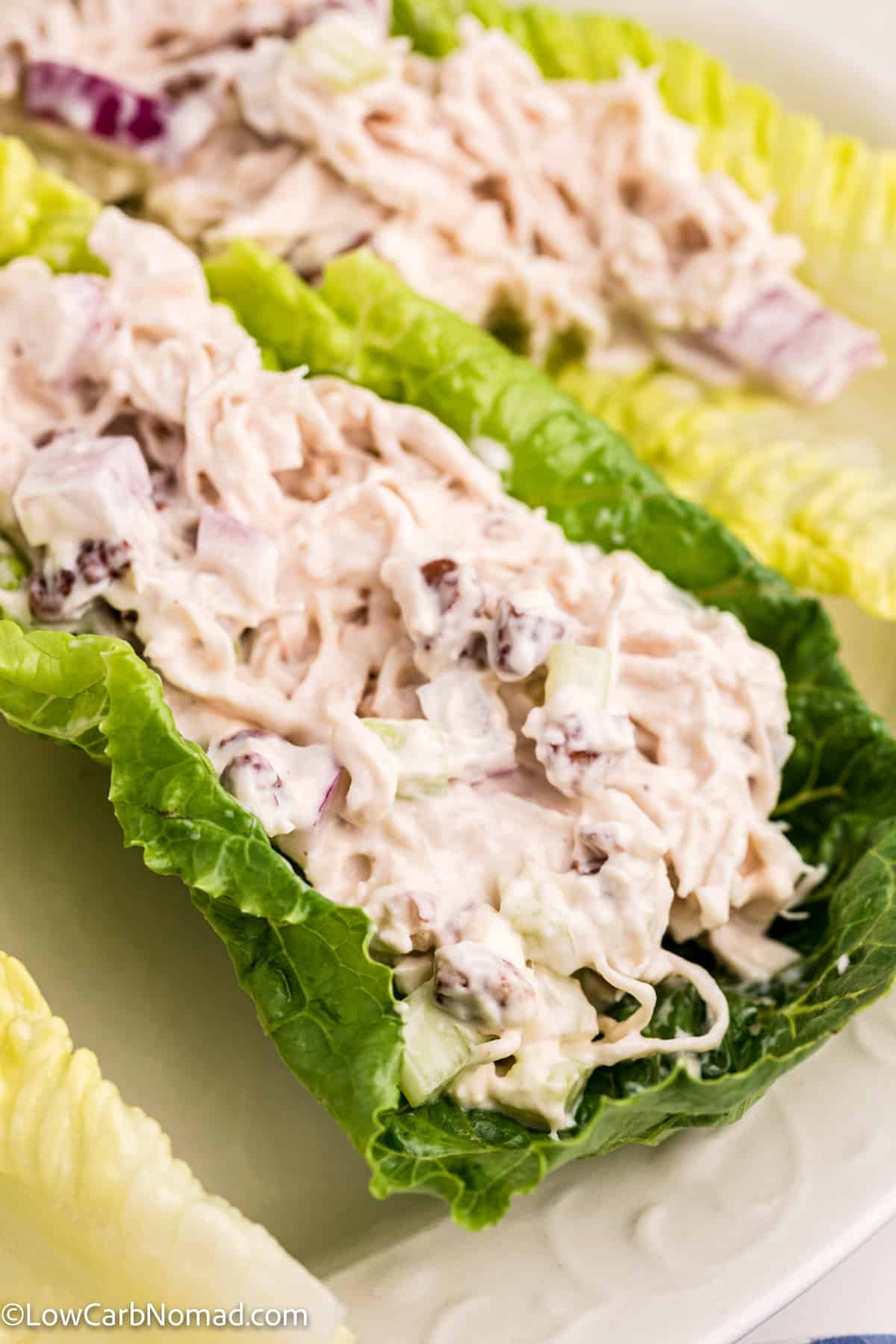 Popular Substitutions & Additions
Use rotisserie chicken. It is a great time saver. You can also use leftover chicken from another meal.
Use turkey. Whether you have leftover turkey from Thanksgiving or you have turkey from cooking a turkey breast, you can use it in this recipe.
Walnuts instead of pecans. This is an easy switch that will taste fantastic.
Add veggies. You can other veggies to this low carb chicken salad. Just watch the carb count of the vegetables that you add to the salad. I like to add cucumbers and pickles as well.
Add mustard. This adds a bite to chicken salad.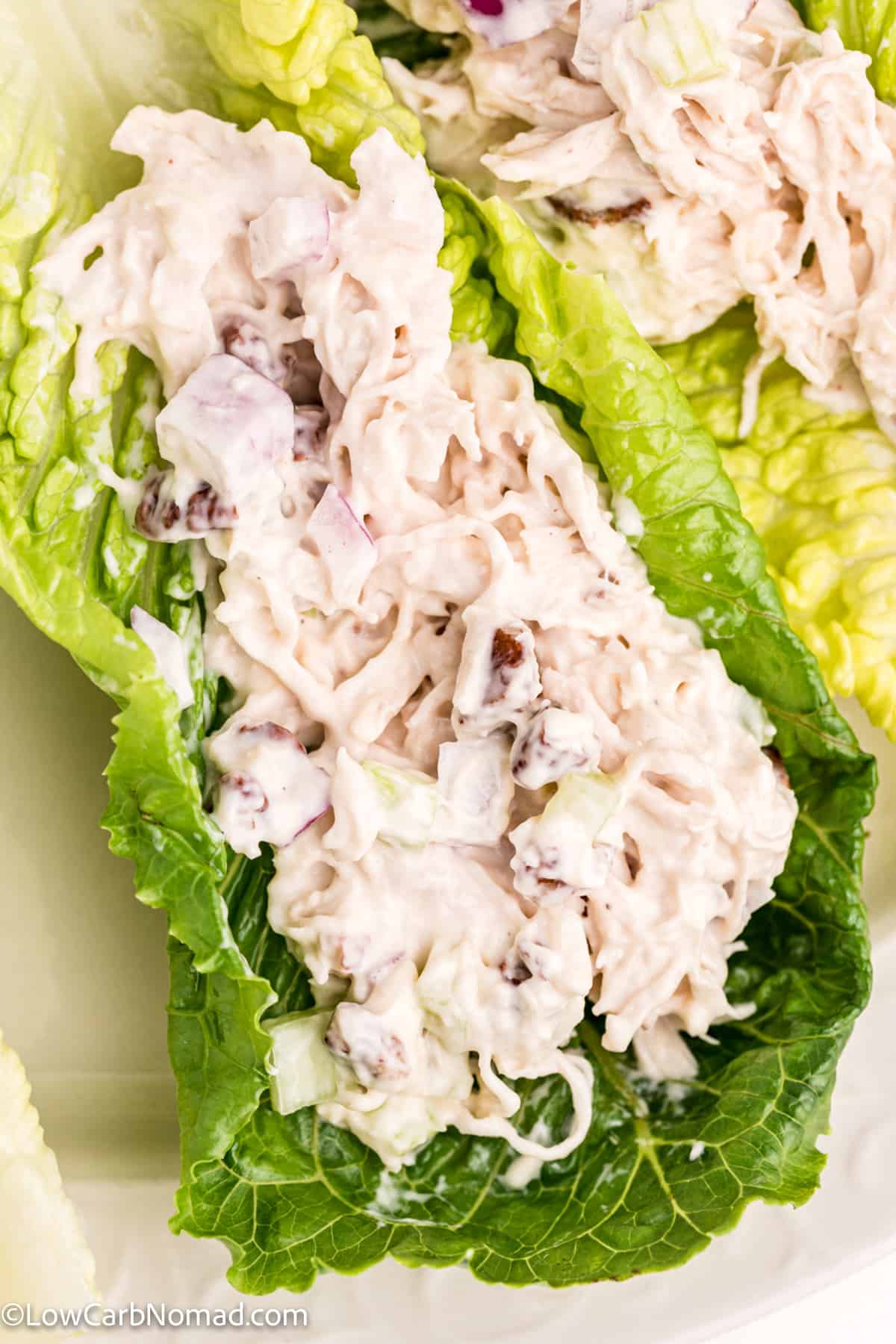 How To Store Low Carb Chicken Salad
You can store this keto chicken salad in the refrigerator. You want to make sure it is in an airtight container.
How Long Will Low Carb Chicken Salad Last In the Fridge?
The salad will last for up to a week in the refrigerator. However, if the chicken salad is left at room temperature for more than 2 hours, you will want to throw the rest away to prevent food borne illness.
Can I Freeze this Chicken Salad Recipe
While you can technically freeze the chicken salad, the texture changes because of the mayonnaise. It is best to eat the chicken salad within the week and toss whatever is left. But honestly, this chicken salad is so good, I would be surprised if you have anything left by the end of the week.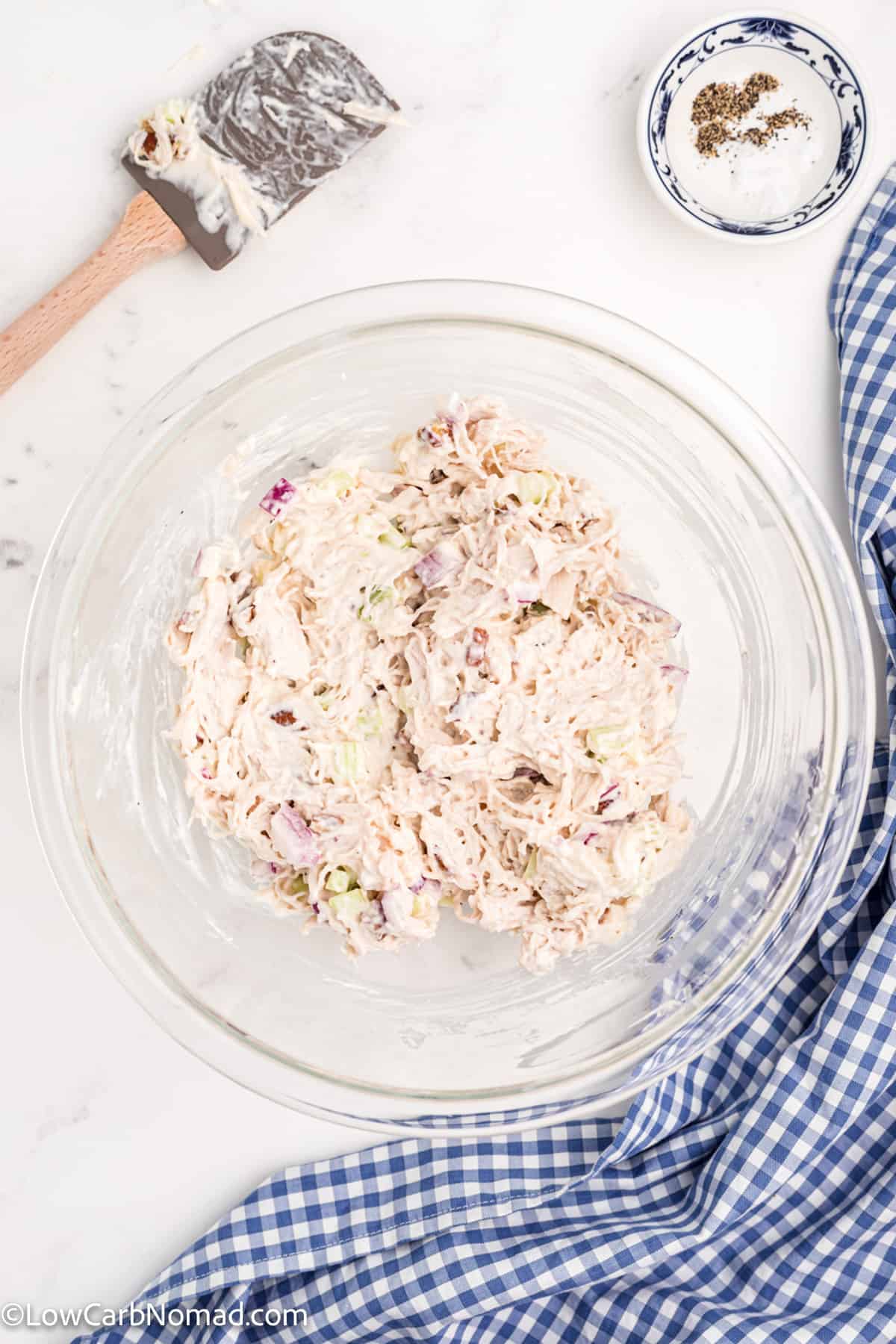 Is chicken salad keto friendly?
It can be. It depends on how you make it. Store bought chicken salad is usually loaded with sugar so you want to watch that. This recipe is perfect for a keto diet.
What type of chicken do I use for Keto Chicken Salad?
You can use whatever type of chicken you like. Chicken breast or chicken thighs is the tastiest in my opinion. You can also use leftover chicken as well as rotisserie.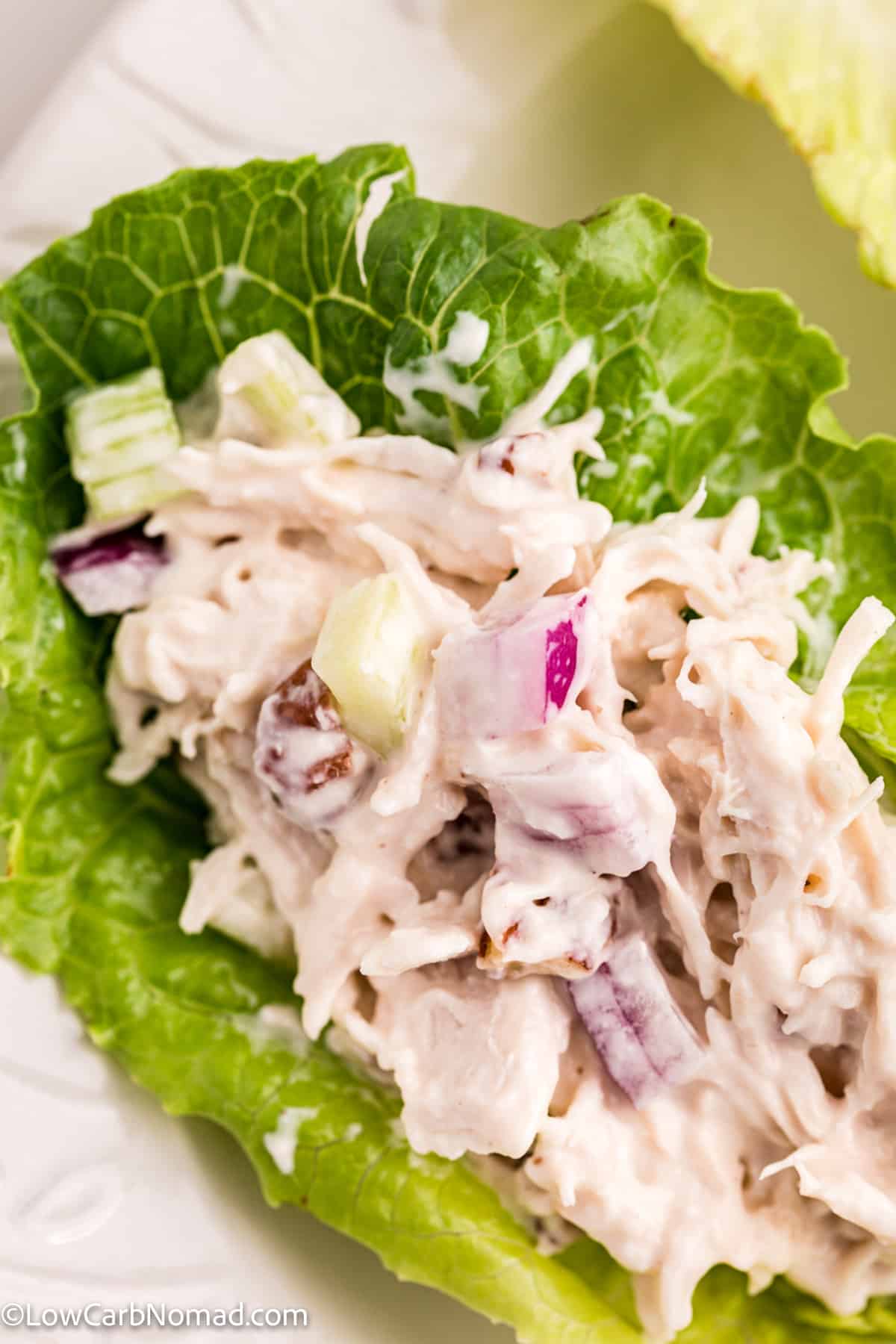 How to Serve the Keto Chicken Salad
There are so many ways to serve this chicken salad. You can eat it as is. You can also serve this chicken salad in a bowl with avocado, cucumbers or even pickles. Add some cheese for a terrific meal. Other ideas are:
In lettuce wraps
Stuffed inside of peppers
Inside tomatoes
Scooped with cucumbers
Other Easy Low Carb Recipes You'll Love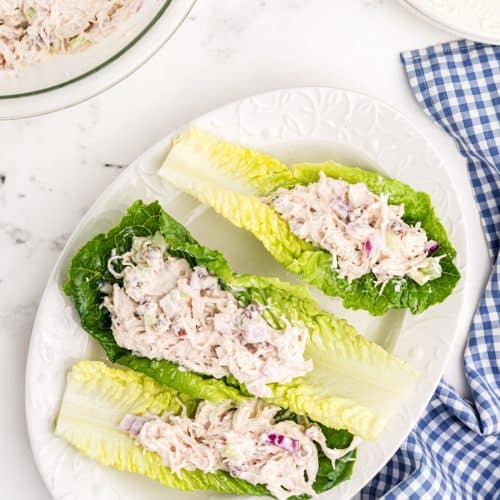 Ingredients
2

Cups

Cooked chicken

½

cup

mayo

¼

cup

red onion

¼

cup

thin sliced celery

¼

cup

chopped pecans

Salt and pepper to taste
Instructions
Cook chicken by preferred method – bake, boil, grill

Wash and dice the celery

Finely dice the red onion

Chop the pecans – I find it easiest to use my little food processor

In a bowl add the chopped veggies, shredded chicken and mayo – mix well

Add salt and pepper as desired

Serve on lettuce wraps
Nutrition
Calories:
359
kcal
|
Carbohydrates:
2
g
|
Protein:
19
g
|
Fat:
31
g
|
Saturated Fat:
5
g
|
Polyunsaturated Fat:
15
g
|
Monounsaturated Fat:
9
g
|
Trans Fat:
1
g
|
Cholesterol:
64
mg
|
Sodium:
236
mg
|
Potassium:
225
mg
|
Fiber:
1
g
|
Sugar:
1
g
|
Vitamin A:
79
IU
|
Vitamin C:
1
mg
|
Calcium:
20
mg
|
Iron:
1
mg
keto chicken salad, low carb chicken salad