Looking for amazing low carb chicken recipes? With these delicious keto friendly recipes, you will have plenty of healthy recipes to choose from to make meal planning easy.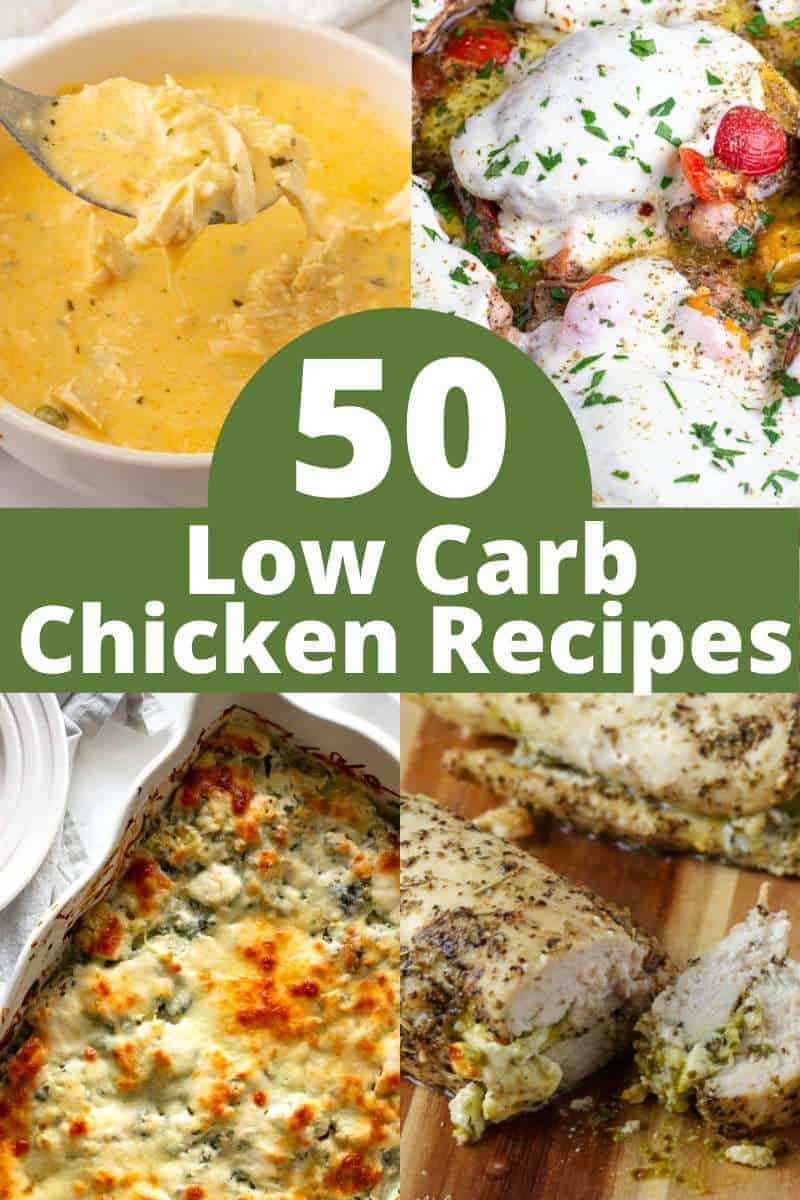 50 Amazing Low Carb Chicken Recipes
Using chicken in your low carb meal plans make it easy to stay on track. Chicken is often on sale and even the fussiest eaters tend to like it. With these delicious low carb dinner that the whole family will enjoy, you will have a lot to choose from when it comes to making your meal plan.
Easy Low Carb Chicken Meals
We are so busy most of the time that I need easy low carb chicken meals. I simply do not have time for anything complicated. That is why all of the meals on in this low carb chicken recipes are simple to make.
Can I use Chicken Thighs Instead of Chicken Breast
Most of these recipes call for chicken breast. Chicken breast is used in a lot of recipes because it is often on sale. If you would rather use chicken thighs because you prefer the flavor, they are on sale, or it is what you have on hand, you can swap the chicken breast for chicken thighs.
What to Serve with Low Carb Chicken Recipes
Some of these low carb chicken recipes have side dishes included, but some of them are only for the main dish. If you are looking for a low carb side dish, here are some of my favorites.
Easy Broccoli Slaw Recipe – This easy broccoli slaw tastes amazing and works for a simple side dish. Similar to cole slaw, this is a delicious side dish for parties or for weeknight dinner.
How to Make Indoor Grilled Veggies- Just because the weather isn't suitable for grilling outside, doesn't mean you can't have grilled vegetables.
Keto Green Bean Casserole Recipe– Green bean casserole is a delicious side dish. Don't think it is only good for the holidays. Make this Keto green bean casserole as a side dish for any of these low carb chicken recipes.
Cauliflower Mac and Cheese Recipe – Mac and cheese makes a great side dish but it is not low carb friendly. This keto version of mac and cheese, using cauliflower, is a healthier version of the traditional comfort food.
Creamy Buttery Garlic Mashed Cauliflower – This recipe for mashed cauliflower is a great substitute for mashed potatoes. The buttery garlic mashed has an amazing flavor.
Delicious Low Carb Chicken Recipes
Here are some of my favorite low carb chicken recipes that I am sure you will enjoy. Use these recipes in your menu planning to help you have a variety of meals you will love and that will help you stay on track.