This Green Bean Casserole recipe is a classic holiday side dish recipe that you do not want to miss out on! Thankfully with this Keto Green Bean Casserole Recipe you can stick to low carb and keto while enjoying a tasty green bean casserole.
This Keto Green Bean Casserole recipe is the perfect holiday side dish to go along with your Thanksgiving Turkey and tasty Thanksgiving side dishes and desserts.
Keto Green Bean Casserole Recipe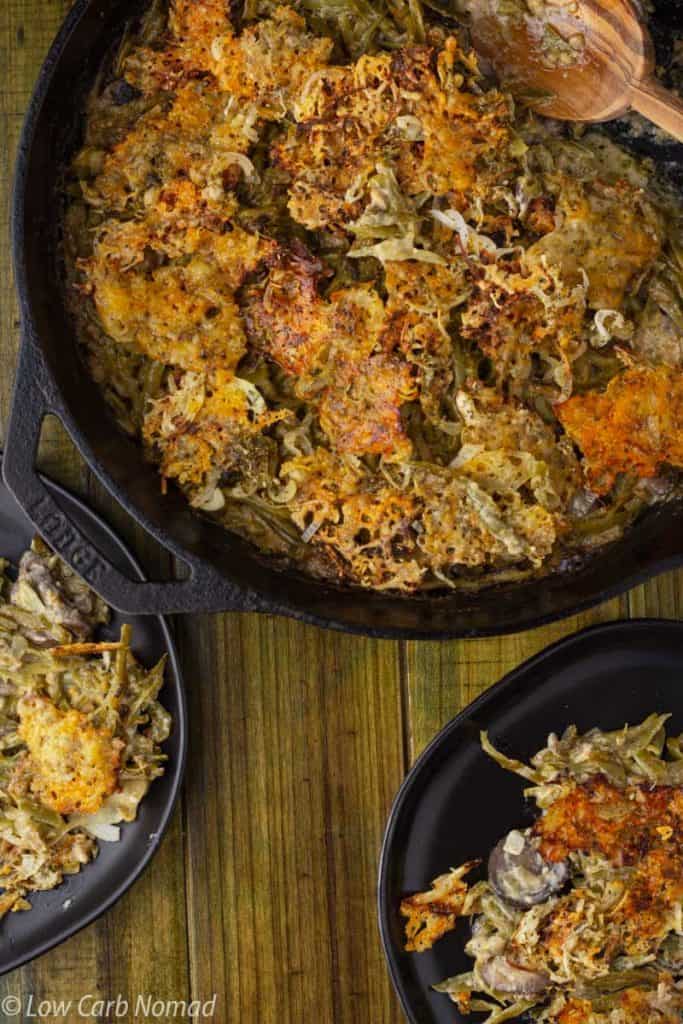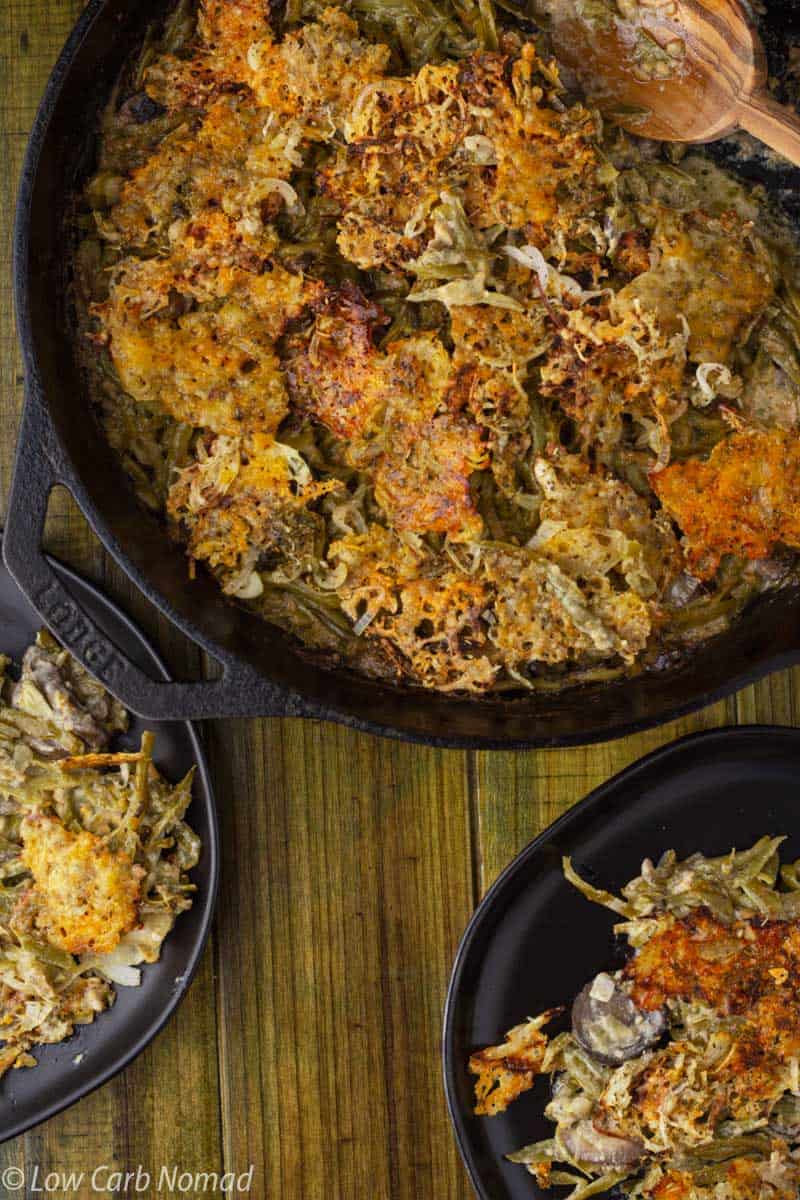 Green Bean Casserole is a staple in any holiday meal and many times it is loaded with carbs even though you don't realize it. This low carb green bean casserole recipe has all the amazing flavors of the classice green bean casserole recipe that you love with out all of the carbs.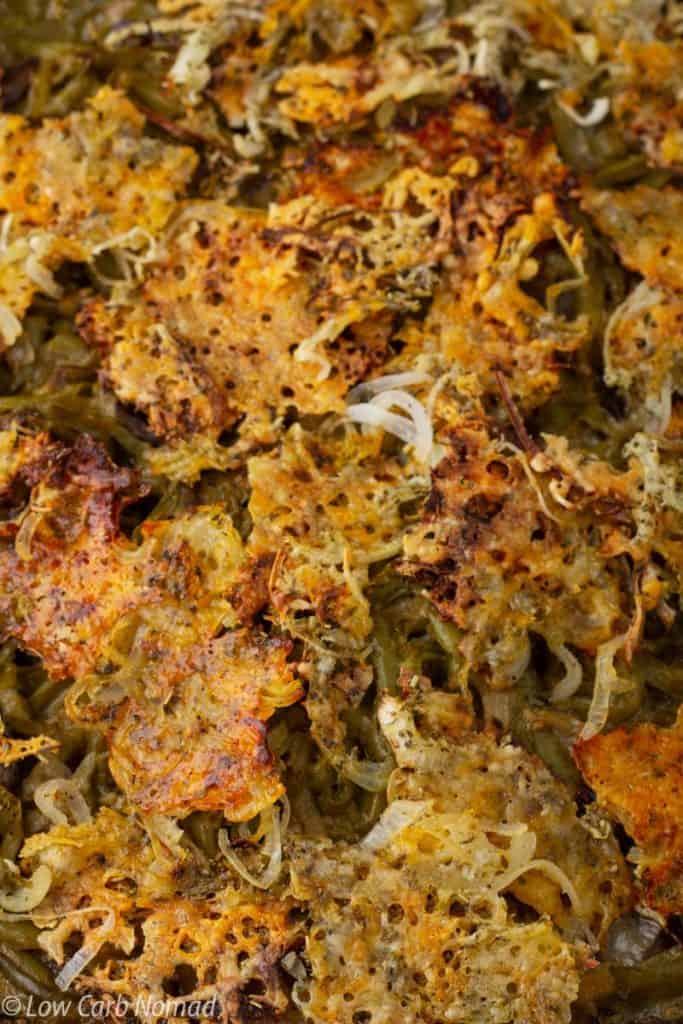 Low Carb Green Bean Casserole Recipe
The great thing about green bean casserole is that you can make this side dish ahead of time, which means you can make this the day before and pop it in the oven right before dinner is being served to heat it up!
Looking for more Keto Holiday Side Dishes? Check these out!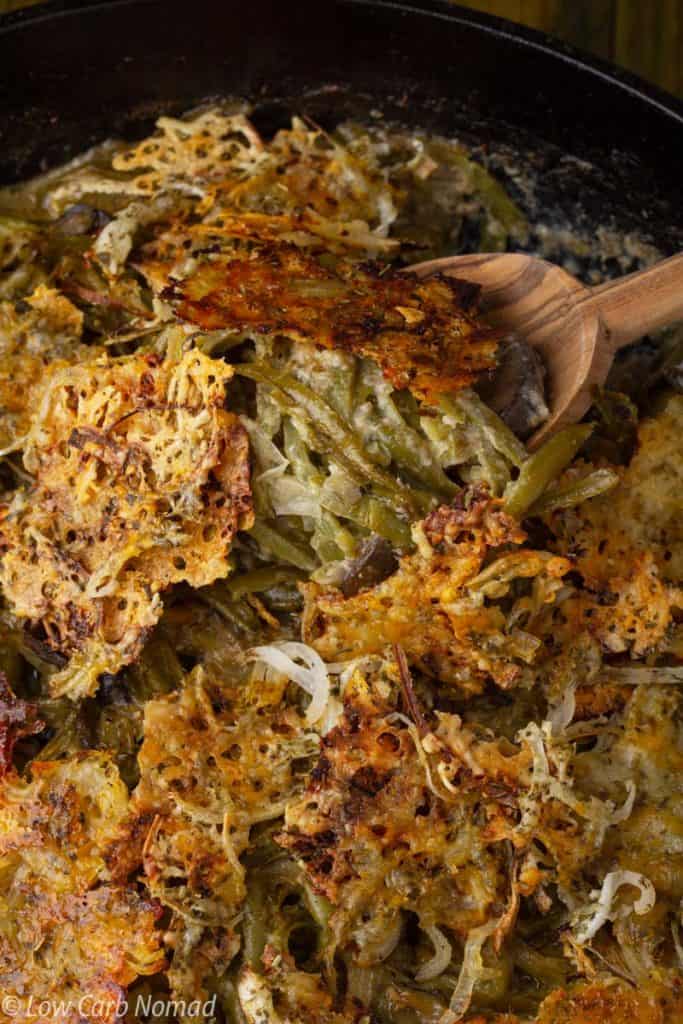 The great thing about this low carb and keto green bean casserole recipe is that there are only a few minutes needed to prep and then you just bake it!
Looking for more Thanksgiving Recipes? Check these out!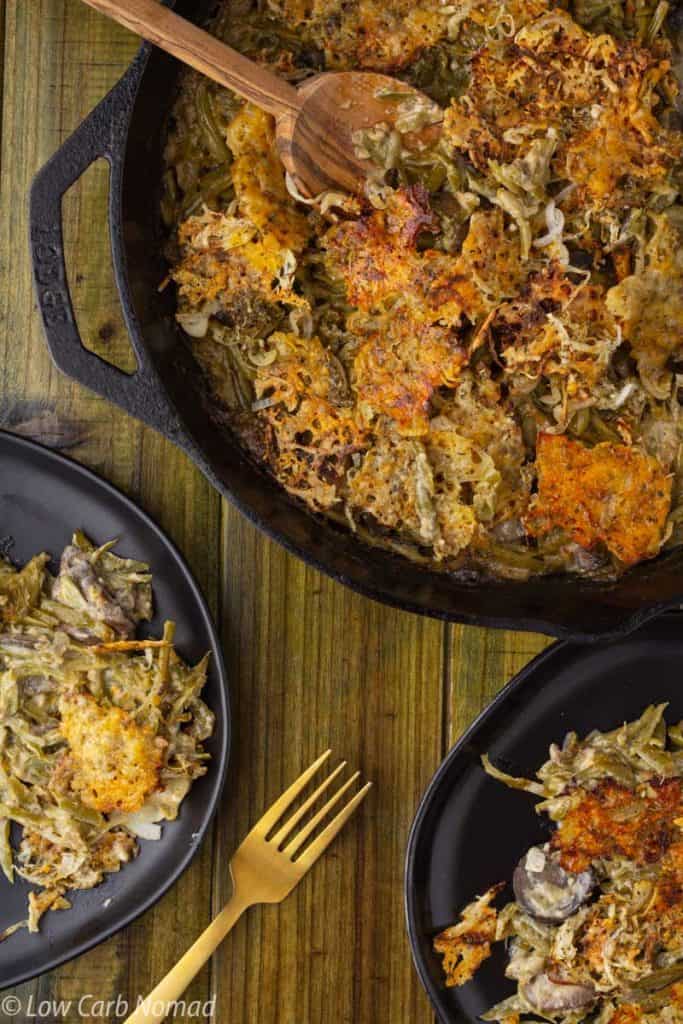 Keto Green Bean Casserole Recipe Ingredients
mushrooms, sliced
french style green beans, drained
garlic, minced
onion, diced
butter
cheddar cheese
chicken stock
heavy cream
salt
pepper
nutmeg
Keto Green Bean Casserole Topping Ingredients
cheddar cheese
parmesan cheese, shredded
onions, thinly sliced
Italian seasoning
garlic powder
How to Make Keto Green Bean Casserole
Preheat the oven to 350ºF.
In a large skillet or cast iron pan, heat the butter, mushrooms, onions, garlic, salt, pepper, and nutmeg over medium heat until the onions are translucent. This will take about 5 to 10 minutes.
Add the chicken stock and heavy cream to the pan. Turn the heat up to medium-high and reduce the sauce until it has thickened about 15 minutes.
Blend the mixture with your immersion blender, leaving a slight texture. If you don't have an immersion blender, you can pour this into your blender and pulse it a few times.
Line a sheet pan with a silicone mat or parchment paper.
Lay the thinly sliced onions in a thin layer on the sheet pan. Sprinkle the cheddar cheese, parmesan cheese, Italian seasoning, and garlic powder over the onions.
Bake until all the cheese is crispy brown about 15- 20 minutes. Remove from the oven and allow it to cool until you can break it into chunks.
In your large cast iron pan or casserole pan mix the mushroom sauce, green beans, and half the cheese. Top the mixture with the rest of the cheese. Bake for 20 minutes, then remove from the oven.
Top with the cheesy onion crisps and bake for an additional five minutes.
wp-recipe-maker/recipe {"id":4098