When you are eating a low carb diet, it is usually because you know it is a healthier lifestyle. Fewer carbs and less sugar is good for everyone. So when trying to get kids on board with a lower carb eating plan, it might seem like a struggle. The best way to help kids stay on track eating a healthier low carb diet is to have low carb snacks for kids.
Low Carb Snacks for Kids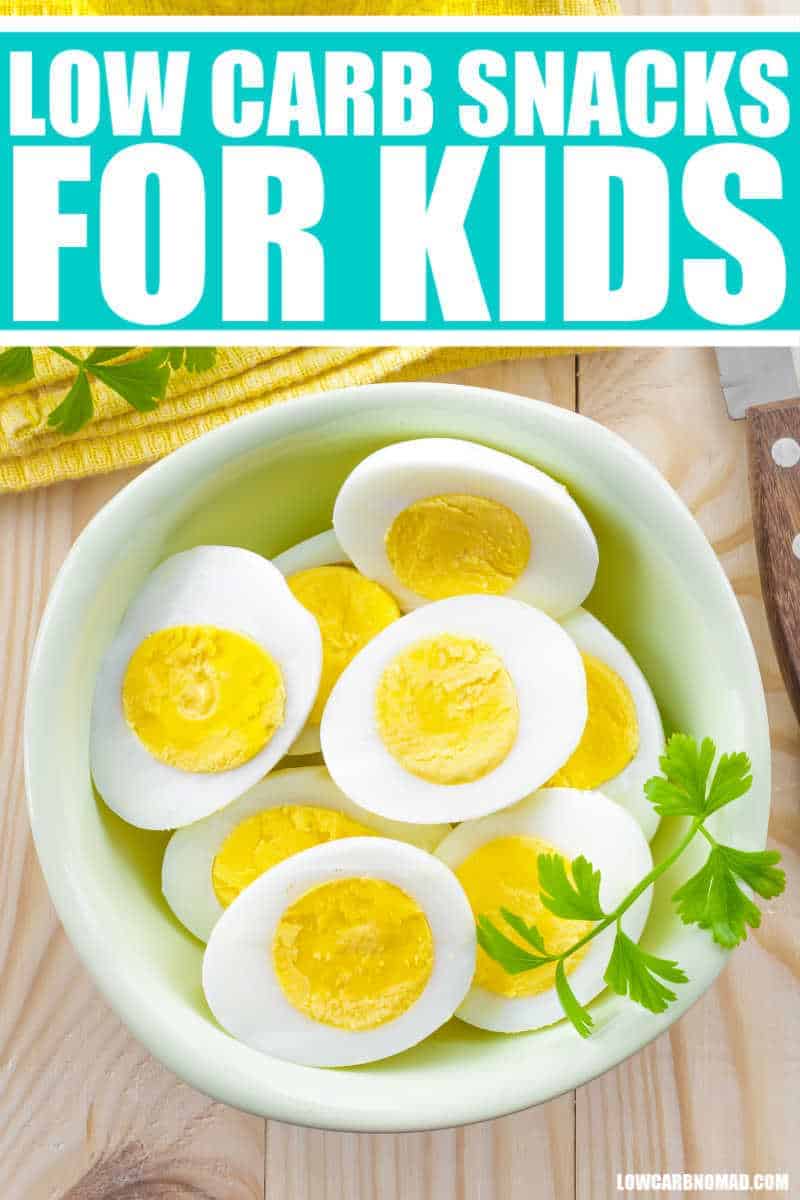 Eating low carb is great for adults who are trying to lose weight but it is the best way of eating when it comes to overall health. That is why it is important to help kids learn to eat low carb. No one needs to be eating all of the sugary sweets that are often associated with snacks for kids. These snacks are healthy low carb options that will help kids stay away from the junky carb heavy snacks.
High Protein Low Carbs Snacks for Kids
Cheese – If you have kids, you probably keep cheese on hand already. Kids love cheese and it is a great high protein low carb snack. It works great between meals. There are many types of cheese that kids will enjoy from American cheese slices to slices of cheddar or colby jack. Make sure the cheese you are buying is full fat cheese so there are not sneaky carbs in there.
Change things up by making Keto Cheese Chips! I also like to keep Whisps Cheese Crisps or Moon Cheese on hand for when I don't have time to make keto cheese chips.
String Cheese – I am mentioning string cheese separately because, for some reason, kids see it differently. It is also prepackaged and ready to go which makes it easy to grab. Since there is no prep work involved, the kids can grab a cheese stick whenever a snack attack hits.
Eggs – Eggs make a great snack. I like to keep hard boiled eggs on hand, already peeled. This way, when the kids need a snack they can grab one without any hassle. Eggs are perfect for a low carb lifestyle. They are low maintenance, filling, and low carb friendly. At the beginning of the week, boil the eggs and keep them in the refrigerator ready to go.
If you are wanting to change things up, deviled eggs are also a great snack!
Lunch Meat – Lunch meat is another one of those easy to grab snacks. Since it is high in protein it helps to keep the kids full and it is easy to grab fast. Pair the lunch meat with some cheese or a pickle and wrap it in a lettuce leaf and the kids have a quick snack or an easy lunch.
It is also important to note, that you want to be buying quality lunchmeat, you do not want lunch meat that is made with fillers.
Pepperoni Slices– I think my kids could eat pepperoni all day but since it is highly processed I make sure to keep it to a minimum. However, it is a low carb snack option that if eaten occasionally is ok.
Nuts & Seeds – Nuts and seeds are a great snack idea for kids. There are carbs in the nuts so you do want to measure them, however, they are an easy snack because it does not need to be stored in the refrigerator and it does not need to be kept cold.
You can buy the nuts in bulk and package them yourself, or buy them in individual sizes.
Change things up a bit and make these low carb tasty treats with nuts!
Beef Jerky – Some kids love beef jerky and some kids do not but it is a high protein snack that can keep kids full until dinner. You will want to watch which type of jerky you buy because it can have hidden sugar in it that you might not realize. You can buy a large package of jerky and portion it yourself or you can buy individual size portions.
Pork Rinds – If the kids are looking for a salty, crunchy snack and it might seem like chips are the only option. It is easy to steer kids away from the potatoes and instead give them pork rinds. Pork rinds are a great substitute for chips. Some people have a hard time with pork rinds because they get hung up on the fact that it is pig skin. I am one of those people too, but I do know it is a great low carb snack for kids.
Low carb veggies – Kids need their vegetables and I have found that if I have the vegetables already cut up in the fridge, they will eat it. So I like to plan ahead and keep the veggies ready for them. Some of the kids' favorite low carb vegetables are:
Cucumbers
Celery
green peppers
cauliflower
broccoli
Low Carb Snack Recipes Kids will love
More Keto and Low Carb Diet Tips
Looking for dining choices while sticking to keto and Low Carb? Check these out!