Looking for a no carb snack idea? These snacks are perfect for anyone who is on a low carb or keto diet. Filling and easy, keep these no carb snacks on hand to help you stay on track.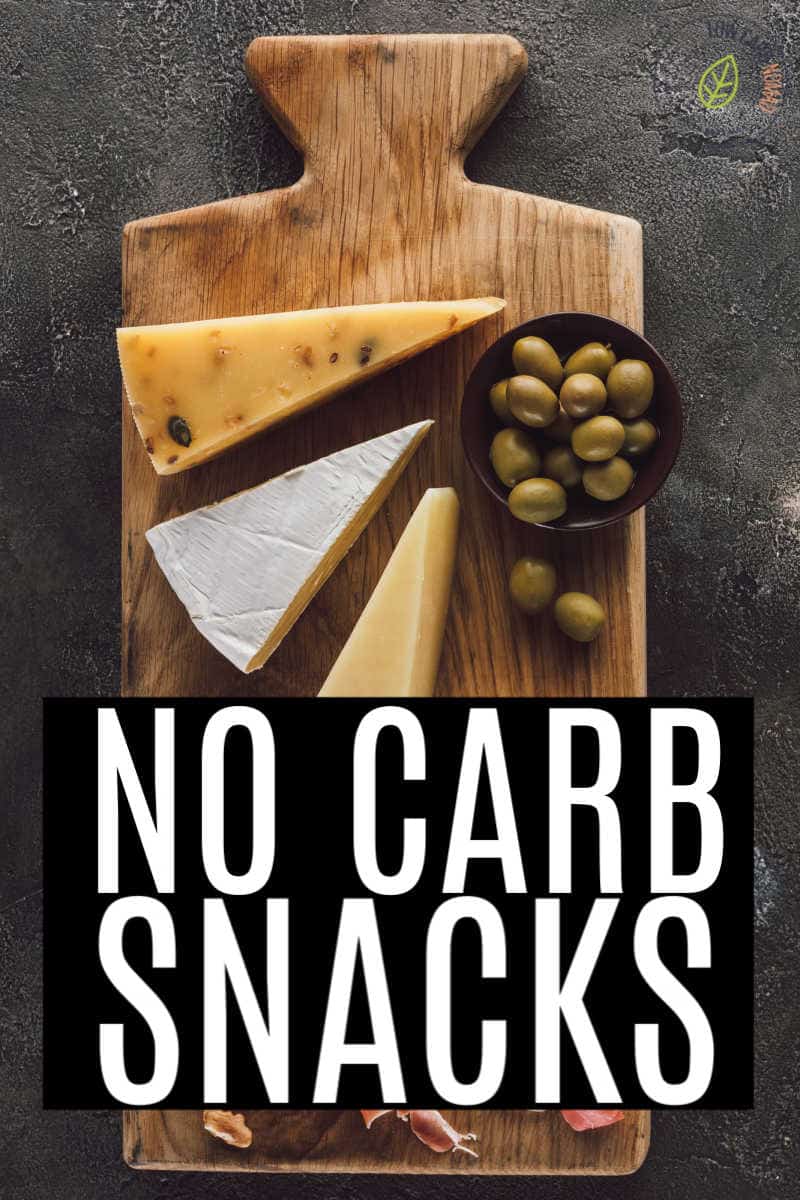 No Carb Snacks to Keep on Hand
For many people low carb is hard because they think that there are no easy snacks. Most things that are considered snacks are highly processed and carb heavy. I am happy to tell you that you can pack a lunchbox full of low carb snacks and have no worries while you are out and about. Plus many of these snacks are easy to keep on hand for when you are at home too.
For me I like keeping low carb snacks on hand because there are times when I am hungry but not super hungry so I just need a snack.
Eggs
If you have been eating low carb and keto, you know that eggs are truly your best friend. There are so many ways to make eggs. I like to keep hard boiled eggs, little egg muffins and deviled eggs on hand for a fast and easy snack.
When you are doing your meal prep for the week you can easily prep a full dozen eggs, by either boiling eggs or baking hard boiled eggs to make them. Then you can put them into containers and keep them in the fridge for easy grab and go snacks.

Cheese
Cheese is another great snack to have on hand. Most cheese comes in under 1 net carb and there are many flavors to choose from. We like to have cheese sticks on hand because it is easy to grab them when hunger hits or as something on the go.
Cheese Chips
Another snack that makes cheese even better is making cheese chips. When you just have to have a snack that has a crunch like chips, cheese chips make a perfect solution. We love these microwave cheese chips and these jalapeno cheese chips. I also like to keep Whisps Cheese Crisps or Moon Cheese on hand for when I don't have time to make keto cheese chips.
Pickles
Pickles are an amazing snack idea. They keep fresh in the refrigerator for a long time, but in my house, the pickles don't even get a chance to go bad. Everyone loves pickles and it is an easy to grab snack idea. Pickles are also great to use with lunch meat and cheese. Wrap the lunch meat and cheese around the pickle and you are set.
Lunch Meat
Speaking of lunch meat, cold cuts are great as a no carb snack idea. You can grab a few slices as a way to hold you over until a meal or you can turn the cold cuts into a meal with a few extra ingredients like lettuce, cheese, and a pickle.
Keto Italian Sub rollups and Bacon Ranch Pinwheels are also a great keto snack to prep ahead of time and keep on hand.
Olives
Olives make a great snack idea. They are no carbs and high in fat which helps you to get full easily and quickly. We love making homemade marinated olives!
Pepperoni
Pepperoni, while not always a great choice because of the added nitrates, can make a great low carb snack. It is no carbs and is not packed with artificial sugars.
If you want to take them up a notch you can make pepperoni chips. When you bake the pepperoni in the oven, it gets nice and crispy making a great snack idea. Just put them in a single layer on a baking sheet and bake them in the oven for 5 minutes at 400°.
Nuts & Seeds
While nuts and seeds are not no carb snacks, they are one of my favorite snacks to keep on hand so I wanted to include them as a good snack idea. You do need to make sure you are measuring how much you are bringing since nuts will have more carbs compared to other items on this keto snack list. But they are a great item that you don't need to worry about keeping cold. You can buy prepackaged nuts or buy a large bag and make them into serving sizes yourself.
Snacking doesn't have to ruin your progress with these easy no carb snack ideas! Feel free to share any of your favorites in the comments below!
More Keto and Low Carb tips and tricks to check out!