You have to try The Best Keto Pumpkin Recipes that you can find. Every fall, pumpkin spice and all things pumpkin take over the shelves in grocery stores. This is not just a trend – the pumpkin recipes have been around since colonial times. And don't worry: you can still enjoy your favorite flavors this season without sabotaging your healthy eating plan.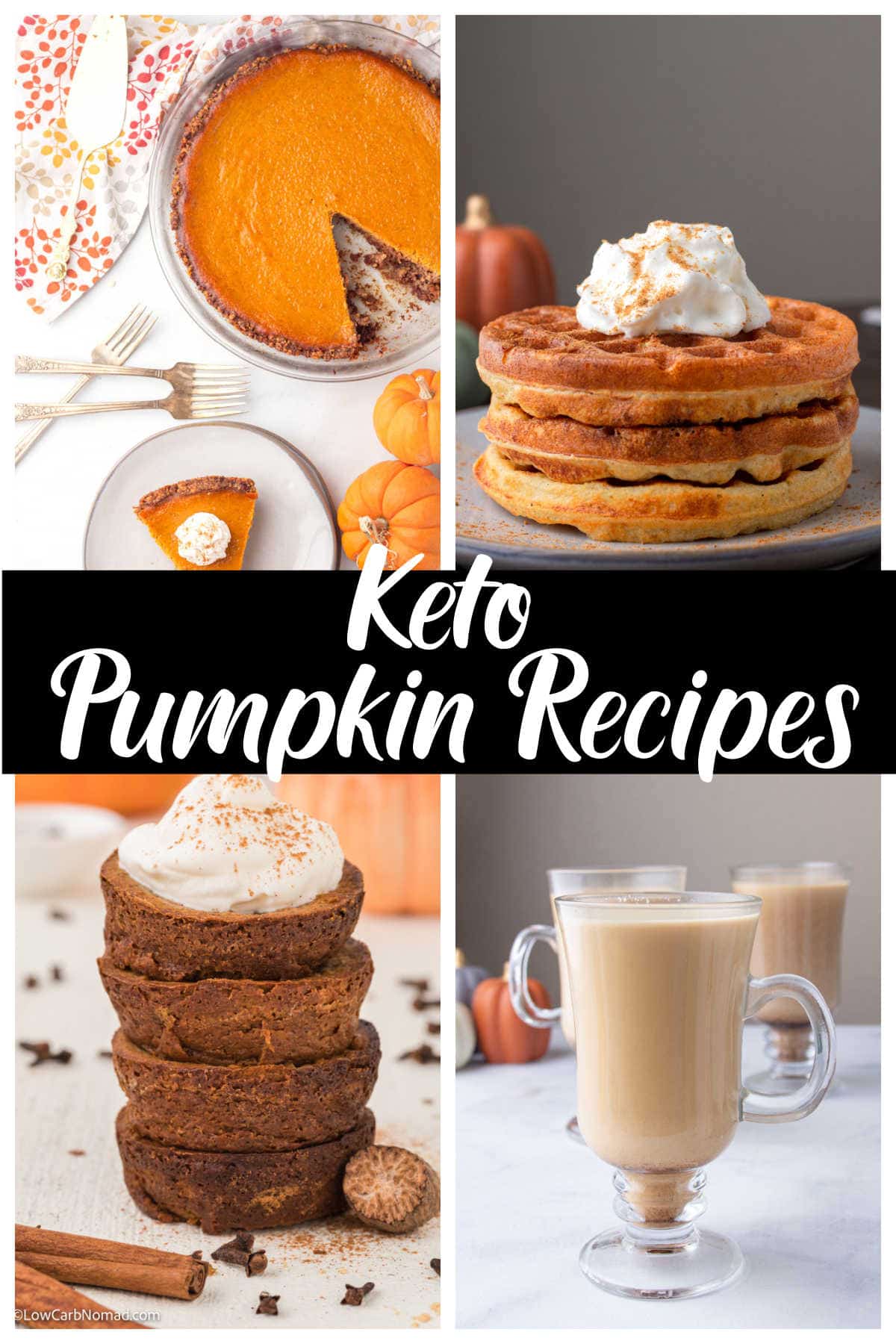 The Best Keto Pumpkin Recipes
Pumpkin spice is so popular in part because of its nostalgic flavor, but it also has a lot of health benefits. For example, pumpkin seeds are an excellent source of magnesium and zinc, both minerals that promote male fertility. Pumpkin also contains fiber which helps to keep you full longer. And the high nutrient content in pumpkin means it's loaded with antioxidants.
Even though pumpkin is slightly higher in carbs, the protein and fiber content means it's very low-glycemic – so you can enjoy your favorite pumpkiny treats without worrying about skyrocketing blood sugar levels or getting kicked out of ketosis.
There are lots of ways to make your typical pumpkin recipes into satisfying Keto treats. If you're following a ketogenic diet, make sure to choose keto-friendly recipes that will keep your blood sugar low and thus help you stay in the state of ketosis.
Is pumpkin keto friendly?
Pumpkin is a higher carb food but thanks to the fiber that is in it, pumpkin is considered a low carb food. That means it has a small net carb amount and that means you can enjoy it on a Keto diet. And believe me, you want to enjoy this low carb food!
You do, however, want to to be mindful of the portion size.
Can I Substitute the Almond Flour for coconut flour?
Some of these recipes call for almond flour. There are reasons that some people might not want to use almond flour, whether they don't have it on hand, have a nut allergy or simply do not like the taste, but you can not always swap almond flour for coconut flour. It is not a 1 to 1 change. So unless you know the substitution values, I do not recommend it.
How to cook pumpkin
Most people prefer to just buy canned pumpkin. I do this often, especially when it is on sale. But it is actually very easy to cook your own pumpkin to make pumpkin puree. To make your own pumpkin puree, simply cut the pumpkin in half. Remove the seeds, place the pumpkin cut side down on a baking sheet, preferably lined with parchment paper.
Place the baking sheet in a preheated 350 degree oven and back for 35 to 50 minutes, depending on the size of the pumpkin. Once the pumpkin is soft, let it cool and scoop out the inside of the pumpkin. Then, mash the inside into a puree or use a food processor.
The Best Keto Pumpkin Recipes to Enjoy this Fall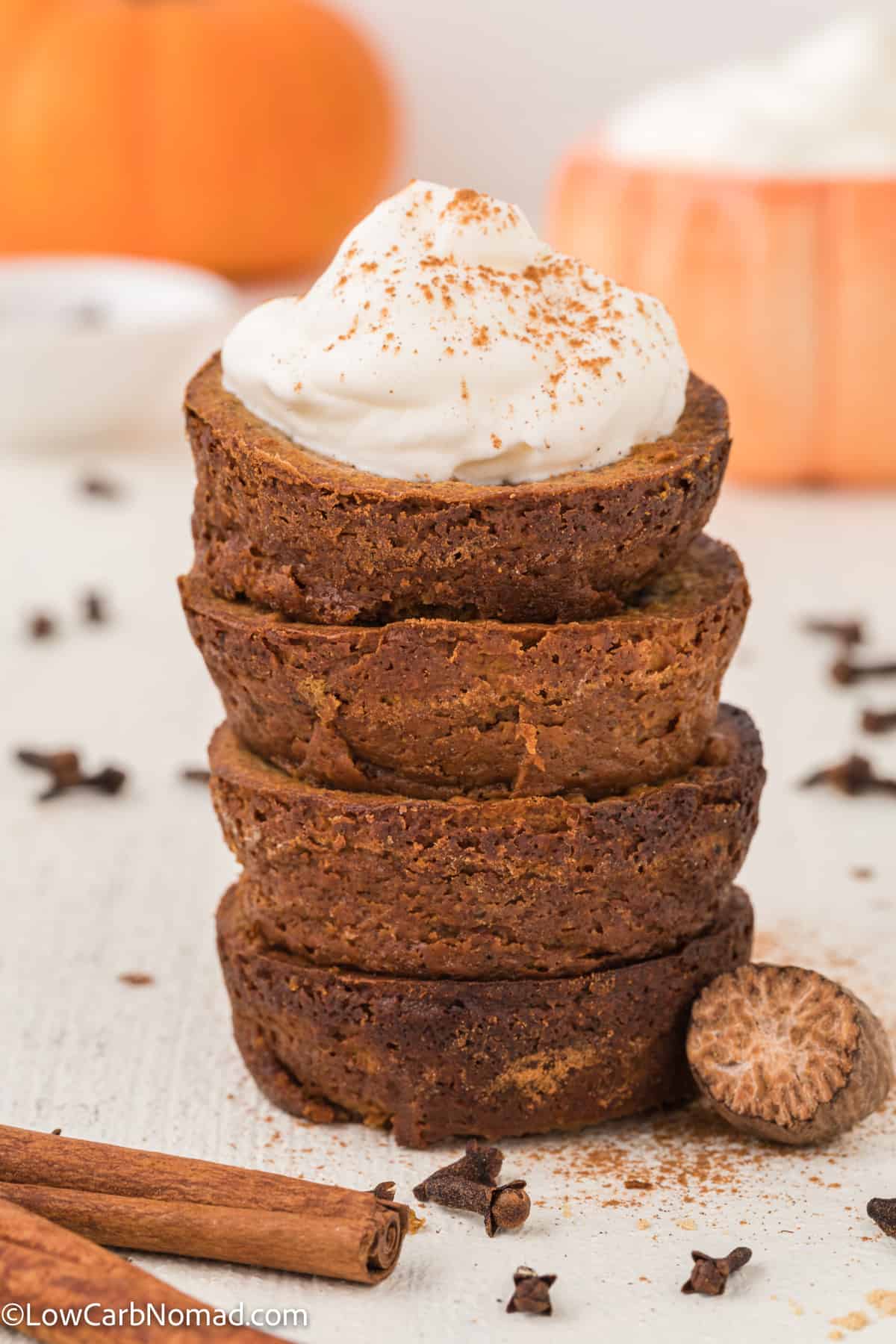 This crustless pumpkin pie recipe has a rich pumpkin filling, they're perfect for your next holiday gathering or just because. If you are like me, you will be enjoying pumpkin pie all year long.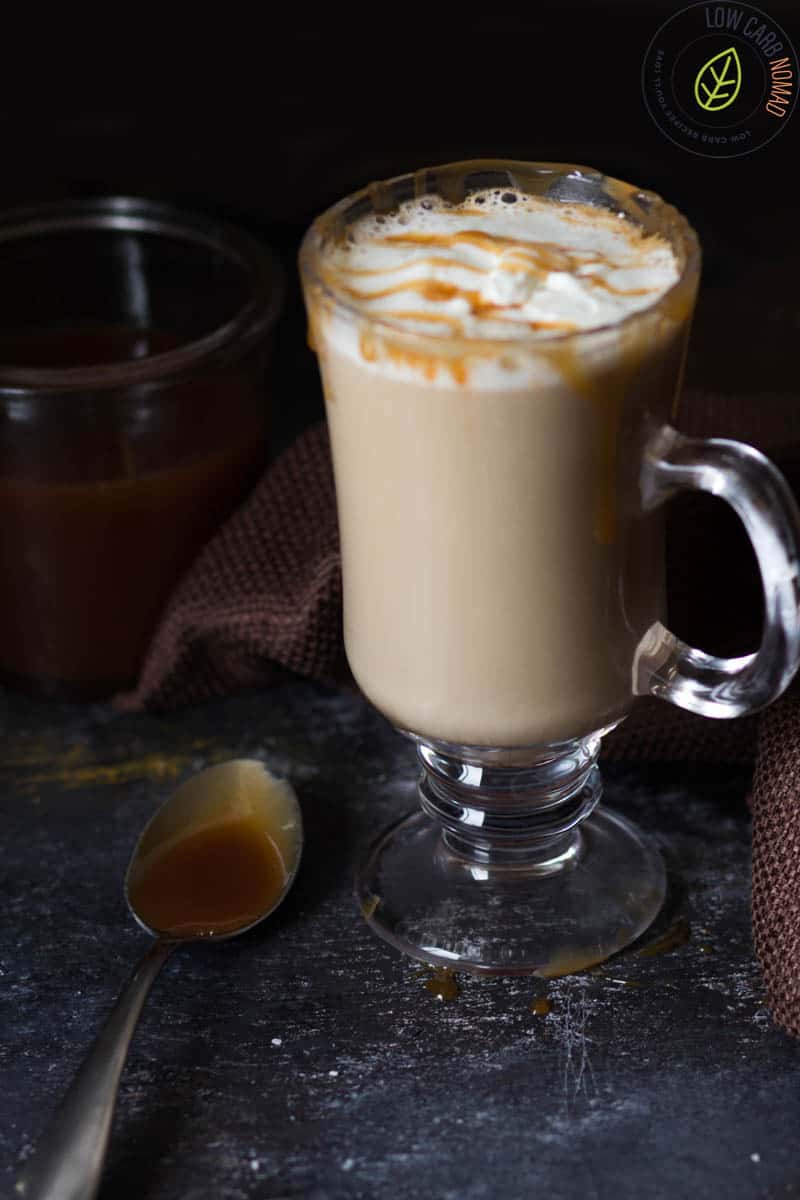 The perfect drink for your morning coffee break, this low carb salted caramel pumpkin spice latte is the ultimate treat. You'll love that it's keto-friendly and nutritious too!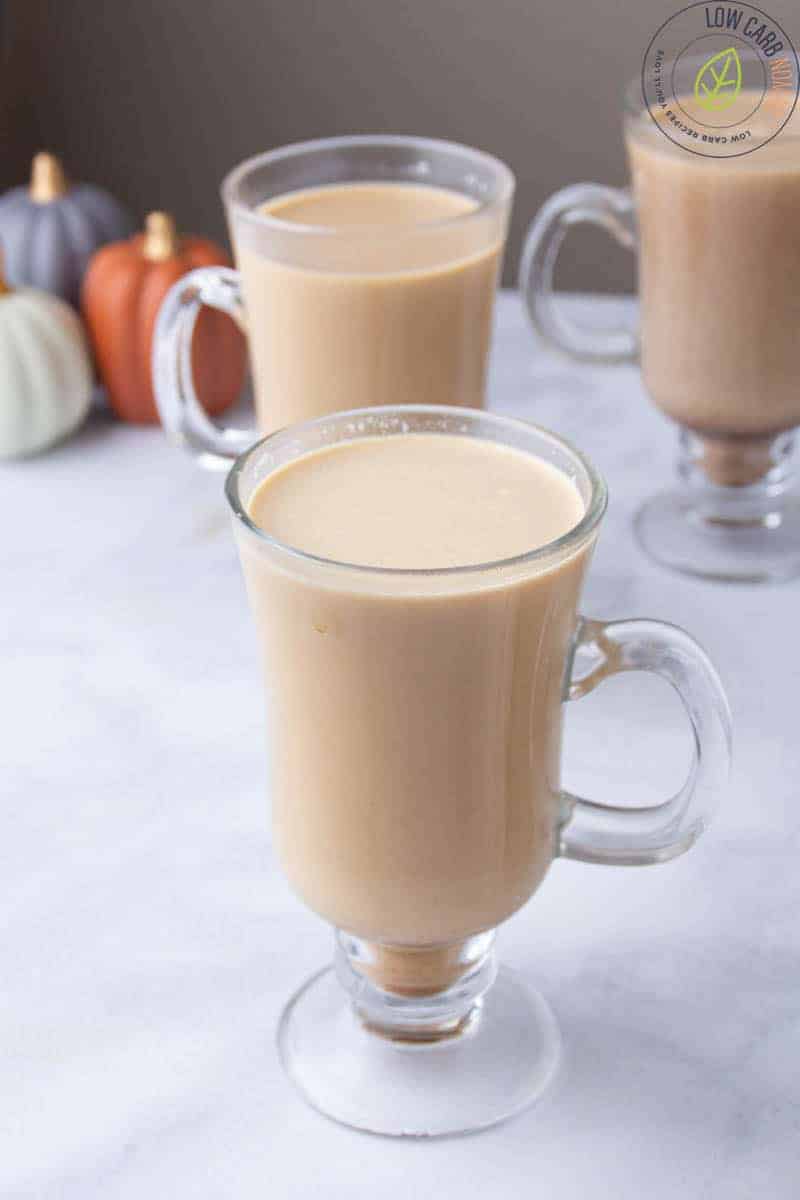 Make this keto pumpkin spice latte hot or add some ice to make it and iced pumpkin spice latte!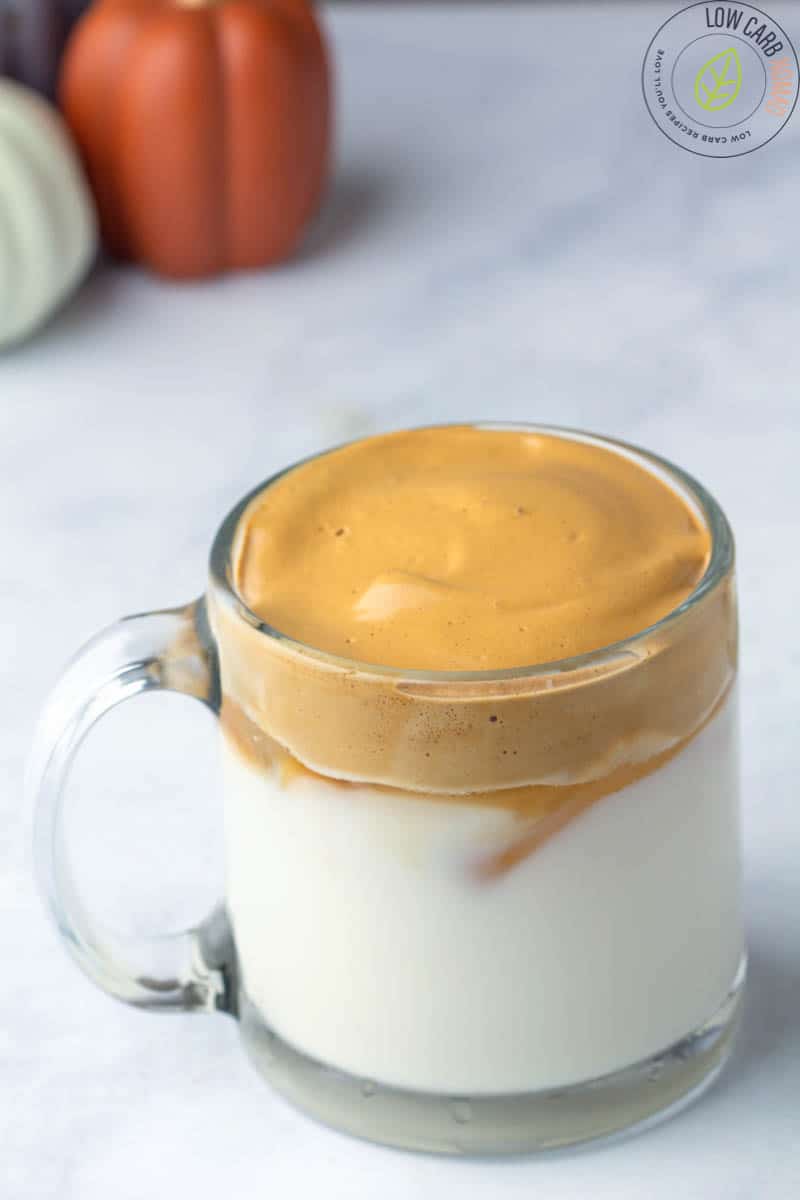 This Low Carb Pumpkin Spice Whipped Coffee is the perfect low-carb way to enjoy your favorite fall flavors! If you love Keto whipped cream and spice then this drink will be a hit at any time.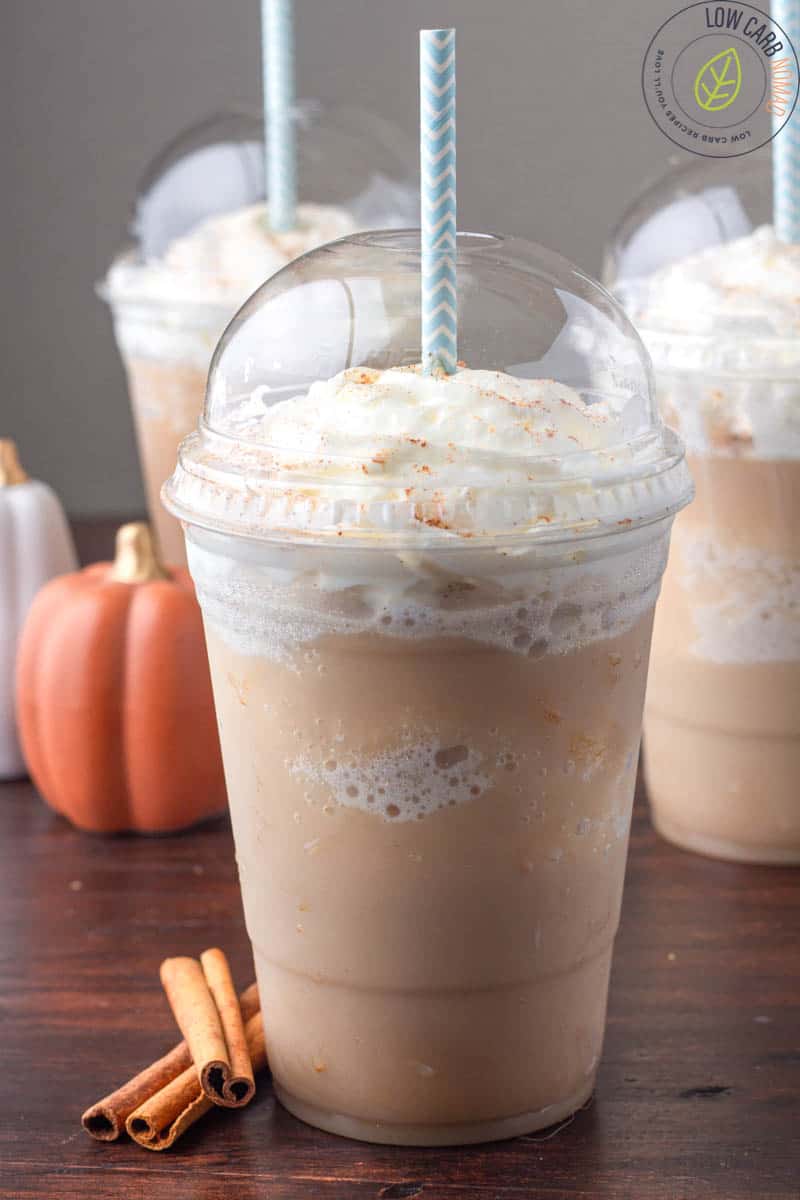 With just 5 ingredients, you can make this Low Carb Pumpkin Spice Frappuccino at home! This sugar free drink tastes better than the coffee shop.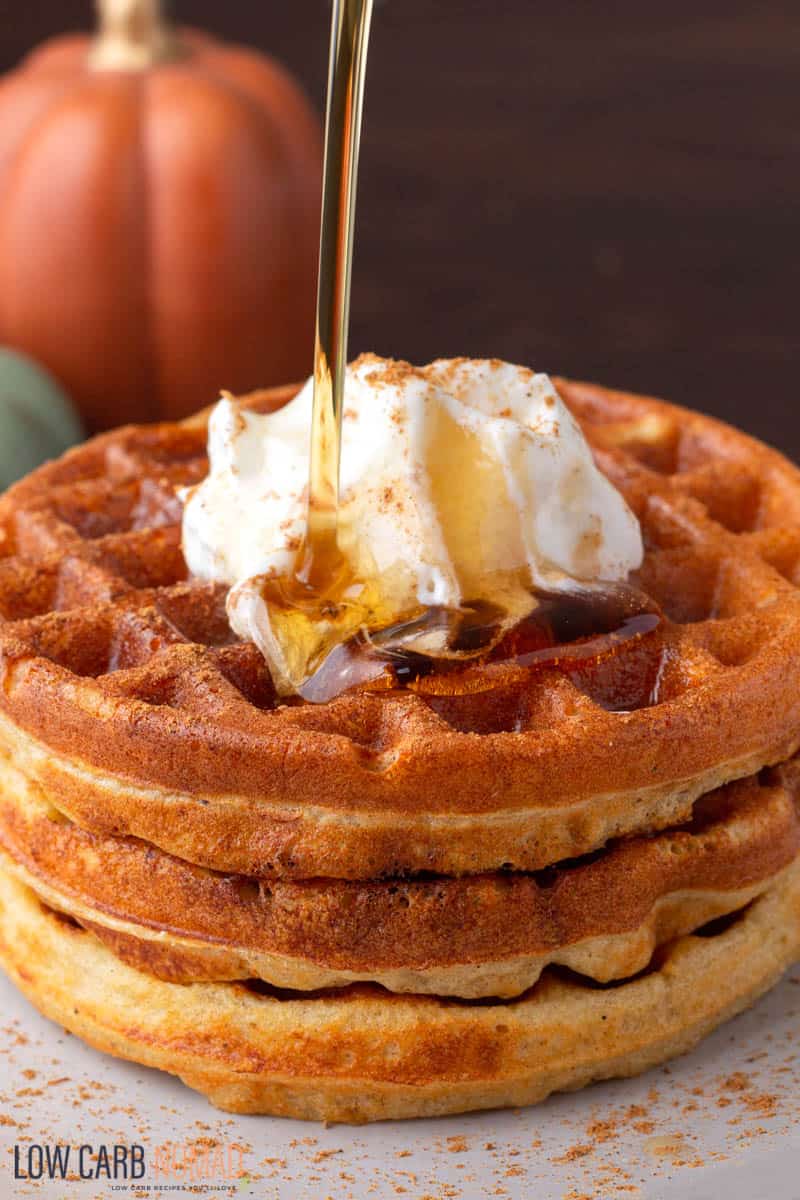 These pumpkin spice chaffles are perfect for pumpkin spice season that is about to hit us! With a few changes to the classic chaffle recipe, you can have an amazing pumpkin spice keto waffle that is perfect for breakfast or dessert!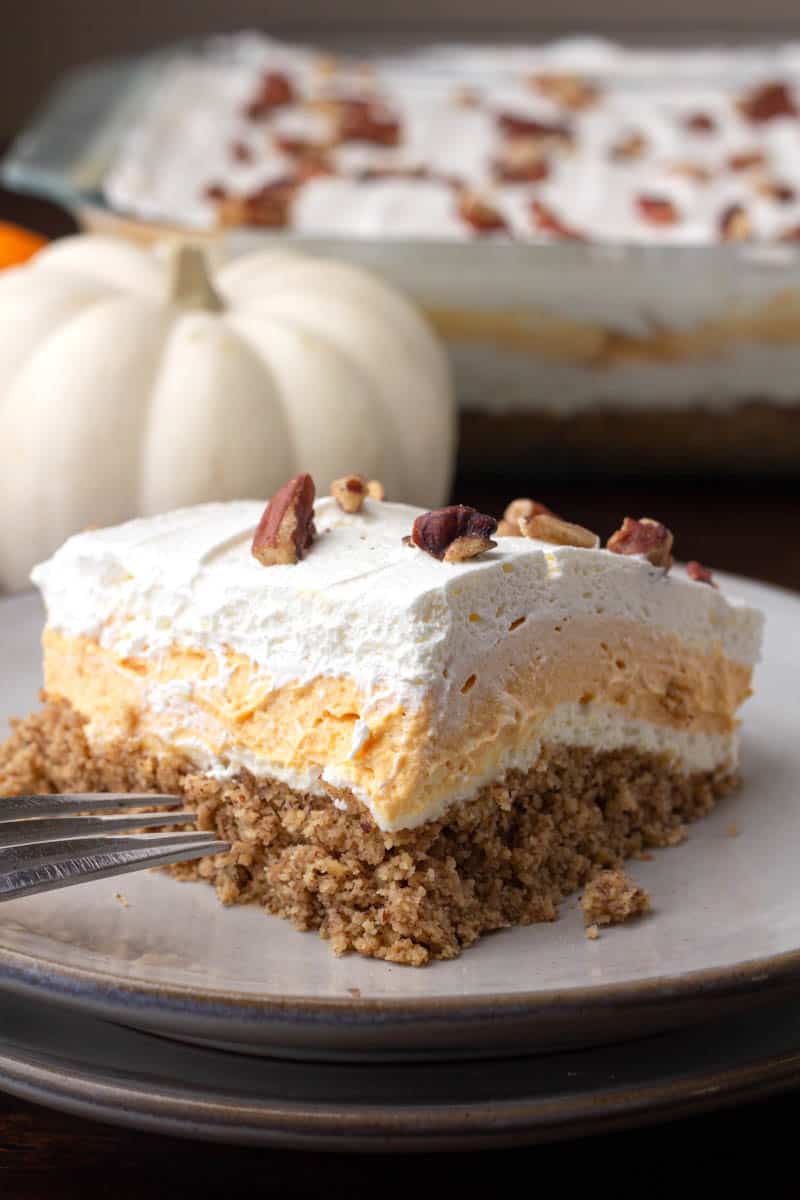 This keto pumpkin dessert lasagna is the perfect low carb fall dish. It has 4 layers of deliciousness, with a cheesecake and whipped cream on top!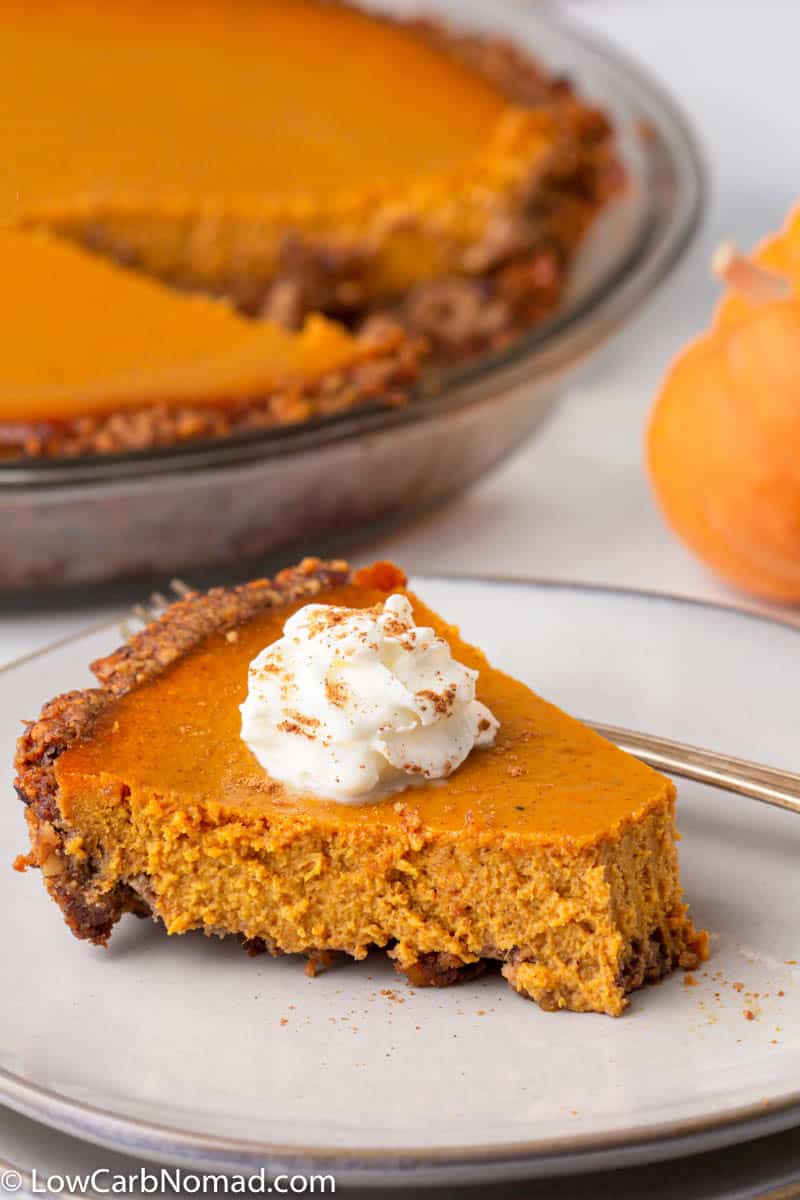 Keto pumpkin pie with walnut crust is the best low carb recipe ever. All of your favorite fall flavors in one deliciously sweet, keto-friendly slice!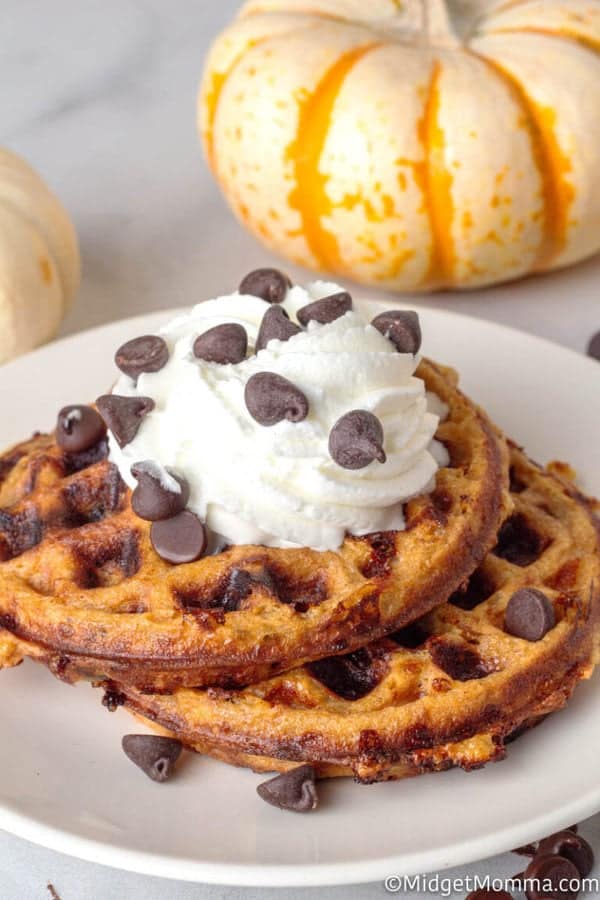 Pumpkin Chocolate Chip Chaffles are so amazing! This fall chaffle recipe is made with a chocolatey pumpkin filling that will fill you up in more ways than one. With no added sugar or salt, these waffles taste just like an ooey gooey cookie inside of every bite- which isn't bad at all because they're also delicious as heck too 🙂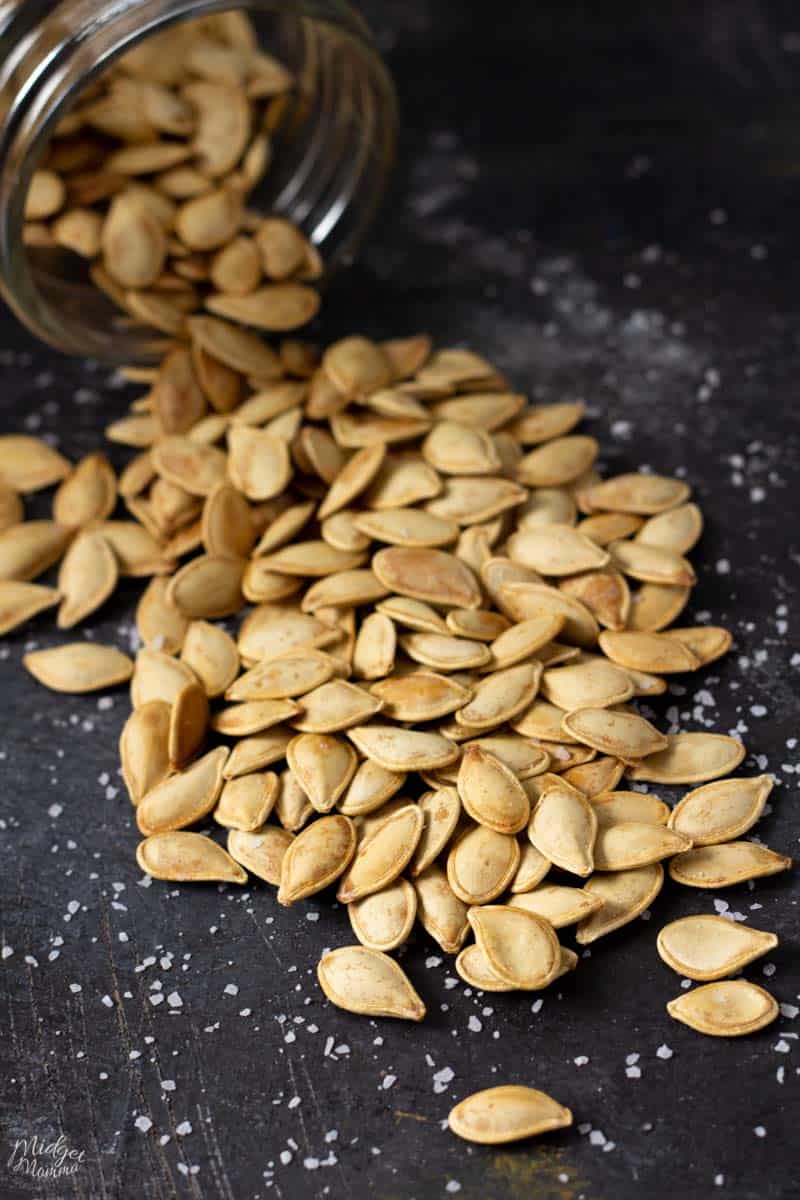 If you are looking for the best pumpkin seed recipe ever, I have it right here! Seriously this roasted seeds couldn't get any easier or tastier.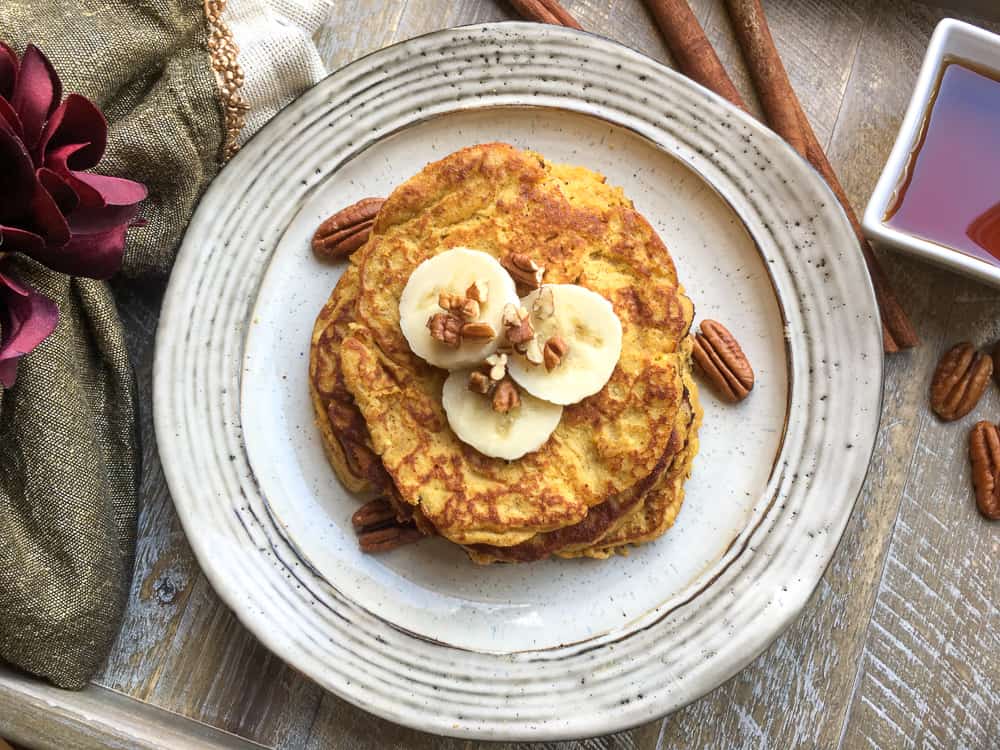 Keto Pumpkin Pancakes– These pumpkin pancakes are an amazing change for breakfast. Made with almond flour, these pancakes will be perfect for fall or all year long.