These Eggplant Pizza Bites are the perfect way to enjoy pizza without all of the carbs. They're gluten-free, and easy to make! The best part is that you can customize it with your favorite toppings like peppers, onion, tomatoes or olives. These low carb eggplant bites are going to leave you filling full and staying on track.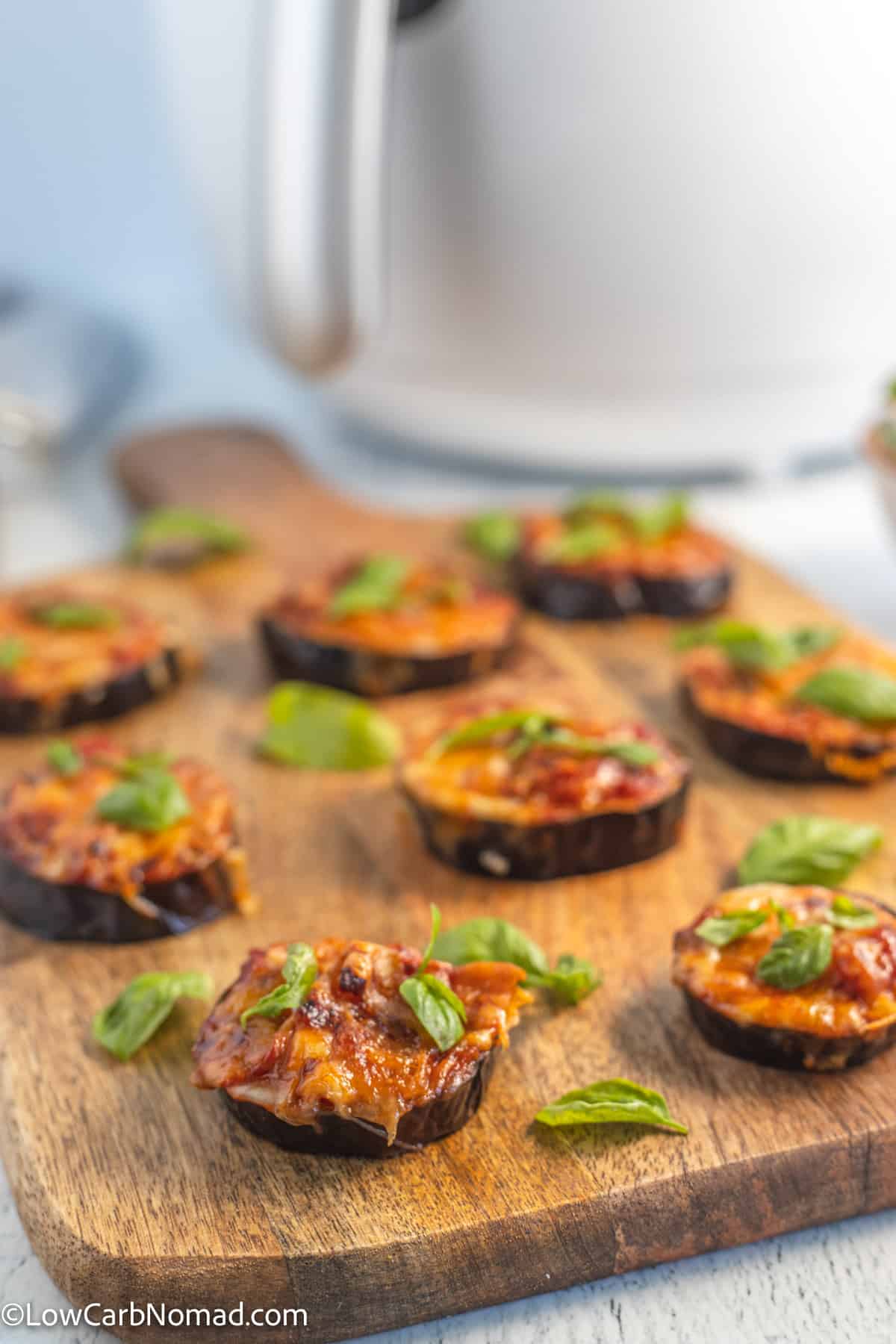 Eggplant Pizza Bites
These eggplant pizza bites are great for a snack or for a meal. While eggplant is not a favorite veggie in our house, the eggplant pizza bites were loved by my whole family.
They are super easy to make, loaded with flavor and my favorite part is that they are cooked in the air fryer! If you don't have an air fryer, I highly suggest getting one as they make things so much easier in the kitchen. I was a slow lover of the air fryer, in fact mine sat in the cabinet for months before I used it and I wish I had used it sooner!
Keto Pizza Recipes You'll Love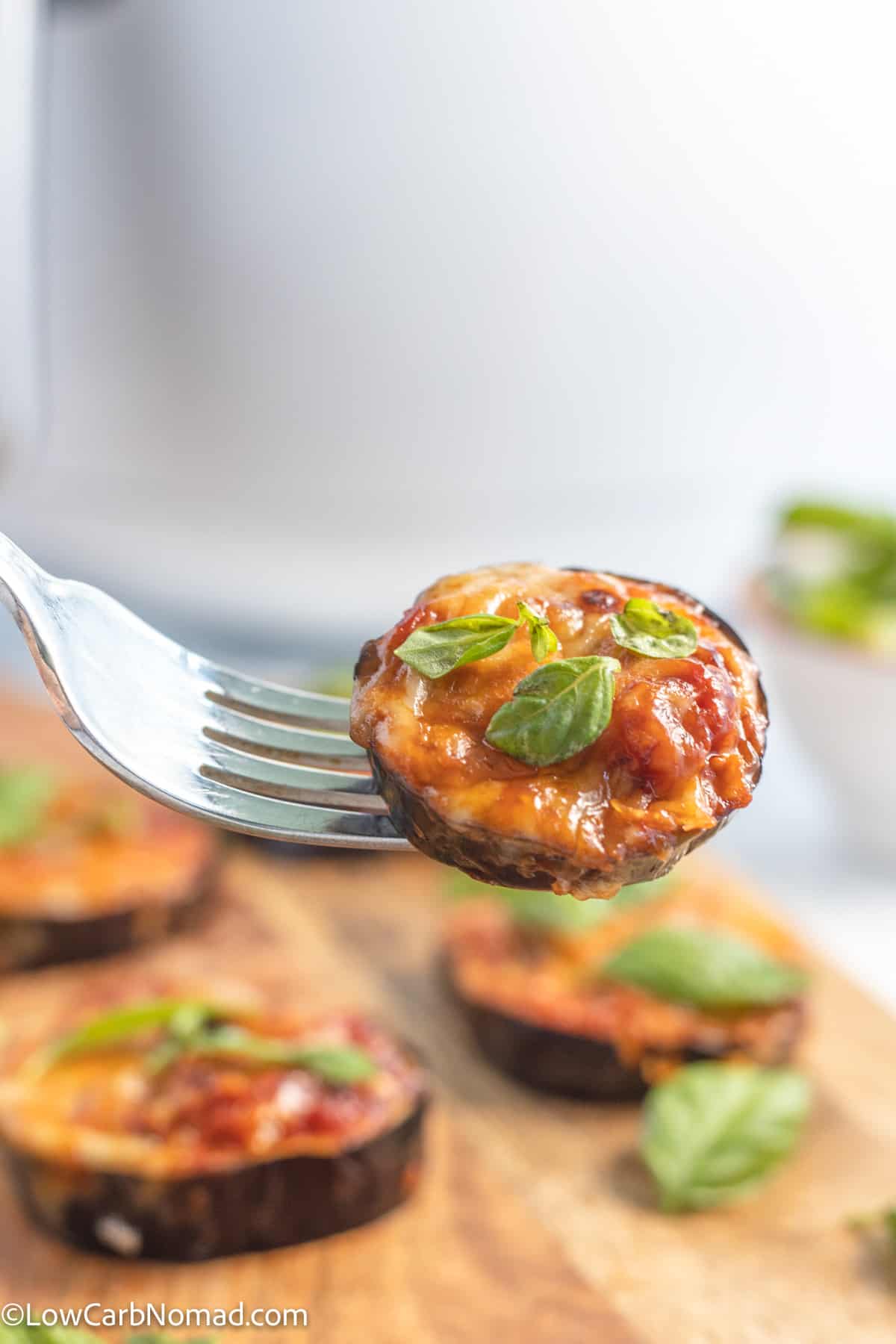 Why You'll Love Keto Pizza Bites
The macros are perfect for Keto!
No need to buy the store bought ones loaded with sugar and empty ingredients
They're super quick to make!
You can customize them so everyone at your table is happy. That means no making separate meals.
They taste AMAZING!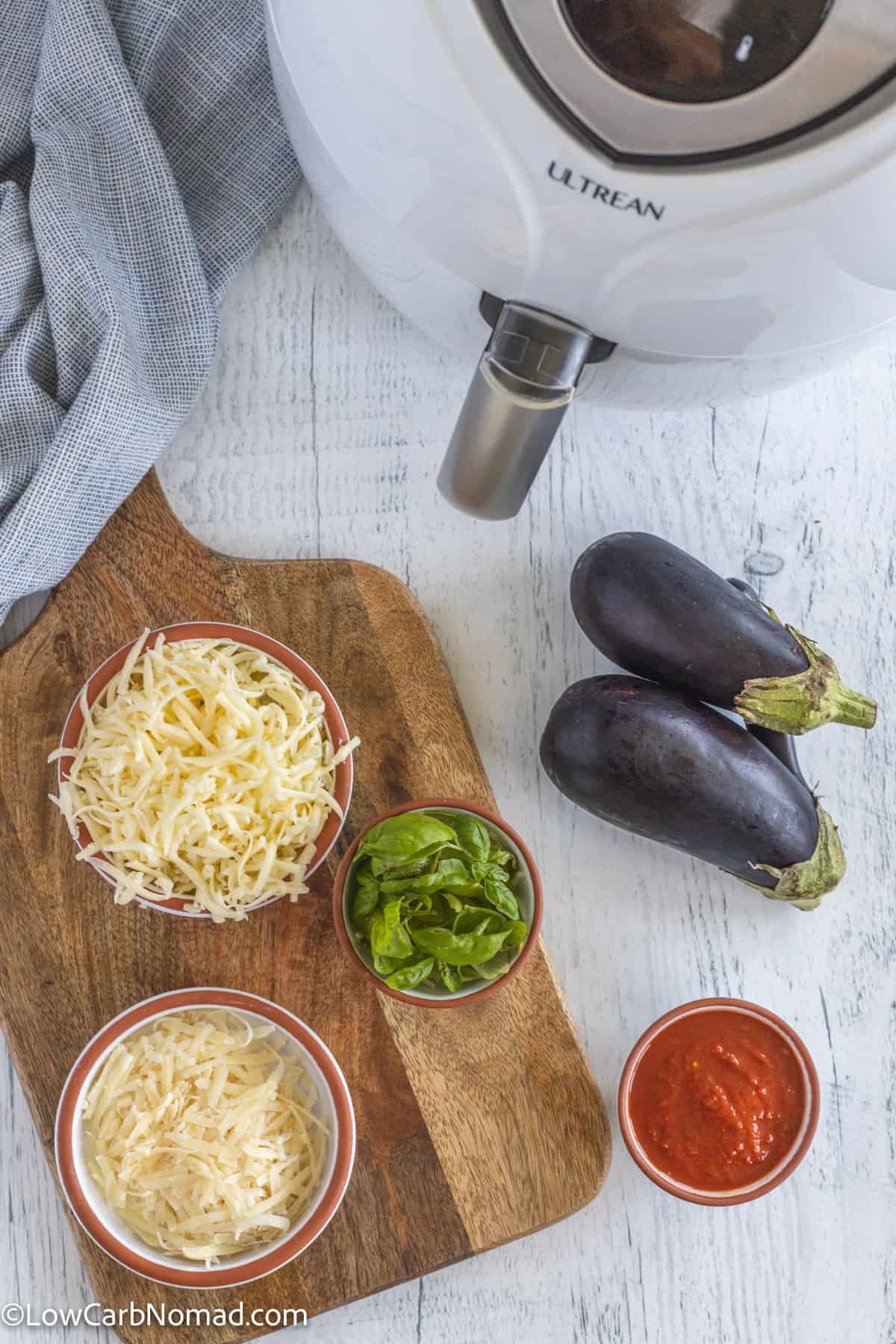 Equipment Needed To Make Eggplant Pizza Bites
Ingredients For Your Eggplant Pizza Bites
2 small eggplants
½ cup keto pizza sauce or tomato sauce
½ cup grated mozzarella cheese
¼ cup grated parmesan cheese
Fresh basil to garnish
How To Make A Low Carb Eggplant Pizza Bites
Wash and cut the eggplant in slices about ¼ inch.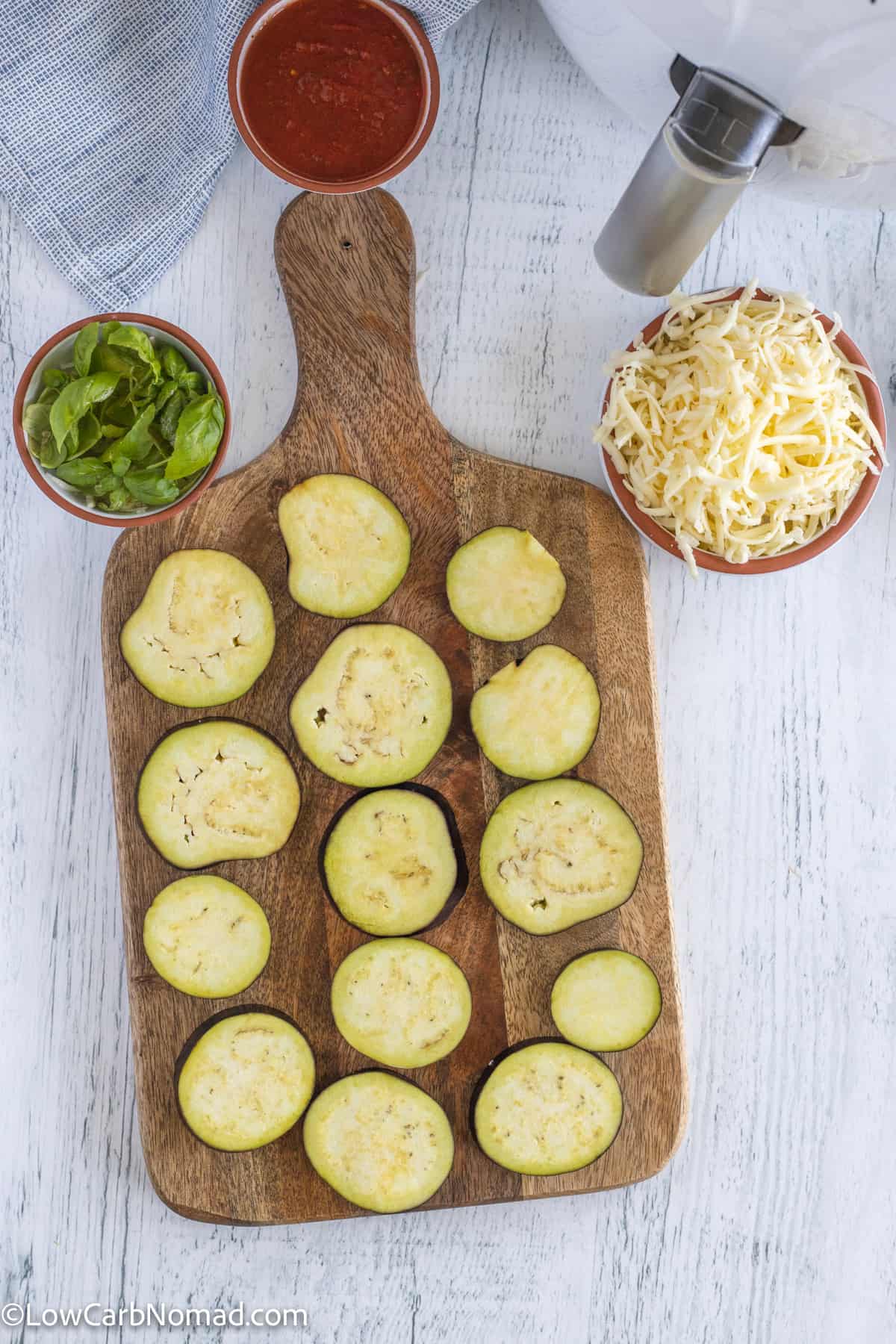 Add tomato sauce on all slices, followed by the mozzarella and Parmesan cheese.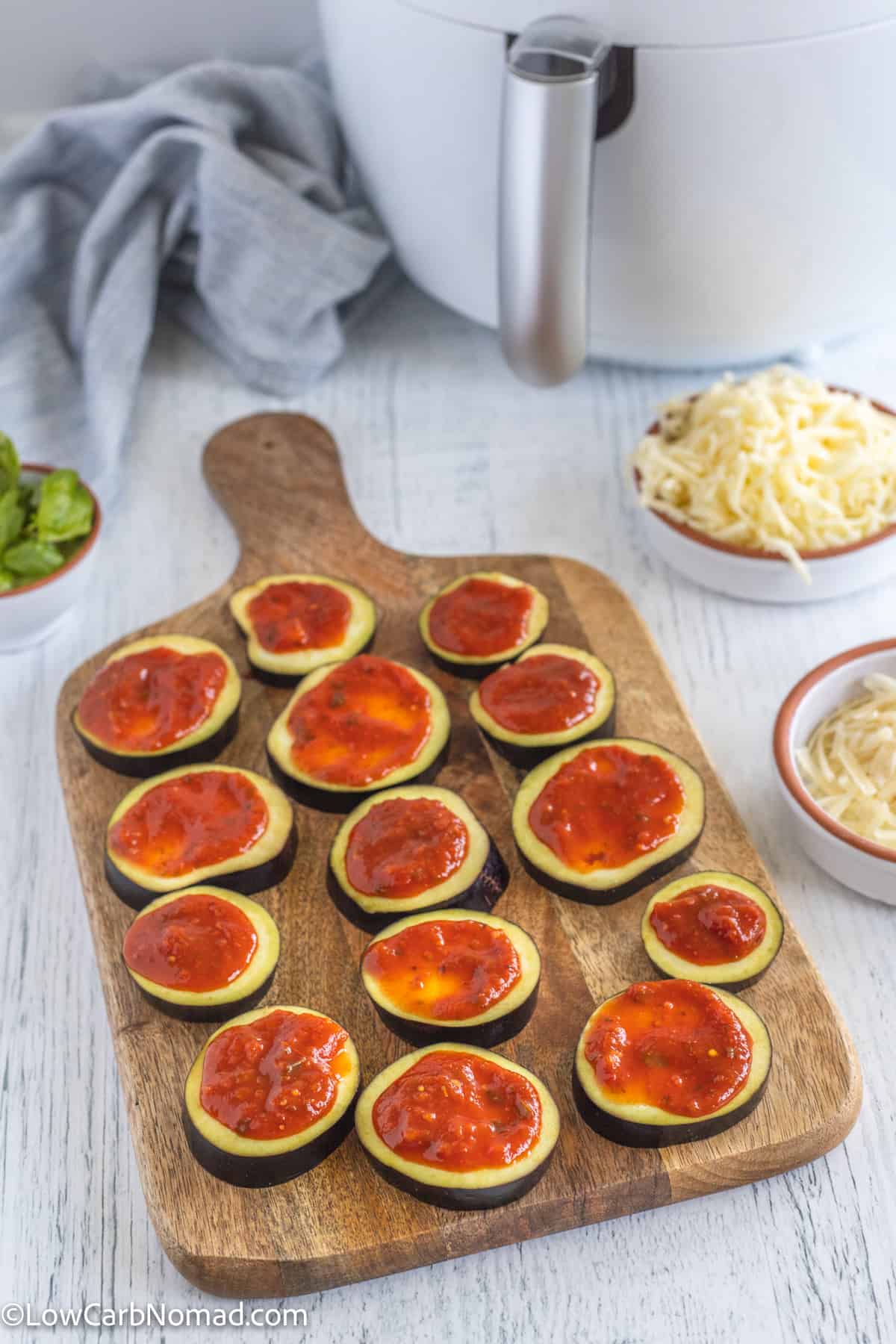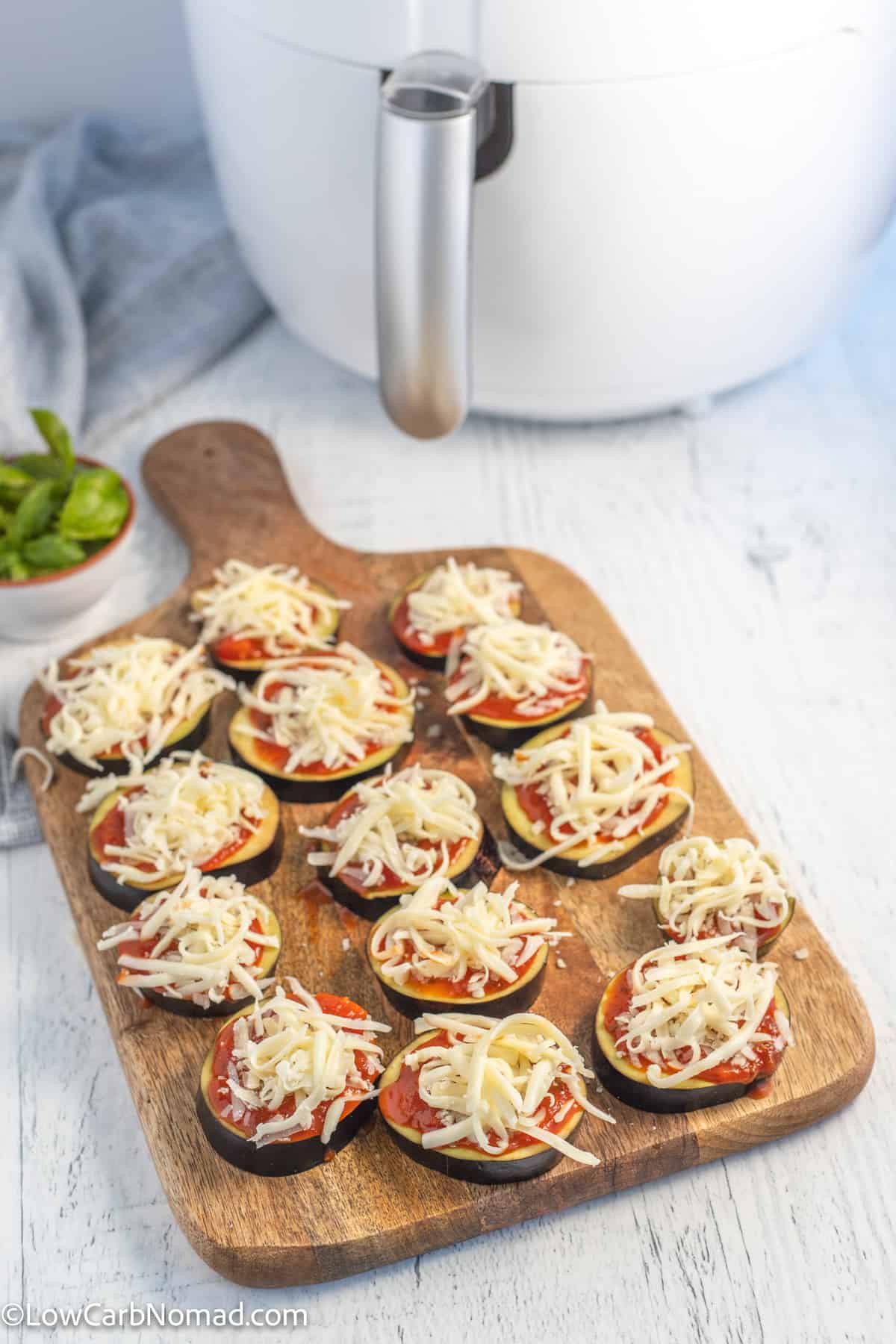 Place in a single layer in the basket of the air fryer (you will need to do it in two batches).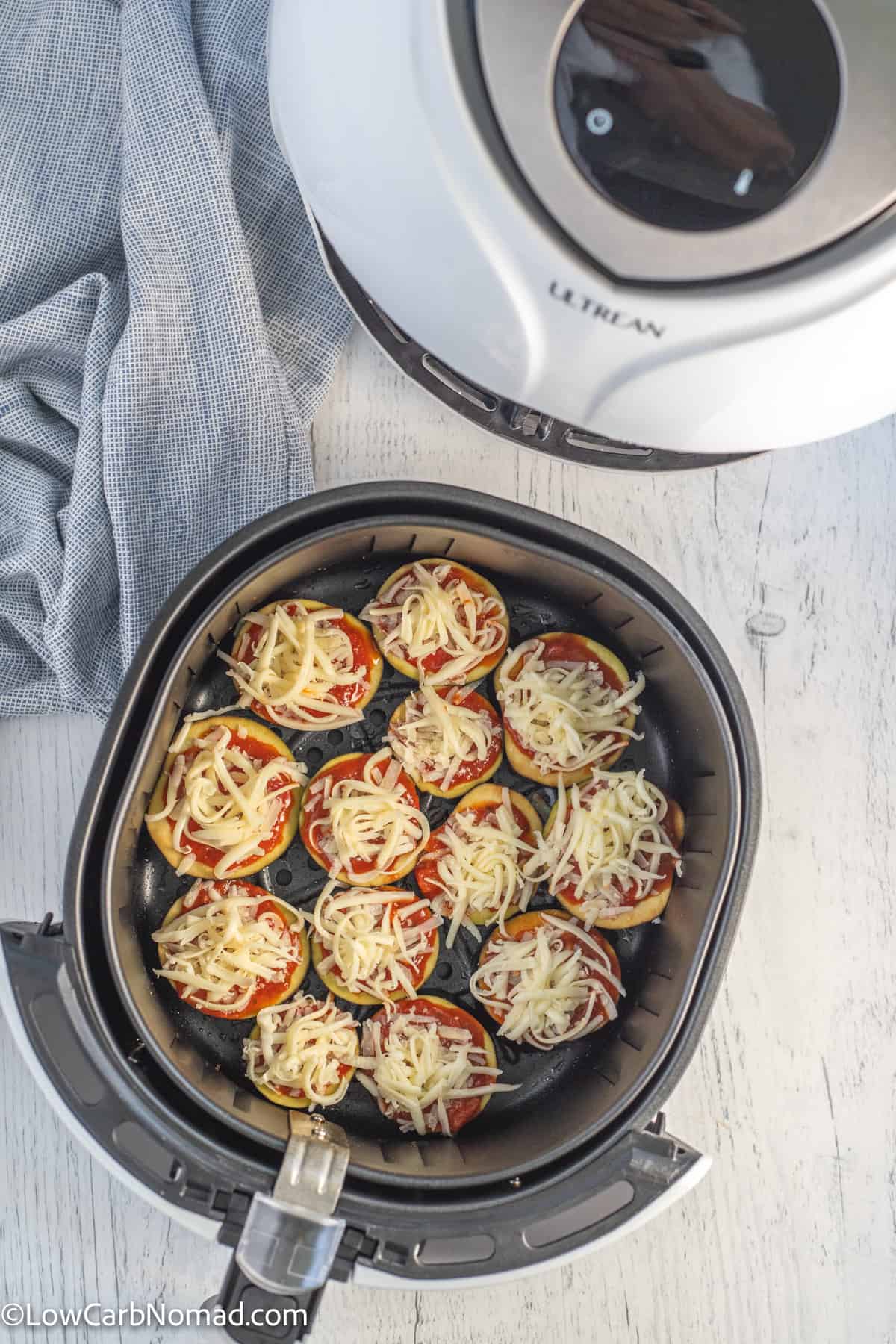 Select 400 ˚ F and cook for 4 minutes.
Sprinkle with chopped fresh basil.
Serve immediately.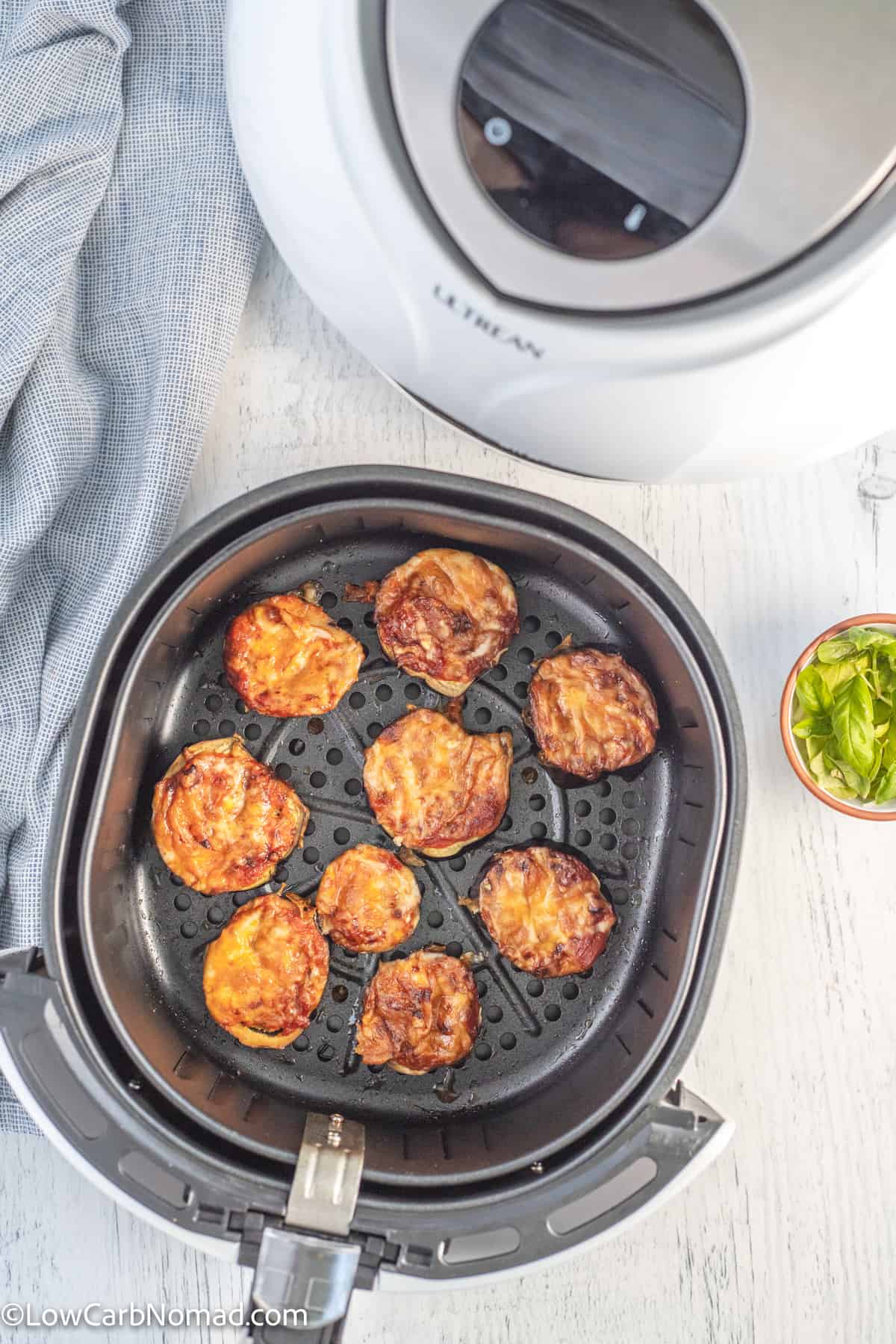 What to Serve/Pair with Your Low Carb Pizza
This low carb pizza can be a meal all on its own. It has everything you could want with it. It has your protein and your veggies. If you are looking for something that will go amazing with it, here are a few of my favorite ideas.
When you are choosing to make sides for these Air Fryer Keto Pizzas, you want to keep it simple. A side salad would work perfectly. So would Low Carb Keto Coleslaw Recipe or Dill Cucumber Salad
You can't forget dessert. It completes the meal. These mini pizzas would be perfect with Keto Chocolate Almond Bark if you need a candy fix or Keto Lemon Bars.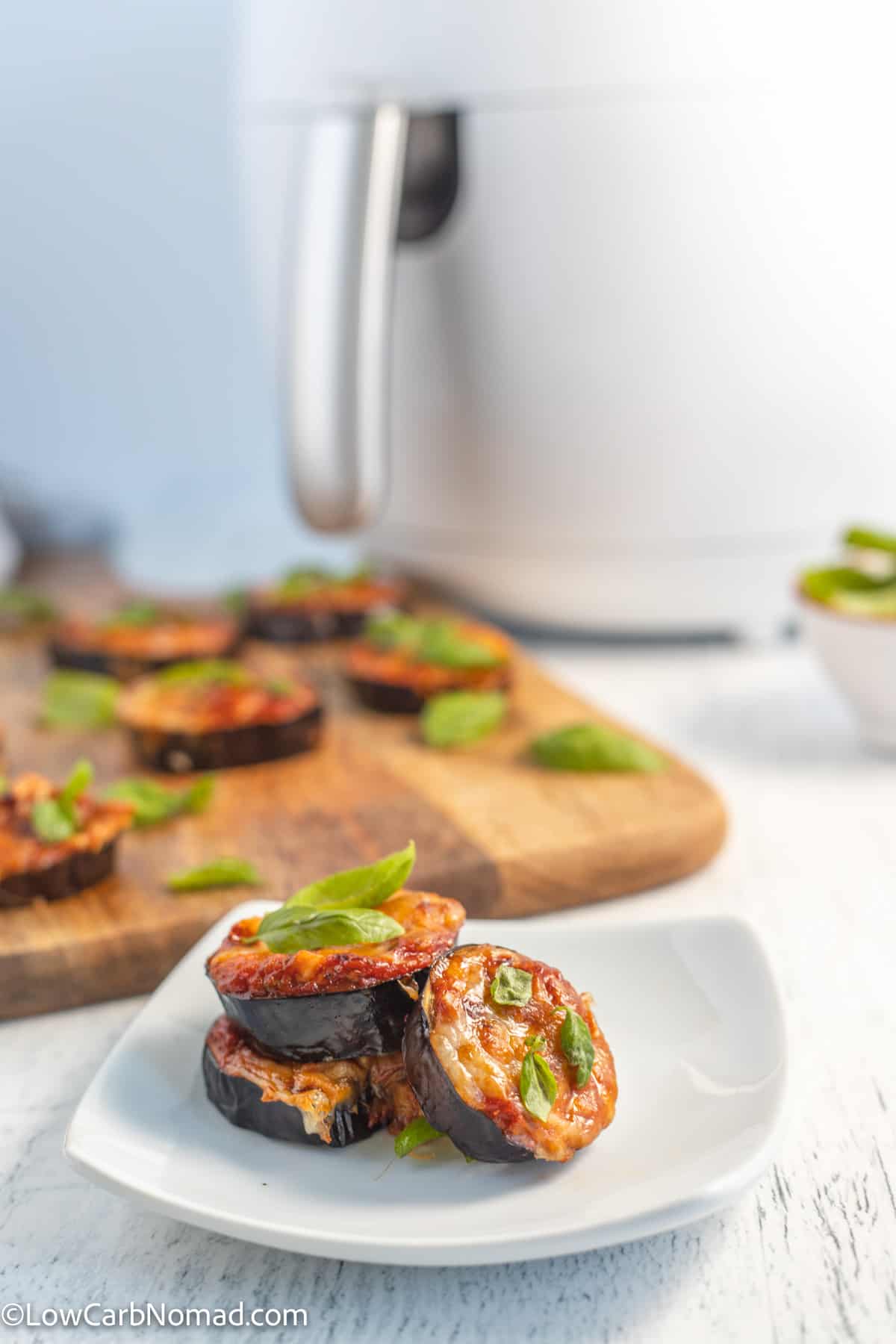 What Keto Friendly Pizza Sauce should I use?
I like a saucy pizza, so you can cut down on the amount of sauce that you use when you are making this easy crustless pizza recipe and that will also cut down on the carbs as well. No matter how much sauce you are using you are going to want to use a low carb sauce. Look for a sauce that is sugar-free, or no sugar added.
I personally prefer to use a low carb marinara sauce when making this recipe. You can use your favorite sauce, or try out one of the low carb marinara sauces that we enjoy using. You can also use homemade marinara sauce if you want to. I like to make and freeze homemade marinara sauce so I have it on hand when I want to use it.
Popular Substitutions & Additions
Want to add something to your low carb pizza. Absolutely, you can change up the toppings for your pizza easily. Remember you only have a small amount of space, but you can certainly get a topping or two on there.
If you are looking for low carb toppings, check out these tasty topping ideas!
bacon
bell peppers – green bell pepper have less carbs then red and yellow.
ham
sausage
onions
pepperoni
mushrooms
spinach
Turkey Pepperoni
Best Way To Store Keto Pizza Bites Leftover
Once the keto pizza bites have cooled, you want to move them to an airtight container and store them in the refrigerator. You can also store them on a plate wrapped well in plastic.
How Long Will Air Fryer Eggplant Pizza Last In the Fridge?
The eggplant pizzas will last for about 3 days in the refrigerator. Make sure to keep them covered well so that they last the longest.
Can I Freeze these pizza bites
I wouldn't recommend freezing these keto pizza bites. The eggplant will change texture once it is frozen. It is best to eat these eggplant bites right away or within 3 days of Air Frying them.
How To Reheat Eggplant Pizza Bites
When you are ready to eat the leftover low carb pizza bites, you can actually enjoy them cold if you like. I know it sounds weird but they are actually really good. However, if you prefer your pizza hot, you can reheat the pizza bites in the oven or the Air Fryer again. You can also microwave them. Heat them just until warm though so that the eggplant doesn't get mushy.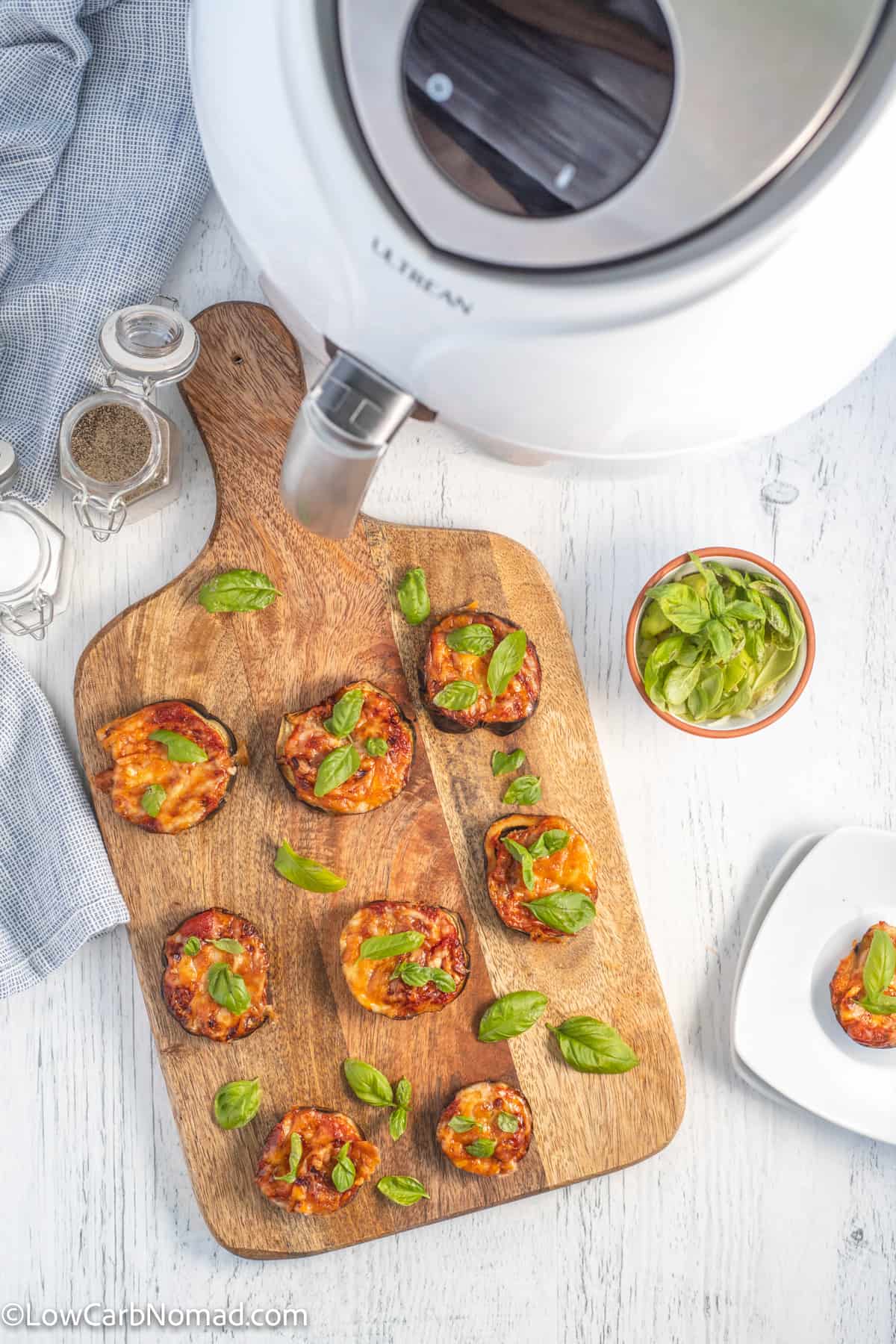 FAQs
Should you peel eggplant before roasting?
You do not have to peel the eggplant before roasting it. The skin naturally cooks down and is very soft when cooked. As an added bonus, the skin is really good for you as it is packed with lots of vitamins, minerals and antioxidants.
Are these Eggplant Pizzas Keto?
Yes, These keto pizza bites are absolutely Keto! Eggplant comes in at 2.3 net carbs per cup so it is perfect for the keto diet.
Is Eggplant Good for Losing Weight?
Eggplant can help you lose weight for a few different reasons. First, the eggplant itself is rich in fiber. This will keep you full which means that you will not eat other snack throughout the day. Also, eggplants are low carb vegetables which makes them great for low-carb diet plans like Keto! Eggplants are also a great source of potassium which can help with cramps and headaches!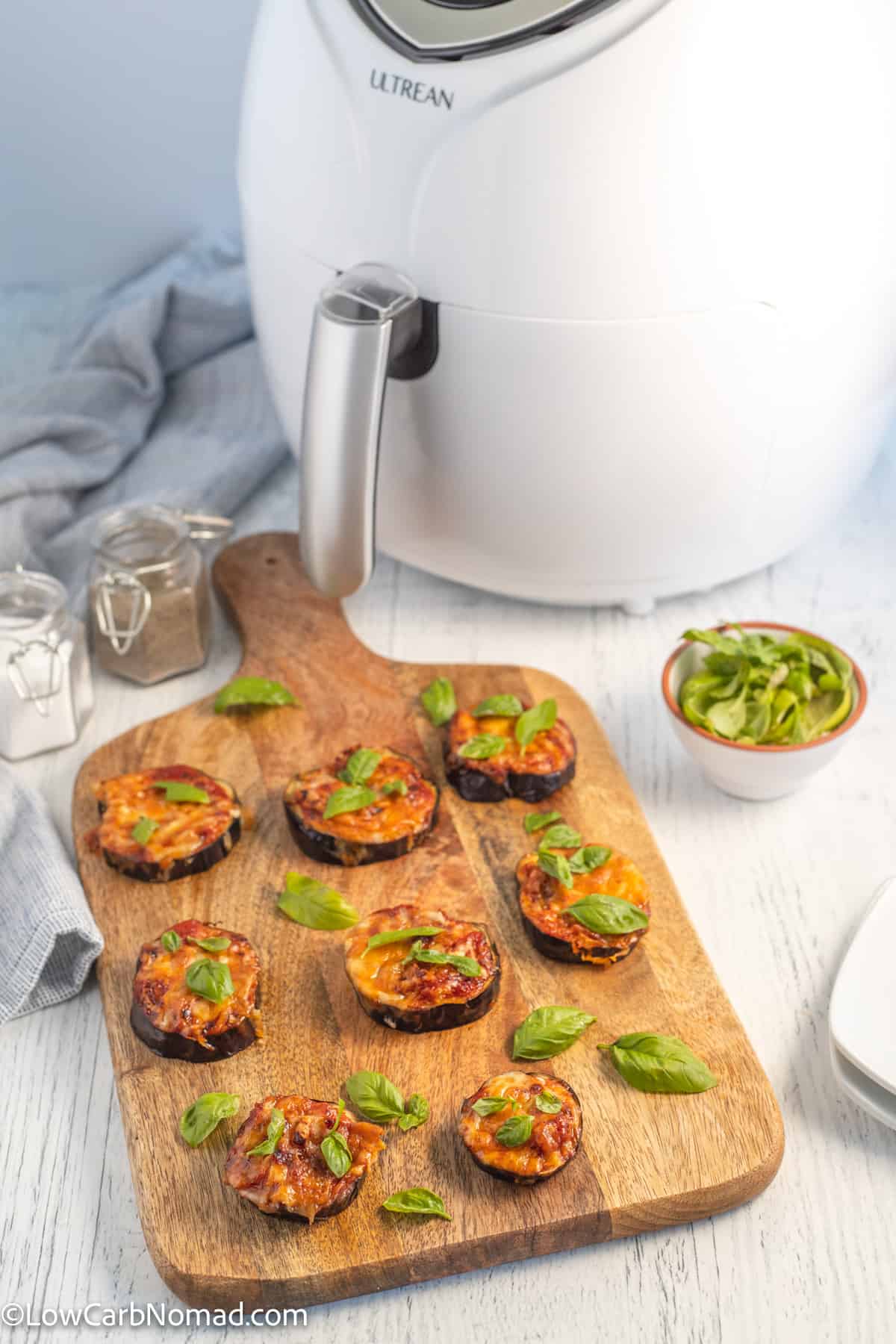 Tips for Making this Recipe
Using small eggplants saves you from having to cook the eggplant slices before; the ingredients of the bites are all cooked simultaneously.
Wash and dry. You want the eggplant to be dried off when you put the toppings on the slices.
Read your instructions. Some air fryers will require you to use cooking spray when you are using them, others don't so be sure to check the specific directions for yours.
What is the best Air Fryer?
There are many different air fryers out there, amongst our team of foodies our favorites are the Cuisinart Air Fryer and convection oven combo and the Ninja Foodi 9-in-One. If you don't have either of them you can use the air fryer you have, but if you are looking to get started with cooking food in an air fryer then our suggestion is that you want to get one of those.
Low Carb Air Fryer Recipes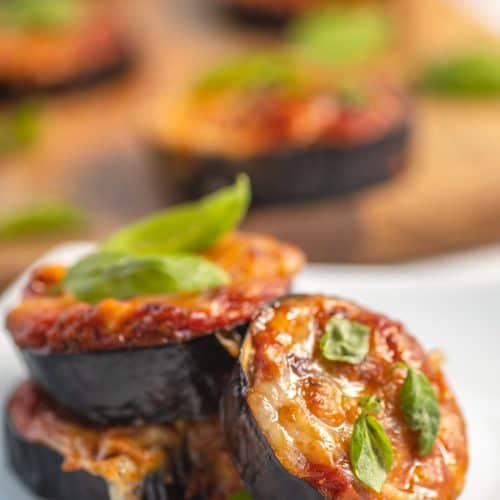 Eggplant Pizza Bites
These Eggplant Pizza Bites are the perfect way to enjoy pizza without all of the carbs. They're gluten-free, vegan and easy to make! The best part is that you can customize it with your favorite toppings like peppers, onion, tomatoes or olives. These low carb eggplant bites are going to leave you filling full and staying on track.
Print
Pin
Rate
Ingredients
2

small eggplants

½

cup

keto pizza sauce or tomato sauce

½

cup

grated mozzarella cheese

¼

cup

grated parmesan cheese

Fresh basil to garnish
Nutrition
Calories:
27
kcal
|
Carbohydrates:
3
g
|
Protein:
2
g
|
Fat:
1
g
|
Saturated Fat:
1
g
|
Polyunsaturated Fat:
1
g
|
Monounsaturated Fat:
1
g
|
Cholesterol:
3
mg
|
Sodium:
70
mg
|
Potassium:
129
mg
|
Fiber:
1
g
|
Sugar:
2
g
|
Vitamin A:
67
IU
|
Vitamin C:
1
mg
|
Calcium:
33
mg
|
Iron:
1
mg