This keto lemon pie is the perfect refreshing dessert. Tart lemon pie filling in a walnut pie crust topped with whipped cream if you choose.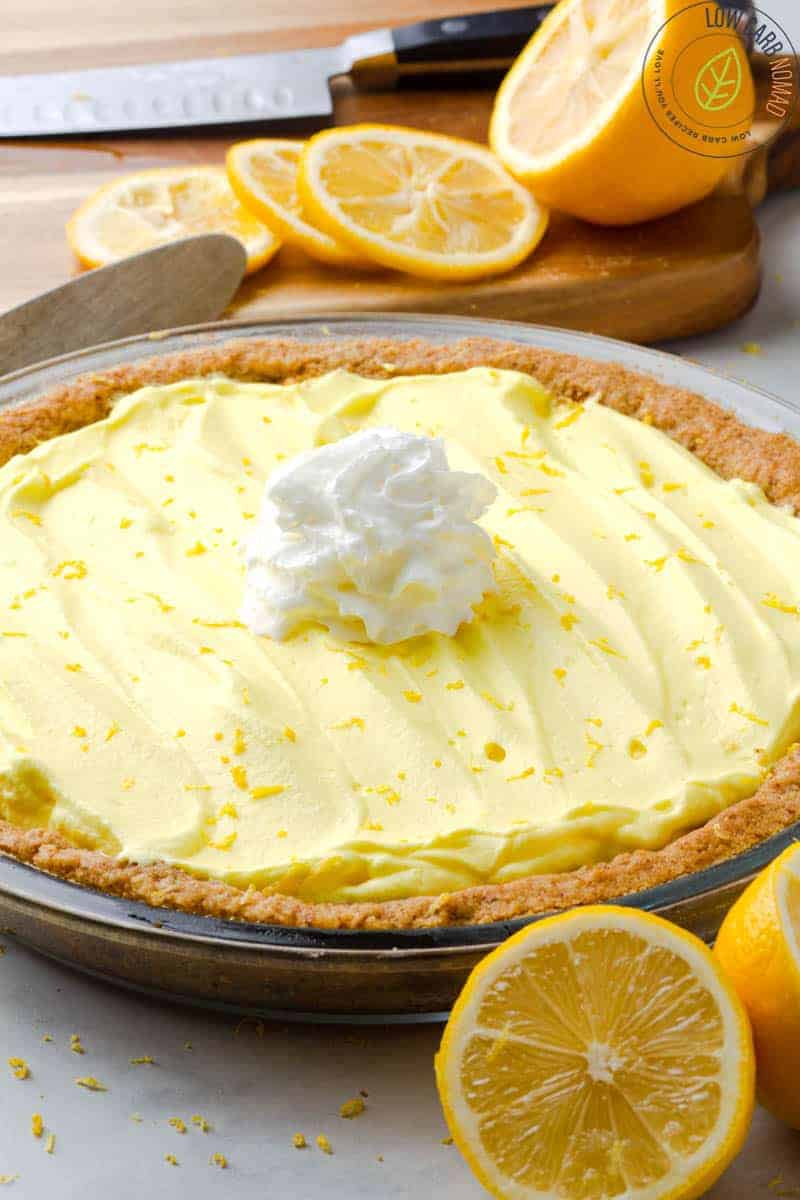 Keto Lemon Pie Recipe
If you are looking for an easy keto lemon dessert then you have to try this keto lemon pie! The perfect balance of flavors with the tart lemon pie filling in my favorite keto walnut pie crust topped with the best sugar free whipped cream!
You may have noticed a theme here when it comes to keto pies and summery keto desserts. I created the walnut pie crust not to long ago when I created my Low Carb Chocolate mousse pie and I have fallen in love!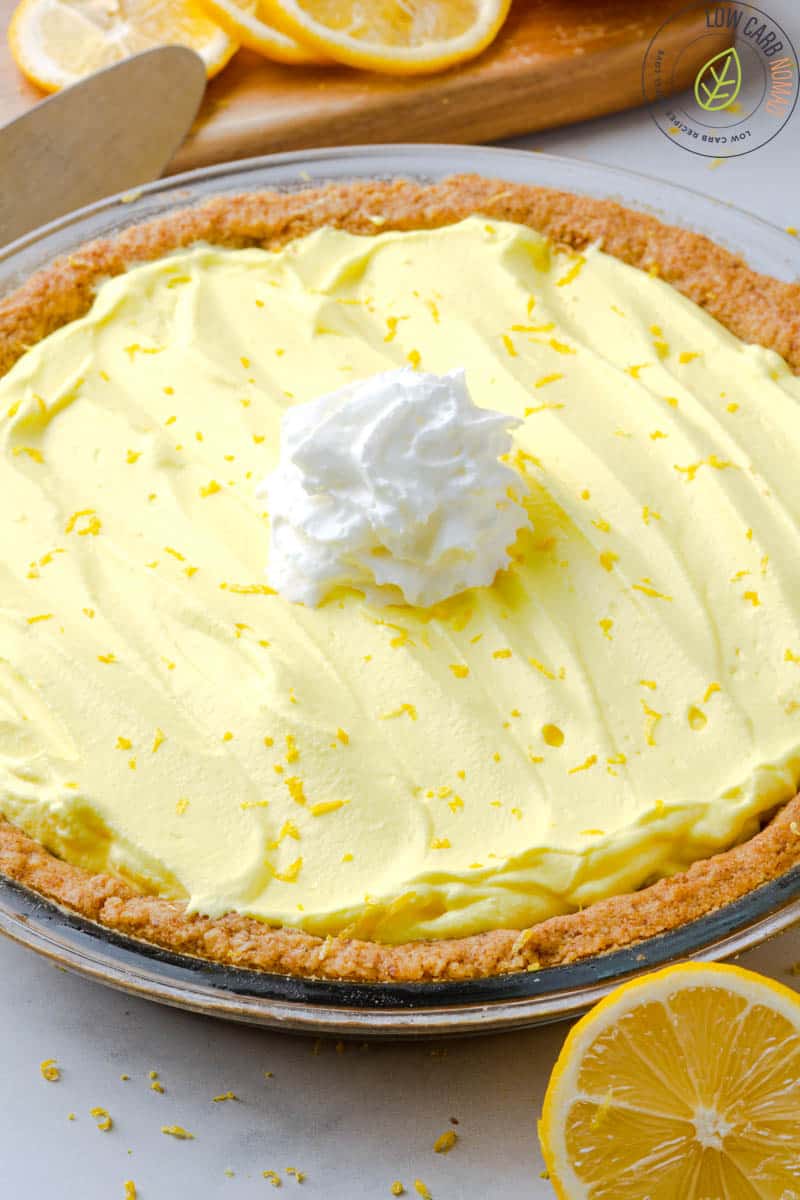 I keep thinking of new amazing low carb desserts to make just so I can keep making the amazing crust. This Low Carb lemon pie is perfect with the walnut crust! The balance of flavors is amazing!
I made my lemon mousse after making this pie and loving how the filling tasted, so if you are not in the mood to make a pie be sure to try my keto lemon mousse.
Fruity Keto Desserts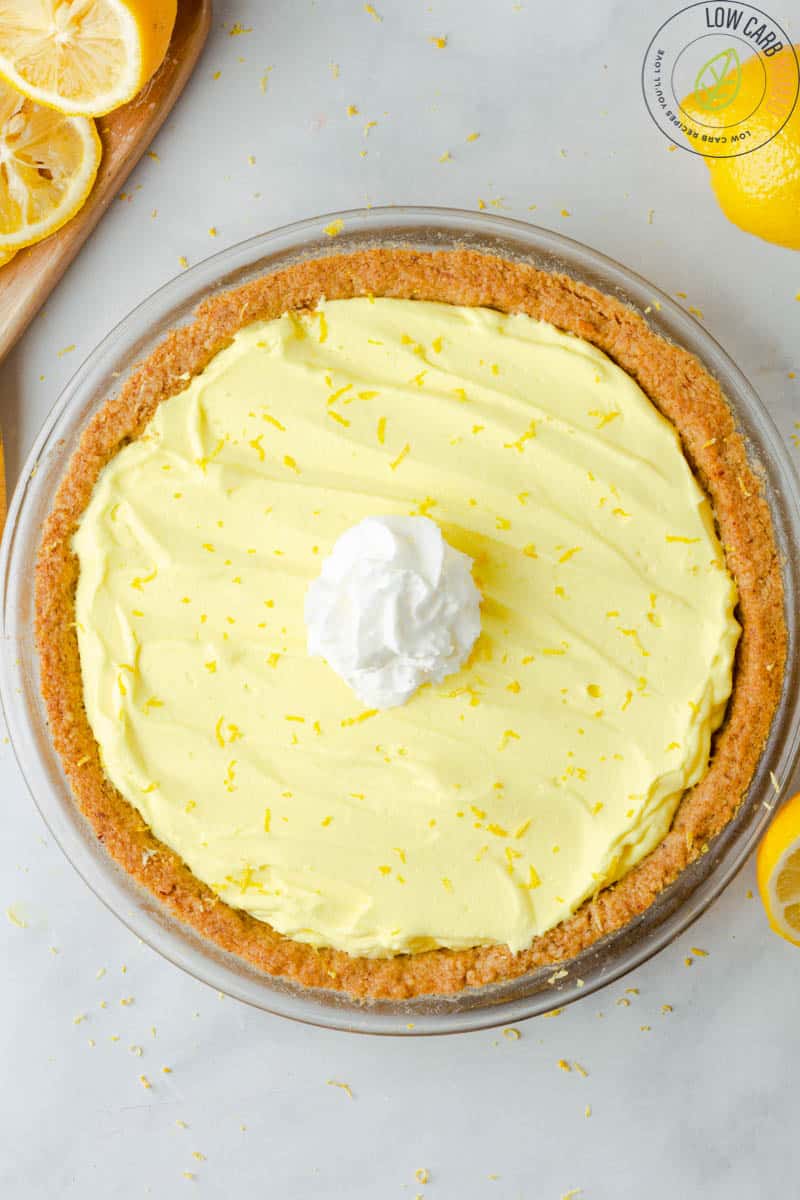 I do have a secret to tell you guys though, I hate squeezing lemons. I love making things like homemade lemonade but the worst part is squeezing them. Yes, I have tried using a juicer instead of my hands but I still do not like doing it.
When I was thinking about making this sugar free lemon pie my first thought was how can I avoid having to squeeze lemons. The solution, lemon extract. It has the perfect flavor and I do not have to squeeze lemons. So if you are worried about having to squeeze lemons, no worries anymore there is no lemon squeezing needed for this easy keto lemon pie.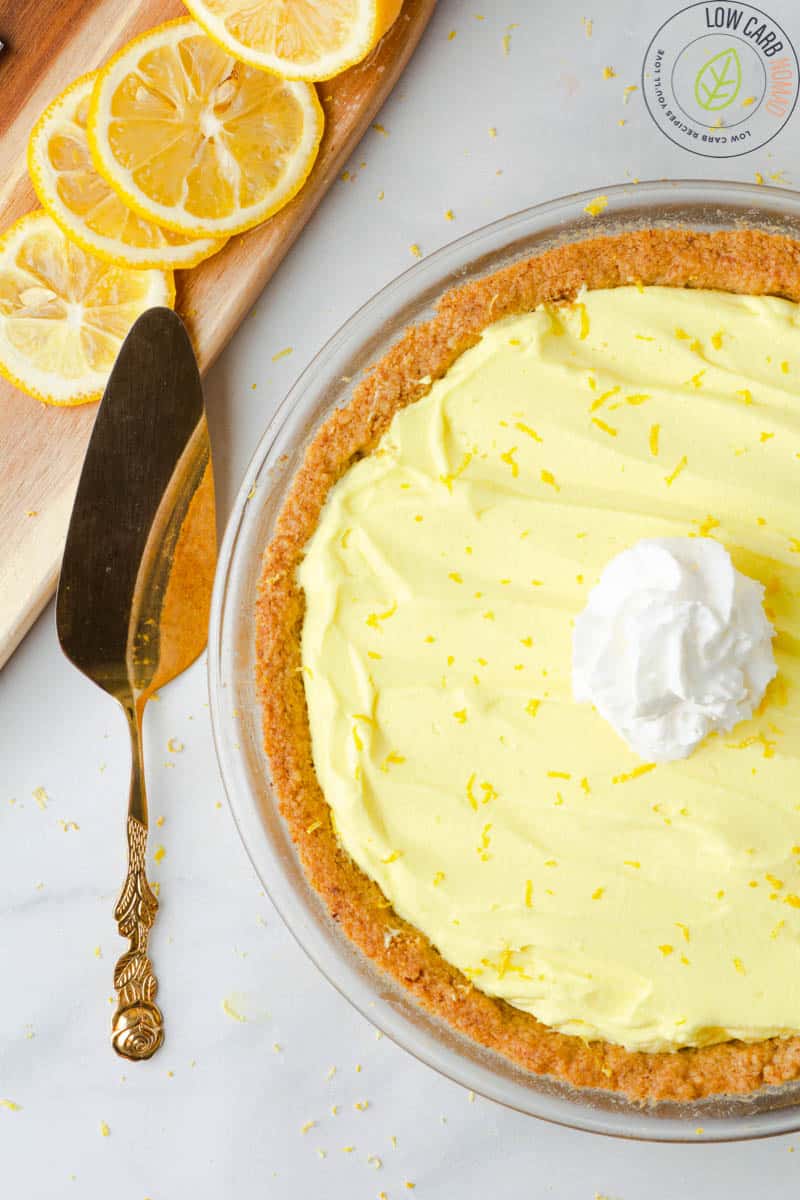 Tips for Making this recipe
When making the pie crust I use my food processor. I find it works best. If you have never made a crust with walnuts be sure to check out my walnut pie crust post for all the details.
Depending on my mood depends if I am adding whipped cream on top. Sometimes I do, sometimes I don't. The choice is yours. If you are going to add whipped cream it is best to make Homemade sugar free whipped cream. You can spread it on top or just plop some on top, it all depends on your preference.
You could add some lemon zest on top and pipe some whipped cream around the edges with a piping bag if you wanted to get fancy.
Keto Lemon Pie Ingredients
How to Make Keto Lemon Pie
Make your pie crust and allow it to cool.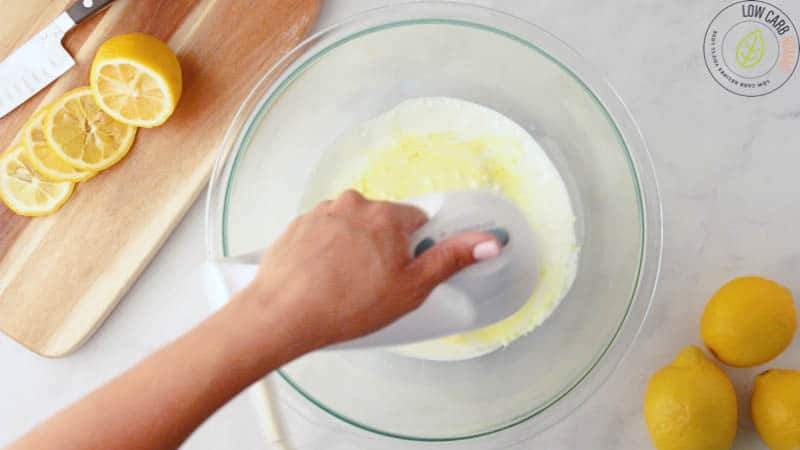 Make your lemon pie filling and pour it into the pie crust. Spread filling evenly in pie crust.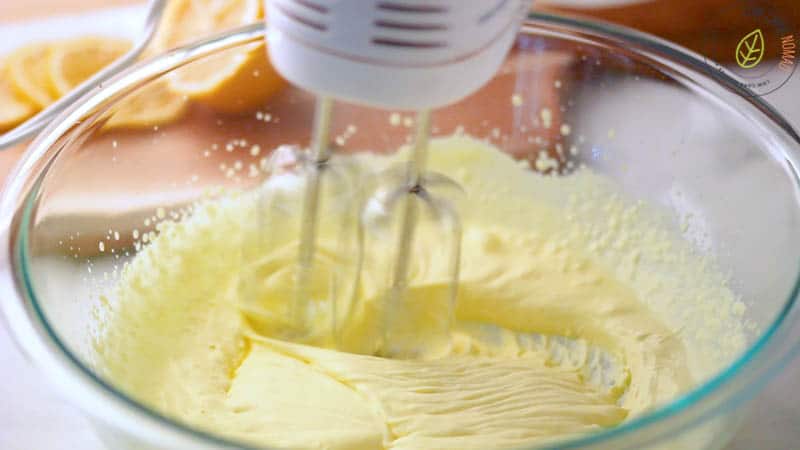 Refrigerate for an hour before serving.
Easy Keto Dessert Recipes You'll Love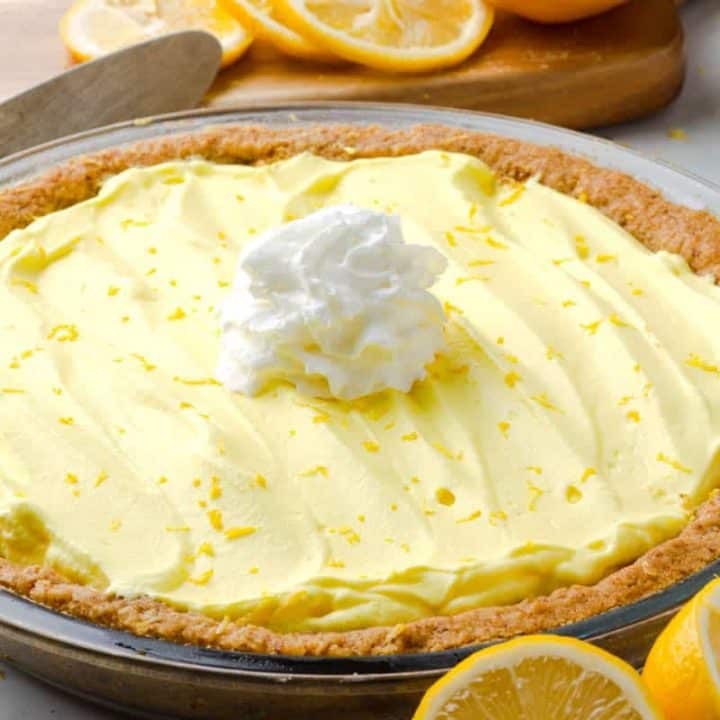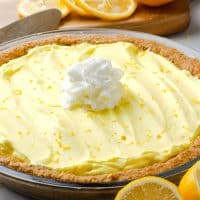 Ingredients
Walnut Pie Crust
2

cups

walnuts

4

tablespoons

butter
Lemon Pie Filling
2

cups

heavy cream

2

teaspoons

lemon extract

2

tablespoons

granulated sweetener

1

teaspoon

vanilla extract

Yellow Food coloring

optional
Instructions
How to Make Keto Walnut Pie Crust Preheat the oven to 350ºF.

Place the walnuts and butter in your food processor or blender. Pulse for 2 minutes until the nuts are in tiny pieces and blended in with the butter.

Place the mixture into your pie pan and press it around the whole pan until it spread evenly, I used a rubber spatula to help smooth.

Bake for 15-18 minutes until the crust is golden brown.

How to Make Lemon Pie Filling In a medium mixing bowl combine heavy cream, lemon extract, erythritol sweetener, and vanilla extract together. If you would like your pie to be a yellow color like lemon pie traditionally is add 2 drops of yellow food coloring.

Whip the mixture with a hand mixer until it gets a whipped cream texture, about three minutes.

Assembling Keto Lemon Pie Once the pie crust is cooled make the lemon keto mouse filling and pour it into the pie crust. Spread the filling evenly.

Place in fridge for one hour.

Top the pie with whipped cream if desired.
Nutrition
Serving:
1
g
|
Calories:
344
kcal
|
Carbohydrates:
5
g
|
Protein:
5
g
|
Fat:
35
g
|
Fiber:
1
g
|
Sugar:
2
g