Keto beef stew is a hearty and delicious dish that is perfect for those following a low-carb, high-fat ketogenic diet. Made with tender chunks of beef, flavorful vegetables, and a rich and savory broth. This delicious keto beef stew is not only satisfying and comforting, but it's also low-carb and keto-friendly. This hearty keto beef stew recipe is the perfect dish for chilly evenings or any time you're craving a filling and nutritious meal.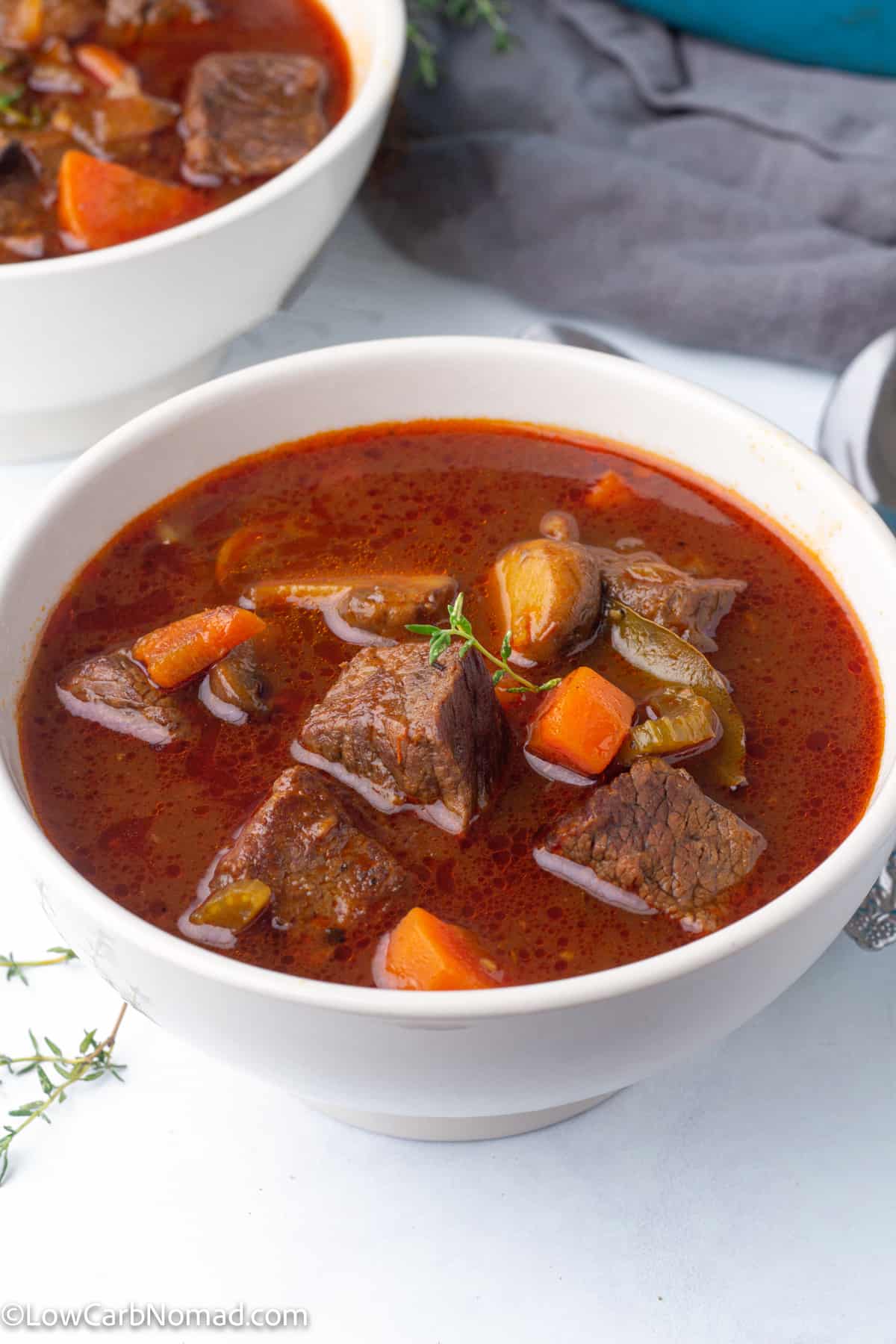 Keto Beef Stew
The random cold weather days are making me want my favorite cold weather meals. During the chilly months, and the snowy ones I am a big fan of hearty meals that warm you up! This stove top keto beef stew is perfect, Chuck beef roast, some low-carb veggies, beef broth, and spices make this a simple yet delicious meal to make for dinner.
Beef stew is a total comfort food and while eating low carb I was starting to miss a few of my favorite recipes. The solution was coming up with recipes like this low-carb beef stew recipe so I did not have to feel like I was missing out. I did not tell anyone in my house that I was changing things up from the normal when I made this easy keto beef stew recipe for dinner the one night to test it out and everyone loved it.
I am sure I will be including this low-carb beef stew often in our meal plans as the weather keeps getting colder. The whole family loved it and it is a great meal to make a double batch of so we can have leftovers for lunch the next day.
The best keto beef stew recipe features a ton of flavor, tender pieces of beef and cooked but not soggy vegetables and this hearty low carb beef stew hits all of the markers making it the perfect recipe. This easy beef recipe is perfect for anyone on the keto diet, a low-carb diet, or anyone who loves a great recipe. Because this hearty stew recipe has a great flavor and a low carb count it makes it a great recipe to make for the whole family.
Comforting Keto Dinners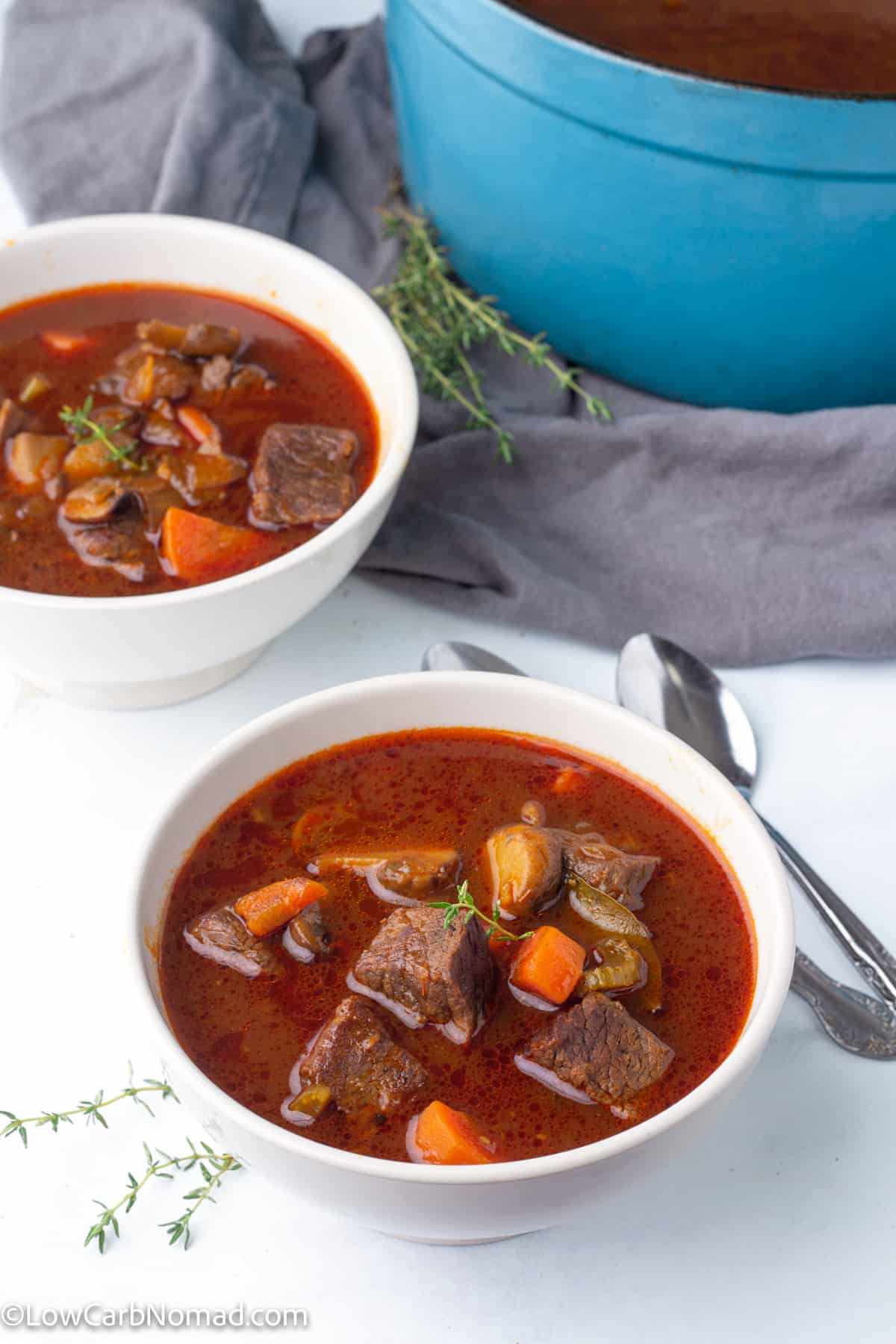 Tips for making this recipe
Choose the right cut of beef. For a keto stew, you want to use a tougher cut of beef that is suitable for slow cooking. Examples of good cuts include chuck roast, round roast, or brisket. These cuts are also higher in fat, which is perfect for a keto diet.
Brown the beef. Before adding the beef to the stew, brown it in a hot pan with some oil. This will help to develop a deeper, richer flavor and texture.
Use low-carb vegetables. Traditional beef stew recipe vegetables like potatoes and carrots are high in carbs, so you'll want to use low-carb alternatives like celery, mushrooms, onions, and green beans. These vegetables will still add plenty of flavor and texture to the stew.
Cook in a large pot or dutch oven. Either a dutch oven or a large cooking pot will work for this recipe. You want to make sure there is enough room for all of the ingredients.
Can I add other veggies to this beef stew recipe?
Yes. if you are wanting to add more vegetables you can, just make sure they are keto friendly and low carb veggies. Green beans, radishes, and turnips are a great addition to this recipe. I personally insist on having carrots in any beef stew that I am making even though I know they are higher in carbs. If you do not want to have them you can change them out for a different vegetable that you prefer.
What cuts of beef can I use when making beef stew?
I stick with beef chuck roast when I am making this low carb stew recipe but there are other cuts of beef that will work as well. When choosing a cut of beef for your stew, look for one that is well-marbled with fat and has a lot of connective tissue. These qualities will help to keep the meat moist and tender during the long cooking process. While beef chuck roast is a traditional and popular choice for beef stew, there are other cuts of meat that can work well too. Here are a few options:
Beef Shank. Shank is a tougher cut of meat that is well-suited for stewing. It has a lot of connective tissue that breaks down during the cooking process, making it tender and flavorful.
Stew beef. This is a pre-cut mix of beef that is specifically sold for stews. It's typically made up of smaller, tougher cuts of meat that become tender and flavorful when cooked slowly.
Round roast. This cut comes from the hindquarters of the cow and is leaner than chuck roast. It can be used for stews but may require a longer cooking time to become tender.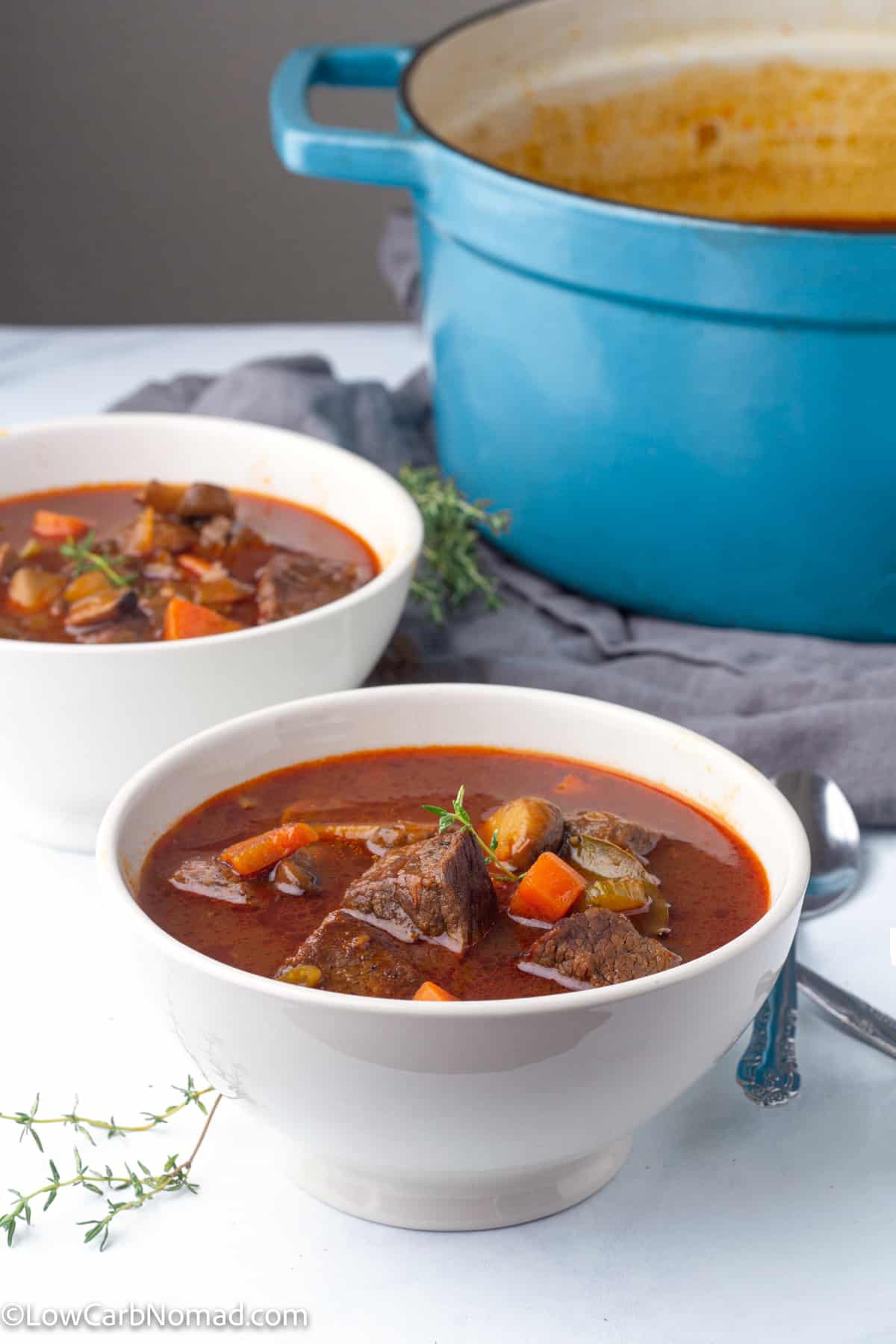 What do I have to do so my meat is tender?
Use the right cut of meat. It is important to use the right cut of beef so that you have a tender fall apart in your mouth beef instead of a dry and tough one.
Bring the meat to room temperature. It is also important to let the meat sit on the counter for about 30 minutes before cooking so when you add it to the hot pan you do not shock the meat. Shocking the meat going from a cold fridge to a hot pan will make the meat tighten up.
Don't skip browning the meat. It is an extra step that you might think is not important but searing the meat on all sides before putting it in the pot for the stew helps give you the best tender beef chunk in the stew.
Don't crowd the pan. When you are searing the meat you want to have a single layer in the pan and room for the meat to move around and cook.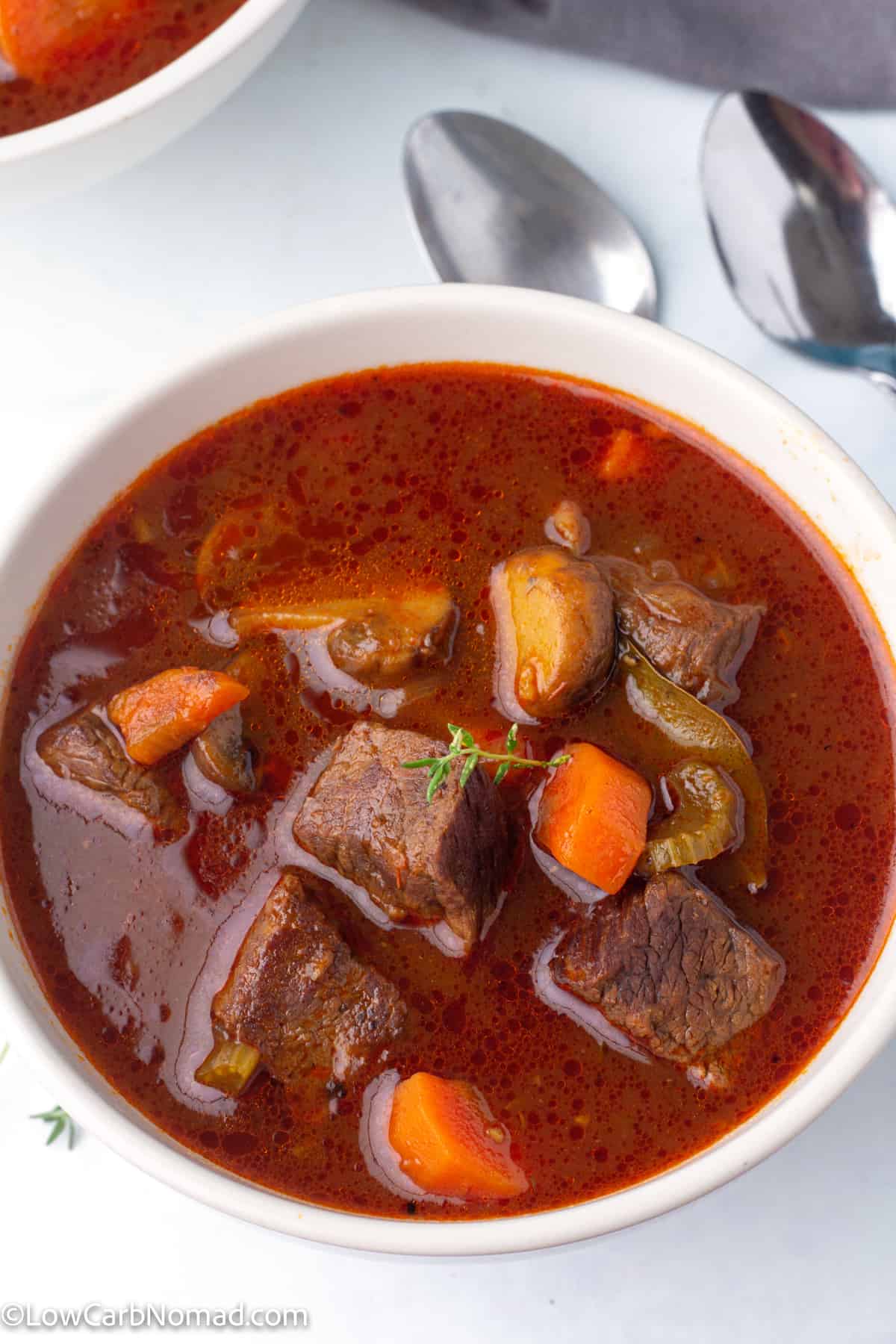 What can I use instead of Beef Broth?
If you do not have beef broth on hand you can use beef bone broth. In a pinch you can use chicken broth or vegetable broth but the stew will not have as strong of a beefy flavor if you do not use beef broth.
Can I thicken the broth?
I personally do not add anything to my beef stew to thicken it, yes it is thinner than a traditional beef stew but that is ok with me because I soak the broth up with a freshly made keto cheddar biscuit and I am good. If you want to thicken the broth, before simmering take out half a cup of liquid from your stew and add half a teaspoon of xanthan gum on the surface, then swiftly whisk the mixture together. Pour the mixture back into the beef stew and cook per recipe directions.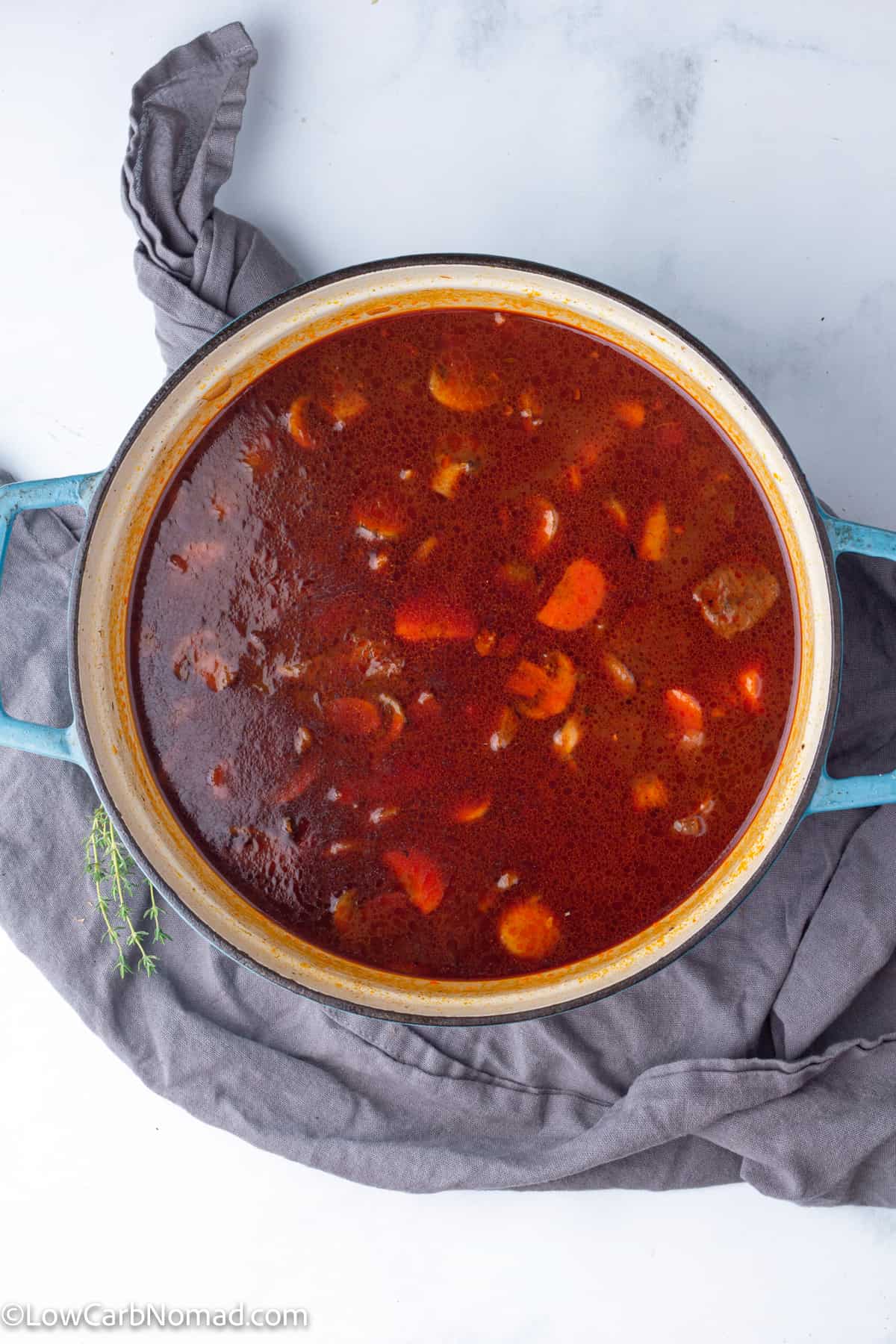 What to serve with Keto Beef Stew
One thing I love about this meal is that it has meat and low carb vegetables already in it. As a side dish, I make keto cheddar biscuits or keto cheddar bay biscuits and then sometimes make a fresh salad like Caesar salad or keto Olive Garden Salad.
How to store Leftovers
Let the stew cool to room temperature before storing it. Transfer the stew to an airtight container. You can use a plastic container or a glass one with a lid. Make sure the container is big enough to hold all the stew without overflowing. Store the stew in the refrigerator for up to 3-4 days.
How to Reheat Leftovers
Reheat the stew in a pot on the stove or in the microwave. Make sure to stir the stew occasionally while reheating to ensure even heating.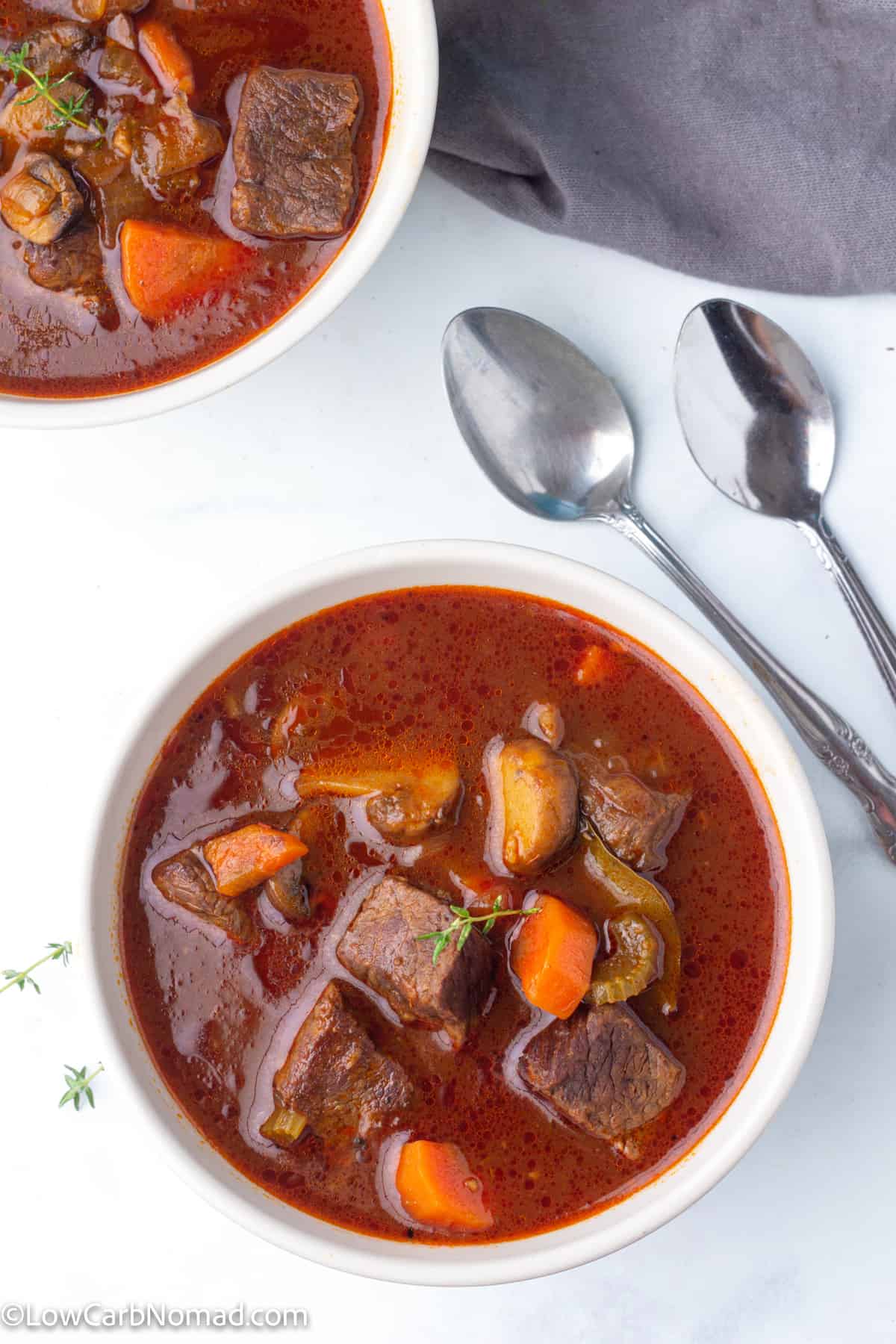 Can I freeze this hearty beef stew recipe?
Yes! The great thing about this recipe is you can freeze the leftovers or you can make it so you intentionally have a meal in the freezer. I like to double the recipe and make 2 batches at the same time and then serve one for dinner and freeze the other to enjoy later.
How to Freeze Low Carb Keto Beef Stew
Let the stew cool to room temperature before freezing it. Transfer the stew to airtight containers or heavy-duty freezer bags. Be sure to leave some space at the top of the container or bag to allow for expansion as the stew freezes. Label the container or bag with the date and contents. This will help you keep track of how long the stew has been stored and prevent any confusion about what's inside. Place the containers or bags in the freezer. Make sure they are arranged in a way that they won't get crushed or damaged by other items in the freezer. Freeze the stew for up to 3 months.
How to Reheat Frozen beef stew
To thaw the frozen stew, transfer it to the refrigerator and let it thaw overnight. Alternatively, you can place the frozen stew in a pot and reheat it on the stove over low heat, stirring occasionally.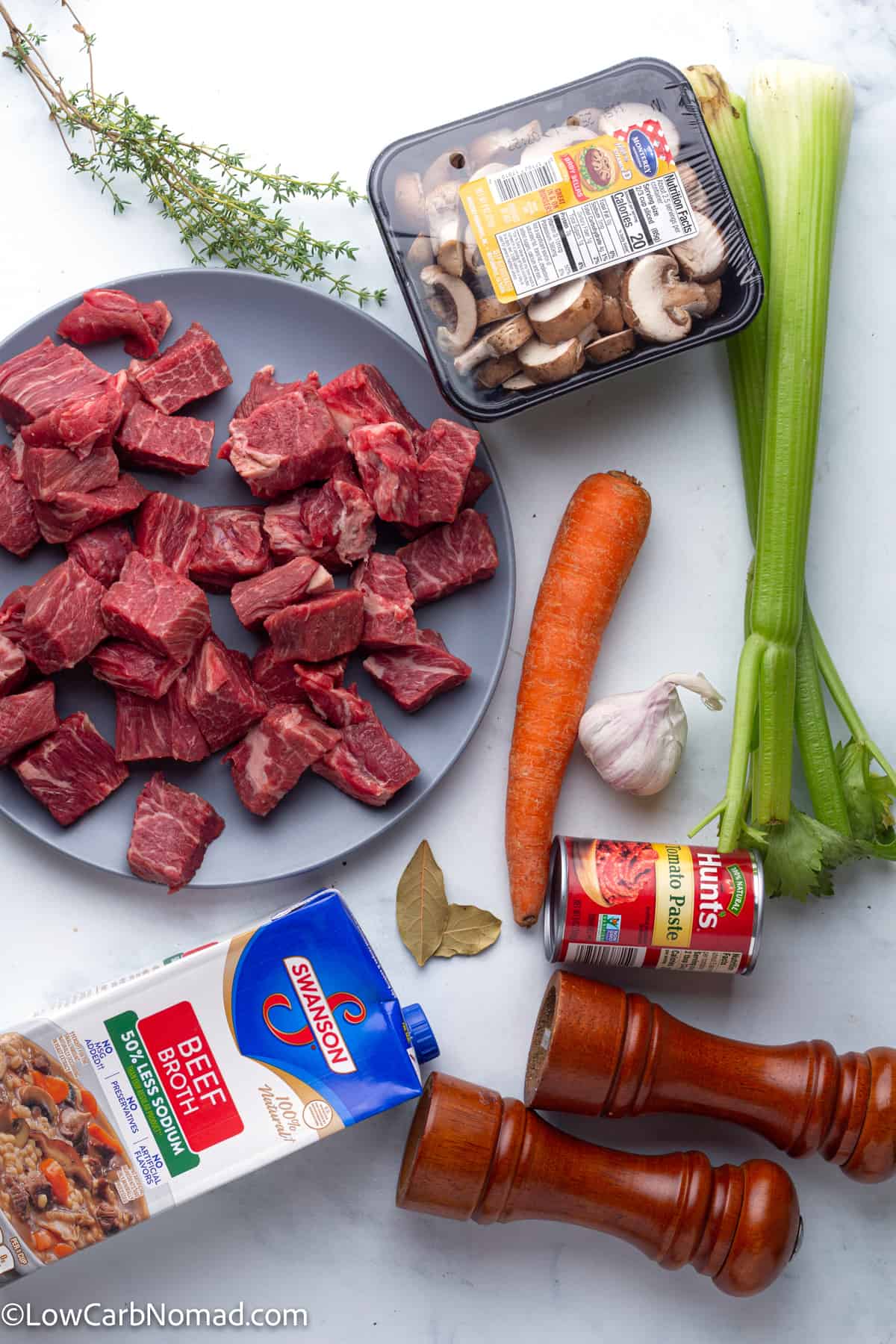 Keto Beef Stew Ingredients
beef chuck roast, cut into 1-inch cubes
salt
pepper
olive oil
onion. You can use white or yellow onions in this recipe.
carrots.
baby portabella mushrooms. If you can not find them you can use white mushrooms instead.
fresh garlic cloves
celery stalks
tomato paste
beef broth
fresh thyme
bay leaves
How to Make Keto Beef Stew
Using paper towels pat dry the beef.
Cut the roast into one inch size pieces and add to a large mixing bowl.
Next, add in the salt and pepper and mix the beef chunks so they are coated.
In a large Dutch oven or pot heat 1 tablespoon of oil over medium-high heat. Add half the beef chunks to the pan and brown the beef on all sides. Remove the beef from the pan place in a bowl or on a plate.
Repeat this step to finish the rest of the beef.
Once you have browned the second batch of beef stew meat and remove it from the pan to a plate and cover it with foil.
Add the last tablespoon of oil to the same pot and saute the onion, carrot, and mushrooms until the onions are translucent. Be sure to scrape any browned bits that are stuck to the bottom of the pot.
Next, add in the garlic and celery, and cook until the garlic is golden.
Then add in the tomato paste and stir until it has coated all the vegetables.
Stir in the beef broth, thyme, bay leaves, and beef.
Bring the stew up to a boil then cover and cook on medium-low heat for 1 hour.
Remove the thyme stems and bay leaves and serve.
Keto Beef Recipes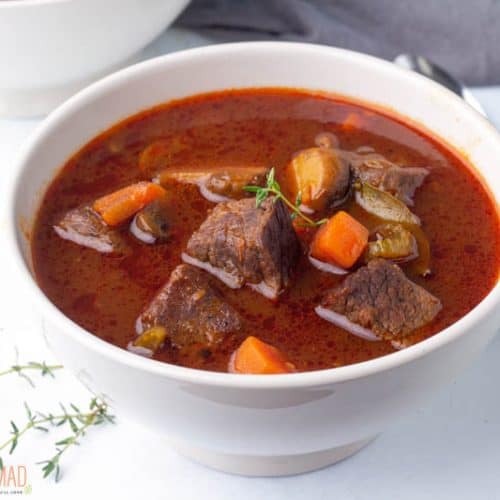 Keto Beef Stew
Keto beef stew is the perfect hearty and healthy low carb chilly day meal! Packed with meat and veggies, all you need to make is some low carb biscuits and dinner is done!
Print
Pin
Rate
Ingredients
2

pounds

chuck roast

cut into 1-inch cubes

salt

to taste

pepper

to taste

3

tablespoons

olive oil

1

onion

diced

1

medium carrot

peeled and diced

8

oz

baby portabella mushrooms

sliced

2

cloves

of garlic

2

stalks celery

sliced

1

tablespoon

tomato paste

6

cups

beef broth

3

sprigs of thyme

2

medium bay leaves
Instructions
Take your beef and pat it dry with paper towels, season the beef with the salt and pepper.

In a large dutch oven or pot heat 1 tablespoon of oil over medium-high heat. Add half the beef to the pan and brown the beef on all sides. Remove the beef from the pan and repeat this with 1 tablespoon of oil and beef. Once you have browned the second batch of beef remove it from the pan to a plate and cover it with foil.

Add the last 1 tablespoon of oil to the same pot and saute the onion, carrot, and mushrooms until the onions are translucent. Add in the garlic and celery, cook until the garlic is golden. Add in the tomato paste and stir until it has coated all the vegetables.

Stir in the beef broth, thyme, bay leaves and beef. Bring the stew up to a boil then cover and cook on medium-low heat for 1 hour.

Remove the thyme stems and bay leav
Nutrition
Serving:
1
g
|
Calories:
347
kcal
|
Carbohydrates:
4
g
|
Protein:
31
g
|
Fat:
23
g
|
Saturated Fat:
8
g
|
Polyunsaturated Fat:
14
g
|
Trans Fat:
1
g
|
Cholesterol:
94
mg
|
Sodium:
846
mg
|
Fiber:
2
g
|
Sugar:
2
g