Ready to start keto but not sure where to begin? These Keto Rules for Beginners is the best way to get you started on a healthier eating plan with the basic keto rules that you need to know.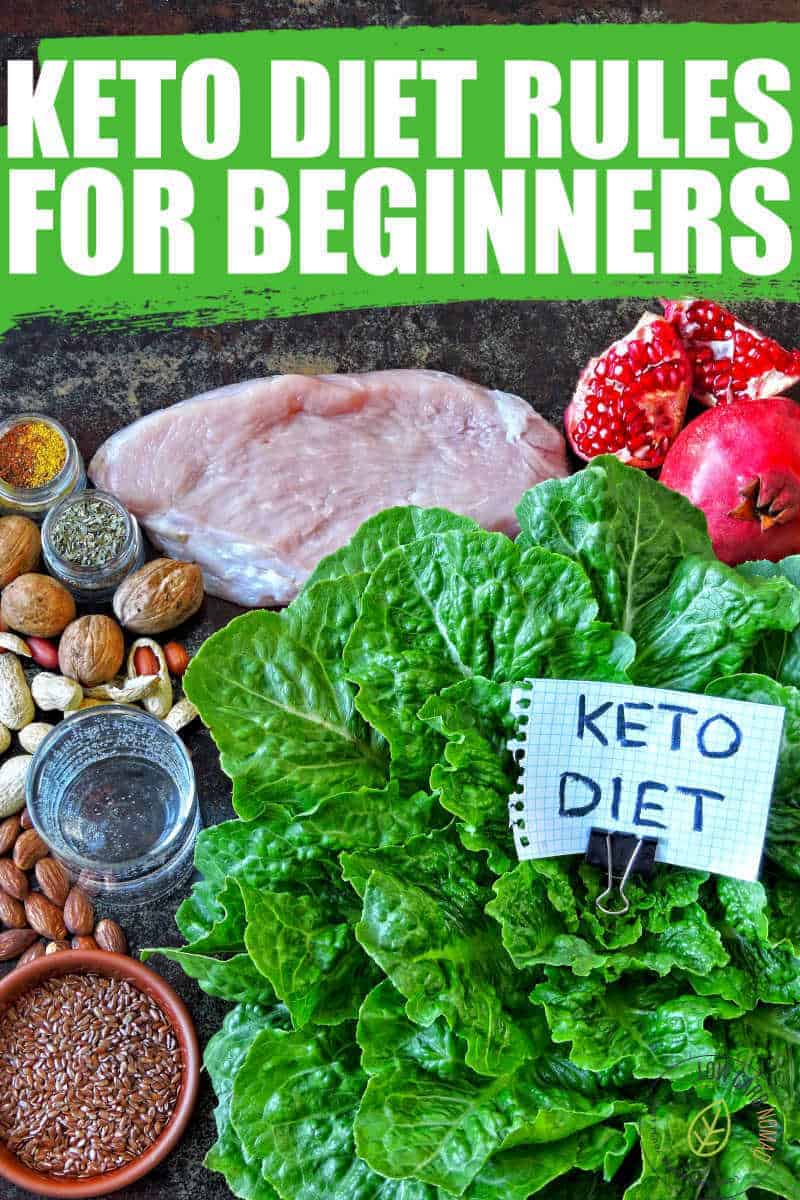 Keto Rules for Beginners
The Keto Diet is a low carb, moderate protein, and higher fat diet. The goal is to have your body burn fat for fuel instead of glucose. This has a number of health benefits and is especially helpful to lose weight.
What is Keto
The Keto diet is short for the ketogenic diet. The goal of the diet is to get into ketosis and produce ketones as a more efficient fuel for the body.
What to eat on a keto diet
When you are on the keto diet you want o keep the net carbs, the digestible carbs, you are eating each day under 100, although typically this is less than 50 and closer to 20.
In order to get into ketosis, you need to avoid eating too many carbs. The fewer carbs that you eat will help you get into ketosis, stay there and will help you improve your health and lose weight
What to Avoid
When you are on the keto diet, you want to stay away from foods that have a lot of carbs like sugary or starchy foods. Stay away from foods like bread, rice, pasta and potatoes. You also want to stay away with foods containing sugar. Even natural sugars like that found in fruit will knock you out of ketosis.
You also want to avoid foods that are heavily processed. You want to try to eat whole foods while you are on keto.
Another thing to avoid is fat free or low fat foods. Since Keto is a higher fat diet, you want the fat that comes from these foods. This fat is what provides the fuel your body needs. Also, when you are eating reduced fat, in things like dairy, it usually means it will be higher in carbs.
What to Drink
For many people, they are not sure what they can drink of the keto diet. You want to drink things like water, coffee and tea. It is best if you can drink these things with no added sweeteners, and definitely without sugar. Stevia is one of the approved sugar substitutes if you find you need something in your drink. You can add milk or cream to your coffee, however, the carbs will add up if you drink multiple cups of coffee a day.
Intermittent Fasting
Another crucial part of the Keto diet is intermittent fasting. This is a period of time that you do not eat for. It doesn't have to be at a certain time of the day. It is more important to fast for a certain amount of time each day. This will depend on what kind of structure you want to have. For some, this means that you stop eating around 6 or 7 at night and do not eat again until 10 in the morning. While you are fasting, it gives your body a chance to get into ketosis and build up the needed ketone to burn fat as fuel efficiency.
Keto Dining Out Choices
Helpful Tips for Sticking to Low Carb and Keto