Eating low carb and wondering what foods are no carb? This list is a great way to help you find simple low carb foods that leave room for you to use your carbs on nonstarchy vegetables. Learn to find what foods will work on your low carb diet and what to avoid. This list of no carb foods will help you with planning your keto and low carb meals.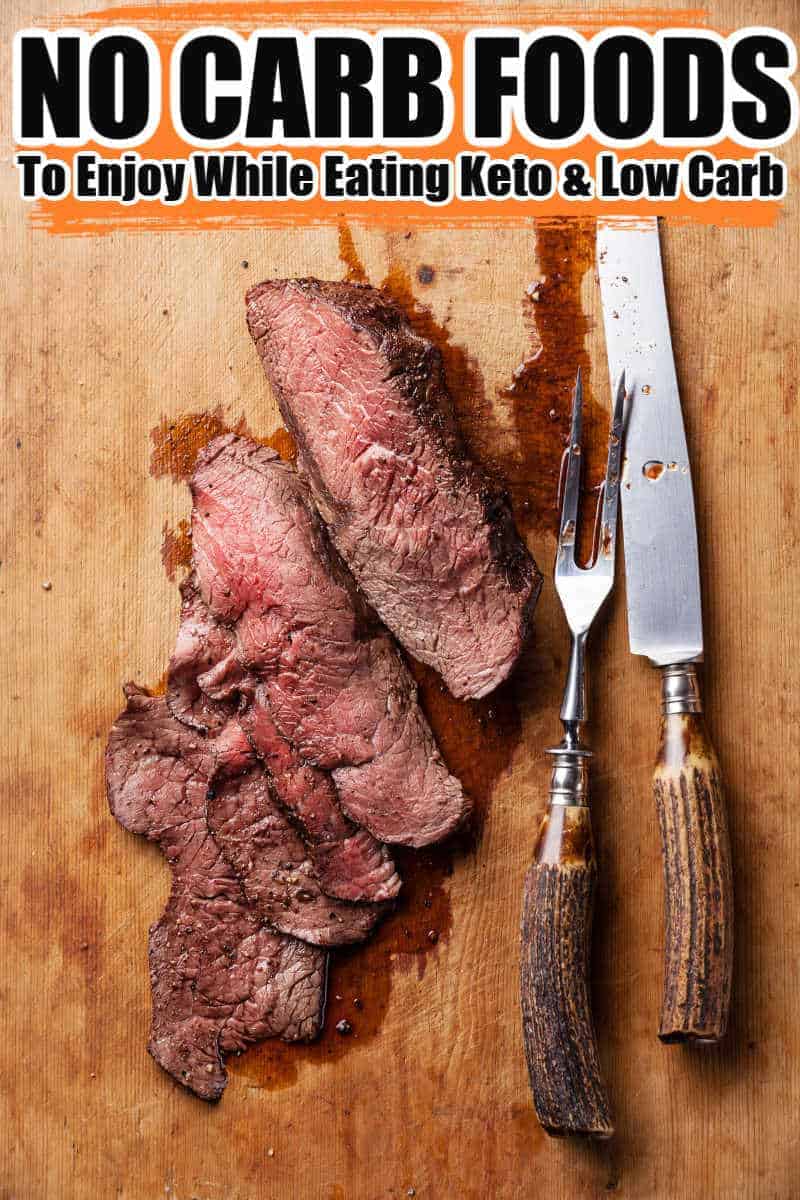 No Carb Foods to Enjoy While Eating Low Carb
When you are following a low carb, whether it is keto, Atkins, South Beach or a combination of them, you want to avoid most carbs. Most low carb diets stay under 100 grams of carbs, with many of them being within 20-50 carbs.
No Carb Diets
I have to caution again a no carb diet. This kind of diet eliminates all carbs, which includes the carbs from vegetables and fruits. While having a lot of no carb foods to choose from, your body needs more than just meat and fats. If you are looking for snack ideas, be sure to check out our no carb snacks that are great for the Keto Diet.
No Food Carbs to Enjoy
There are plenty of no carb foods that are perfect for a low carb diet. These foods will help keep you full, fueled and feeling great.
Meats, Poultry, and Seafood
Most meat, poultry, and seafood are no carb. These proteins are all no carb foods that are perfect for a large portion of a meal. Since these foods are packed with protein and most have enough fat it should keep you satisfied. Foods that fall into this category are:
Beef
Lamb
Venison
Bison
Pork
Turkey
Chicken
Crab
Shrimp
Sardines
Cod
Salmon
Herring
Tilapia
Fats
Fats are important when you are eating low carb. You are fueling your body with fats since you are not burning glucous for fuel. Some of the best fats are things like
Bacon Grease
Butter
Lard
Cheese
How to Use No Carb Foods
While these no carb foods are great to use as part of your low carb diet, you want to make sure you are eating more than just no carb foods. Use these no Carb Foods together with these low carb foods to have the healthiest diet possible.
Non Starchy Vegetables
While Vegetables should be included in a low carb diet. You want to make sure the vegetables are nonstarchy and low carb. Check out the best veggies for the keto diet and the best low carb diet veggies. These type of vegetables include:
Zucchini
Broccoli
Cauliflower
Brussels Sprouts
Bell Peppers
Asparagus
Leafy Greens
Mushrooms
Bell Peppers
Turnips
Rutabaga
Spinach
Nuts and Seeds
Seeds and nuts give you both protein and healthy fats and are essential as part of a healthy low carb diet. YOu want to include nuts like:
Almonds
Cashews
Walnuts
Pistachios
Sunflower Seeds
Pumpkin Seeds
Fruits
While fruits can be very high in sugar and makes them difficult to enjoy on a low carb diet, you can include some of them and stay on track. Be sure to check out the best fruit for a low carb diet and the best Keto fruits.
High-fat fruits: These are fruits like coconut and avocado. These fruits are packed with healthy fats and are very low in carbs.
Berries: Berries are generally the fruits that are the lowest in carbs. You can continue to enjoy a small amount of low carb berries like strawberries and raspberries.
Tomatoes: While most people think of tomatoes as a vegetable it is actually a fruit. It is a great addition to your low carb diet.
Helpful Tips for Sticking to Low Carb and Keto
Looking for dining choices while sticking to keto and Low Carb? Check these out!