Eating low carb used to mean that you would miss out on your favorite comfort meal casseroles. With these low carb casseroles, you can have a easy to make low carb dinner that doesn't require standing over the stove. You are going to love these easy Low Carb Casserole Recipes!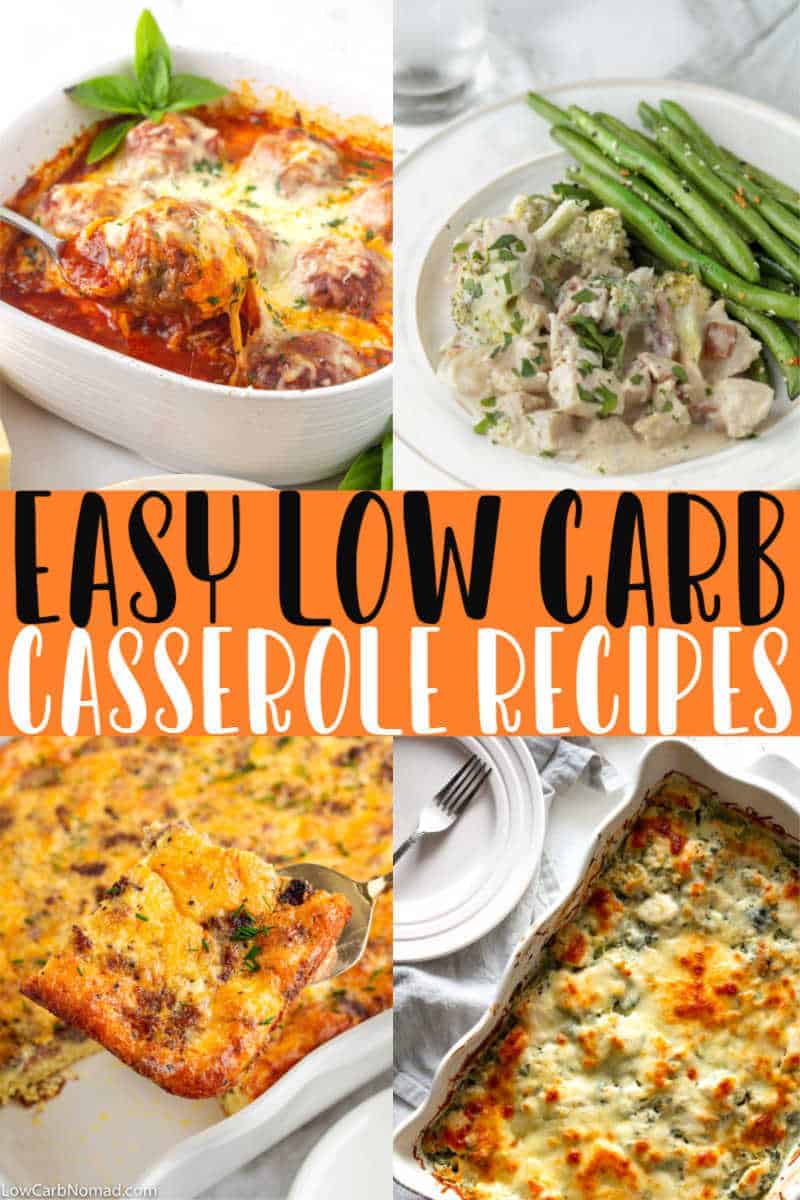 Low Carb Casseroles
With how busy things get here, it is no surprise that there are times when I forget to set up the slow cooker with dinner. Honestly, there are days where I want nothing to do with the kitchen. On days like this, I need low casserole ideas that are keto friendly. I started remaking my favorite casserole recipes so that they can be enjoyed while eating low carb.
How to Make Low Carb Casseroles
Many casserole recipes are made using starches, like potatoes, pasta or rice. That is because these are inexpensive ingredients that bulk up the casserole, but when you are eating low carb or keto, these are the things that you are staying away from because they spike your blood sugar. Traditional casseroles are also made using creamed soups or gravy and those are made with flour. All of these things can throw you off of your healthy eating diet and kick you out of ketosis.
With these low carb casseroles, you get casseroles that are extremely easy to make, made with healthy fresh ingredients that are low in carbs. These casseroles will help you stay on track and have new dinner recipes.
Cooking Low Carb Casseroles as Freezer Meals
When you are eating a low carb or keto diet, you want to avoid carbs in general. The carbs that you are eating should be carbs from vegetables and other healthy carbs. Eating keto, you want to eat low carbs, moderate protein and high in fat. These low carb casseroles are easy to make and can easily be used as freezer meals. These casseroles can be made ahead and then used to stock the freezer.
How to Use Low Carb Casseroles in Meal Planning
When you are eating low carb or keto, you want to make sure you are not eating ow carb. This can be as low as 20 carbs a day or as high as 100 carbs, depending on the low carb plan you are following.
When you are making your meal plan, knowing that you have a low carb casserole to make for dinner, helps you know how many carbs you can eat for breakfast, lunch, and snacks. These one dish dinners can be made the night you want to make them or you can prepare them ahead and have the food prepped. This can save you time and make sure you are staying on track. Use these simple keto casseroles and take the guess work out of making dinner.
Low Carb Casserole Recipes
Keto Dining Out Choices
Helpful Tips for Sticking to Low Carb and Keto